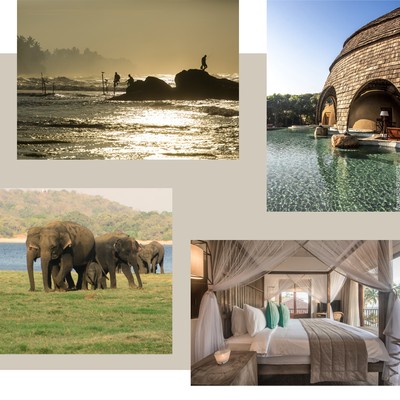 The Best Places To Visit In Sri Lanka

For a relatively small island, Sri Lanka has it all – Buddhist temples, ancient cities, colonial tea plantations, lush rainforest, cool hill stations, miles of palm-fringed beaches and incredible wildlife. Add to this the delicious food, the friendliest of people and gorgeous hotels, and there really is something for everyone to suit every budget. Here is our guide to some of the highlights this unspoilt tropical island has to offer.

COLOMBO
Although it only became Sri Lanka's capital in 1815 with the arrival of the British, Colombo had long been an important port for Indian Ocean traders, and Portuguese and Dutch settlers. Sadly, many visitors skip staying here and either spend their first night near the airport on arrival or head off to their first destination. However, this dynamic, bustling city is worth a night or two – you'll find tree-lined boulevards, temples, churches and colonial buildings side by side with cutting-edge skyscrapers, as well as stylish hotels, buzzy restaurants and fabulous shopping.
 
Must-sees: A walking tour with a local guide of the area known as Fort will you give some historical background to the city's Dutch and British legacies. Stops will include the Edwardian General Post Office, the old parliament building, the Cargills & Millers Building, originally a British department store, and the pomegranate-coloured Jami Ul Alfar Mosque in Pettah. The National Museum and the Dutch Period Museum are also both worth a visit.  Of course, you'll see endless temples on your trip to Sri Lanka, but two you should not miss here in Colombo are the Gangaramaya Temple with its pagoda, assembly hall, shrines and rows of Buddha statues; and nearby, its sister temple, Seema Malakaya, with its collection of Buddhas arranged on a promontory on Bere Lake.
Where to shop: Pettah Market is a noisy maze of stalls and you'll probably lose your bearings but it's great for trinkets and spices. For more upmarket shops, head to the boutiques around Galle Road and Viharamahadevi Park, and the craft shops in Paradise Road. Some of our favourite include Barefoot Garden Cafe and Shop for handwoven silk and cotton clothing; Paradise Road for gorgeous homeware, including house linen, and hand-painted mugs and plates; TEAELI Tea Experience and Dilmah T-Lounge for tea lovers.
Where to stay – luxe for less: Located in the chi chi Cinnamon Gardens area of the capital, this stately 1930s heritage building and now a stylish boutique hotel, called Paradise Road Tintagel Colombo, was once the home of the former president of Sri Lanka, Chandrika Bandaranaike Kumaratunga. The ten rooms feature high ceilings, timber floors and colonial era relics.
Where to stay – uber luxe: You'll find just eight colonial-chic suites at Maniumpathy, an exquisite 19th century home originally built by a doctor from Jafna, situated in the heart of the city's trendy, leafy 07 district. A small, inviting pool in the courtyard is the perfect spot for a cooling dip and the personal butler service will cater for your every need. The food served in the Nandi Terrace Restaurant is fabulous - make sure to order the egg hoppers for breakfast.
THE CULTURAL TRIANGLE 
Any first-time visit to Sri Lanka cannot be complete without a trip to this picturesque region where you'll discover the island's cultural and religious history, lost cities, ruined palaces, cave temples and centuries-old frescoes and murals, as well as wildlife. Accessible either over land from Colombo, or via a short internal flight, there are five UNESCO World Heritage Sites in the triangle – the sacred cities of Anuradhapura, Polonnaruwa and Kandy, the rock fortress of Sigiriya and the cave temples of Dambulla. Three days would do this area justice, moving on to Kandy for one or two nights.
 
The capital of Sri Lanka from the 4th century BC, Anuradhapura sits on the banks of the Malvathu Oya and is one of the oldest continuously inhabited cities in the world. You'll find a wealth of well-preserved ruins of ancient Sri Lankan civilization and Buddhist monasteries. Both a working town and ancient city, Polonnaruwa is a must-see and still retains much of its ancient buildings, including the royal palace and statues of Buddha. The earliest cave temples at Dambulla are thought to date back to the 1st century BC and contain about 150 stunning Buddha statues and paintings. The complex of five separate cave temples sit under a vast overhanging rock which towers 160 metres over the surrounding plains.
 
Within the triangle you'll also find the iconic Sigiriya Rock, Sri Lanka's most recognisable landmark, which looms 200 metres above the plains. Built by King Kasyapa in the 5th century, the cliff-top fortress took seven years to construct. On the way up you'll see beautiful and well-preserved frescoes painted on the sandstone, most notably the 'celestial maidens' in a cave halfway up. Be warned, the fairly challenging climb to the very top involves going up vertiginous staircases attached to sheer walls but is well worth it for the phenomenal views. Top tip – aim to get here by 7.30am so that you avoid the midday sun and the crowds.
 
Where to stay – luxe for less: With the majestic Sigiriya Rock fortress acting as the backdrop, the contemporary style Aliya Resort and Spa is set in the heart of the cultural triangle and is the ideal base to visit all the historic sites. The rooms overlook lush garden and feature either a private balcony or terrace; the suites are more secluded and have a private plunge pool. The spa has a range of holistic traditional Ayurvedic treatments to help you unwind after a busy day sightseeing.
 
Where to stay – uber luxe: Vil Uyana is set in fantastic purpose-built wetlands. The superbly comfortable rooms are stilted, over-water wooden dwellings sprawled across a vast area of the gardens, paddy fields and forest. You'll be surrounded by nature so you may come across some unusual animals and insects; and look out for the friendly crocodile in the lagoon that surrounds the restaurant area. Though just ten minutes from Sigiriya, this is a place to relax, unwind, pamper yourself and get back to nature.
KANDY
Kandy is one of Sri Lanka's most picturesque cities, situated on the edge of the hill country, with a scenic lake in the centre. It is renowned for being home to the Temple of the Sacred Tooth Relic, a Buddhist site which draws thousands of pilgrims from across the world throughout the year, as it is said to contain one of Buddha's teeth, collected from his funeral pyre in India in 483 BC. Other must-sees to add to your list include the rather grand Royal Botanic Gardens, once reserved exclusively for Kandyan royals to stroll through, and the busy market where you can stock up on spices.
 
Where to stay – luxe for less:  Perched on a hillside above the city and approached up a very steep track, the small and friendly Villa Rosa enjoys what must be the finest views in Kandy over the Mahaweli River and the surrounding mountains. Inside, the decor is simple and elegant, and the six spacious rooms have large patios or balconies from which to enjoy the views. Food is a very important here and the chefs will discuss the evening's proposed menu with you, incorporating any suggestions you have.
 
Where to stay – uber luxe: Located about an hour from Kandy in the heart of the hill country,  Santani Wellness Resort & Spa is Sri Lanka's top luxury dedicated spa and Ayurveda resort. Surrounded by lush tropical rainforests and a serene riverfront, here you can detox, do yoga classes, enjoy pampering spa treatments, join a cookery class, meditate and even sign up for an individual wellness programme. The rooms have a rustic style and sustainable design, and are naturally ventilated so the fresh mountain air keeps the temperature comfortable at night. Opt for one of the stand-alone Mountainview Chalets which are perched on stilts on a hillside with wonderful views over the valley and mountains. Here you'll find a total sense of seclusion, tranquillity and closeness to nature, whilst not being too far from the hustle and bustle of Kandy. 
NUWARA ELIYA
One of the best ways to reach Nuwara Eliya, also known as Little England, is by train from Kandy which will give you stunning views of tea plantations, waterfalls and dramatic mountain scenery.
At 2,000 metres above sea level, this 19th century colonial hill station was a favourite retreat of the British, who were drawn by the climate, and to this day it retains a colonial ambiance with its golf course, gentlemen's clubs and mock-Tudor buildings. There is excellent birdwatching in Victoria Park and at the nearby bird sanctuary of Galway's Land; if you're feeling more energetic, there are lots of walks such as the circuit to Single Tree Hill; and a visit to one of the many tea estates makes a fascinating day out.
 
Where to stay – luxe for less: A famous landmark, The Hill Club was built by the British in the late 1880s as an exclusive planters' club. It still retains the feeling of an old English country club and little has changed since the 1940s, from the antique billiard table to the men only bar and ladies' lounge. The rooms are comfortable, with fireplaces and armchairs to cosy up in the evenings. Dining here is an integral part of the experience, with men required to wear a jacket and tie and women a longer dress, skirt or smart trousers.
 
Where to stay – uber luxe: Perched amongst tea bushes on a hill near Nuwara Eliya, Goatfell is a luxurious, recently renovated four-bedroom tea bungalow hotel which retains the charm of a bygone era. With gourmet food, butler service, you'll able to relax on your room's veranda or take in the phenomenal views from the infinity pool
YALA NATIONAL PARK
Rise early for a morning wildlife safari in Yala National Park where you might spot leopards (the park's most renowned inhabitant which differs to its African relation with a darker, russet coat and close-set spots), elephants, sloth bears, spotted deer, sambar deer, wild pigs, jackals, marsh crocodiles and a great variety of birdlife. A protected area, Yala covers more than 1,500sq km and has a wonderfully varied landscape. While the majority of the terrain is open grassland (which increases the chance of spotting game), it is also made up of rocky outcrops, scrub jungle, lagoons, lakes, rivers and beaches. 
 
Where to stay – luxe for less: Nestled on the outskirts of the park, Jetwing Yala is the perfect spot to stay if you want to mix wildlife with lazing by the pool listening to the waves of the southern coast crash against the shore. The 82 rooms and 14 luxury tents are decorated in earthy muted tones and feature either a balcony or a terrace.
 
Where to stay – uber luxe: Scattered along an unspoilt beach on the edge of the park, the Relais & Chateaux Wild Coast Tented Lodge  is the height of eco-luxury. The design is fresh and contemporary, yet the pavilions blend seamlessly into their natural rugged surroundings. The 28 rooms are 'cocoon' and 'urchin' shaped tents, and have four poster beds, stylish bathrooms and air con. If you fancy spotting wildlife from the comfort of your own room, opt for a Cocoon Suite as these come with their own observation decks overlooking watering holes. 
GALLE
A city on the southwest coast of Sri Lanka, Galle is known for Galle Fort, the fortified old city founded by Portuguese colonists in the 16th century and now a UNESCO World Heritage Site and the best-preserved colonial sea fortress in Asia. Stone sea walls surround car-free streets with architecture reflecting a mix of Portuguese, Dutch and British rule. Though the city's colonial past pervades the narrow streets, Galle also has a contemporary flair with trendy boutique hotels, tiny independent shops, art galleries, cool cafés and restaurants. There are also several museums worth visiting, as well as the Dutch Reformed Church, the lively Arab Quarter, and the Lighthouse which stands on the fort's southeast tip. Galle is also the gateway to some of the island's best beaches like Mirissa, Weligama Bay and Tangalle.
 
Where to shop: Galle Fort has some fabulous shops and some of our favourites include Barefoot, the little sister of the flagship store in Colombo, which is set in an old restored house with a lovely little courtyard and where you'll find gorgeous handwoven products; Exotic Roots, set up some 20 years ago by a mother and two children who make all the artwork and painted pieces; The Three by TPV for homeware, specially designed jewellery and unique artworks; KK The Collection for women's and men's clothes, decorative pieces, paintings and other little trinkets.
 
Where to stay – luxe for less: Chic, bohemian The Owl and the Pussycat is located in Thalpe, just a short tuk-tuk ride from Galle Fort, and has become quite a hotspot since it opened in 2016. The 17 rooms and suites are generous in size and have views of the Indian Ocean. You'll find bright colourful textiles and artwork hand-made by artists from all over the world, including local craftsmen. The perfect place to unwind at the end of your travels, with safe, sandy beaches about ten minutes away.
 
Where to stay – uber luxe: Cape Weligama is a glamorous all-villa property, with earthy-hued residences perched on a spectacular cliff-top site, about 40 minutes south of Galle. With panoramas of the Indian Ocean from every corner of the resort, the accommodation is spacious, with contemporary interiors, fabulous furnishing and private butler service. The hotel prides itself on its vast crescent-shaped infinity pool, the focal point of the resort. There are a number of restaurants and bars – if you are tempted by fresh seafood, dine at Ocean Terrace for the catch of the day; or if you are after other Sri Lankan dishes, go for the varied menu at Tableau.
WHEN IS THE BEST TIME TO VISIT?
This depends on which part of the country you're going to but, in general, Sri Lanka is very much a year-round destination, though the climate is notoriously unpredictable.  We'd recommend the west and south coasts and hill country from December to March, while the best weather on the east coast is from April to September. The hills remain cooler all year round and should only be avoided in October and November.
SUGGESTED ITINERARIES FOR FIRST-TIMERS
Luxe for less
Exodus Travels' 15-day guided Discover Sri Lanka tour takes in the southwest quarter of Sri Lanka, including ancient Buddhist temples, the fortress of Sigiriya, the towns of Kandy and Nuwara Eliya, the wildlife of Yala National Park, and idyllic palm-fringed beaches of the south coast. Price from £2,849* per person, including return flights, 14 nights in four-star hotels, travel by private bus, all transport and activities as listed.
 
 
For the more adventurous
If you want to do some hiking and want to explore parts of Sri Lanka rarely seen by Westeners, Exodus' 15-day Highlands of Sri Lanka guided tour begins in Sigiriya and continues with trekking through the unspoilt World Heritage conservation area of the Knuckles Mountain Range, after which you can tackle the challenging Adam's Peak (2243m). Price from £2,699* per person, including return flights, 13 nights in hotels, 1 night full service camping, breakfast, full porterage and tour leader throughout, all transport, activities and other meals as listed. 
  
 
Blow the budget luxury
Chamintha and Rajindra Jayasinghe, founders of Ayu in the Wild, are born, bred and living in Sri Lanka, and know every inch of the island. They focus on their hallmark sustainable slow luxury and organise high-end bespoke itineraries, which can include all the popular five-star hotels, but also one-off experiences such as setting up a private tent in a national park with a top chef, a private yacht journey, or organising a tour of the lesser-known North.
 
A sample 13-night itinerary including two nights in the Sigiriya region at the Vil Uyana; three nights at Santani Wellness Resort & Spa; two nights in the Ella Rock Suite at Nine Skies; three nights at the Wild Coast Tented Lodge at Yala National Park; three nights at Kumu Beach costs from £3,750* per person (flights not included). The trip includes a private driver throughout and a variety of incredible experiences – eg a private guided trek to the summit of the Lion Rock in Sigiriya; a guided safari in Minneriya National Park to see elephants in the wild; yoga and guided walks in the forested mountain peaks above Kandy; game drives to see the leopard in Yala; a pottery lesson with a local artisan and a cookery class near Galle Fort.
For more information visit AyuInTheWild.com
 
 
*DISCLAIMER: Travel restrictions are changing daily, so please check the latest government advice before you book. Visit Gov.uk for more information.
DISCLAIMER: We endeavour to always credit the correct original source of every image we use. If you think a credit may be incorrect, please contact us at info@sheerluxe.com.