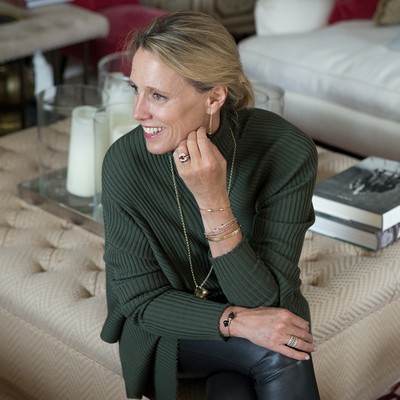 Chapters In My Life: Annoushka Ducas

Annoushka Ducas is one of the UK's most successful female retail entrepreneurs. Founding Links of London with her husband John Ayton in 1991, together they built the brand into one of the great British retail success stories of recent times, earned MBEs and went on to sell the company for £50m in 2006.

Photography: ALL IMAGES: ANNOUSHKA DUCAS
After selling Links of London, Annoushka realised the quiet life was not for her and in 2009 she created her eponymous line, Annoushka, to fill a gap in the market for beautiful, contemporary and easy-to-wear pieces. With stores in a dozen countries and growing, her playful and colourful jewellery is worn by the likes of Gwyneth Paltrow and Jennifer Lopez, as well as the Duchess of Cambridge.  
A mother of four and with an obsession for her two French bulldogs, Annoushka's attitude to female empowerment is no more evident than in her other missions, which include mentoring school programmes for girls, working with Give A Future and being patron of the Prince's Trust Women Supporting Women initiative.
Since childhood, Annoushka has collected tiny but perfect miniatures and charms, and each tells a story and holds a cherished memory. So it seems fitting that to celebrate 10 years of the Annoushka brand, she launched a bespoke experience – My Life in Seven Charms – which offers clients the chance to work alongside Annoushka to reimagine special memories, stories, places and loved ones turning them into a set of seven unique and personal charms.
As anyone who has listened to her new podcast My Life In Seven Charms will know, Annoushka is nothing short of inspiring and uplifting. So what better way to kick off our Chapters In My Life series and discover the charms – or most important chapters – of her life…
Chapter One: Memories Of My Mother
"My mother was Russian, she was an amazing woman and really quite a character; I remember dancing and dancing to the Beatles' Yellow Submarine with her like it was yesterday – hence the submarine charm. I'm an only child, so we were incredibly close. Sadly she died when I was 23. She was more than just my mother; she was my mentor and my friend.
"She imported Russian horses and from a young age I travelled to Russia with her. It was really very brave for a woman in the 70s to be travelling on their own with a child in Soviet Russia. We used to go into the steppes to find these horses and I remember seeing so many churches – very simple and built entirely in wood with wooden onion domes.
"'No' wasn't a word I was allowed to use – I had to taste everything once, try everything once, push myself to be brave...  She was also in the fish business (another of my charms). I remember her telling my godfather Mark Birley 'the fish in your restaurant is absolutely filthy, you ought to be ashamed of yourself'. He replied that if she could do better, then great. A couple of months later she was in Rye on the Sussex coast and when she got back to London at 11pm went to straight to Annabel's with a turbot in a bucket and asked the barman to give it Mr Birley with the message: 'This is what fish should taste like'. I was about 14 or 15 at the time and remember it was a pretty brazen thing to do — I recall Mark saying to me 'No one has ever done that to me before, deliver a fish on the bar…"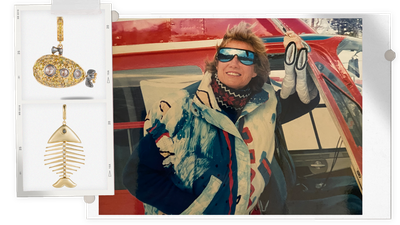 "It was really because of her that I started designing jewellery. One autumn she asked me what I thought she ought to give her clients (who were chefs in top London restaurants) for Christmas. At the time I was living in Hong Kong and suggested some fish cufflinks – this is where my career began."
Chapter Two: My Golden Rock
"I met my husband John in Hong Kong when we were both living there. When he asked me to marry him, I was back in London working for Hamptons. I went to Hong Kong to design my engagement ring and he insisted we go to a shop called Showroom. I instantly knew he had done a barter deal with the shop using some of my leftover cufflinks against my engagement ring! I knew Hong Kong well and firmly told him we were not going there but to a shop I liked the look of in the Mandarin Oriental. And this was the very first piece of jewellery I designed. I had no idea what I wanted – all I knew is I wanted to wear it every day (and I have actually), so it had to be relatively practical and not set too high. They designed the ring in brass first so I could get an idea of the proportion. This was so useful and something I've thought about a lot since, especially as we are launching our first bridal collection in April.
"Coincidentally, about six years ago we opened a shop in the Mandarin bang next door to the jeweller my ring came from, so it really feels like we've come full circle. 
"When I told John I was going to make a gold rock to depict him in my life in seven charms, he was totally unimpressed and said he didn't want to be a rock. I thought it was a rather nice thing to do but he said he obviously wanted to be sex on legs. I gave in, but the bottom line is that he has been my rock."
Chapter Three: Travelling The Globe
"The charm that represents my love of travel is a spinning globe that turns on a diamond-shaped axis and features two rubies, one marking London, the other Hong Kong. But that's just part of it.
"Because I was an only child, I travelled a lot with Mum who was flying all over the place to import and sell her horses. Every holiday was dictated by where the latest bunch of horses had to go or where they had to quarantine – Canada, New Zealand, wherever.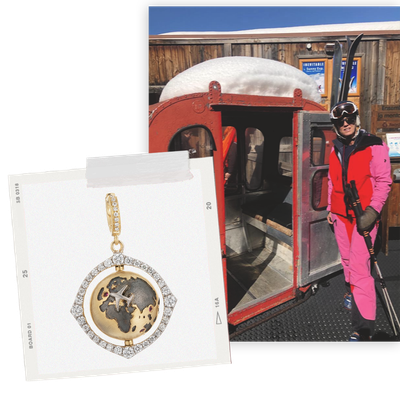 "Basically, she liked the adventure and it was a cheap flight – that was my mother bang on. She smoked big fat cigars and of course you could smoke on a plane at that time. We'd get in the back of a cargo plane with 70 or so horses in boxes in front of us and we'd sit and look at them. They were slightly sedated of course but that didn't make it any less frightening. It was pretty eccentric.
"There's no doubt my travels inspire my jewellery – less so the actual design, more so how other cultures wear their jewellery. I spent a lot of time in Italy when I was little – the women there were so ahead of their time; they layered their jewellery unlike women in England who, at the time, wore one necklace and a pair of matching earrings. Of course, now, that's all changed."
 
Chapter Four: My Children
"The peapod is a symbol of new life and new beginnings and this seemed the perfect way to represent my four children. I designed the charm as a diamond and tsavorite-encrusted pod enclosing four freshwater pearls. 
"Being an only child, it's quite strange to have four children, although John was one of four. I am constantly teased by my children for being an only child and if you asked them all separately what the one thing is they'd say about their mother they'd all say, 'She's such an only child'.
"You see I'm not very good at sharing my things, I don't like them using my desk, borrowing my clothes, my chargers, my jewellery, anything. I put nail varnish initials on everything I own! Every time I make a fuss, I get the only child syndrome response from them – obviously I just have to grin and bear it!"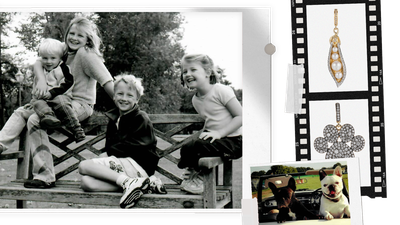 Chapter Five: My Dogs
"From a very young age dogs have been a huge part of my life. Right now, we have two French bulldogs – Lenny and Stanley. Strange as it sounds, I have a particular soft spot for my dogs' paws – I love the smell of their feet and that is the reason for the diamond dog paw. There's something so comforting about the smell – it's probably nostalgia from when I was little."
And Finally, Chapter Six: Skiing
"As a family we love skiing. The charm I chose to celebrate this is a gold and pave set ruby gondola, complete with a tiny pair of white gold skis and double doors which open. 
"We bought a flat in Megève when my eldest Marina was two or three. I had all the furniture sent out there and when we arrived for new year with Marina, Olly and Chloe, who was probably about eight months old, it was pouring with rain and not a sign of a snowflake anywhere. We had no help with the children, the van arrived, and the sofas wouldn't fit in the door so we had to get a crane. The beds had to be assembled in a garage and the first two or three nights we slept on pillows on the floor. I had pushed to buy the flat and I think John was ready to divorce me. He threatened to sell the place there and then until a great friend – Chloe's godfather – who was out there said he'd take Chloe home with his family and drove them all back to London. Poor thing had a terrible journey as it snowed so heavily he was stranded for 14 hours on the motorway. 
"Thank God, it did eventually snow… and we've been going back there every year, not this year of course – sadly."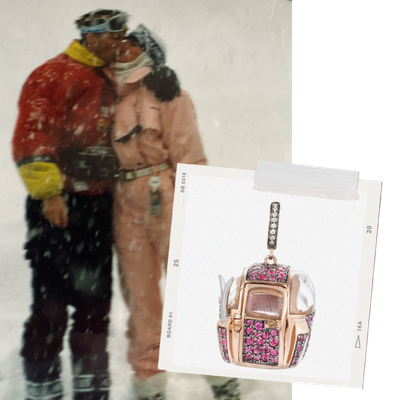 My Life In Seven Charms is a bespoke experience. Consultations take place exclusively through stand-alone Annoushka stores or at the client's home. Pricing starts at £35,000.
Visit Annoushka.com
DISCLAIMER: We endeavour to always credit the correct original source of every image we use. If you think a credit may be incorrect, please contact us at info@sheerluxe.com.