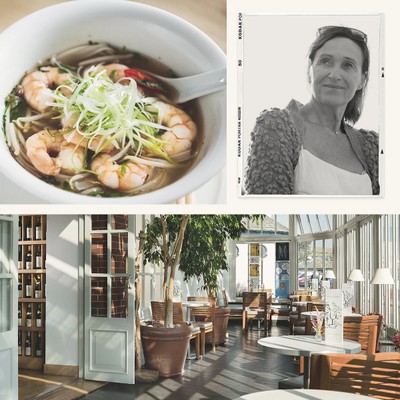 In Conversation With… Jill Stein

Over the last four decades, the Stein family business has played a big part in putting Cornwall on the culinary map. After opening their first restaurant in Padstow in 1975, Jill Stein and her husband Rick went on to open a string of award-winning restaurants and hotels, an online shop, a cookery school and most recently, a range of at-home food kits. Now in her early 70s, interior designer Jill still co-runs the business alongside her ex-husband and three sons. Here, she talks about her love of Cornwall, working and growing older with style, getting an OBE, launching her skincare range and having no plans to ever retire…

Photography: JAMES RAM
Taking A Leap Of Faith
"When I left school, I knew I didn't want to go university as I was ready to go straight into work. I think lots of entrepreneurs don't particularly like school, and I wasn't a particularly good scholar. I was capable but I wanted to get out into the world and make my own money. Rick and I didn't own any restaurants in the early days, we had a nightclub in Padstow where our customers were the local fisherman. It doesn't sound very romantic at all. It was 1974 and Rick had a mobile disco when he was at university which is where it all started. A property became available, so we turned it into a nightclub. It didn't last very long due to some problems with keeping law and order with a clientele of burly fisherman, plus we got our licence taken away. However, it was the best thing that could have happened at the time as we decided to open The Seafood Restaurant on the top floor of the building in 1975 – it wasn't planned at all, we kind of fell into it. Soon, Rick and I became more interested in food and moved the restaurant downstairs to the ground floor, which is where it is today.
 
"I started working on interior design a few years after Rick and I opened the first restaurant. I wouldn't say I had a love for interiors at the start, but there was a need to do it. I didn't set out to be an interior designer, I had to do it because there wasn't anyone else to get the job down. After a few years, I realised that I quite liked it and I was quite good at it. Back then, there was no restaurant scene in Cornwall which is very hard to imagine it now, but about 50 years ago, we were there at the very beginning. Because we were so close to the sea it was obvious to sell fish and we both learned everything on the job. We weren't trained and we didn't have any skills in hospitality – Rick did a day course at Camberwell College for some chef skills and that was it. Rick did the cooking with a couple of others (no trained chefs) while I ran front of house for the next 25 years. I even cooked in the kitchen for a time, so I really did try everything. Every year from there, we built the restaurant up and put all our profit back into it to make it bigger and better. In the beginning, we didn't have any money, so we had to make it work to survive."
Getting Up To Speed In The Industry
"I think the restaurant was a success because there wasn't any competition back then. Lots of customers from Polzeath and Rock came to us because they were wanted a nice place to eat seafood and unfortunately, there weren't lots of places in Cornwall who did that. I think that's why people kept coming back. We also cooked very simply. Rick and I were very young and had a dream – I think people liked that and enjoyed visiting an honest restaurant. It was never glitzy in those days. 
 
"Getting up to speed with the business happened gradually. We had a game plan of sorts, but we didn't always know what that was. The restaurant won an RAC award which definitely gave us a boost and some confidence to keep going. Rick also wrote his first cookery book, English Seafood Cookery, which won another award and we started to get some attention. Back then, none of the food journalists ever came to Cornwall – the Cotswolds was the hotspot – and we were a bit overlooked for a long time. But other awards followed, so people started to take notice and  came back via word of mouth – of course, there was no social media back then. In 1988 we bought St Petroc's which had been a small hotel and was quite run down. We added extra bedrooms by buying the building next door and opened a bistro. Rick Stein's Café followed shortly after, with the addition of a few rooms."
Rick and I were very young and had a dream – I think people liked that and enjoyed visiting an honest restaurant.

What Makes Great Interior Design
"Great interior design starts with intelligent thinking. I'm always drawn to light colours and clean lines which work well in almost all spaces. I like simplicity, much like the food we serve in our restaurants, and I find that paring things back often works best. When it comes to designing a room or space, I start with the location. A restaurant in London would have totally different interiors to one in Cornwall, for example, as the lighting and colours are completely different. My signature style is a mix of old and new – I don't stick to only traditional or contemporary looks; I think it's important to incorporate the two. I'm quite ad hoc and like to build from an image and create something timeless. I don't buy into trends and prefer something that will look chic for years to come.
 
"My own interior business came to fruition during a trip to Barbados. I was on holiday when I met Simon Nixon, co-founder of MoneySupermarket.com. He had bought several properties in Barbados and the UK and asked me to do the interior design for his first house in Cornwall. I did five properties for him altogether and it was a great time for me to be working. Rick and I had just split up, but we hadn't divorced yet. I wasn't sure if I could run a business with my ex-husband so thought it was a great time to start my own interior design company. Later, more projects followed, but it gave me enough time to consider whether I wanted to continue or go back into the Stein business. I eventually decided to go back full-time and drop my interior projects."
Working With Her Ex-Husband
"When I went back into the business, it was difficult working with Rick after our separation. Having my own interior company was another string to my bow and a backup plan in case things didn't work out – for some time, I wasn't sure they would. There were many times when I thought it really wasn't going to work, but that said, it wasn't easy for Rick either. Rick and I had a difficult few years, as we were still married for five years during our separation before we got divorced. I wouldn't want to go through that time again. Ultimately, the thing that kept dragging me back was that I truly loved the business we had created. I didn't want to do interiors for other people for ever, even though it was a great learning curve for me. Rick and I have a lot of history together, we have our children, and the big child that never grows up – the business. I wouldn't relive those difficult years but coming out on the other side has made me a stronger woman."
Finding Family Balance
"When my three sons [Jack, Charlie and Ed] were old enough, Rick and I actually tried to dissuade them from working in the business. We knew how hard and gruelling it was, and we both wanted them to follow their own career paths. The business was our baby and they were simply born into in. In the end, they all decided that they did want to be involved – it was totally their choice, even though we did everything to dissuade them. Now, working alongside them is difficult to describe because I don't consider myself their boss. It's mine and Rick's business so I find the balance between being their mother and having a view on what they do in the business very difficult. They're our sons and it is a balancing act, but one that ultimately works. I would say our relationship has slightly changed since working together – but you'd have to ask them! I've always said to other people who work with us that they don't need to treat our children any differently, they're a member of staff after all. I can be quite tough on them and don't give them the easy route. For others thinking about going into business with their family, my advice is that if it feels right, you've got to do it. If you have great faith in yourself, don't overthink the situation, just make a go of it. That said, things are very different today. It's very expensive to start and run a business, but that shouldn't put people off.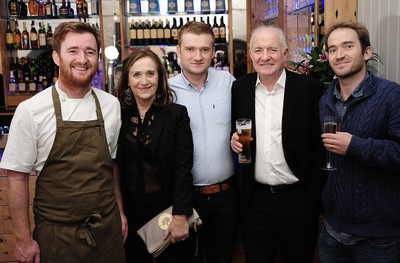 For others thinking about going into business with their family, my advice is that if it feels right, you've got to do it.

Her Love Of Cornwall
"I moved to Cornwall in 1968. I grew up in Stockport near Manchester and decided that I wanted to get away from city life. My sister had been in Cornwall the year before, so I decided to join her and managed to find a job in a small B&B. I worked there with a friend during the summer before heading back to Manchester. However, I couldn't settle in Manchester – Cornwall kept calling me back. I decided to make it my home, and I'd already met Rick at that point, so we decided to stay. In my opinion, Cornwall's coastline is the best in the UK. The south coast is beautiful, but Cornwall's north coast has a ruggedness about it. The light and the colours in the rockpools are amazing and they have influenced my interiors over the years. I wouldn't want to live anywhere else. 
 
"When I'm off-duty, I love to visit Hotel Tresanton in St Mawes which is a very special place. St Mawes is so beautiful, as is St Ives where Porthminster Beach Café is a must. The Pig at Harlyn Bay in Padstow is great, while Paul Ainsworth's pub in Rock, The Mariners, does fantastic food. Penzance and Newlyn are two very interesting towns I highly recommend too. If I'm not working, I walk along the coastline in Padstow and take a trip to St Ives – The Minack Theatre is beautiful. I'm a real foodie so I love trying new dishes at restaurants. The Hidden Hut on Porthcurnick Beach is also a lovely spot – it's not so hidden any more but it's a wonderful place for lunch."
Receiving An OBE
"Being awarded an OBE in 2013 for services to the restaurant industry was a very proud moment for me. It's one of the things I'm most proud of and it was also a great moment for the family. It was also a huge achievement for me as a woman in business. For many years, everything was about Rick – he's the main driver of the business – so to receive recognition for all the work I'd done was great. I also received an award last year as one of the most influential women in hospitality, which was a great moment. I'm extremely proud of myself for still being in the family business in my 70s. It's been a difficult journey, but I've come out at the other end where the business is in good stead and things are great.
Trusting Her Instincts
"For me, listening to my inner voice is so important. A lot of people can't do that, but my gut instinct is really strong – every time I thought something wasn't right and it turned out to be true, I wish I'd listened to myself. In business and in life, it's very difficult when you have lots of people around you who dissuade you against listening to your inner voice. As I've got older, I trust myself more and don't do anything I don't want to do. Luckily, when it comes to our business, Rick and I have very rarely made a wrong move, but it was sometimes hard to not be swayed by others' opinions. 
 
"As the Cornish restaurant scene has changed and grown so much over the decades, it's even more important for us to maintain standards. Luckily, we have an excellent team and The Seafood Restaurant is seen as quite an iconic destination now because it's been around for so long. We're not a Michelin-starred restaurant by any means, but we make food with no pretention which is often what people want to eat. The pandemic was a very difficult time for hospitality and, of course, we were affected like all businesses. However, we managed to finesse the business and actually turned around more profit. We also launched our at-home food kits during lockdown. It brought a taste of Cornwall to people's homes around the country and it also meant that our whole team, who were unable to work in the restaurants during that time, were able to go our unit in Padstow to create the kits and send them out."
Working And Growing Older With Style
"For me, my work is my life. I know that sounds really sad but it's all I've known. I love making the people who stay with us feel comfortable. I'm all about the style side of the business so I love it when guest stay in our rooms or come to our restaurant and say 'we're going to have some fun here', because I love to see people enjoying themselves. As an older person doing the job I do, I have more of an eclectic style. It's important to know what's coming up as a trend, but to also recognise how to dress appropriately as an older woman – a lot of fashion these days looks too close to something I would have worn during the 60s or 70s, so finding the right balance of keeping things fresh but also authentic is important. Of course, I don't like getting older, but who does? I'm incredibly lucky that we have a great business and we have fantastic people working for us who excite me. If I retired what would I do? I'm going to work until I drop."
Being awarded an OBE in 2013 for services to the restaurant industry was a very proud moment for me.

Finding Time To Switch Off
"At the end of a busy day or week, I love taking my dog for a walk. I can see the sea from my house, and I relax in my garden which is a haven for me. I'm not working the everyday operational side of the business anymore and running around at night in the restaurant, so I have more time for myself these days. I love cooking and switch off by listening to music. Music is very important to me and I listen to an eclectic range of genres. Of course, being by the sea is incredibly therapeutic and I like to think my life is wonderfully simple. I miss going on holiday and taking trips to London, but I know those luxuries will return to normal shortly. Ultimately, I feel very lucky about where life has taken me."
Creating A Skincare Range
"In 2017, I decided to create a natural skincare and lifestyle brand called Porthdune. We wanted to create something unique and special for guests in our hotel. We thought if guests liked it, we could sell it at our retail shop. A friend of mine who lives in Truro makes the beauty products – they're all organic and inspired by the Cornish coast around Padstow – while my daughter-in-law Kate Stein designed the packaging. It was important that it was exclusive and only available to us and our guests. However, all being well, it's going to be stocked in The Goring Hotel in London which is wonderful. There are three scents we use in the body butters, candles and skincare products. It took two years to launch everything, but it was lovely to work with Kate and try something a little different."
What's Still To Come
"We're planning to upgrade some of our rooms in the pubs and restaurants, and want to add some new ones in Padstow, too. We've also just added a collection of Shepherd Huts to The Cornish Arms St Merryn and we're always on the lookout for new sites. That said, we don't have any huge plans to expand during the pandemic, but we're excited to see what the future holds for our family and the business."
 
Visit RickStein.com
DISCLAIMER: We endeavour to always credit the correct original source of every image we use. If you think a credit may be incorrect, please contact us at info@sheerluxe.com.