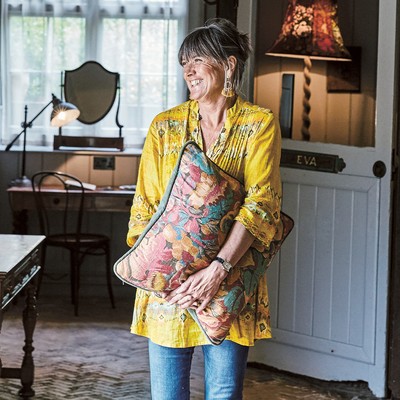 In Conversation With… Judy Hutson

It is ten years since husband-and-wife team Robin and Judy Hutson opened the first Pig hotel in the New Forest. Since then, Judy has spread her eclectic and charming interiors style across seven more Pigs, stretching from Kent to Cornwall. We caught up with Judy to chat through her life as a designer…

My love of interior design probably started when I was a teenager. I painted my bedroom pink and put up a centrepiece poster of the cover of the 1971 Pink Fairies album Never Never Land. I used to burn a lot of joss sticks and had masses of dried rosebay willowherb wound around the heating pipes in the corner of my room. Later in life, when Robin and I bought our first flat in Hampstead Village, I spent lots of time scouring junk shops. He and I are a holiday romance. We met in 1980 in the then tiny fishing village of Elounda on Crete. I was there with two girlfriends and he was travelling through with a friend on a motorbike.
 
I originally trained as an occupational therapist and worked for many years in short-term acute psychiatry. It was only many years later after Robin and Gerard Basset launched Hotel du Vin that I became involved in interiors. I never trained as an interior designer and still consider myself an amateur – I just follow my instincts and now, of course, I have a good back catalogue of references to work with. 
My second career started in 1994 when I became disillusioned with the health service and Robin encouraged me to get involved with the interiors at the first Hotel du Vin in Winchester. Ten years later, having completed seven hotels under that brand, we sold them and I was asked to do the interiors at a local pub with rooms, The Peat Spade at Longstock. This was followed by several years of me working on refurbishing and updating the fabulous Hotel Crillon Le Brave in Provence. It was during this time that Robin had his eureka moment for the concept of a kitchen garden-inspired hotel. The Pig in the New Forest opened in 2011 – since then we have completed seven more Pigs.
 
When it comes to designing a new hotel, Robin and I spend a lot of time in the building before any work starts, planning the layout and finding the character and features we can begin to work around. From that point, I usually find the building talks to me and often quite naturally gives me the clue to the overall look and feel that I might follow. Once that is established, I begin my search for fabrics, paints, wallpapers and key pieces that everything else will evolve from.
Although there are many hospitality spaces I admire, I don't think there are any particular influences on my style of design. We try hard to make the look and feel of each Pig unique, and develop a style that is comfortable and feels like someone's home rather than a design museum. I like to bring the outside in, and this always informs some of the interior look – think fabrics with botanical themes and lots of seed trays filled with kitchen garden plants in our restaurants. 
 
I believe my style has developed over the last 25 years as I have grown in confidence and have a deeper understanding of what works and what doesn't work so well. I am sure we make plenty of technical design mistakes, but in some ways the idiosyncratic nature of the rooms we put together is the strength of the look. The architecture of our listed buildings always gives a unique feel and clues to the colour palette I use in each Pig. This is the aspect of the job I enjoy most – choosing fabrics and working out the colour palette to show them off to their best advantage. I love natural earth tones of greens and greys rather than hot pinks and yellows. I find green relaxing, calming, inviting and non-challenging. I certainly don't do 'shiny' and prefer a pared-back, natural look. 
 
There are some specific design ideas I like to repeat. For instance, I like to see textures as much as colours, and I use lots of velvets and linens, which might appear as upholstery in a bedroom or perhaps as curtains in a public area. I like to work with young British designers where possible, but keep my sources close to my chest! I have increasingly introduced wallpaper in the past few Pig projects – House of Hackney and William Morris provide a fantastic array of botanical-related designs that suit our hotels very well indeed.
We source our furniture from lots of our favourite antique shops and warehouses both here in the UK and abroad. Of course, since the Covid restrictions we've had to increasingly search online. We are not really fans of auctions and rarely go to car boot sales; both can be fun but equally can waste a lot of time when deadlines loom. I do like to include a certain amount of upcycled items – which means finding a new use for a previously used item – so long as they are not too contrived.
 
Robin and I have now worked together for many years. He has always been in the hotel business, which is 24 hours a day, 365 days a year, so my understanding of hotels and working in them really helps. We are very lucky that we both love what we do, and that there is a seamless blend of work and home. When a project is in full swing, we end up eating supper on our laps because I have covered the breakfast room table with samples and swatches. So we both need to be relaxed about that! 
 
We're also very lucky that our children are involved in the business. Ollie studied at agricultural college and is now the group's head kitchen gardener. Our younger son Will went to Camberwell Art College and is a tattoo artist and illustrator. He has done several pieces of work for the Pigs, including t-shirts, wine labels and signage, and he's currently illustrating our next Pig book. I am so proud of them and love the fact that both boys are free thinkers and doing something they are passionate about.
I think one of the business's greatest achievements is the team we have created. They have become part of our extended family. Working together, we try not to sit on our laurels and are continually looking for opportunities to improve the interiors of the hotels. The operational teams work hard to ensure quality is maintained in all areas, too.
 
Lockdown was hard from both the family and business points of view. There was a lot of pressure on Robin, so my role was very much a supportive one by trying to remain positive and keep smiling.
 
For anyone who is looking to go into hotels, I would say it's a fantastic business to be involved with but more of a vocational lifestyle than a nine-to-five job. Hard work and tenacity are probably the best attributes you can possess for a career in hospitality. 
When it comes to relaxing, I walk because it clears my head. I have done some epic walks in the past few years, but I also love just walking from our house around the water meadows and hills surrounding Winchester. When time allows, I'd choose to go to Kamalaya on Koh Samui in Thailand – it's the perfect wellness retreat that really does restore one's energy. It's also important not to forget old and dear friends when business life is all-consuming. Having just completed The Pig in the South Downs, I am looking forward to having a little more time with the grandchildren, family and friends. 
 
We also both love cooking at home. I am a recipe cook and enjoy making creative vegetarian dishes from the likes of Sabrina Ghayour and Amelia Freer. Having said that, my signature dish is my mother's special recipe for cooked tomatoes on toast. Robin, however, is a 'raid the fridge and cupboards' sort of person and makes it up as he goes along – sometimes there are misses but usually they are hits. We also love going to many different sorts of restaurants – probably one of our absolute favourites is Petersham Nurseries. We also recently went to the Mash Inn in Radnage, near High Wycombe, and absolutely loved the food and ambience there.
 
To book a stay at one of the Pig hotels, visit ThePigHotel.com. Rooms start from £155.
DISCLAIMER: We endeavour to always credit the correct original source of every image we use. If you think a credit may be incorrect, please contact us at info@sheerluxe.com.