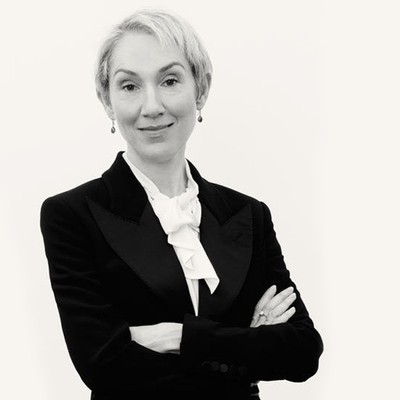 In Conversation With… Justine Picardie

If you're interested in fashion, you will have heard of Justine Picardie. Having started her career at the Sunday Times and British Vogue, she went on to edit glossy magazines Harper's Bazaar and Town & Country. Her bestselling 2010 biography of Coco Chanel won numerous accolades and now she has turned her attention to the untold story of Catherine Dior, the youngest sister of Christian and a member of the French Resistance who was incarcerated in a German concentration camp. Here, Justine tells SheerLuxe Gold about her illustrious writing career…

Photography: OLIVER HOLMS
All products on this page have been selected by our editorial team, however we may make commission on some products.
I grew up in London and Oxford. My father was a writer and an academic, and my mother was a teacher. I had a younger sister, Ruth, to whom I was very close – she was my best friend. My parents had a tempestuous relationship and their marriage eventually ended in divorce, so there were lots of periods of uncertainty and unhappiness in my childhood. Fortunately, my love for my sister – and her love for me – offered a real sense of stability throughout these early years.
 
As a child, I read and wrote plenty of stories. I suppose I was quite a rebellious teenager but, somehow, I managed to pass all the necessary exams. My sister and I used to make our own magazines together – we would write and illustrate them and become completely immersed in this shared experience. I went to study English Literature at Cambridge University before going on to complete a postgraduate course in journalism at City University in London.
 
My big break came when I was still at university. I entered the Vogue writing competition when I was still at Cambridge and won a prize to have my article published in the magazine. I was only 20 years old at the time and continued to do some freelance writing for them afterwards, as well as writing for The Face in the 1980s.
 
My first 'proper' job was at The Sunday Times. I was incredibly lucky to be taken on at the age of 21, where I was trained as an investigative journalist for the Insight team after submitting some investigative stories while I was at City. Those early years as a reporter taught me so much – I did crime reporting, news stories, features, foreign assignments, interviews, in-depth investigations, and I also worked in the US. It was an incredibly rich and varied time. 
 
In 1998, British Vogue editor Alexandra Shulman hired me as features director. I'm not sure how it all came about, to be honest – I'd been the editor of The Observer magazine beforehand, and Alex approached me about moving to Vogue. Suffice to say, I said yes – immediately.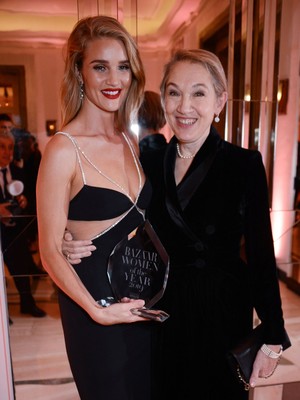 RICHARD YOUNG/SHUTTERSTOCK
There are so many memorable moments from my time at Vogue – seeing Alexander McQueen's extraordinary shows, and working with Tracey Emin, Sam Taylor-Wood, Marc Quinn and other young artists on a series of Kate Moss covers are just a couple of highlights. I also witnessed the real rise of celebrity cover stars – plus, I had the opportunity to interview everyone from Kate Winslet to Robbie Williams.
 
It was during this time I realised just how much of a global business fashion is. It was also the era when Karl Lagerfeld became hugely influential. I'd met him for the first time just before I joined Vogue, and he played a significant role in how I thought about fashion, as well as its cultural and historical context.
 
My sister Ruth died of breast cancer when she was 33 – it happened right before I joined Vogue. A few years later, I decided to write a book about her, which also explored spiritualism and magical thinking. 'If the Spirit Moves You' was published in 2001 and became an unexpected bestseller – and it made me want to go on to write more books. Despite leaving the magazine to pursue this properly, my relationship with British Vogue continued for many years, mainly as a contributing editor.
 
Writing books allows you to become more immersed in a story – not to mention being able to write creatively, in a way that truly expresses yourself. But it's also a much more solitary occupation in many ways. That said, once the book is published, you have to go out and promote it, as well as doing interviews, book signings and appearing at literary festivals, all of which offer something completely different, too. 
 
The research for my Coco Chanel book took many years. It started at the end of 1997, when I interviewed Karl Lagerfeld for the first time in Paris, and we talked about Coco Chanel. After that, I went looking for clues about this enigmatic woman and tried to discover more about the various unknown episodes of her life, from her childhood onwards. I never expected the book to be as successful as it was although, in retrospect, I can understand the research was really interesting and unusual to a lot of people. I was given full access to the Chanel archive and also found fascinating, previously unseen material in the private archives of the Duke of Westminster and Winston Churchill. The duke was Chanel's lover in the 1920s and her friendship with Churchill began around the same time.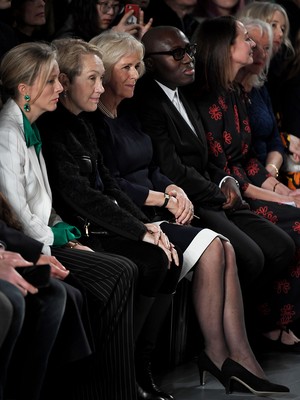 JAMES VEYSEY/SHUTTERSTOCK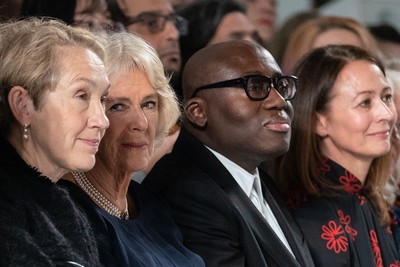 TOM NICHOLSON/EPA-EFE/SHUTTERSTOCK
At this point, I'd also been a contributing editor to Harper's Bazaar for several years. The legacy and heritage of the magazine was something I'd always admired, but it was the success of my Chanel biography which was crucial in me being offered the top job – as well as my previous experience at Vogue, along with writing for the US and UK editions of Harper's Bazaar. In the end, I took the job because I believed in what Bazaar stood for – its commitment to art and literature, as well as fashion.
 
I loved my time at Bazaar – working on every issue was a dream and there was pleasure in nailing the smallest detail of every page. It was a privilege to have the opportunity to work with iconic female artists on bespoke, limited edition covers for the magazine, too, which then went on to be sold at the V&A, the National Gallery, the Tate and the Royal Academy, and to publish legendary writers, including Margaret Atwood. Ultimately, we championed women at Bazaar – which is probably what I'm most proud of when I look back.
 
Back then, Town & Country had an equally distinguished history as Harper's Bazaar. Both titles were originally launched in the 19th century – so in that sense, relaunching Town & Country in 2014 wasn't the same as coming up with a new product. It has a remarkable past – publishing Evelyn Waugh, for example, in the 1930s – which was worth celebrating. It's so important to understand the past in order to look ahead to the future – in luxury brands, as in life. The same team worked across both titles, but we had a very clear idea of the differences between the two. Being part of the same family, it was as if they were cousins, each with distinctive features but with certain shared values.
 
At the end of 2019 I left Harper's to write my new book, 'Miss Dior: A Story of Courage and Couture'. I'd been given the chance to browse the Dior archives in Paris soon after my Chanel biography was published, so the idea of writing a book about Dior had long been in the air. After signing a publishing deal, I knew I couldn't take on such a challenging project while still editing two magazines. Even so, I remained a contributing editor to both titles, and am still very close to my former colleagues there – they're good friends and I feel very loyal to them.
 
The research process was very similar for 'Miss Dior' as it was for Chanel. It still involved going to the places where the people I was writing about had actually lived, at the same time as piecing together what I discovered in various archives. This book had far darker elements, though – I went to Germany twice to research Catherine Dior's imprisonment in the Ravensbrück concentration camp during the Second World War.
 
Thankfully, I finished the research just before the first lockdown – my final trip to Paris was in March 2020. I therefore spent much the pandemic at home, writing every day. That period turned out to be helpful in terms of the writing process – and the book was an important way of putting the pandemic into context. For example, I was writing in depth about the Second World War and discovering how people coped with the trauma – which was a timely reminder that we have to try to find inner resilience during times of global disruption.
So far, the reception to the Dior book has been very positive. It reached number eight in The Times bestseller list in its first week of sales, which was Christian Dior's lucky number – so it felt like a good omen. Right now, I've got several months ahead of me of promotion – the book is being published in France, the US, Germany, China, Australia and various other countries as well. So, I'm juggling all sorts of different foreign schedules right now.
 
Clearly, the rise of social media has changed the media landscape forever. Brands now have immense followings on Instagram – Chanel has over 46 million followers, for example – so they can tell their own stories, and reach an audience directly, without much help from magazines or other forms of traditional media. If you ask me, people still love magazines because they love tangible artefacts. In the end, digital and print are not mutually exclusive – we can still enjoy story telling in myriad different forms.
 
Looking back over my career, the main piece of advice I'd give my younger self is to be kind, as well as courageous. Discover your own authentic voice and remain true to yourself, your beliefs and your principles. Don't be destructive about other people, either – remember, creativity is a positive act. Finally, bear in mind that what looks like failure or an unhappy ending can turn out to be the beginning of a new chapter. And go in search of your own stories, rather than following or trying to imitate anyone else's. 
 
'Miss Dior: A Story of Courage and Couture', published by Faber & Faber is available from Waterstones.com. Follow @JustinePicardie on Instagram.
DISCLAIMER: We endeavour to always credit the correct original source of every image we use. If you think a credit may be incorrect, please contact us at info@sheerluxe.com.