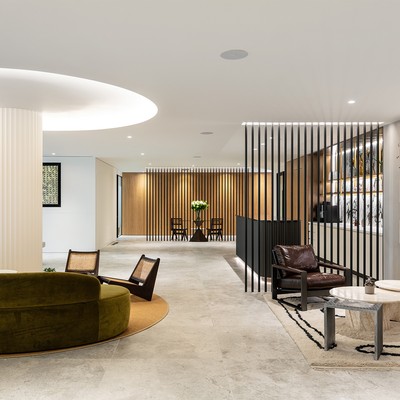 The Destination To Know For A Holistic Approach To Healthy Ageing

While the last 18 months inevitably saw us putting more effort into looking after our skin at home, it also spiked an interest in health, wellness and longevity. With demand for rejuvenation treatments soaring, knowing where to go is worth its weight in gold. From the holistic approach that'll support ageing from all angles to the chic interiors, here's why Ouronyx is the new name you need to know…

CREATED IN PARTNERSHIP WITH OURONYX
Ouronyx Is On A Mission To Shift The Ageing Narrative 
Today, 18th October, marks World Menopause Day, a day dedicated to raising awareness of the menopause and the support options available for improving health and wellbeing. Of the many changes that happen during this transitional phase of life, the menopause can bring with it noticeable changes to your skin and hair along with a range of less visible ones, such as reduced bone density. As hormone levels shift, your body stops making as much collagen; you lose fat under your skin and skin elasticity drops. This, combined with a loss of bone in our facial structure, can cause sagging, especially around the neck, jawline and cheeks, as well as fine lines and wrinkles. However, with the right care, you can stop these changes in their tracks and promote a more positive and healthy appearance. Meet Ouronyx, the destination that's reshaping the facial aesthetics industry. Looking towards the future, Ouronyx is all about personalised, holistic treatment, and the launch of its Menopause Programme planned for later this year is no exception. Shrouded in stigma, the menopause – something that happens to 50% of the world's population and counting – is long overdue a rebrand, and Ouronyx is passionate about driving this change. 
It Fuses Science With Beauty
Ouronyx opened its doors on St James's Street with a soft launch in April and has become one of the capital's hottest destinations for a natural-looking youth boost. Through her own experience with non-surgical treatments, co-founder Ida Banek realised there was an opportunity to look at facial aesthetics in a new and different way. Inspired by her background in analytics and behavioural science, Ida set out to establish a destination that would not only provide a technology and data-led experience but would also change the narrative of the industry as a whole. "I used to dislike the way I was referred to as a 'patient' when I'd go for an appointment because I didn't feel ill," she tells us. "At Ouronyx, you're never a patient and you won't feel inferior to any doctor – you're our client who we're on a journey with." Alongside Ida is co-founder Marc Princen, former executive vice-president and president of international business at Allergan.
It's More Akin To A Chic Members' Club Than A Clinic 
Checking into Ouronyx is like entering a private members' club – there is no formal reception desk or waiting room and the large and beautiful space, complete with minimalist interiors, instils a sense of calm and luxury. Aside from the slick interiors, Ouronyx stands out from its competitors with its unique approach to aesthetics. Ouronyx believes that women should feel empowered to invest in themselves, with treatments that make them feel and look healthier and revitalised. Their application techniques may range from facial injectables to the latest generation of energy devices and micrografting, but all with the same goal to deliver natural looking results with minimal downtime.
It Offers Bespoke Treatments 
Regardless of treatment plan, every Ouronyx client has access to state-of-the-art technology. Consultations are carried out in 3D – to establish the optimal treatment plan, the team will assess your face from multiple angles, taking into account everything from volume loss to wrinkle depth, pigmentation and bone structure. Then, over the ensuing weeks and months, you'll see your treatments taking effect. The team believes the greatest barrier to trying injectables is the fear of an unnatural-looking result – something that is perhaps even more important with age – which Ouronyx aims to break down, thanks to a unique blend of science and psychology. Prior to every treatment, clients undergo a simple psychometric test to determine their key aims, as well as their fears and aesthetic goals, to inform the treatment plan and give you a road map, so you feel more in control. 
It Brings Together The Industry's Top Talent
Forget unnatural results – Ouronyx has carefully selected the most experienced and inspiring team of doctors in the field of facial aesthetics globally, so rest assured you're in good hands. Each doctor is also passionate about ageing and, as part of the soon-to-launch Menopause Programme, will work with you to protect and nourish your appearance. Ouronyx is the name to know for a progressive approach to a confident, balanced life and support that will make you enjoy this time in your life and feel like yourself again. 
Visit Ouronyx.com, follow them on Instagram here and like them on Facebook here
DISCLAIMER: Features published by SheerLuxe are not intended to treat, diagnose, cure or prevent any disease. Always seek the advice of your GP or another qualified healthcare provider for any questions you have regarding a medical condition, and before undertaking any diet, exercise or other health-related programme.
DISCLAIMER: We endeavour to always credit the correct original source of every image we use. If you think a credit may be incorrect, please contact us at info@sheerluxe.com.