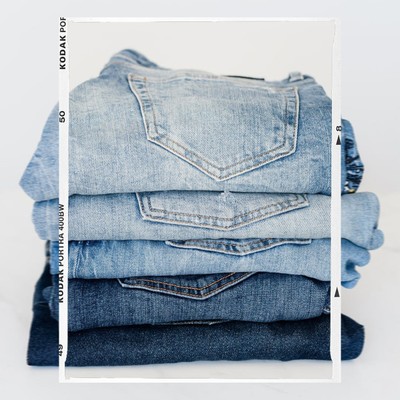 Everything You Need To Know About Buying Jeans

Shopping for jeans is always a struggle, and with more and more denim trends out there, what really looks good can get lost in the noise. From cuts to wash, length to brands, we asked three experts for their advice for finding the perfect pair of jeans…

Photography: PEXELS/KAROLINA GRABOWSKA
Finding the perfect fit comes down to several factors 
"While body shape might be the biggest consideration when you're younger, as a mature woman it's a finer balance of body shape, style and wash," says stylist Victoria Genevieve. "Understanding your body shape and accepting it is key," agrees Donna Ida, founder of her eponymous denim brand. "Know it, accept it, dress for it and celebrate it, as you can fluctuate in weight but ultimately your shape won't change," adds Donna.
Generally speaking, straight leg shapes are flattering for all
"High-waisted, straight-cut jeans are the most universally flattering jean style," says stylist Deborah Sheridan-Taylor. "They work on the majority of body types as they're a bit looser than a skinny but give a similar silhouette." Victoria agrees: "I love a straight leg shape on a mature woman as it can be worn in so many different ways." 
That being said, don't feel you can't experiment with other shapes
"For mature women on the shorter side, high-waisted, ankle-length skinny jeans look fabulous when styled well – for example with a blazer," advises Donna. "A boyfriend jean spans the ages too," she adds. But there are a few things to consider. "I tend to prefer a slimmer fit boyfriend jean for a mature woman, preferably in a lighter, vintage wash," says Deborah, and Victoria recommends styling the look carefully: "Keep the rest of your outfit quite classic to balance the shape of the jeans."
There's no reason to let age dictate what colours you wear
"I love denim in all washes, as they each have a time that they work best depending on which season it is," says Donna. "Black and mid-blue are great for winter, but I also love white in this season when styled with tonal cream and oatmeal hues." Dark indigo is particularly fail-safe for a more mature woman but, as Victoria advises, "ensure that the stitching is also dark – there's nothing worse than contrasting light stitching when wearing dark wash jeans, as it can give an impression that your jeans don't fit properly."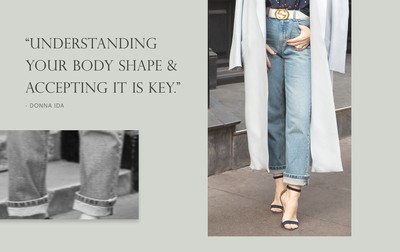 When it comes to white denim, avoid anything too tight
"I would steer clear of white skinnies as they can easily become unflattering if not styled correctly," advises Deborah. "Ecru is often a safer bet than bright white if you're worried about them looking cheap, and opt for a straight leg instead for a more polished look."
The beauty of getting older is knowing what suits you best
"It's a joy that, as you get older, you know what works for you," says Donna. "Past our late 40s, you stop trying to pull off the same look as our friends with different shapes and instead dress for yourself." Stylist Deborah agrees: "As a mature woman, you've probably seen and tried all the varying denim styles the first time round as fashion is so cyclical. If you feel daunted by shopping for jeans, take comfort in that."
When it comes to rips and distressing, proceed with caution
"Nothing screams 'inauthentic' like a rip that looks like it's been deliberately cut in," advises Deborah. So instead, opt for distressing that reflects the look of natural wear and tear. Donna agrees: "Small abrasions around the hip bones and some grinding on the pockets offer a more lived-in look, which will offer a more timeless, grown-up feel." 
Assess your body shape before you decide on waist height and leg length
"Generally speaking, a higher waistline is flattering on a mature woman as it flattens the tummy, improves your posture and elongates the leg," says Donna, "but it's important to know where your length is to work out what rise suits you best. For example, if you've got a shorter body but longer legs, a mid-rise might work better for you, and if you have a longer body but a shorter leg, then opt for a high rise instead." As for cropped lengths, Deborah advises the most flattering length is just above the ankle bone: "I think a bit of ankle on show looks great on anyone. One trick I use to get the proportions right is to mirror the same length with your sleeves – having a flash of your wrist on show is the perfect equaliser."
When it comes to styling, it's all about balance
"As you get older, I find it's more flattering to go for something lighter on your top half, like a simple blouse or a cashmere jumper," says Victoria. Deborah agrees: "Contrast is key, so lean towards softer fabrics as a counter-balance. Silk, lace and merino wool will all balance out the heavier presence of the denim."
"I love the way Renia Jaz styles these jeans by Frame – adding a feminine, puffed sleeve top perfectly balances out the light wash and straight leg of the denim," says Victoria. 
Designer denim could be worth the investment
"As you get older, the key thing to look for is quality, in other words buy better, buy less, and often investing a bit more in jeans is the solution," says Donna. "My denim brand was born with the mature woman in mind and naturally I'd recommend our styles, but elsewhere I like J Brand, Sezane and Wyse." Likewise, Victoria and Deborah believe spending more on jeans is worthwhile. "If jeans are something you will wear a lot then of course, it's worth spending more," says Victoria. "Paige, Frame and Max Mara all have great denim collections," she adds. "I'm currently loving SLVRLAKE's London High-Rise jeans," says Deborah, "at around £300, they're definitely an investment, but be patient as if you look around hard enough, they're usually on sale somewhere online."
However, the high street has plenty of great options, too
"Weekday has plenty of affordable options when it comes to boyfriend straights and mom jeans – particularly their 'Voyage' style," says Deborah. "& Other Stories is great too – I'm a big fan of their flared high-waist cotton jeans which are a more affordable alternative to SLVRLAKE London." While Donna also recommends & Other Stories, Victoria adds: "The White Company always has a fabulous selection of jeans to suit mature women, as do Zara and H&M."
Ultimately, confidence is the key to pulling anything off
"I don't believe in age-appropriate fashion, per se," says Donna, "as I've seen women in their 70s and 80s rocking skinny jeans as well as any 20-year-old could! Wearing what you're comfortable in is most important." Both Victoria and Deborah agree: "Confidence is key when wearing anything, especially jeans – if they aren't comfortable then you won't feel good wearing them," says Victoria. And Deborah adds: "What suits you best is what makes you feel good, so trust your instincts instead of focusing on fleeting trends and you will look great as a result."