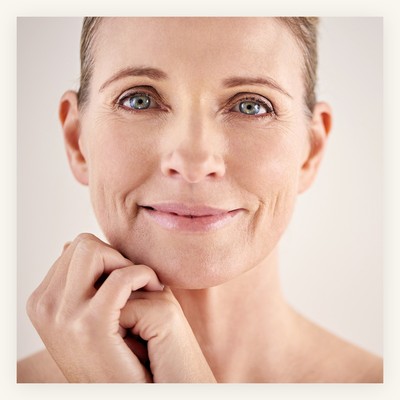 Face Acids: A Complete Guide For Mature Skin

Alongside retinol, acids are now considered the 'gold standard' in age-targeted skincare. Yet many of us are still unsure exactly what to go for – not to mention how to use them correctly. Essentially, they work to break down the bonds between older, dead cells, loosening them to smooth fine lines and brighten dark spots for a more youthful-looking complexion. Their benefits, however, go way beyond this. To explain exactly how, we asked the experts.

Photography: ISTOCK/PEOPLEIMAGES
First things first, what are acids?
"Acids have incredible exfoliating properties and they boost skin cell renewal like no other," explains Colette Haydon, expert and founder of cult brand LixirSkin. "They're able to reveal a brighter, smoother, more radiant and refined complexion after just a few uses. Years ago, they were associated with strong and aggressive chemical peels, but since then formulations have come a very long way for more effective results."
Aside from brighter skin, what other benefits do they offer?
"Acids get to work by breaking down the 'glue' that connects old, dead skin cells to the top layers of your skin," adds Colette. "With regular use, people find that not only does their complexion look brighter and more youthful, but that superficial pigmentation from sun damage starts to fade, while fine lines and wrinkles look smoother, too. Even if you don't have dead skin cells, any product you apply after your acids will sink in more effectively, thanks to the smooth surface they leave behind." 
So, what you should look out for when shopping for them? 
"If you're looking to invest in acids, you need to ensure you're getting the correct ones for your needs," explains Dr Justine Kluk, Consultant Dermatologist. "For mature skin specifically, there are five worth having on your radar. Firstly, glycolic, which is great for treating fine lines and wrinkles. It has smaller molecules, which means they can penetrate more deeply into the skin, stimulating collagen and elastin. I highly recommend lactic acid, too. This is excellent at improving hydration as it draws moisture in. Likewise, Mandelic is popular for good reason. With larger particles, it exfoliates, brightening dull, lacklustre skin. I often advise those with reactive skin types to try this as it's quite gentle. Finally, polyhydroxyacids (PHAs) and azelaic are well worth knowing too. The latter is great for breakouts and recurring red or brown marks, while the former penetrates the skin slowly, exfoliating gently. You can expect a smoother surface and increased hydration." 
How often should you use acids in your routine? 
"A key thing to remember with acids is that you should introduce them slowly," advises leading facialist and skincare expert Abigail James. "It's really important you never over sensitise the skin, so build up your usage, starting with once or twice a week, then increasing your amount. A slight tingling is normal, but if you experience anything more severe, stop using it immediately. I recommend to all my clients using acids after cleansing when skin is fresh and primed for absorption of ingredients. I also advise not to use multiple products that contain acids – this will cause issues as you will be mixing all sorts of formulas. Stick to just one or two (maximum) that work well for you. My go-to for those with mature, sensitive skin is REN's AHA Tonic. It gently brightens and can be used daily." 
In terms of your regime and application, where should they sit? 
"My advice is to apply AHAs at night to give them plenty of contact time with your skin's surface," recommends Dr Justine Hextall, Consultant Dermatologist. "You don't need to apply acids every night either – every other evening is more than enough. The only time I recommend applying an acid in the morning is if you have skin that's prone to spots or redness. In this instance, I advise using a light 2% salicylic toner first thing and a retinol at night. If your skin is on the dry side, stick to just a hyaluronic acid at night. This works to attract water to the skin's surface and boosts hydration like nothing else. I often recommend this for mature women as from our mid-twenties we lose our own natural supply of hyaluronic, with the biggest drop coming around the time of the menopause, so it's important to reinforce it where possible." 
Is there anyone who should avoid acids altogether? 
"As mentioned above, the menopause (during and after) makes it harder to maintain moisture levels in the skin, meaning our skin barrier function can become impaired," adds Justine Kluk. "As a result, mature skin is prone to dryness, which means it's also more likely to be at risk of irritation from certain acids. That's why you should always build slowly, and make sure your skin is thoroughly hydrated before you use any acids. Likewise, it's important to note that if you have a skin condition, like eczema or rosacea, you should always consul a dermatologist before any experimentation. Try not to aggravate any underlying conditions." 
At what age should you begin to use them in your skincare?   
"As we get older and our skin sustains sun damage, the turnover of our skin cells slow, so it's no surprise we start to show signs of photo-damage – think fine lines, sun spots and hydration," says Justine Hextall. "This is why acids are extremely beneficial for mature skin – they are proven to remove dead cells, brighten and stimulate collagen. Most of us (but especially those over the age of 40) will benefit from an exfoliative process, you just must ensure you're balancing this with hydration. As mentioned throughout, you don't need a host of products, just one or two that work particularly well for you. I can't tell you how many times I've seen patients that have introduced acids into their regime and suddenly their skin has become irritated. Usually this is because products have been introduced all at once and used too frequently. Take a slow and steady approach that follows the motto 'active and repair'. By this, I mean, use your actives at night and repair in the morning, compensating with a very gentle cleanse and hydrator." 
Finally, any other key things to note?  
"You should always wear an SPF of 30 or above when using acids. In fact, this is one of the key takeaways," adds Justine Kluk. "Acids make your skin much more susceptible to sun damage, so you should always wear sunscreen daily. Moisturise well, too – both these steps will improve tolerability of the acid and reduce unwanted dryness or redness." Abigail agrees: "SPF is paramount anyway, but especially when using acids. If you've run your acids down onto your neck and décolletage, you should apply SPF here, too. It's worth noting though, the neck is much more sensitive than the rest of your face, so either avoid using acids here, or be extremely cautious. You can use them on the décolleté without worry though."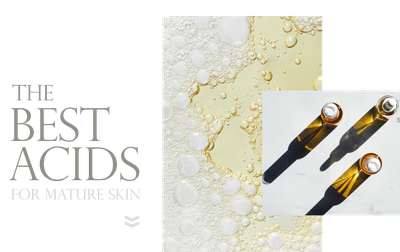 Glycolic
BEST FOR: Fine Lines & Wrinkles
WHAT IT DOES: Boosts collagen and elastin levels within the skin for a firmer appearance
Lactic
BEST FOR: Hydrating Dry Skin
WHAT IT DOES: Draws moisture into the skin, smoothing roughness or a bumpy texture 
Mandelic
BEST FOR: Improving Tone & Brightness
WHAT IT DOES: Great for reactive skin types, this provides gentle exfoliation to brighten dullness
Poly Hydroxyacids (PHAS)
BEST FOR: Sensitive & Dry Skin
WHAT IT DOES: Mildly exfoliates over time while increasing moisture levels in the skin
Azelaic 
BEST FOR: Dark & Red Spots
WHAT IT DOES: Reduces the appearance and size of red and brown spots, while minimising blemishes 
 
The Top Acids Experts Recommend…
DISCLAIMER: We endeavour to always credit the correct original source of every image we use. If you think a credit may be incorrect, please contact us at info@sheerluxe.com.