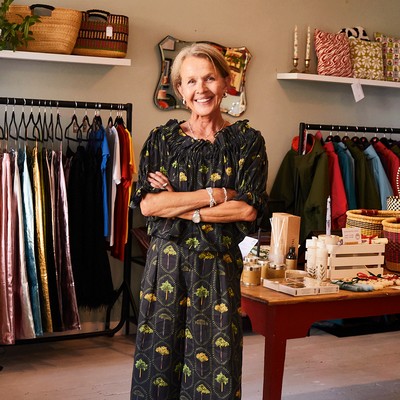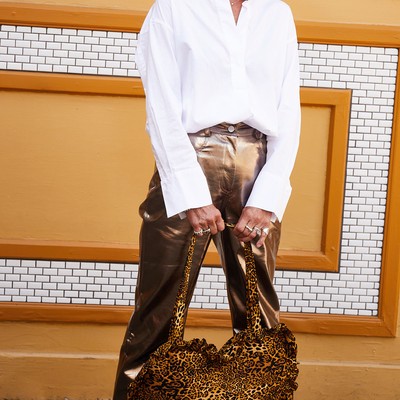 A Model & Boutique Owner Shares Her Style Tips

Dulcie Andrews became a model at the age of 60. Then last year, she left her busy London life and bought a house and shop in Margate where she now runs a fashion boutique. Here, she tells us about her move to the seaside, starting her modelling career later in life and her approach to fashion and style…

Photography: EVA PENTEL
All products on this page have been selected by our editorial team, however we may make commission on some products.
I have always loved clothes and fashion. When I was young, I was always sketching clothes and shoes and I desperately wanted to be a fashion designer but was put off by the sewing, which I wasn't very good at. I love looking through magazines for outfit ideas and, since opening the shop, I'm always looking for inspiration for brands we can sell as well as what I would like to wear.
It is important to me how I look. I have always hated wearing any kind of uniform or having to conform to an aesthetic that isn't mine. I love clothes and my philosophy is you have to wear clothes, so why not wear nice ones!
After nearly 50 years in London, I wanted a change! I had lived in London since I was 18 and I thought, if I don't do it now, I never will! I've always loved the sea and Margate seemed a great combination of creativity and seaside. I have always wanted to set up a shop and moving from London to Margate and downsizing gave me the extra money I needed to do it. I run the boutique with my daughter, Eva, and it's a dream come true. 
I have always been involved in fashion in one way or another. When I turned 60, I became a fashion model and before that I was a fashion photographers' agent. I also used to work in the iconic vintage clothes shop, Virginia in London. 
I wear a lot of black, green, black florals and leopard print. As I don't have a wide range of colours in my wardrobe, I find it easy to mix and match. I also love a star motif and I have two stars tattooed on my wrist. In the summer, I wear dresses and skirts and, in the winter, it tends to be trousers, tracksuits and jumpers. I love wearing things that are a bit quirky and out there, like metallic trousers and floral coats.
I never wear blue as I'm reminded of my awful school uniform! I have been put off the colour for life and I don't wear blue denim or jeans either – they're just not for me. I wish I could wear more white but I have such an active life with the shop and my pets that anything white always ends up getting grubby! 
I don't think my style has changed much over the years. Obviously current fashion trends play a part in my style, but I have photos of me in my 20s and 30s wearing very similar outfits to what I wear now. I have a firm idea of what I like and what suits me and I'm a very decisive shopper – I rarely take things back.
My three style rules are: Don't be a slave to fashion trends, especially if something doesn't particularly suit you; don't wear uncomfortable clothes or shoes as you won't have a good time if you not comfortable; finally, it's so important to wear what makes you happy, so don't dress to please other people.
I always start my outfit in my head and I'm always practical! I always think about what I have to do that day and, living in the UK, I always have to think about the weather too! I also have dogs to walk and I walk to work across the beach or along the seafront in all weathers. I am a big matcher – I hate it if things don't go with each other or look overdone.
I'm always so proud of our window displays. We have a nice big window and it's very gratifying when we see people looking in and admiring our clothes. I have also been making my own line of towelling beachwear from upcycled and vintage towels, which I find incredibly rewarding. I have learnt how to sew properly at last!
I have a FIRM IDEA of what I like and what suits me and I'm a very DECISIVE SHOPPER – I rarely TAKE THINGS BACK.
We are always experimenting with products and finding out what our customers like. Our product choices and style are a work in progress, and we are constantly evolving. Margate is a very seasonal town so we have to work out what we should stock at different times of the year. It's also full of so many different characters and creatives with diverse style, so it's definitely a learning curve. 
I only give my customers style advice if someone asks for it. We haven't been open long but we have quite a few regulars who pop in to see what's new. I love chatting with my customers and getting to know their style and what they like to buy and how they like to shop. 
I don't wear a huge amount of accessories, but I always have my silver jewellery on. I wear a mixture of sentimental pieces and chunky silver jewellery by Jayne Fowler and Eve Wilson who are local designers. I love jewellery that means something – I have a chunky silver charm necklace with lots of bits and pieces on that have special memories.
I am not a designer handbag person. I'm usually carrying lots of random stuff so I always use oversized bags. I use a variety of large coloured basket bags and tote bags in the summer and my favourite in the winter is a big fluffy tiger print bag from Stand Studio. Currently, my favourite handbag is a Katie France large leopard love bomb bag. It is beautifully made and big enough to fit everything in.
The high street is good for wardrobe staples and I often shop for basics at Zara. l can always find something I like at All Saints too – I love their prints and slip dresses which have been my summer staple this season. I also love the leopard print collection at Ganni and, when I'm in London, l always have a look around Liberty and Selfridges.
I like to support local businesses and shop at small independent boutiques. Margate is such a creative place and it has some fabulous shops. I love my neighbouring shop Margaux, The Albion Stores and Positive Retail for pre-loved designer pieces. Independent shops bring a personality and an energy to an area.
I'm very good at clearing out clothes I don't wear and regularly get rid of unwanted pieces. I shop quite a lot in local charity shops and have some great finds from when I lived in London, such as my fabulous silk Erdem trousers. I also buy on eBay, and am always checking out my favourite designers, past and present.
I'm always happy to splash out on a cashmere jumper – they are a mainstay of my winter wardrobe. I would love one of Zadig & Voltaire's jumper with the stars. Cashmere is also a great thing to buy second hand. I adore quirky sunglasses and will splurge on a good quality statement pair of glasses every summer, even though I have quite a few now!
I love shoes and this summer I have lived in my silver clogs. My clogs are by Lotta from Stockholm from Albion Stores, and they are one of the most versatile things in my wardrobe. The metallic finish goes with everything and adds an edge to every outfit. They are also really comfortable and I can wear them all day. 
I like to know what's going on in the fashion world, but I wouldn't say I follow trends. I think as you get older you become more confident with your style and you instinctively know what suits you and what you shouldn't even try. Trends come and go so it's not wise or sustainable to invest in fleeting trends. 
Your style shouldn't change with age. Obviously, there are certain styles and looks that don't really suit older women and, personally, I don't feel comfortable flashing my midriff! However, as you get older, the less you care about what people think – it's one of the joys of getting older! It gives you much more freedom with how you dress and, ultimately, the only person you should be dressing for is yourself. 
Follow @Dulcie.Sixty and @Number32_Margate
DISCLAIMER: We endeavour to always credit the correct original source of every image we use. If you think a credit may be incorrect, please contact us at info@sheerluxe.com.