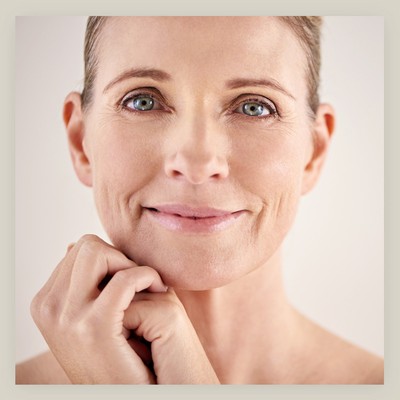 Foundation For Mature Skin

As we age, so does our skin, and if you've been using the same foundation for years, it might well be time for an upgrade. Foundation really can make or break a beauty look, so it's vital to find the right one to suit your skin's needs. We asked two make-up artists to share the textures and shades to look out for, and then how to apply your chosen product.

Photography: PEOPLEIMAGES/ISTOCK
All products on this page have been selected by our editorial team, however we may make commission on some products.
Avoid Matte Formulas
"With age, our skin loses elasticity which causes a lacklustre, dull appearance," explains make-up master, Ruby Hammer MBE. "Because of this, our base needs switching up accordingly and, the older we get, the more we should focus on boosting radiance. You want a formula that's not matte, as these tend to sink into and enhance existing fine lines. Look for lightweight textures that are described as 'sheer' and 'hydrating' – they act more like a tinted veil across your skin, creating an even canvas that looks fresh and youthful. The only exception to the matte rule is if you're going through the menopause. At this stage in your life, look out for formulas that are 'long-wear'. Many now come in a lighter consistency that's full coverage, but not occlusive." Make-up artist and hair stylist Mira Parmar agrees: "As we age, our skin gets thinner and, as a result, it needs more hydration to give a plumper appearance. With this in mind, I advise looking for foundations containing hyaluronic acid – these formulas lock in moisture for a smoother, softer glow. Your coverage is more likely to last if your skin is hydrated, too. Avoid anything too heavy – this will sink into your pores and crease up quickly."
 
 
Practise Your Application
"Knowing how to apply your foundation correctly yields youthful, fresh results," continues Ruby. "Often people assume that it should be applied all over and go in heavy-handed with a thick layer that sits on the face like a mask. Before you do anything, take a step back. Look at your face and figure out what areas need covering the most. Usually, it's not the entire face, but specific areas only – the eyes, nose and chin are areas that have discoloration and uneven tone. The easiest way to apply base make-up gradually is with your fingers. The heat from your hands will help blend the product in. You can use a brush, just be sure to really buff so you get a seamless finish that's not patchy. Begin with thin layers and apply a little bit more each time to the areas that need it most." Mira says: "If you do use a brush, I recommend trying a stippled one. These are often overlooked but are some of the best for blending foundation into the skin for a smooth, even texture. They don't require much skill either – just buff them lightly over your complexion and you'll see your base make-up begin to level out. Another great way to apply foundation to mature skin is with a damp beauty blender. Use it to pat your foundation lightly onto your skin – it'll give a fresher look that's soft and luminous."
 
 
Get To Know Your Undertones
"It can be difficult to know exactly what shades you should be looking for," says Mira. "This comes down to knowing your own individual shade and specific undertones. Before you start shopping, look at your skin in natural light – this will allow you to see whether you're warm, cool or neutral. Put simply, if you have blue/purple veins, your undertone is cool; if you have green veins and yellow, golden skin, your undertones are warm; finally, if you're neither or in between the two, you're considered a neutral undertone. Following this guide will help you have a sound idea of what shades will work for you and your individual colouring. Another good guide is knowing what jewellery suits you best. For instance, silver usually suits those with cooler undertones, while gold suits warmer in tone. Likewise, if you're neutral, your skin will work with both." Ruby adds: "If deciphering yourself becomes difficult, you'll be pleased to know many beauty brands are also making it easier for you to decipher by introducing help tools on their website – use the process carefully, it's so worthwhile. You can also visit shade finding sites, such as Findation.com and MatchMyMakeup.com, to narrow the search."
  
 
Remember It's Trial & Error
"Those with mature skin often find their foundation starts pilling more," explains Ruby. "The answer to prevent this from happening is trial and error. Firstly, hydration is key – the smoother and more moisturised your skin, the less risk of your make-up not adhering properly. That said, there isn't one answer that will work for everyone and, more often than not, the problem isn't with your foundation alone. Look at your skincare regime – only you know the combination of products you use and the order in which they go. It's important to switch this regime up, as often this will highlight where the problem is. Finally, never use too much of any product. Loading skincare and make-up on top of each other is never a good idea and will naturally cause products to roll and flake. Always start small and allow everything to dry before applying new layers."
 
 
Try To Double Up
"If you're lucky enough to find a foundation that matches your skin perfectly all over, great! However, you should try having a couple of shades to hand to work with the different tones over your face," continues Ruby. "Ideally, you would have a slightly lighter shade for under your eyes and a darker tone for any patches and uneven tone. Don't be afraid to mix and match tones and textures – your natural skin tone isn't one shade, so blending colours together will always provide you with a more natural finish. If budget is an issue, tinted moisturisers are a great place to start, followed by a concealer that can provide more coverage where needed."
 
 
Use Your Primer Sparingly
"Not everyone needs a primer, but mature skin types can benefit from using them," advises Ruby. "Their job is to fill the skin and smooth bumpy ridges so that anything applied on top looks even and lasts much longer. For that reason, they're great if you're suffering from hot flushes or red, blotchy skin as they prevent any make-up from sliding out of place. While a great tool, they should be used sparingly – often a little goes a long way – and only when really needed. Make sure you wait a full minute or two to allow your primer to dry completely before applying any base make-up. This will curb any pilling and, as a result, prevent patchiness occurring. Just like you would with foundation, it's important to choose a formula that describes itself as 'hydrating' or 'illuminating' for a fresher finish." Mira continues: "Aside from primers, I also recommend using a hydrating spray after you've applied your foundation. This will help everything to set in place, but with a fresh, dewy finish that looks even and glossy. It's a simple step but it works to smooth the skin out and prevent any sliding of make-up come 4pm."
 
 
Get A Head Start
"While there are many hard-working foundations on the market, there are four that I really recommend for mature skin," finishes Ruby. "First, Clarins' Everlasting Youth Fluid  is a great all-rounder – it's hydrating, sheer, buildable and available in numerous shades. Secondly, Armani's Luminous Silk Foundation is a make-up artist favourite and one of the best for blurring the skin, giving great coverage and offering radiance, too. Shiseido's Synchro Skin is great for those going through the menopause – it has an in-built heat technology that adapts to your skin, plus it's the perfect amount of matte, but with a glow-y dry down. Finally, Chanel's new L'Essence de Teint couldn't come more highly recommended. It's expensive but is a skincare-foundation hybrid with a plump, dewy texture that's unbeatable." Mira adds: "I also recommend Trinny's De-Stress Serum. It has a really radiant finish thanks to its high levels of hyaluronic acid. Likewise, By Terry's Hydra Foundation is a must-try. It's lightweight and slightly matte in texture, while still maintaining a fresh-looking glow – great for those prone to oiliness."
 
 
Shop Their Expert Picks For Mature Skin…
DISCLAIMER: We endeavour to always credit the correct original source of every image we use. If you think a credit may be incorrect, please contact us at info@sheerluxe.com.