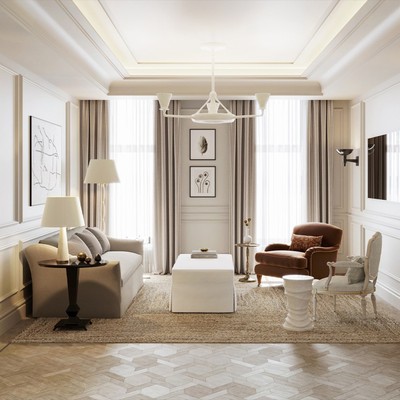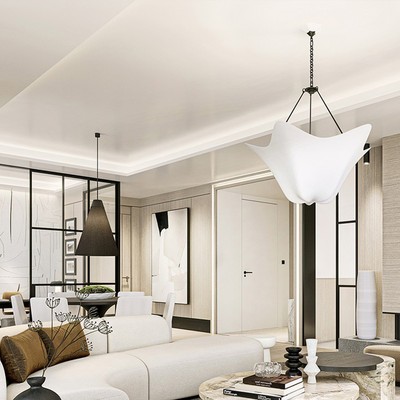 In Conversation With… Kelly Hoppen

Kelly Hoppen is one of the UK's most acclaimed interior designers. Known for her 'East meets West' philosophy and natural aesthetic, her clients span Hollywood celebrities, international hotels and high-net worth private clients. We sat down with her to talk about her career and how her life has shaped her road to success.

All products on this page have been selected by our editorial team, however we may make commission on some products.
I'd describe my upbringing as pretty traditional and happy. But mainly I was very fortunate to be surrounded by the arts – both my mother and father were quite creative. My childhood was very much about travelling to different cities and going to museums, and music was big part of my life, too. All of that had a huge impact on me and who I am today. 
My interest in design came about quite naturally. My parents ran a very open house where people were constantly coming and going, and we often went to other people's homes too. I was always looking at things and, at the weekend, I'd go with my mother to look at show flats rather than doing things other young girls did. I love the whole 'before and after' aspect. Even at the age of 13, I was adjusting the way my own bedroom looked, so I think it was clear I knew what I wanted to do.
The first design job I ever had was a kitchen for my stepfather's friend. But the first big job was for a girlfriend who was having an affair with a very famous racing driver. I ended up designing the house and from there I ended up designing houses for a few racing drivers, and then some actors and musicians, and everything just evolved organically. I was self-taught – self-taught in running a business, design, and we didn't have social media, or even the Internet really to speed things along. Strangely, I kind of miss that today.
I can't say I've ever had any real professional mentors. If anything, my mother has always been very successful herself and, while I met lots of amazing people through her, she was the one who was always there – the most honest person in my life. That's what you need in someone who's mentoring you – someone who can be painfully honest about things.
Lots of people are curious about where my design philosophy or style comes from. I suppose I've always had this real love for the Far East, but I've definitely created my own look that has since become known as East meets West. It's really about creating environments that feel very balanced and harmonious, that are based on a neutral colour palette. Over the years I've had about 2,000 headlines calling me the queen of taupe – but actually it was much more than that. It was about creating these base tones to put whatever colour or type of furniture on top of – and really digging down into how people live. While it's evolved over the years, a lot of the principles have stayed the same – and I think that's why people like what I do. It's consistent and doesn't play into trends.
Looking back, THE BELIEF I had was an IMPORTANT PART of my success. I was TENACIOUS and knew that I COULD DO IT.

My career really changed when Lucia van der Post from the FT's How To Spend It did a full page profile on me. It was a moment in time when I felt very confident – and, from that moment on, it felt like I didn't have to prove anything to anyone. Around the same time, I won the Andrew Martin award and got my first book deal. It was a mix of things that happened all at one time – but it felt like a real high. 
Another career highlight I'll never forget is being asked to design the first-class cabins for BA. As a British designer, I took it very seriously. Looking back, I can't quite believe I managed to juggle being a mother at the same time. But I took Natasha to school and picked her up every day. I also had two stepchildren, but we just managed; I would work through the night and catch up any way I could. I loved what I did. Then, when the children all decided they wanted to go to boarding school, I just put everything into my business and that's when it really exploded. Like all women, I just multitasked. It was hard, but it's even harder today because of social media. When I was growing the business, when you got home you could really switch off and just focus on family. 
Looking back, the belief I had was an important part of my success. I was tenacious and knew that I could do it. I'm actually very dyslexic and, while I had barely any kind of focus, I just loved what I did. I was lucky to be in an industry that gave me so much pleasure. Every day I learnt something new and I'm still learning today. There is a certain kind of pressure at the top, and it can feel like you're always jumping from one thing to the next, but there are so many exciting things that we're doing. The excitement takes away from the anxiety. 
I'm not someone who shies away from new challenges. That's why I've tried so many things over the years, including things like Dragons' Den, which was brilliant. But I suppose I hadn't factored in that I'd have to run the businesses at the same time. In the end, you realise you don't want it to take away from what your passion is. I really enjoy TV work because I find it quite easy and never use scripts or anything like that – but I really have to factor it into my calendar. 
These days, people come to me knowing what my style is. If it's a private home, we listen, we guide them and we work with them – that's part of the joy of it. We're very honest about everything, though – whether it's commercial projects, a cruise ship, a super yacht, a hotel, whatever. We work out who the demographic is, what the process will look like – but the DNA is always Kelly Hoppen.
To me, trends are like bubble gum. The way we live now means it's more important to find what fits with you and your lifestyle. A good example is bouclé fabric. It was a fabric that I created in one of my collections a million years ago. I just loved the texture. Suddenly, it was everywhere. And that's what happens. Things become so overexposed that you wouldn't want it in your home. Eclectic design is very prevalent now – everyone wants that kind of individuality and to genuinely live in a home that feels like them. One trend in the design world that I can get behind is sustainability. We even had a meeting about it this morning – we're constantly looking to do everything we can to do things better, but we've got a long way to go. In some ways the fashion world is streets ahead of us – and the design world still has a lot to learn.
There are so many rewarding parts of my job. But getting my CBE in the middle of the pandemic was fantastic because I've worked so hard to nurture new businesses and young people in the UK, and I'm very grateful to have that recognised. I'm very pro Great Britain – which explains my work with organisations like The Prince's Trust. When you've been successful like I have, I think it's very important to give back in any way you can, even if it's the smallest thing. 
I never like when people talk to me about working in 'later life'. I just think you work until you don't want to anymore – age has nothing to do with it. It's more about your state of mind, your belief that you can do it, and everyone has side hustles these days. The only advice I could give is that if something doesn't work, move on. There's no point continuing with something if you know deep down it's not going to work. Also, use your network. Get off your iPhones and iPads and talk to people and ask for help. There are so many opportunities out there now and social media is certainly a great way to connect, but nothing compares to having a face-to-face conversation.
There's a lot I'm excited about at work right now. We've just launched a Fired Earth range of ceramic tiles, which I love, and we've got another collection of furniture launching soon at Andrew Martin. In terms of interiors, we're doing a lot of work in the Middle East and in the US and Europe. So, we're constantly designing. It's very diverse, but it's very exciting to have so much in the pipeline. 
Visit KellyHoppenInteriors.com. The new K by Kelly Hoppen collection is also available at QVCUK.com.
DISCLAIMER: We endeavour to always credit the correct original source of every image we use. If you think a credit may be incorrect, please contact us at info@sheerluxe.com.