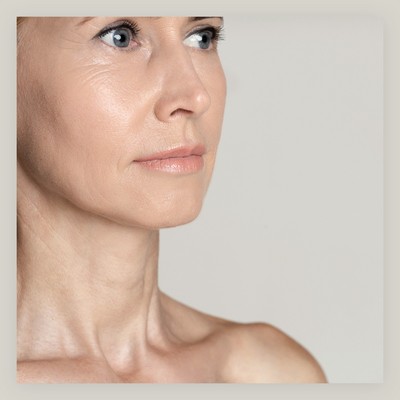 How To Anti-Age Your Neck

Chances are you've tried to take care of the skin on your face, but neglected your neck – something you may now regret. Eyelids aside, the skin on your neck is thinner than anywhere else on the body and the first area to show slackening and signs of ageing. Experts agree it's a particularly difficult spot to treat, but the good news is that there are some simple options that will help roll back the years and give you a smoother-looking décolletage. We talk to five experts…

Photography: ISTOCK/PROSTOCK-STUDIO
All products on this page have been selected by our editorial team, however we may make commission on some products.
The Skincare You Can Try
Retinoids
​"The essence of ageing prevention is the same for all skin," advises leading dermatologist Dr Sam Bunting. "It's for this reason that you don't need a whole new routine specifically for the neck, and certainly not dedicated creams. In fact, I'd stick to the regime you use currently, but ensure you're running those formulas you apply to your face down the neck too. However, don't use physical exfoliation on the neck – it's far too aggressive. Stick to applying moisturising formulas that hydrate. In terms of ingredients that work, I recommend a gentle retinoid. It's one of few ingredients proven to show results and it will gradually improve the way the cells on your neck function. In short, this means it will stimulate collagen and thicken the skin for a firmer-looking appearance. If you find retinol too strong, try Bakuchiol instead. It's plant-based so is much kinder to the skin, but it still yields the same brightening and firming results." 
SPF
"This may seem obvious to some, but a lot of us still forget to apply SPF to our necks on a daily basis," adds Sam. "The skin here is constantly exposed to UVA rays, so already it's at high-risk of premature ageing. UV causes a loss of elastin and a breakdown of collagen, which leads to even thinner skin, broken capillaries and pigmentation. What's more, the neck is where we spray perfume and this can sensitise it further to UV. So, with all this in mind a high SPF – of at least 30 – is essential and a key preventative." Dr Kemi Fabusiwa, a medical doctor and aesthetician, agrees: "Even on cloudy days SPF is vital. The neck lacks sebaceous glands, so you can afford to apply thicker, richer moisturisers with high SPF here. These formulas will not only help to protect against UV damage, but also collagen breakdown and, mildly, the laxity of the skin." 
Niacinamide & Vitamin C
"As mentioned above, retinoids are what I recommend for thickening the skin, but if pigmentation or uneven texture is your bugbear, try niacinamide or vitamin C," says Sam. "Both these ingredients are excellent at treating pigmentation and they work even better when you use them in combination with one another. Invest in serums that contain them, or moisturisers. With regular use, you'll notice a difference to the smoothness of your skin and its overall appearance." Expert facialist Kate Kerr agrees: "These are all anti-ageing ingredients that hydrate and prevent a slackening of the skin. I also recommend using products that contain growth factors, peptides and hyaluronic acid – all stimulate elasticity, and help to plump and strengthen the skin over time." 
The skin here is constantly exposed to UVA rays, so already it's at high-risk of premature ageing.
The Aesthetics That Work
Profhilo
"Ageing in the neck is multi-factorial," explains Dr Wassim J Taktouk, a leading figure in aesthetic medicine. "What I mean by this is it's hard – but not impossible – to treat, as there are so many varying factors. Wrinkling and jowliness are often caused by fat loss, sun damage, gravity, hormonal fluctuations and a lack of hydration. The latter is something we can now target with a treatment called Profhilo. This is an injectable skin-remodelling treatment that uses hyaluronic acid to boost both volume and elasticity. It gives a surge of moisture and provides almost instantaneous results. I recommend it as a treatment to those concerned with wrinkling, but also anyone with 'platysmal bands'. These are the vertical bands that start at your collarbone and go all the way up to the jawline. They bunch up and pull down on the jowls, giving a heavier appearance. There's barely any downtime either with Profhilo – at most you'll have a few bumps left in the skin for a day. Plus, the results last for at least six months, so you get your money's worth." 
Frax Pro
"Another treatment that works well on neck skin is a laser called Frax Pro," advises Dr Wassim. "This treats wrinkling, but also hyperpigmentation and dark spots – both of which can further age the skin. This uses a laser that can penetrate the skin quite deeply and, in turn, it gives excellent results, while improving the texture of your neck. Likewise, if your primary concern is redness of the neck or visible blood vessels due to thinning skin, try Vbeam Prima Laser. This is a laser that has large wavelengths to tackle numerous concerns – from conditions like rosacea to spider veins, broken vessels and severe redness. It has very minimal downtime as well, with minimal sensitivities, which makes it a popular choice. Both these treatments are available at the Taktouk Clinic." 
Microneedling
"Finally, microneedling is worth considering if you're looking to anti-age your neck," continues Dr Wassim. "Doing the procedure on yourself with a DIY kit can be fiddly, so I advise you get this treatment done only at clinics. The process itself will reduce skin laxity and tighten thin tissue. I recommend Teresa Tarmey for this treatment. She's a whizz with the microneedle and will yield the very best results." Sam agrees: "I really recommend microneedling in conjunction with a facial treatment for best results. At my clinic, I'll often use the treatment alongside topical retinoids and vitamin C for a few months. It works brilliantly to strengthen skin and make it more resistant to creasing."
The Tricks To Experiment With At Home
Sleep Right
"Tech-neck is a new phrase that's been coined, but I think the position in which we sleep is of more importance," says Sam. "The creasing that can occur from lying on one side for hours on end can etch in horizontal lines that are hard to eradicate. It sounds like a minor thing, but it does have an impact. Try sleeping on a silk pillowcase, which is friction-free and known to have a huge bearing on the smoothness of the skin. If you can, sleep on your back, too, and prop your neck up with a rolled-up towel. You don't need to do this every day but doing it occasionally will keep your chest flat to prevent any wrinkles from forming." 
Use Gua Sha
"Gua sha tools are flat, smooth stones that can contour, reduce puffiness and deeply massage your face and neck," explains leading celebrity facialist Su-Man. "In order to reap the best results, it's important you invest in the right stone. Pay attention to its smoothness and shape – you want one that has a thicker, smoother texture as it will be easier to manipulate and gentler. In my opinion, these tools are still the best for improving blood flow underneath the skin which, in turn, brings fresher, collagen-rich nutrients to the surface. When using the stone on the neck area, activate the skin by stroking in downwards movements. This will avoid flaccid skin, and keep everything tight and free from tension. Try doing it daily as part of your routine. Make sure you always use plenty of skincare first, as this will avoid any tugging or damage. You don't want a reaction simply because of friction, so apply an oil first to help your tool glide seamlessly."  
Regularly Stretch
"The constant bending of the neck can be more damaging than you may think," says Kemi. "The repetitive strain causes fine lines and wrinkles to form as the skin becomes consistently creased. It's why, on top of a diligent skincare routine, you should maintain regular neck stretches to prevent too much wrinkling and pulling." Dr Wassim agrees: "I can't tell you how important it is to keep your computer at eye level so your neck isn't sinking downwards. Put your laptop on a pile of books if necessary and raise your phone to eye level when you're looking at it. In short, try to avoid prolonged periods of bending your neck."
 
Shop Our Top Neck Anti-Ageing Products Below…
DISCLAIMER: We endeavour to always credit the correct original source of every image we use. If you think a credit may be incorrect, please contact us at info@sheerluxe.com.