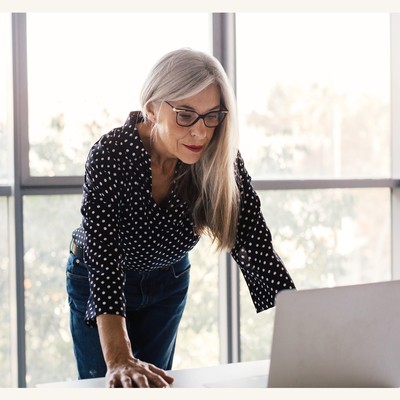 How To Get Back Into Work

Returning to work after time out can be a daunting prospect, but there are plenty of options to consider – both part-time and full-time. We went to the experts for their advice on getting back into the workplace, and put together eight job ideas to consider…

Photography: STOCKSY/BONNINSTUDIO
Use Your Network
"It can be difficult for mature women to find a role post Covid, particularly for those who have spent decades in one sector or have been with one employer for many years. However, the good news is that women over 50 typically have a wider professional network, so it's key to use that to your advantage. With greater self-confidence, a heightened sense of self-awareness and a wealth of transferable skills, mature employees are a great asset to any company.  
 
"Before you start applying for jobs, look at the network you've acquired throughout your career – 75% of jobs materialise through people you know and your wider network. It's also important to utilise your online network, particularly given the world we're living in. Use LinkedIn, and download your contacts into Excel and mark who you can contact directly to ask for recommendations. If you don't have a LinkedIn network, it's simple enough to create one that consolidates all the key information from your CV. You can also hire a professional to help set it up, or upgrade to LinkedIn Premium to use a range of extra features, such as being able to see who's looking at your profile and getting access to what qualifications and experience you need for certain roles." – Liz Sebag-Montefiore, career coach & director of 10Eighty
Assess The Market
"It's important to be ahead of the game, which means assessing your skills. Do you know what the market needs now? If you need to brush up on your skills, enrol on a course in social media or IT.  Older job seekers fear ageism and they regularly get feedback about being 'overqualified' or 'too expensive' so as a job seeker it's important to explain why you're so interested in the role. Embrace seniority and explain why it's an advantage for the company.  
 
"You probably have a clearer sense of your USPs. Make sure they're articulated well in your CV and elevator pitch. Demonstrate your ability to use the latest technology to perform in your next role. If the role you're interviewing for involves unfamiliar software, find a YouTube tutorial to understand it better, or take it one step further and enrol on an online course. Then you can add this skill to your CV to show you're appreciating as an asset. You could also talk about how you can help younger employees learn and grow, and suggest they pair younger workers with more experienced ones." – Liz
Tailor Each Application
"Make sure you tailor every application you send. Recruiters spend minutes, sometimes seconds, scanning CVs and applications. Look closely at the ad and, if you have it, the role profile. What are they specifically looking for? What are the key priorities of the role and essential requirements in the person spec? Make sure your CV or application highlights your achievements, experience and skills that match. That might mean amending your personal profile, changing the order of the bullet points under each role, describing an achievement in a little more detail. Ultimately, you want the recruiter to immediately see you are a good fit and put your CV on the 'yes to interview' pile." – Kelly Feehan, services director at CABA
Age-Proof Your CV
"There are some easy and practical things you can do to make sure that your CV is age-proof. For instance:
Don't put your date of birth on your CV.

Don't mention 'O' Levels or state your university dates.

Don't forget that your CV doesn't need to tell your life story, so there's no need to include your first handful of jobs.

Concentrate on your most recent three or four roles and, above all else, highlight your achievements. Be specific and, where you can, quantify the achievement." – Kelly
Always Be Honest
"It can be tempting to disguise unemployment on your CV. However, honesty is the best policy. You should always reveal gaps in your employment no matter what you think it might look like to an employer. Remember to be truthful whatever the reason for leaving your job, as this will show employers that you've learnt from your past mistakes and have a real desire to get back into work. Use your reason for leaving to indicate what you want from your next role; this makes it easier for employers to see if their job is right for you. They'll also respect your honesty here. Remember, it's normal for people to become unemployed, whether you were made redundant, took time out to raise a family, or simply needed a career break. Circumstances can change. As such, it's wise to be honest about addressing this on your CV. Concealing it could do more harm than good." – Lee Biggins, CEO & founder of CV-Library
 
Still working out what you could do? Liz Sebag-Montefiore shares nine job profiles worth considering…
Administrative Assistant
Average Salary: £10 per hour
 
Perhaps the most obvious choice for those getting back into the workplace, an admin role is a great way to get back into the office or work from home. Options are varied and broad, so there are plenty of roles to choose from. As a mature woman, highlight your transferable skills and IT experience (if you have it) to stand out against the competition.
 
Primary duties: Administrative assistants handle clerical tasks, such as filing documents, preparing paperwork, greeting visitors and supporting staff members. They answer phones and route calls, make appointments, arrange schedules, and oversee filing systems. Many create memos, prepare invoices and draft reports. Some administrative assistants also handle basic bookkeeping tasks and manage office supplies. The day-to-day responsibilities may also vary depending on the company or industry in which they work.
 
Requirements: To become an administrative assistant, you need a high school diploma and basic computer and organisational skills.
Occupational Therapist
Average Salary: £24-30k per year 
 
A great choice if you have a medical background or an interest in health care, occupational therapists support people whose health prevents them doing the activities that matter to them, so being understanding and patient is key.
 
Primary duties: Your primary role is to help people who have difficulties carrying out day-to-day activities because of disability, illness, trauma, ageing or a range of long-term conditions. You might be required to help someone adapt to life after major surgery, assist people with mental health issues with everyday activities such as work or volunteering, and help elderly people stay in their own homes by providing adaptations. 
 
Requirements: Occupational therapists need a degree in the field, but women over 50 can consider a fast-track associate degree from an accredited college or university.
Personal Financial Advisor
Average Salary: £50k per year
 
People of all ages want to know how best to grow their wealth over the long term, and that is where financial advisors fill a need. Women interested in this fast-growing career must have degrees in finance, as well as significant finance experience, which comes with age. Sales and customer service experience also helps financial advisors gain and retain clients. About one-fifth of financial advisors are self-employed. This option is a significant benefit for women who wish to work from a home office and have flexible hours. 
 
Primary duties: A personal financial advisor offers clients advice on taxes, investments, insurance, retirement, and other financial topics. The advisor helps clients to manage their finances to help them meet their goals. Personal financial advisors need a bachelor's degree, but they typically do not require a specialised degree or certification.
 
Requirements: Adequate knowledge of mathematics and some experience working on accounts. Most financial advisors acquire a university degree, but apprenticeships are a good route to go down.
Tutor
Average Salary: £15 per hour
 
A great option for those looking for part-time work, tutors mainly teach out of school hours during evenings and weekends.
 
Primary duties: Tutors are responsible for helping students learn skills and master subjects. They show students how to prepare for tests, take notes in class and complete their homework. Whether tutors work with students one-on-one or in small groups, they strive to help them get better grades in school. Tutors usually work with students outside of a traditional classroom setting, often teaching in tutoring centres, at home or online. They work with a variety of school ages, including children, teens and young adults in or about to go into college.
 
Requirements: To become a tutor, you need at least to provide good O-Level or A-Level grades and be well versed in the subject you tutor in. Some positions may also require credentials from a tutoring association, but many employers (who tend to be parents) will simply want to find the right person who their child gets along with so they will be flexible in terms of experience. 
Freelance Writer
Average Salary: £15 per hour
 
This option will be an obvious choice if you have prior writing experience. However, those new to the field can still get in touch with various print and online publications, and offer their skills for freelance pieces and/or copywriting. 
 
Primary duties: Writers create content for books, magazines, newspapers, websites, TV, movies, advertisements and other media. Whether they develop fiction or nonfiction material, they typically conduct research to support their writing. Most writers work closely with editors or clients to collect feedback, perfect their material and complete projects. Writers often specialise in certain topics or styles, such as digital content and blogs, and many work on a freelance basis.
 
Requirements: To become a writer, you generally need a bachelor's degree in English or communications, though some entry-level and freelance positions may only require a portfolio of past work to prove your writing abilities. If you plan to specialise in grant writing or technical writing, you may also need professional certification to confirm your competence.
Personal Chef
Average Salary: £15 per hour
 
Primary duties: A personal chef is a financially lucrative career for women over 50 that marries top-notch cooking skills and house calls. Personal chefs can market their services and gain clients to serve regularly. Some personal chefs have grown their careers by writing and marketing cookbooks, teaching cooking classes, and catering.
 
Requirements: Most personal chefs need at least one year of culinary experience. That could be working in a kitchen, being trained in a restaurant or taking a course at college or a cookery school to receive a qualification. Most personal chefs will also shadow a professional to get a feel for the job role and what could be required – whether working for a family or being hired for a private function or party.
Front Of House/Hospitality Staff
Average Salary: £25k per year
 
Working in a B&B or hotel is a great way to get back into the world of work. Hours can be long, but many employers are flexible and offer part-time roles to fit around your schedule. 
 
Primary duties: They typically greet and check-in guests, answer phone calls and emails, manage staff and ensure guests have a satisfactory stay at their establishment. They might also set employee shift schedules and develop events to entertain guests.
 
Requirements: This depends on your employer, but most will be happy to train you on the job. However, previous hospitality experience is desirable, as is evidence of working in a fast-paced environment and in a large team. 
Virtual Assistant
Average Salary: £20k per year
 
Primary duties: Virtual assistants can work from home and offer their level of expertise to clients in various industries. Age doesn't matter as many seasoned workers have a lot of experience, business acumen and desire to help. 
 
Requirements: A-Levels are a minimum. Virtual assistants need the ability to work independently, strong computer skills, excellent attention to detail, superior organisational skills, strong interpersonal skills, knowledge of basic office equipment, and a willingness to use their initiative.
Pet Sitter
Average Salary: £10 per hour
 
Primary duties: Feeding, dog walking, and taking animals to and from the vets.
 
Requirements: Caring, friendly nature. Provided you've got lots of energy and a passion for animals, you'll have a great time in this role. 
DISCLAIMER: We endeavour to always credit the correct original source of every image we use. If you think a credit may be incorrect, please contact us at info@sheerluxe.com.