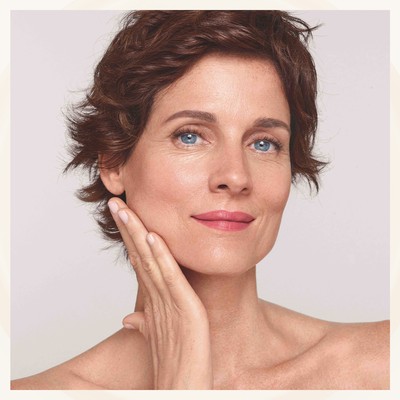 How The Menopause Affects Your Skin, According To Two Medical Experts

More than ever before, beauty brands are releasing products aimed at women experiencing symptoms of the menopause – notably Vichy Laboratories, who are an authority in this area. Their Neovadiol line tackles issues like dryness, wrinkles, moisture loss and even reduces the temperature of your skin to aid with hot flushes. With over 20 years of medical research, the brand has created formulas that were specifically designed with a board of women's health experts to ensure you're getting the very best results. To explain how it works and why you should switch up your routine as you mature, consultant dermatologist Dr Mary Sommerlad and women's health GP Dr Shadzadi Harper are on hand to share their top advice, as well as how you can take some preventative steps…

CREATED IN PARTNERSHIP WITH VICHY LABORATORIES
Let's Start With The Obvious: How & Why Does The Menopause Affect Your Skin?
"The menopause affects skin due to the reduction in circulating female hormones, with oestrogen being the most important," explains Dr Mary Sommerlad. "Female hormones play crucial roles in the skin, including maintaining collagen levels and supporting water retention in the skin. Furthermore, menopause and post-menopause changes the pH levels in your skin, making it more sensitive, and in turn, more reactive." Women's health GP Dr Shadzadi Harper agrees: "Collagen is vital for healthy skin, bones and hair. From our mid 20s we start to lose approximately 1% per year as we age, then when we enter our 40s and perimenopause – the time leading up to the menopause – there is an accelerated loss of collagen and elastin of up to 30%. This causes skin to become less springy and firm, with texture starting to dry out, too. We also lose fat and volume in our face, so skin starts to sag and, as a result, we develop jowls and a loss of definition to areas like our jawline." Sound familiar? Vichy's Neovadiol Phytosculpt Cream has been designed to counteract issues like this. A firming neck and face balm, formulated specifically for menopause, it absorbs quickly and works to tighten and redefine the appearance of your neck and face contours, thanks to sculpting ingredients like proxylane and phytosterol. The added mineralising water is a huge bonus for parched skin, too
So, With All This In Mind, Are There Any Preventative Measures You Can Take?
While the menopause is inevitable, there are some measures you can take beforehand to help prevent a big impact on your skin. Dr Shadzadi explains: "It's important you make time for yourself, wear SPF and maintain your hydration levels. That includes drinking plenty of water, staying active for better blood flow and eating a healthy, balanced diet that is full of foods rich in antioxidants. These will protect skin internally against any damage that free radicals can cause. On top of that, you should be moisturising your skin as much as you possibly can. As we lose some of the natural oils in our skin, a creamier and more nourishing moisturiser may be needed. My top tip is to apply your cream while your skin is still moist, then massage it in. I recommend adopting some relaxation techniques, too, and try to get a good, restorative night's sleep." Try using Vichy's Neovadiol Compensating Complex Day Cream post-cleanse – the unique gentle gel texture refreshes skin and works to compensate for the visible signs of menopause on the skin. While providing dryness relief with a cooling dry down, the addition of proxylane and hydrovance, help skin density feel improved and reveal a plumped, more even skin tone.
What About Timings? When Do Signs Of The Menopause Typically Show Up On Skin?
"It's different for every woman, but skin changes can start several years before the menopause has officially occurred," adds Dr Mary. "That's why a preventative approach is worth it. Changes in the skin due to the menopause are pretty insidious for the majority of women, with many only linking their dry skin or loss collagen to the menopause after several years. For some women, though, the skin changes are quite dramatic, with noticeable issues occurring within a month – especially events like hot flushes." 
Prevention Aside, Can You Ever Stop The Skincare Impacts During The Menopause?
"Skin changes can have a huge impact on confidence and quality of life," continues Dr Mary. "HRT can relieve a lot of menopausal symptoms – discuss this with your family doctor or gynaecologist. If you suffer from hot flushes, keep a bottle of thermal water in your bag so you can gently mist it over your face when you feel warm and flustered. Keeping cool may reduce the intensity of a hot flush. For dry skin, you can try swapping soaps and gel-based moisturisers for soap-free cleansers and cream or balm-based moisturisers. If you find your skin becomes very dry, consider adding small amounts of oil after you've moisturised – this can be particularly helpful for dry limbs and feet. Your skin may also become more sensitive, and you may start reacting to products you have used for years, so look for products that are formulated specifically for mature skin and sensitive skin. A final thing to note: it's always worth seeing your dermatologist if you have difficulty managing your skin with over-the-counter products – it may mean you have an issue that requires a separate, more targeted approach." 
We've Talked About Changes, But What Should Your Skin Routine Look Like?
"As mentioned above, you may find you need heavier moisturisers to keep your skin feeling smooth and well-hydrated," says Dr Mary. "In the morning, use your routine to protect against external stressors – to do this, use  vitamin C as an antioxidant, then follow up with a soothing and hydrating moisturiser. Finish with a sunscreen that contains a high UVA rating to prevent accelerated ageing and pigmentation issues. If your skin is dry, or you want to plump it up, add a hyaluronic acid-based product – this will further boost moisture and the appearance of your complexion. Come evening, it's important you incorporate reparative products into your regime; this includes a cleanser that will remove the build-up of pollution from the skin, followed by a retinol which will support collagen production and improve the appearance of lines. Finish with a hydrating moisturiser." If you're seeking a thicker, more unguent cream, look to Vichy's Neovadiol Compensating Complex Night Cream. It's brimming with nourishing glycerine and plumping hyaluronic acid to feed skin with hydration overnight so that, come morning, your complexion is visibly smoother and fresher-looking. 
 
As For Skin Ingredients, Do Some Work Better Than Others On Menopausal Skin?
"Yes! As mentioned, hyaluronic acid is key as it helps to retain moisture within your skin for a plumper appearance," explains Dr Mary. "Retinoids are amazing, too, as they not only improve the appearance of fine lines and pigmentation, but they also increase skin cell turnover, creating a smoother and more radiant surface. Retinols are also great for increasing collagen production which, as we now know, falls during and after the menopause. Another key ingredient is niacinamide – it has anti-inflammatory properties which can help with pigmentation issues, including sun spots. Finally, avoid high concentrations of liquid exfoliators and, instead, opt for lower percentage formulas as menopausal skin is much more reactive. Try PHAs or a low dose of AHAs to help maintain skin texture."
Finally, Are There Any Other Habits To Adopt That Can Help Maintain Healthy-Looking Skin?
"Avoid lifestyle habits that can prematurely age you," finishes Dr Mary. "This includes smoking, high-refined sugar intake, poor sleep, excess alcohol and sunbathing. The elements contribute to the skin's exposome – this is the culmination of external and internal stressors that can accelerate ageing and exacerbate inflammatory skin conditions, too." 
 
Shop The Vichy Neovadiol Range
Pioneering menopause and skin health research for more than 20 years, Vichy is committed to supporting women throughout menopause. For more support visit Vichy.co.uk
DISCLAIMER: We endeavour to always credit the correct original source of every image we use. If you think a credit may be incorrect, please contact us at info@sheerluxe.com.