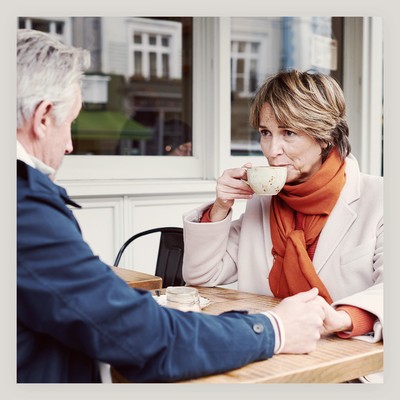 How To Tackle Online Dating In Later Life

The world of online dating can be daunting at the best of times, and even more so as a mature woman if you are returning to the scene after a long-term relationship or marriage. Whatever your situation, it takes a lot of courage to put yourself out there again, which is why it pays to know what you're getting into. If you're looking to date and find love but aren't sure where to start, our experts have some honest and straightforward advice. Plus, we round up some of the best sites and apps out there.

Photography: STOCKSY/IVAN GENER
First, some general advice from the team at Match.com…
Building a profile is probably the hardest bit so it might be a good idea to get some help from friends, as you want yours to stand out from the rest. Try to keep your profile upbeat, no mention of exes, bitter rants, and definitely don't put "I never thought I'd be on here". If possible, try to keep it light-hearted while telling people a bit about yourself.
 
Get some good photographs taken which show you at your best. Ideally, you need to look open and welcoming and fun to be with. Dress nicely rather than in just a t-shirt and jeans – you want to stand out from the crowd to get people to read your profile. 
 
Don't lie about your age – if you seriously want a long-term relationship, then telling a lie at the outset is not a good foundation for the future. If you meet someone only for them to find out you're five years older than advertised, they're only going to think what else might you be lying about. People might feel you have wasted their time, which is not a good feeling.
 
Be prepared to feel let down or disappointed. Having gone to the trouble to dress up and given up an evening or some other time to meet someone (once we're able to) who turns out not to be as expected is all part of dating. 
 
Before meeting anyone always speak on the phone first. This is normally a way of at least seeing if you can have a decent conversation and if you have enough in common to talk about to make meeting up worthwhile. But remember, even if you have spoken on the phone or had lots of texts or emails, until you meet someone you never know if they are who they say they are, or whether you will feel any chemistry or desire to see them again.
Never agree to meet anywhere you feel uncomfortable about and don't let them pick you up at home – always meet in public and, if you feel unsure, let a family member or friend know where you are going, perhaps even arranging a check in time for a phone call to say everything is okay.
 
Visit Match.com
Need some help building your profile? Ten dos and don'ts from the Silver Singles team…
DO be honest
"Let's kick-off with a point that should underpin the whole process of writing a standout dating profile, particularly when it comes to over 50 dating. That's right, honesty reigns supreme when it comes to online dating. Not only is truthfulness a laudable virtue, but it's also something prospective partners will immediately warm to. Don't be tempted to weave a few white lies into your profile – if your match doesn't like what they see, then it's their loss. Being clear about the sort of person you're looking for falls under this point too."
 
DON'T overshare
"Encouraging you to be transparent is about being honest and not lying about things like your age, height, and weight. It doesn't mean you should go into great detail in your dating profile and document your life intricately. This is something you should reveal to your date gradually. After all, a bit of mystery adds to the romance. Instead of writing a tome-like biography, opt instead for a punchy snapshot built on a few key characteristics that set you apart."
 
DO tell a story
"Following on from the former point, be sure to think about the story you're telling with your dating profile. You might think this contradicts the 'punchy snapshot' discussed above, but you want to convey a sense of who you are as a person, which is why it's paramount to think about the traits that make you both unique and attractive. Use these qualities as the pedestals from which you tell people why they should be interested in dating you."
 
DON'T list desired characteristics
"Not only is the information surplus to requirements, it could also end up making you look a bit picky (especially if you word it in an uncompromising manner). To avoid sounding superficial, err away from stating things such as how important it is that your match has a Herculean physique! Instead, let [the site's] matchmaking system do the hard work."
That's right, honesty reigns supreme when it comes to online dating. Not only is truthfulness a laudable virtue, but it's also something prospective partners will immediately warm to.
DO talk about personality
"That said, it's important to go into a bit of detail concerning the sort of character you're looking to meet. Rather than listing height, eye colour, shoe size, and goodness knows what, instead talk about the sort of traits you find attractive. Maybe you value a good sense of humour or someone who's into health and fitness? Be sure to put it in your dating profile."
 
DON'T be generic
"Pondering how to write a dating profile is as much about creativity as it is about clarity. You need to make sure that you don't sacrifice your individuality in an effort to cram in all the points you deem relevant. Rather, showcase your idiosyncrasies to help foster intrigue. Substitute the usual fodder (think 'I like going to the movies') for something more personal (think 'movie-lover with a penchant for French films')."
 
DO be positive
"Being positive is always appreciated, though it's something you do need to lay on in measured doses. Dating profiles that emit confidence and an upbeat vibe are always well received; think sentences like 'one of my great joys in life is…' or 'I'm passionate about…'. Conversely, avoid the overly enthusiastic 'I just LOVE…' or 'I'm SO EXCITED to meet someone who…'. It's unlikely any capitalised crooning will result in tangible success."
 
DON'T be negative
"Avoid negativity at all costs. If there's something you can be sure of, it's that pessimism will pour cold water on any spark you might have with a potential match. Outright negativity is easy to avoid, but it's the subtler nuances you need to be aware of. For example, sarcasm, cynicism and all things snarky are advised against. Also, try not to include the fabled 'don't message me if…' – this transmits a standoffishness that pushes people away."
 
DO spellcheck
"One of the more obvious inclusions on the list, but one that so often gets overlooked. Always check your spelling and grammar. Fair enough, the thrill of writing a dating profile for the first time can make you giddy with excitement, but that's no excuse for getting your words all jumbled up. Once you've penned your profile, take time to review it. Don't let sloppy syntax scupper your dating prospects."
DON'T forget pictures
"You should see your biography as a way of talking to your matches, communicating your strong points, as well as an invitation to strike up a conversation. That said, photos are an integral part of any successful dating profile. First, make sure you include high-quality, recent snaps (this links to our first point about honesty). Second, include a variety of shots – a couple of you alone and with friends is a nice balance. Lastly, use images to tell your story – ensure they're connected in some way to your words."
Inspired? The best sites & apps to know…
Find Companionship
Age range: Various, but predominantly for over-50s
This site helps you to make connections in your local area, whether you're looking for a bit of companionship or lasting love. It's completely free to join, and you'll be able to create a profile and start messaging other people immediately – just be aware that if you want to reply to messages, you will need to upgrade your account. As a premium member, however, you'll be able to show more aspects of your personality and even have access to a personal dating diary so you can track your success.
Price: £29.95/month
Visit FindCompanionship.com
Lumen 
Age range: The average age of users is 56
This is an app-only dating service, so you'll need to download it to your phone or tablet to join up. Dedicated solely to the over-50s, there are minimum character lengths on messages, which effectively forces users to engage in quality conversation. And, for added reassurance, they verify all profiles using photo-referencing, so you can be sure you're talking to a real person. You can send up to three messages a day on the free version, but there are also paid options which entitle you to more freedom.
Price: £24.99/month
Visit LumenApp.com
Our Time By Match
Age range: Specifically, for over-50s
As one of the pioneers of online dating, you've probably already heard of – if not had first-hand experience with – Match. But did you know they have a separate dating site tailored specifically to over-50s? Offering you the chance to draw up a detailed dating profile, as well as the opportunity to play online games with other users and attend singles events (in normal times), it's free to create an account. But, like many other sites, to be able send and receive messages you will need to become a paying subscriber. Doing so will mean you gain additional features, such as being able to send more messages and receiving event discounts.
Price: £39.99/month
Visit OurTime.co.uk
Saga Dating
Age range: Exclusively for those over the age of 50.
This dating site is designed to find both friendship and romance for over 50s, using a unique two-way matching system to help find your perfect person. It's free to create a profile and have a browse, but, when you want to send your first message, you will need to buy a subscription, like most other sites out there.
Price: £33.95/month
Visit SagaDating.co.uk
My Lovely Parent
Age range: Mainly used by single parents over 50
A unique site that allows children to recommend their single parents (who are usually over 50), My Lovely Parent was set up by Matt Connolly whose mother, then in her 60s, encouraged him to help her find a partner. The way it works is thus: your profile will be set up by someone else, i.e. your son or daughter, but you'll receive a message letting you know this has been done for you. If you decide it isn't right for you, you can opt to delete your profile at any time.
Price: From £12.99/month
Visit MyLovelyParent.com
Yours Dating
Age range: Specifically for those in later life.
This site aims to match those who find themselves single in later life with people in a similar situation. There's even the chance to head to Yours Dating After Loss for individuals who have lost a partner or spouse. Both are free to join and browse on, but to send someone a message you will need to purchase a subscription.
Price: £29.95/month
Visit YoursDating.co.uk
Elite Singles Over 50 
Age range: Specifically, for over 50s worldwide.
A spin-off of the popular Elite Singles (which boasts a highly-educated membership base – 85% of members hold an above-average education), this version targets more grown-up daters over the age of 50. Just be aware the focus is very much on long-term commitment, rather than casual dating, so if you're looking for something more serious, this could be worth a try. The site also contains lots of helpful articles on how to approach dating at this stage in your life.
Price: £49.95/month on a three-month plan
Visit EliteSingles.co.uk
DISCLAIMER: We endeavour to always credit the correct original source of every image we use. If you think a credit may be incorrect, please contact us at info@sheerluxe.com.