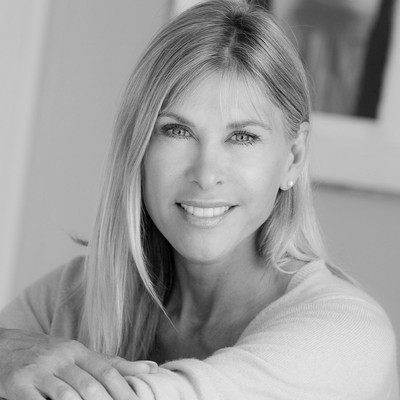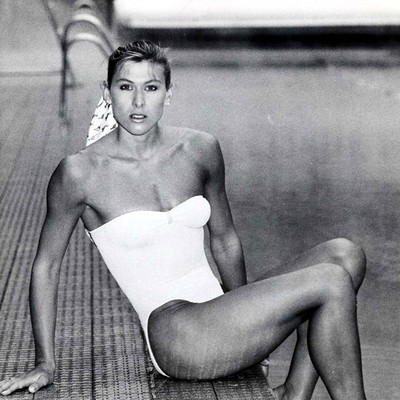 8 Life Lessons From A Record-Breaking Olympic Athlete

Sharron Davies MBE is one of the UK's best-known sports women. She first swum for her country at the age of 11 and went on to compete over three decades in the Olympics, European championships and Commonwealth Games. After retiring from swimming, Sharron carved a career in media, including the BBC where she was a key member of its sports presenting team. Today, she's also an ambassador for a pioneering osteoarthritis treatment and the author of new book 'Unfair Play: The Battle For Women's Sport'. We asked her to share with us the life lessons she's picked up as an athlete, mother and vocal advocate for gender equality.

All products on this page have been selected by our editorial team, however we may make commission on some products.
01
Don't Underestimate The Power Of Sport
Sport is an incredibly powerful tool – especially when it comes to teaching young people about the power of perseverance, resilience and how to keep going in the pursuit of your goals, even when you make mistakes. It teaches us valuable lessons about how we can be better in the future and the work that's required to see results. Life is not a straight line – and while that's only the kind of insight you learn as you age and experience various twists and turns, sport has the power to teach you about that kind of volatility from a really young age – I mean, I was only 11 when I was swimming and competing in junior international events. It also makes you stronger, both mentally and physically.
People always think I elected to take an eight-year break from competing, but I didn't make that choice. Unlike track and field athletes like Seb Coe and Steve Ovett, who were allowed to earn money and put it in a trust fund, I was branded a professional for receiving £40 to appear on a TV show, which ruled me out of several competitions. It was the early 1980s, so it was just bad timing. Then, they brought the trust fund structure back into swimming. It was actually pentathlete Mary Philips who said to me, "You don't want to spend your whole life thinking: what if?" So, I got back in the water in time for the Olympics in Barcelona. It's incredible to think I was only 13 at my first Games and nearly 30 at my last.
03
Accept That Something's Got To Give
My professional career – especially as a woman – hasn't always been easy to manage, both in and out of the pool. We're often told we can have it all, but the truth is we probably can't – at least not without a couple of sensible compromises here and there. I'm lucky that I had the same personal assistant, Sam, for 18 years and she really made so much of my life possible. You have to treat anyone who offers you help with immense respect and I'm so fortunate that she was so loyal and cared about my kids as much as I did. I admit there were still plenty of days where I felt like a bad mother, but I always felt I'd be a better parent if I felt fulfilled by my work, too. My three children – Elliot, Gracie and Finlay – have always been my priority, but I've never been one of those mothers who was happy to stay at home all day.
04
Find Balance Where You Can
I always encouraged my own kids to play sports – mainly because I wanted them to learn the same lessons I did. But I also didn't want to pressure them into competitive sport as a profession if that wasn't what they wanted. Elliott and Finlay both play rugby and Gracie competed for England in track and field until an injury forced her to stop at 18. So, while they're all sporty, I've made sure they always had time for other things. My father had tunnel vision when I was competing and there were a lot of sacrifices made to ensure I achieved my goals. In his view, just one day of missed training could give the East Germans or the Americans something on me and, while nothing was ever done maliciously, it did take away a lot of the enjoyment of my sport – and I didn't want my own children to feel that way. I was determined that they would have more balance and more choices.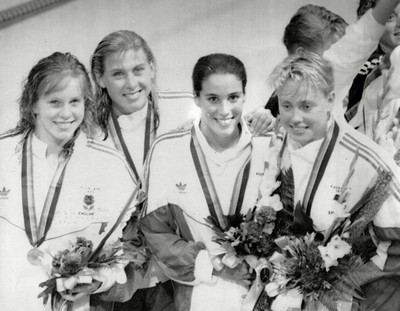 TED BLACKBROW/ANL/SHUTTERSTOCK
Sport is an incredibly POWERFUL TOOL – especially when it comes to teaching young people about the POWER OF PERSEVERANCE, RESILIENCE and how to KEEP GOING in the pursuit of your goals, even when you MAKE MISTAKES.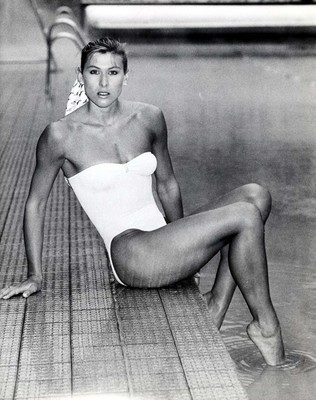 TED BLACKBROW/DAILY MAIL/SHUTTERSTOCK
Sport is an incredibly POWERFUL TOOL – especially when it comes to teaching young people about the POWER OF PERSEVERANCE, RESILIENCE and how to KEEP GOING in the pursuit of your goals, even when you MAKE MISTAKES.
05
Don't Take Your Health For Granted
I've always thought of myself as a healthy person but that doesn't mean life won't throw you curveballs, especially as you age. Mine came when I thought having a child in my 40s would be easy. It wasn't. And I ended up having to have eight rounds of IVF to conceive Finlay. I'm quite a practical person but giving birth at 44 was no joke. While I'd have had another at 46 if I could, I wouldn't recommend the in vitro process. It was a complete emotional rollercoaster. 
Now at 60, I'm encountering a new set of challenges – not least my knee, which has been through a lot, not just in my swimming career but also during my time on Gladiators in the 1990s. No human body is designed to train for six hours a day, so I'm now dealing with the side effects of that and I'm incredibly grateful that this single injection, Arthrosamid®, exists. Since September, a lot of my pain has now subsided and, as long as I go to the gym to maintain the muscles around the joint, my knee does really well. My surgeon can't believe it – and I'm very pleased a knee replacement isn't on the cards. It means I can play tennis, go cycling and lift weights at the gym to maintain my fitness, too.
Another thing my career really taught me was to be brave. If I could stand on the diving block about to compete in a race that was about to define the rest of my life, then I knew I could do anything. And that's something I've been able to carry with me as I've got older. I've never been that afraid of failure because I've also been open to the lessons that came with it. Sure, as we age there's a tendency to become more risk averse (I always tell people I don't bounce like I used to!) but I still like to try new things. Golf is one example – it's nothing that crazy, but I'm surprised at how much I love it; plus, it's something I can do with my boys, which is great. I'm also a grandmother now, and spending time with my three-year-old granddaughter has brought me much more into the moment.
07
Prioritise Your Integrity
When I left the world of professional sport for broadcasting, it was always my intention to be as honest as possible, even with millions of people watching. I don't think that will ever change. My athletic career taught me that you only get out of something what you put in, and my integrity has been a consistent priority – especially when you're dealing with the truth. I'm also a very loyal person, which is why my friends today are the same friends I've had since I was 14 – and I never let prejudice shape my opinions. Women of my generation have had to work extremely hard to achieve everything we now have, and my greatest wish is that women coming up behind us can benefit from a more equal world.
08
Finally, Fight The Good Fight
My new book Unfair Play: The Battle For Women's Sport is about gender inequality in sport. For years, women weren't even allowed to compete at the Olympics, and 96% of the television airtime allotted to sport in the US still goes to men. Also, 99% of the promotional dollars available in US sport goes to men and only 1% to women. It's absolutely horrendous. In the UK, we have around 11,000 men who are earning a professional living from sport and only 1,000 women. People think gender equality in sport is improving, but in some respects it's getting worse. That's really what the book is looking at – from the East German doping scandal all the way through to the modern-day transgender debate. It's been an incredible project, but it's been a very intense process to make sure all the references and data are correct. But I really believe in the message and feel passionately about the subject, so that's made it all feel worth it.
Sharron Davies is an ambassador for non-invasive hydrogel treatment Arthrosamid® which provides safe and sustained pain relief for knee osteoarthritis with a single injection.  Visit Arthrosamid.com for more information.
DISCLAIMER: We endeavour to always credit the correct original source of every image we use. If you think a credit may be incorrect, please contact us at info@sheerluxe.com.