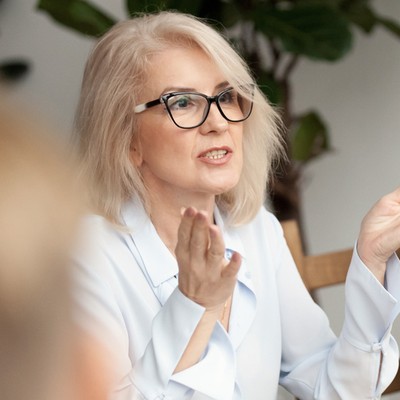 How To Get Into Mentoring

Whether you're at the peak of your career or recently retired, your wisdom and experience could be invaluable to a younger generation. To find out how to become a mentor and the various schemes available, we asked a couple of experts to answer our questions and share some helpful resources.

Image: iSTOCK/FIZKES
First, what does a mentor do?
"Put simply, a mentor is a trusted person with experience who can help you develop someone's skills and knowledge; share their own career story and introduce people to others to build their network; guide people towards opportunities to start or move up in their career; support them to set goals and take action; help them look at challenges in a new way; and signpost them to advice and further help if they need it. Most people find having a mentor is useful at any stage of their career – so don't doubt the contribution you could make." – spokesperson from The National Career Service
What's the difference between business mentoring and social mentoring?
"Business advice from someone who has worked in a particular industry or set up their own company can be invaluable to a new business. There are several organisations which can match your skills and experience to the appropriate enterprises. For example, Mentorsme.co.uk is a service which allows businesses to look for local mentors with relevant experience. It also offers advice on how to become a mentor and gives details of training organisations – you are likely to need some formal training before you can link up with a company. PRIME, the Prince's Initiative for Mature Enterprise, is another organisation which encourages the over-50s to set up in business.
"Meanwhile, some charities offer the chance to mentor people who are from disadvantaged backgrounds, for example, or who are older and live on their own. This is social mentoring. For example, CSV is a volunteering and social action charity and it has a Retired and Senior Volunteer Programme (RSVP) aimed at encouraging the over-50s to give up some of their time to share their skills, knowledge and experience. CSV also has a mentoring and befriending programme, which can involve helping schoolchildren with reading or maths or giving advice to offenders when they leave prison." – the SAGA team
How do you know if you have what it takes to be a mentor?
"We recommend working your way through the following checklist to help you decide. First, do you think like a grandparent? You're not there to rant when your mentee makes a mistake; rather your role is to listen and digest. You need to be a facilitator, assisting the mentee to make their own choices. Second, patience is essential – you may need to work at earning someone's trust – and third, you need to be committed. In many cases, you could be meeting your mentee once a week (sessions usually last an hour) for a year – or perhaps longer. And, before that, there's training. 
"Also, don't worry about your academic qualifications. What's more important is life experience: a solid understanding of how the world works and how people work. For the likes of The Prince's Trust Enterprise programme, a background in business and/or enterprise is a must. Finally, a decent level of computer literacy is useful. Many job and college applications are now done online and may even involve an online interview. And if you're interested in business mentoring, you'll need to be social media-savvy; a great deal of modern commerce is conducted via Instagram, Facebook, LinkedIn and the like." – the SAGA team
How do you go about find the right opportunity for you?
"There are lots of mentoring schemes run by charities and commercial organisations. Some are for specific groups like people with a disability or people from black, Asian or minority ethnic (BAME) backgrounds. Some examples include:
"Meanwhile, some mentor schemes encourage people from under-represented groups to enter a particular career or sector. For example:
"If you're at work, you could ask someone in your organisation about being mentor. Think about the type of person you want to help. Look for an organisation that's looking for the kind of skills you have or specialises in roles you've had. Having someone who is two or three steps ahead of where they are in their career is invaluable." – spokesperson from The National Careers Service
Business advice from someone who has worked in a PARTICULAR INDUSTRY or set up THEIR OWN COMPANY can be INVALUABLE to a new business.

Is there any way to prepare yourself for being a mentor or know what to expect?
"Think about your long and short-term goals and what you want to gain from the mentoring experience. You'll be expected to take the lead in how the sessions are used. You'll also need to agree with your mentee on the amount of time you can both commit to meeting, how you will use your time together, and when and how you will meet-face to face or online. You could create an action plan to help set some common goals. You can take this along to your first session to prompt the discussion." – spokesperson from The National Careers Service
Do you have any tips for getting the most out of it?
"To help you get started, you should plan a rough outline of what you want to cover before each session and prepare some questions. Remember, though, as a mentor, you're just there to advise, not to do all the work. Make sure your mentee is willing to trust your advice but expect to challenge them and push them out of their comfort zone – this is how they develop skills. Mentees will make some mistakes – so focus instead on how they learn from them and, remember, you're volunteering so don't continue if it's feeling like a waste of time. Finally, try to see things from their perspective – your mentee may be of a different gender or culture, so be respectful of any differences. Finally, make sure you're open to feedback and willing to talk about it (and vice versa). If you disagree, see it as an opportunity to learn from each other." – spokesperson from The National Careers Service
How do mentoring relationships come to a natural end – if at all?
"All mentoring relationships have to come to an end eventually. For our Business Mentors and young people, the expected duration is two years with an optional third year. For Mentors and young people, the expected duration is six months with an optional further six months. As a mentoring relationship comes to an end, mentors and young people should prepare themselves accordingly, with careful plans to allow a winding down process. It is at this point that having established professional boundaries will serve both mentors and young people well. As a mentor, if you and the young person feel that they still need some support, you may wish to use your last meetings together to direct them to other bodies that can provide ongoing support. It's a good idea to review the goals that you have been working towards and discuss what you hope to achieve before the mentoring relationship ends. Also, celebrate the achievements of the relationship. Mentor reports and record sheets can be used to look back at how the young person has progressed. Identify the lessons that have been learned and what's changed over the period of your mentoring relationship. Finally, you may wish to stay in contact with each other on your own behalf. This would usually be your own personal choice." – spokesperson from The Prince's Trust
Other mentoring schemes worth knowing about…
BEST ALL ROUNDER: The National Council for Voluntary Organisations – the umbrella organisation for more than 12,500 volunteering and mentoring projects around the country. 
BEST FOR SOCIAL IMPACT: Grandmentors – helps connect young people leaving care with social mentors to help them get on in life.
BEST FOR TECHIES: Meet A Mentor – with over 2,000 members from the UK tech industry, mainly specialising in, but not limited to, Java and front-end technologies, it matches mentors and mentees within the community to discuss new technologies, career goals and troubles.
BEST FOR ONLINE TUTORING: The Access Project – offers volunteers the chance to tutor online for an hour a week during term-time, in a subject they're passionate about.
BEST FOR WOMEN IN LEADERSHIP: atd Partners – the experts in leadership coaching and women's development & diversity.
BEST FOR POSITIVE ROLE MODELS: The Young Lives Foundation – the organisation looks for positive role models to guide and advise and who can strive to meet set goals to help young people achieve their potential.
Visit SAGA.co.uk, Princes-Trust.org.uk & NationalCareers.Service.Gov.uk
DISCLAIMER: We endeavour to always credit the correct original source of every image we use. If you think a credit may be incorrect, please contact us at info@sheerluxe.com.