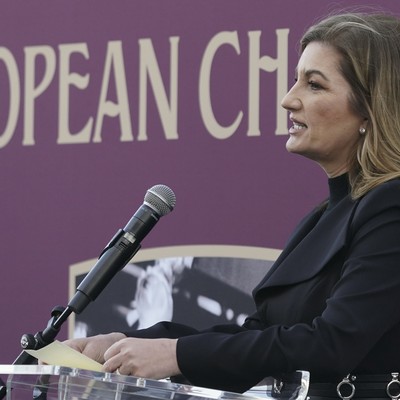 Chapters In My Life: Karren Brady

Baroness Karren Brady of Knightsbridge CBE is one of the best-known businesswomen in Britain – not only is she a regular on The Apprentice, she's a member of the House of Lords and vice chairman of West Ham United FC. Ahead of International Women's Day tomorrow, we sat down with her to talk about key moments in her life – as well as what she's learnt about being a woman in a man's world and her ongoing work to champion women in business.

Image: JED LEICESTER/SHUTTERSTOCK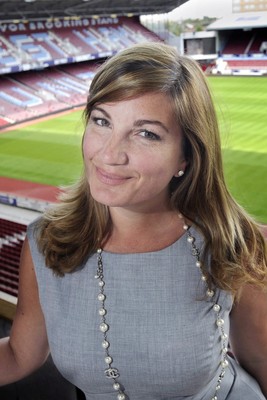 Chapter One: Growing Up In North London
"I grew up Edmonton, North London, with my mother, father and brother, who is just over a year older than me. My father was an entrepreneur and set up his own business, but my mother never worked. In her day, there were only two choices: be a housewife or work in Woolworth's. If she'd wanted to be anything like a scientist or an engineer, people would have probably laughed at her. Both my parents were intent on giving my brother and me a good education, but the most valuable thing they taught both of us was self-esteem. They made sure to tell me my opinions were valuable, that I had self-worth and that there weren't any barriers in my life I couldn't overcome – in short, I could be whatever I wanted to be. They sent me to a convent boarding school until I was 16 (the best education money could buy in those days) and for sixth form, I went to a school that only admitted girls at 16. The rest was all boys, so it was a bit of a baptism by fire…"
Both my parents were intent on giving my brother and me a good education, but the most VALUABLE thing they TAUGHT BOTH OF US was SELF-ESTEEM.

Chapter Two: Striking Out On My Own
"By the time I was 18, I was a bit fed up with being told what to do and the most important thing to me was having independence. I realised the key to personal independence was financial independence, so I knew I had to get out into the world of work and find a job. A lot of young people don't know what they want to do – and I was one of them. I didn't have a vocational calling, and only a handful of GCSEs and A Levels to my name. I wasn't qualified to do anything specific, but I did know what my core values were – and those are some of the most important things any young person can equip themselves with before heading out into the world. I knew I was ambitious, determined and that I had integrity. I went and got a job at Saatchi & Saatchi and quickly moved into sales – which I turned out to be quite good at. That was the starting point for me."
Chapter Three: Joining Birmingham FC
Being young means having almost zero fear. I gave most things a go and, because my parents had equipped me with a healthy dose of self-esteem, I wasn't plagued by self-doubt. When the opportunity to get involved with Birmingham FC came along, I didn't worry about it being a male-dominated industry. Going to that all-boys school had given me a thick skin and I was used to being in the minority. The Premier League had just started, so it felt like a really exciting time to try and turn this business around as managing director. There didn't appear to be a downside, so I went for it. That said, there was quite a lot of sexism in and around the club. I confronted it head on. I didn't let anyone speak down to me or belittle me – I was often very direct and, if I didn't like something, I said so. Lots of people do have an unconscious bias they're not aware of. Until it's pointed out to them, they won't change their behaviour."
Chapter Four: A Big Health Scare & Joining The Apprentice
"Back in early 2006, I got a big shock when I went for an MRI scan and doctors discovered a potentially fatal cerebral aneurysm. In fact, they told me it was a miracle I had survived the births of my two children. I underwent urgent neurosurgery to prevent the aneurysm from rupturing, made a full recovery and was back at work about a month later. In my own way, I coped by breaking it down into three component parts. The first was accepting what was happening. The second was coming up with a treatment plan and the third was finding a way to move on with my life. I didn't tell many people what was really happening – I didn't want to be weighed down by their sympathy – but it did make me realise life was short. 
"I joined The Apprentice in 2007 and have now been involved with the show for many years. It's a brilliant group of people and we have so much fun. Lots of TV shows can be quite arduous – especially when they're full of difficult personalities – but The Apprentice is completely the opposite. We're all good friends, we go on holiday together and the fact that nine million people tuned into the first episode of the current season proves it's still going strong. Because it's about championing people from all different walks of life in business, I doubt it's something I'll ever grow tired of."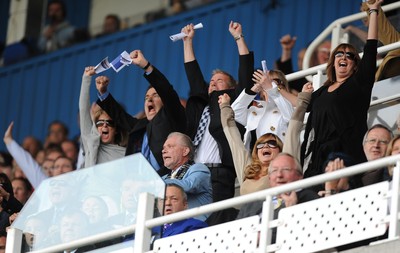 JAVIER GARCIA/SHUTTERSTOCK
Chapter Five: West Ham & Bidding For The Olympic Stadium
"Leadership should never be confused with management. Management is about laying out a set of goals and managing the right people to deliver them. Leadership is about vision. Sometimes, it's a vision only one person can see, so being a good leader means being able to communicate your vision to others in a way that makes them want to join you and help make it a reality. That's exactly what happened during West Ham's bid for the Olympic Stadium. I knew going from a 35,000 ground to a 62,500 stadium would be good for the club's future – and we've since smashed every record in West Ham's history and are now the 14th most valuable club in the world. It's turned out to be absolutely the right decision, but it was a protracted and difficult process at the time. Thankfully, I had a good team of people around me who helped me to focus on the goal ahead and build the resilience to see it through. Ultimately, I'm the kind of person who doesn't hear the word no, and I'm never afraid of a challenge."  
Chapter Six: Becoming A Non-Exec 
"You never take a non-executive position for the money – so it's essential you only join a board because you feel you can add value and because you like what the business is doing. I tend to go in because there's an issue that needs resolving or there's some sort of growth project on the table. I've loved the businesses I've been involved with over the years – be it Sony or Channel 4 – as it's given me the chance to learn a lot about that industry, and I'm proud to have been able to contribute."
Chapter Seven: Earning A CBE & Being A Working Mother
"Getting my CBE was one of the proudest days of my life. To be recognised for my contribution to business and entrepreneurship, and gender equality, was a very special moment. The first thing I'd say to any women trying to balance an ongoing career with family is not to panic. My children are 25 and 23 now, and they continue to learn all sorts of things from having a working parent: the importance of having your own money, ambition, to always try new things. It's always been vital for me to be a role model for my children; there's no point beating yourself up over missed school pick-ups or anything like that. 'Working mother' is the title that suits me best because they're the two things that matter the most. That said, I know I'm good at splitting myself in half into a work personality and a home personality. The trick is not to let one suck the life out of the other."
Getting my CBE was one of the PROUDEST DAYS OF MY LIFE.

The Next Chapter 
"Right now I'm excited to be teaming up with one of the UK's largest small business insurance providers, Simply Business, to mark International Women's Day by launching The Empowering Women in Business initiative, where one female entrepreneur can win an hour-long, one-on-one mentoring session with me. Research done by Simply Business shows one in three female entrepreneurs has experienced sexism as a business owner, while one in five has also experienced gender inequality and unequal access to opportunities – both issues which make me more passionate about helping where I can. They also found more than a third have asked for more one-to-one mentorship from a business expert, and a further third want more tips and advice from female leaders in their industry – so together we're trying to meet those challenges head on.
"I'm also keen to pursue similarly important issues around domestic violence and the gender pay gap via my position in the House of Lords. And finally, even though I'm 52 and finally have that independence I've always craved, I still want to be involved in day-to-day business. I'm in the fortunate place in my career and time of life to be able to say no to the things I really don't want to do – so you can be sure the things I say yes to are what I'm really passionate about. It's such a privilege."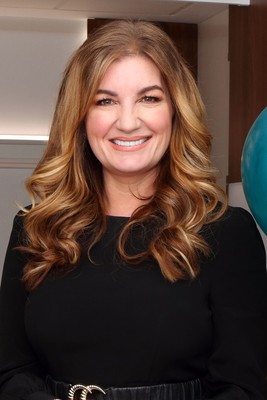 RICHARD BARKER/SHUTTERSTOCK
Baroness Karren Brady CBE is an ambassador for Simply Business' Empowering Women In Business initiative, offering one female entrepreneur an exclusive one-on-one mentoring session to improve their skills and confidence in business. Entries are open until 31st March and business owners can sign up here. Visit SimplyBusiness.co.uk for more information.
DISCLAIMER: We endeavour to always credit the correct original source of every image we use. If you think a credit may be incorrect, please contact us at info@sheerluxe.com.