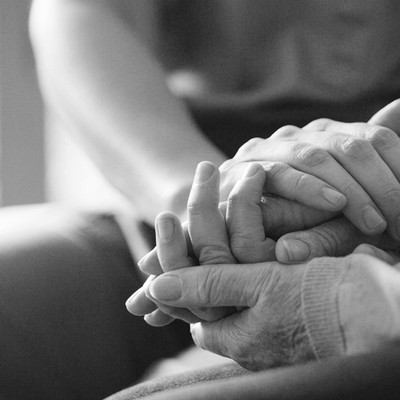 How To Find Life-Enhancing Care

Care is a topic many of us are uncomfortable discussing – no one likes to imagine a loved one struggling to care for themselves – yet it's a fact of life that affects nearly all of us at some stage. Hamilton George Care believe that care should be life-enhancing, providing tailored live-in care and housekeeping support to private clients across the UK. A family focused consultancy, it prides itself on providing a highly bespoke service and doing what's best for both the care recipient and their family. Whether it's something you're thinking about for the future, or if you're not happy with existing arrangements, head of client experience Emma White talks us through the importance of understanding your options.

Photography: iSTOCK/SHAPECHARGE
Created in partnership with HAMILTON GEORGE CARE
It's never too early to start talking about care. In fact, the conversation can be a bit easier when the care itself seems far away. Families seem happy to discuss inheritance, wills or retirement, but somehow care can seem a trickier and more emotional issue. It really shouldn't be. A lot of people never see themselves as being ready for care, but you just need to understand what support might be needed and when, and then investigate your options. 
Care is incredibly personal and there are multiple reasons someone might need it. Having spoken with hundreds of families looking for care there are key pinch points we see. Some come to us following a medical diagnosis – that's a really clear development when suddenly families decide they need help. There could have been a fall, injury or even a near-miss incident. Has somebody left the cooker on, or have they gone out of the house and left the front door open? Nothing bad has happened, but it's made people a bit wary. The third option is a change in circumstance – maybe moving home, a bereavement or even the cleaner moving on. The final one is when there's just a gut feeling for the family that the extra support is needed.
Families seem happy to discuss INHERITANCE or WILLS or RETIREMENT but, somehow, CARE often seems a trickier issue. It really shouldn't be.
Deciding on care as the next step is highly emotional. This is why preparing and getting your ducks in a row early is so key. First up, ask around. Care is such a hidden issue as people don't talk about it very much, but if you open up and start talking to friends and asking around for help, you'll be surprised how many people are having or have had similar experiences. Then, start to understand all the options available. Outside of friends and family, there are thousands of agencies, and there's so much information online – almost too much sometimes and it can be a bit of a minefield. Speak with an expert: a fully managed agency is a good starting point as they not only provide carers, but also manage the full care process for their clients. You don't have to go with the first person you speak to, but they might be able to guide you through those initial stages, take the pressure off a little, answer questions, provide advice and generally be a bit of an informed sounding board. 
Ultimately nobody really wants to have a carer in their home – it's recognition that they're losing their independence and they often have unrealistic expectations of what they're able to do. But, usually, if you allow the person who is receiving care to remain in control as much as possible, involve them in the process and ensure the right carer is selected, they can feel more empowered and accepting of their situation. Part of our role as an agency is acting diplomatically to get a full understanding of the wishes of everybody involved. We use the expertise of our in-house nurse, and the experience of our MD, to decide how care can be provided to best fulfill everyone's wishes while ensuring the client's safety. With our experience and clinical expertise, we take on the responsibility and remove some of the friction for the person organising care.
If you allow the person who is receiving care to remain IN CONTROL as much as possible, INVOLVE THEM in the process and ENSURE THE RIGHT CARER is selected, they can feel more EMPOWERED and ACCEPTING of their situation.
Language can play a huge part in how we introduce carers. Offering them as a housekeeper or a PA, or even just saying that they're coming in on a trial basis, can sometimes be the easiest in-road, as the loved one might not realise they're helping out in so many more ways. All carers have care training, but cleaning, cooking and maintaining the home are all part of their role as a carer so they can begin a placement with a different label, with the care just integrated seamlessly as they go. If you've got the right person in place, they won't be seen as a carer, but as a companion or member of staff providing vital, life-enhancing support.
At Hamilton George, we're a fully managed care operation which means we are a regulated service. We are continually assessed by the Care Quality Commission (CQC), which inspects all the services we offer. The carers we work with are employed directly by us: we recruit, manage and take care of all the HR requirements including background checks. We also have an in-house training programme to ensure we are always providing the highest standard of care. If somebody takes holiday or is sick, we immediately send somebody in to manage that care in their absence. Carers and clients are also covered by our insurance, which is something people don't really think about. We work with a limited client base so our clients speak directly with our MD and in-house nurse rather than a switchboard – and this individual support means we can really focus on carer matching and care delivery. All our clients are offered interviews with our selected carers who are then placed on long-standing rotations to ensure continuity of care. Involving both the family and the care recipient in decision making wherever possible ensures the whole family has total piece of mind that they are the right fit.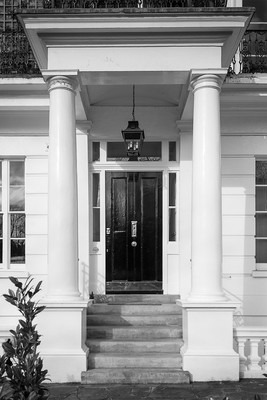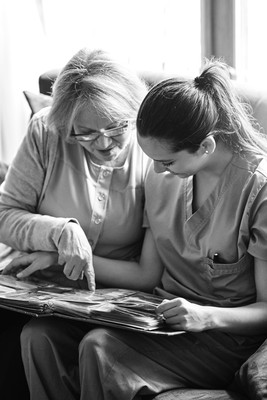 Care can be provided quickly if there's an urgent need. But be a little bit wary of agencies who offer long-term care there and then as it's unlikely that additional considerations, such as personality and interests, have come into play. Obviously it can be a good solution for the short term, but if you're looking for genuine companionship and support for a loved one – and don't forget they're usually someone who's vulnerable and not used to having a stranger in their home – the person that comes has got to be the right fit. If you're not happy with the care currently being provided, then change it. You don't need to stick with the first carer that comes to you and you don't need to go with the first agency you talk to. There's always going to be flexibility and the most important thing is making sure the person receiving care is getting the right kind of support and is safe – those are the priorities.
There are four steps to finding a great carer with Hamilton George. Step one is a phone call or in-person consultation with Fred Lloyd George, our MD. This is an in depth conversation where not only do we find out about the individual care requirements – whether they've got an illness or had a fall – but a much wider chat about who they are. What kind of life have they lived, have they traveled, what career have they had, what are their interests? That way, when we're finding the right carer for them, it's not just somebody who provides care, it's somebody who will genuinely fit into their life and hopefully go above and beyond to provide them with care and companionship. Step two is the carer search – taking all that information to identify the carers that would best suit, and offering interviews so clients have full confidence that the person coming into their loved one's home is the right fit for them. Step three is a home visit, where a registered nurse comes to the house and does a health and safety check so the person receiving care is ready. They can also offer advice on how to get the house ready – whether it's big things like needing a stairlift or little things like making sure there's a notepad close to the phone. Step four is starting the care programme. 
The important thing is to not see care as the end, rather as ANOTHER CHAPTER. If managed correctly and with the right support in place, it really can be LIFE ENHANCING.
We have a stringent hiring process. We have three rounds of interviews with each of our carers. They're also fully vetted, so this includes criminal checks and references. We've also set up a carer school, which means we can ensure all our carers are continuously delivering to the standard we and our clients expect. Because we only work with a limited number of clients, we aren't looking to match at a large scale like other companies, so we can be a bit pickier about the carers we work with. We only hire those that we genuinely believe would work well with our clients, taking into account all the information we've gathered from them at the beginning. The support given by our in-house team and the pay provided – which is above market rate – means we've got lots of carers who have been recommended to us by other carers, which hopefully shows they value the work we're doing and the way we work.
Some people are surprised to hear that all care can be provided at home – including end of life. All carers have a variety of training and experience, such as those who deal with palliative care, ensuring clients can stay at home for as long as they need. At Hamilton George we've got a nurse on staff who makes home visits as part of every placement, ensuring we deliver the same level of service at home as you would receive in a care home – it's more that it's a personal decision. It's what works for you and your family.
It's NEVER TOO LATE to think about care. The more research you do, the BETTER INFORMED you'll be and the easier it is to make those harder decisions.
Care is expensive. It's unlikely you're going to receive a lot of government funding due to the means test and the criteria for local government funding. There are grants available and for those with more severe needs, do some research into Continuing Healthcare. But it's mostly going to be privately funded, so the best thing you can do is start planning early. Know what you want and ideally start setting money aside in good time. That said, people are often really surprised that the cost of in-home care is actually similar to that of a care home. But there is a scale and the sooner you start nailing down what it is that your family wants and the sooner you start asking around, the sooner you'll be able to start planning and working out how much you should be setting aside.
Hamilton George Care client Flora de Winton tells SheerLuxe her first-hand experience of choosing care…
"With my mother's illness, my sister and I were heavily involved and hands-on with her care, managing fantastic hourly carers who came in four times a day to help. However, we also have young children ourselves and so life became a real juggling act with little time for ourselves. When her illness progressed and we realised that it was getting too hard, we knew that it was time for live-in care. 
"A daunting thought initially, my primary focus was getting the right person. You have to have complete faith and trust in someone coming into your parents' home to look after them. However, I didn't realise quite how beneficial working with a full-service care agency could be – the team took away the day-to-day stress and time involved arranging and managing care. The support provided is incredibly personal and Hamilton George was always one step ahead, easing both mum and the rest of the family into the practicalities of care and helping to build relationships with our wonderful carers before her illness progressed. I was able to step back, focus on my children and go back to being a daughter again. This was so important as it meant I was then able to simply cherish the time we had left together. In the case of a terminal or progressive illness, you'll never get this time back again."
For more information about care or to arrange a consultation with Hamilton George, visit HamiltonGeorgeCare.com