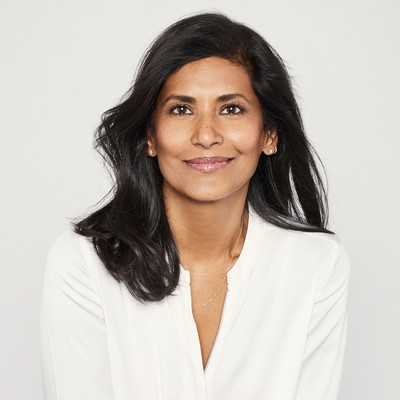 Life Lessons With… Ruby Hammer MBE

With a career spanning more than 25 years and an MBE for her contribution to the beauty industry, make-up artist Ruby Hammer will need little introduction if you're into beauty. Born to Bangladeshi parents in Nigeria, Ruby emigrated with her family to the UK at 13. She has worked with the best photographers for glossy magazines and advertising campaigns, on catwalk shows and TV, and co-founded hugely successful cosmetics brand Ruby & Millie. We asked her to share some of the life lessons she's learnt along the way.

WHAT I'VE LEARNED ABOUT…
BEAUTY
After all these years – and a career in the beauty business – what I've learnt is that beauty isn't just about the outer physical aspect. It might sound cliché, but beauty isn't about having perfect features – in fact, it means something different things to everyone and it's wonderful that we don't just have one measure of it. At the end of the day, true beauty is a reflection of your inner qualities as much as your outward ones. I admit it's a complex subject though, and one many women with spend time grappling with. It's also a huge industry designed to help us nurture our wellbeing and bring us joy – at least, that's how I like to look at the business side of things.
AGEING
It's funny how ageing and your approach to it changes as you get older. It really is one of life's boons and you realise that every day is a gift. There really is no point trying to keep turning the clock back – the best you can hope for is being able to tackle the whole process with grace. I mean, what's the alternative?
RUNNING A BUSINESS
It's been tough at times – I'm not going to lie – especially during the last couple of years. After many decades with Ruby & Millie, I launched my own concise line of products in 2019, right before the world stopped turning for a bit. That said, being an entrepreneur is very rewarding and it's made me who I am as a person. But I'm not solitary about it – I believe in teamwork and have a wonderful team albeit one that's very small and that I can trust completely. We run a tight ship and, because it's a small private venture, it means I get to launch only the products that I truly believe in. That's a wonderful feeling and privilege. 
RAISING CHILDREN
Having a family as a working mother has certainly been challenging, and I've realised it's really a lifelong process and journey. Your child's needs change all throughout their – and your – lifetime and no one gets it right all the time. Then, if you're blessed to become a grandparent, the process is extended – only this time with the benefit of some added experience. For me, there are two secrets to motherhood: love and discipline.
LOVE & MARRIAGE
In my view, a successful marriage is one of life's total treasures. But it needs luck, commitment and an equal amount of compromise and standing up for oneself. There also has to be lots of laughter, and the ability to see yourself as a unit, as well as an individual. For me, trust and respect are as important in love and marriage as they are in friendship. Those two things are the basis for any sound human connection.
HEALTH & WELLNESS
A lot of our health and feeling well comes down to genes and DNA – but it's not the whole story. This is what I've learned. The rest is up to you and the lifestyle choices you make. Those lifestyle choices also span many things, including diet, exercise, how you manage stress and your self-awareness. It's not actually that complicated – it boils down to whether you desire to invest in your health and wellbeing is strong. If it is, then that's great.
MONEY
I've come to understand that money is to be earned and spent – it's certainly not the be all and end all, although having it certainly does make life easier. It's best, I think, to look at it as a fluid energy that ebbs and flows. In life, money needs to come and go – it's rarely worth hoarding it just for the sake of feeling more secure.
FRIENDSHIP
I've spent years building a definition of a healthy friendship and to me it means loyalty, support, laughter and, ultimately, having a shared history together. It's worth having friends that wish you well but it's also a good idea to have at least a couple of friends who'll be honest with you. Also, relax about the idea that some friends will last a lifetime and others will come and go. It's wonderful to have genuine friends in your life so see it as a blessing if you can.
FASHION & PERSONAL STYLE
By now, I know what suits me and my body shape – I'd say I like to keep up with fashion and trends but I'm not a slave to either. These days, I prefer to buy things I can wear over time, and I enjoy finding ways to mix high-end brands with high-street ones. I also take really good care of my clothes so they last – that's when you learn what a difference good quality can make. Often, when I'm asked where my clothes are from, they're never the one hit wonders – most of my favourite pieces are years old. If I do go shopping, though, some of my favourite brands include Tory Burch, The Fold and Wyse London.
SOME FINAL THOUGHTS…
THE BEST ADVICE I'VE EVER BEEN GIVEN
Don't keep thinking about the past – it can be depressing. But don't live for the future either – it can cause anxiety. Instead, try always just to be in the present.
 
THE BEST ADVICE I'VE EVER GIVEN SOMEONE ELSE
Always be grateful. It'll help you have compassion for others and be kinder to yourself, too.
 
THE THING I'D TELL MY 20-YEAR-OLD SELF
You're going to be fine because you're resilient, courageous and willing to see the best in everything and everyone. That will take you far.
 
THE LIFE MOTTO I LIVE BY
Don't be afraid of change. It's the way life and nature functions – and, remember, no one is perfect.
 
Visit RubyHammer.com and follow @RubyHammer on Instagram.
Having a family as a working mother has certainly been challenging, and I've realised it's really a lifelong process and journey.

DISCLAIMER: We endeavour to always credit the correct original source of every image we use. If you think a credit may be incorrect, please contact us at info@sheerluxe.com.