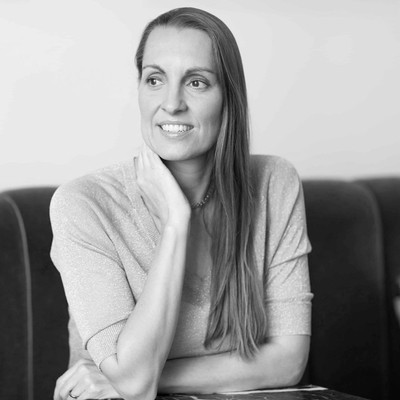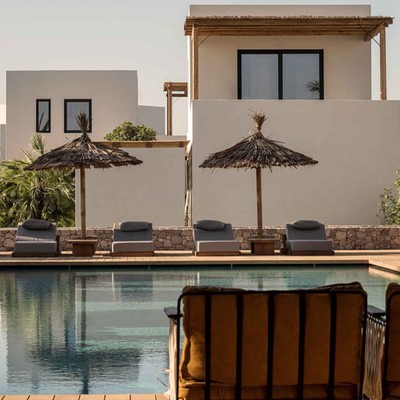 My Business Journey: Tamara Lohan

Tamara Lohan and her husband James set up Mr & Mrs Smith in 2002 and, this year, the business was acquired by the colossal hotel chain Hyatt for £53m. With Tamara set to stay on as CEO, we sat down with her to talk through her business journey, including the lessons she's learnt along the way and the advice she has for aspiring female entrepreneurs.

All products on this page have been selected by our editorial team, however we may make commission on some products.
I was brought up in Ibiza. It was a very barefoot, free-spirited kind of childhood and when I came back to UK I had to knuckle down because I didn't speak English that well. One of the biggest influences in my life was my mother, who is an entrepreneur – as is my father. I grew up surrounded by a lot of hardworking people who were their own bosses and did their own thing. That ingrains in you a proper work ethic and complete confidence in being able to do your own thing, even though it was clearly a lot of hard work. I saw the toil and the long hours and was not under any illusion that it was going to be easy. 
When James and I were dating, we were obsessed with going away to hotels. We didn't have kids, so we had a bit more money with which to enjoy our free time. But back then, the hotels in the British countryside weren't keeping up. We were going through a bit of a design revolution at that time with Conran, Heals, Habitat – and IKEA had just come on the scene. All the adverts were about chucking out your chintz and everyone's homes were becoming light, bright, modern – but the country hotels just weren't doing that. They were very stuffy, you were often overserved and the styling was just off. It was also the era of Michelin star restaurants where you could hear a pin drop. It just wasn't what we wanted on our time off. 
After one too many of these terrible weekends away, we said enough is enough. We were always the ones that our friends came to and said, where should we go? We were the ones always researching where the best places were and had built up this little black book. We decided it had to be a proper guide that could be a trusted source. So that's how Mr & Mrs Smith was born. 
We actually had lots of working titles for the business. But the best part of Mr & Mrs Smith is that it could be any couple. It was also the most common British name that people would write down in the guest book if they didn't want people knowing they'd been there. It conjured up this idea of a naughty weekend away with someone you love, having fun. 
When we launched, it was not the done thing to start a website. Travel guidebooks were much more common, so we did a book. But it was literally the next year that we saw the digital revolution happening and because we were young and into it, we just pivoted. By 2005, we'd built the bookable website. We could see people starting to use the internet for their research and the trust around paying for things online came later. We were absolutely at the forefront of all that and I'm proud to think about how fast we acted. 
Like anything new, you go through ups and downs. Naivety is the entrepreneur's secret weapon – if you actually knew it was going to be that hard, you probably wouldn't do it. You also have to learn to block out a lot of the noise. At the beginning, the books were doing incredibly well, so when a publisher said the market's saturated and nobody needs another guidebook, we had to stick to our belief that we were doing things differently and disrupting the market. We chose not to listen to the old guard who told us no one wanted our product. Instead, we listened to our peers and the tastemakers who understood we were changing the way things were done in this industry.
Babington House was one of the first hotels that made us go, wow. They completely revolutionised the concept of the British country house and I remember the bar was just so buzzy. Another one that made a definite impression was this tiny little pub in the Lake District, which was doing really beautifully designed rooms instead of leaving them as an afterthought. It was called The Drunken Duck and we practically helped launch them. It was all about finding the most incredible places nobody knew about and giving them a platform. 
We never let anyone try to pigeonhole us. We had hotels like Le Manoir aux Quat'Saisons on our books for thousands of pounds a night, as well as a pub in the Cotswolds for a couple of hundred pounds a night. People couldn't quite figure us out, but we kept explaining that it was about a state of mind. We knew people didn't want the same experience from a pub as they did from a glamorous city stay – but they're often the same customer, so this whole idea of general five-star versus three-star just didn't make sense to us. It was about collecting and curating these extraordinary stays that are unique to what you're looking for at any given time. Every single one of our hotels is unique – they're not cookie cutter.
Mr & Mrs Smith has always had a cheeky, irreverent manner but we were always deeply serious about the product. The hotels had to be good quality, and we did go through an era in the boutique hotel industry where there seemed to be a lot of what I call boutique hotels by numbers. People would take over their old parents' place or buy a pub, slap Farrow & Ball paint on the walls, put a glass jar of apples on the reception counter and call themselves a boutique hotel. It was a lot of style over substance. So, to be that trusted friend, we knew Mr & Mrs Smith couldn't let you down. We can be cheeky, we can be fun, but when we're dealing with your honeymoon or your birthday, we can't get it wrong.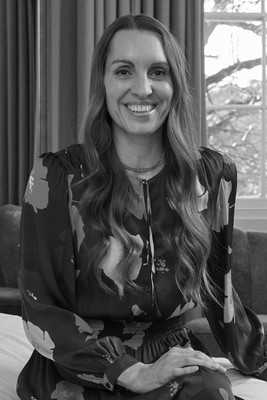 Mr & Mrs Smith has always had a CHEEKY, IRREVERENT MANNER but we were always DEEPLY SERIOUS about THE PRODUCT.
One thing we became known for was sending the anonymous reviewer. It was to make sure that the service was right, and to find out information about the smaller details like dress code and what there is to do in the local area. It's how we built the trust, through this kind of in-depth curation and then that anonymous review. All the hotels that we work with have a sense of place. You can't walk into a Mr and Mrs Smith Hotel and think I could be anywhere in the world right now. It has to have that familiar quality.
One of the biggest turning points for the business was our partnership with British Airways. When BA said yes to a partnership, that was a moment for me because it was like a stamp of approval from a much larger global brand when we were this tiny UK operation. They've been such brilliant partners ever since and really worked through Covid with us. 
The focus on sustainability has been an enormous change in our industry. We've become a B-Corp as well – we earned our certification last year, and we'll continue to champion those hotels that really make a difference. We have a couple of hotels on the site now that are completely non-profit and only exist to give back into their community. It's just great to see that as a trend.
Another changing trend is the demand for more flexibility. Post-pandemic, people don't want to be caught out by non-refundable rates and not being able to alter their plans when they really need to. People want to be able to change their mind and the whole industry is learning to adapt to that –especially those hotels that are a bit more far flung, and for whom it's more difficult to be flexible. Also, multi-generational stays. More people are taking the time to go away with family and friends in larger groups, which is nice. It's why our villas collection is doing phenomenally well.
James and I had to have help with the children to build the business in the early days. They're now teenagers so we don't have any help but, sometimes, I wish we did because teenagers come with their own challenges! We've always travelled with them – Tom had been to 21 countries by the time he was ten. Sometimes I wondered whether that was a good thing, but it's interesting because all they want to do now is go camping. They love that it's something different. Children are a lot more adaptable than we give them credit for. 
One country left on my bucket list is Costa Rica. Our collection there is fantastic, and it has some of the most eco-friendly and sustainable hotels on the planet. They're really showing the rest of the world up. The government is very much behind sustainable tourism in a way that a lot of governments aren't. There's also a place I really want to go back to in Brazil that I haven't been to for many years. The owners came out of the diesel industry and started using their creative minds to design each piece of furniture, as well as the fabrics and fittings. It's a constantly evolving project, so I know that when I go back, it will be a completely new experience.
In the UK, I couldn't recommend The Pig hotels more highly. I just love the ethos and how relaxed it feels to be there. They've got some interesting properties in lovely locations – the one in East Sussex has its own vineyard. And they really champion British wines, so they have an interesting drinks menu with bottles from all along the south coast, which is becoming so interesting in terms of wine. 
Over the years I've learnt I'm a very positive boss. Sometimes I get told off for being too positive as sometimes I try too hard to override the problems. I don't give enough air space to the challenges that are going on in business, but I try to catch myself and make sure I listen to what's really going on. I'm ever the optimist, though, and genuinely believe we have one of the best products on the planet when it comes to travel.
James and I work well together because we do two very different things. There's a huge amount of respect for what each of us does but we can still challenge each other. At the end of the day, I respect his decisions on the things that he really cares about and is good at – very much the brand, the creative, the voice, the look, the feel. Then I make it all happen in the background. We don't tread on each other's toes, and we have that ultimate trust. We know we both want the business to do well, and so I know I can always be brutally honest with him and he with me. 
Travel is our life, so when we go to hotels, it's never a pure holiday. There's always work to do. There's always a general manager who wants to show you around or have dinner with you. So, when we can do things a little bit removed from our nook of the hospitality space, it's great. We just went to Glastonbury, for example. James is really into music, and we go pretty much every year it's on. One time he said to me we should do a Mr & Mrs Smith pop-up at Glastonbury and I said, never. It's like a sacred space to me. We don't camp though – I'm too old for that!
It's very common to look at female entrepreneurs and think that they have it all. It makes a lot of women feel like they're failing because they haven't got their kids in order or whatever. Starting a new business is hectic and something usually has to give. It's a constant battle between getting everything right and occasionally you get days where everything just works – but those days are few and far between. Mostly, it's a lot of trying to keep up and it's never, ever perfect. So, my advice to other women in business – or just women in general – is don't seek that perfection. Embrace the chaos a bit.
Mr & Mrs Smith will turn 20 this October and our acquisition by Hyatt marks the next step in our journey. I'm staying on as CEO to make sure the integration goes really well, and also to make sure the brand standards and the curation stay completely on point. But what the acquisition gives us is an opportunity to grow this business in the right way. I see it as my mission to tap into this larger organisation that's now looking after the business and use their expertise in this field to take things to the next level. It's the next stage in the journey of Mr & Mr Smith. 
Visit MrAndMrsSmith.com 
DISCLAIMER: We endeavour to always credit the correct original source of every image we use. If you think a credit may be incorrect, please contact us at info@sheerluxe.com.