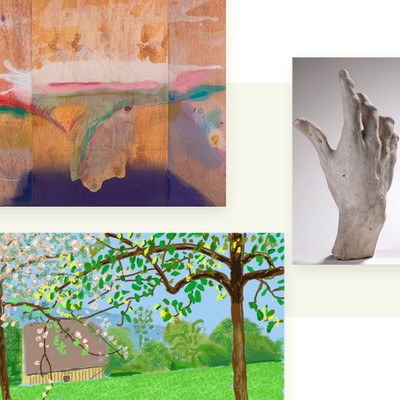 London's Must-See Exhibitions This Year

All being well, the capital's museums and galleries will reopen their doors from Monday 17th May as part of our roadmap out of lockdown. Curators have been pulling out all the stops to attract visitors and make sure art lovers get their fix. From a new David Hockney show, to exhibitions focused on Turner, Tracy Emin and Rodin, here are the top ten to book now for a much-missed hit of culture.

David Hockney: The Arrival of Spring, Normandy, Royal Academy
In the midst of a pandemic, David Hockney captured the unfolding of spring on his iPad, creating over 100 new and optimistic works in praise of the natural world. Throughout his career, he's investigated new technologies and explored different ways to make art, beginning with his iPhone in 2007 before adopting the iPad and Stylus in 2010. This new body of work – 116 works in total – has been 'painted' on the iPad and then printed onto paper, with Hockney overseeing all aspects of production. Each work – which has been printed far larger than the screen on which it was created – allows you to see every mark and stroke of the artist's hand. Created in the spring of 2020 at his home in Normandy, this exhibition charts the unfolding of spring, from beginning to end, and is a joyous celebration of the seasons. Opening a year after the works were made during the global pandemic, this exhibition will be a reminder of the constant renewal and wonder of the natural world – and the beauty of spring.
From 23rd May-26th September 2021
Visit RoyalAcademy.org.uk
Tracey Emin / Edvard Munch: The Loneliness of the Soul, Royal Academy 
She's been a major figure in contemporary art for over 25 years; he pioneered a radical new style known as expressionism. In this landmark exhibition, Tracey Emin selects masterpieces by Edvard Munch to show alongside her own most recent paintings. Emin has long had a fascination with the Norwegian painter of 'The Scream'. In 1998 she even created a haunting video piece filmed at the same Oslo jetty that was the location of many of his well-known works. This exhibition features over 25 of Emin's works including paintings, some of which will be on display for the first time, as well neons and sculptures. These works, which explore the loneliness of the soul, have been chosen by Emin to sit alongside a carefully considered selection of 19 oils and watercolours drawn from the rich collection and archives of Oslo's Munch Museum. Seen together, the dark territories and raw emotions that both artists navigate offer a moving exploration of grief, loss and longing. 
From 18th May-1st August 2021
Visit RoyalAcademy.org.uk
Turner's Modern World, Tate Britain
One of Britain's greatest artists, J.M.W. Turner lived and worked at the peak of the industrial revolution. Many artists ignored these changes, but Turner faced up to these new challenges. This exhibition will show how he transformed the way he painted to better capture this new world. Beginning in the 1790s, the exhibition will follow his fascination with the impact of industrialisation. This landmark exhibition will bring together major works by Turner from Tate and other collections, including The Fighting Temeraire (1839) and Rail, Steam and Speed (1844). It will explore what it meant to be a modern artist in his lifetime, and present an exciting new perspective on his work and life.
From 18th May-12th September 2021
Visit Tate.org.uk
The Making of Rodin, Tate Modern
Working at the turn of the 20th century, Auguste Rodin broke the rules of classical sculpture to create an image of the human body that mirrored the complexities and uncertainties of the modern age. Although Rodin is best known for his bronze and marble sculptures, he also worked as a modeller, who captured movement, light and volume in pliable materials such as clay and plaster. Plaster casts in all sizes will show how he continually experimented with fragmentation, repetition and joining existing parts in unconventional ways. With the process of making at its heart, the exhibition also considers the complex dynamics of the workshop, as well as between the artist and his models and collaborators, including fellow sculptor Camille Claudel, the Japanese actress Ohta Hisa and the German aristocrat Helene Von Nostitz. This landmark exhibition is possible due to a collaboration with the Musée Rodin, who has offered Tate unprecedented access to its collection. It features over 200 works, many of which have not been seen outside of France before.
From 29th April-31st October 2021
Visit Tate.org.uk
James Barnor: Accra/London – A Retrospective, Serpentine Gallery
The Serpentine will present a major survey of British-Ghanaian photographer James Barnor, whose career spans six decades, two continents and numerous photographic genres through his work with studio portraiture, photojournalism, editorial commissions and wider social commentary. Born in 1929 in Ghana, Barnor established his famous Ever Young studio in Accra in the early 1950s, capturing a nation on the cusp of independence in an ambiance animated by conversation and highlife music. In 1959 he arrived in London, furthering his studies and continuing assignments for influential South African magazine Drum which reflected the spirit of the era and the experiences of London's burgeoning African diaspora. He returned to Ghana in the early 1970s to establish the country's first colour processing lab while continuing his work as a portrait photographer and embedding himself in the music scene. This will be his first major exhibition.
Until September 2021
Visit SerpentineGalleries.org
Yayoi Kusama: Infinity Mirror Rooms, Tate Modern
Tate Modern offers a rare chance to experience two of Japanese artist Yayoi Kusama's Infinity Mirror Rooms. These immersive installations will transport visitors into Kusama's vision of endless reflections. Infinity Mirrored Room – Filled with the Brilliance of Life is one of Kusama's largest installations to date and was made for her 2012 retrospective at Tate Modern. It is shown alongside Chandelier of Grief, a room which creates the illusion of a boundless universe of rotating crystal chandeliers. A small presentation of photographs – some on display for the first time – provides historical context for the global phenomenon that Kusama's mirrored rooms have become today.
Until 27th March 2022
Visit Tate.org.uk
Anicka Yi, Tate Modern
Since Tate Modern opened in 2000, the Turbine Hall has hosted some of the world's most memorable and acclaimed works of contemporary art, reaching an audience of millions each year. The annual Hyundai Commission gives artists an opportunity to create new work for this space and this year, Anicka Yi will create her largest and most ambitious project to date. Yi explores the links between art and science and is known for the way her works activate different senses and for experimenting with unorthodox materials – which have ranged from tempura batter to kombucha leather. Her work draws from the research of philosophers who are concerned with emerging forms of life and intelligence, while also addressing present day questions around migration, class and gender.
From 12th October 2021-16th January 2022
Visit Tate.org.uk
Bags: Inside Out, V&A
From rucksacks to Birkin bags and Louis Vuitton luggage, this exhibition will explore the style, function, design and craftsmanship of the ultimate fashion accessory. Featuring around 300 objects, varying in scale from tiny purses held on a fingertip to luxurious travel trunks, the show explores the function, status and craftsmanship of these highly covetable objects from the 16th century to the present day. Highlights include the first-ever made Hermès Birkin bag, owned by Jane Birkin, as well as historical heirlooms from the 16th and 17th centuries. There's even something for non-fashion types to enjoy: keep an eye out for Winston Churchill's despatch box, which dates from 1921.
Until 12th September 2021
Visit VAM.ac.uk
Charlotte Perriand: The Modern Life, Design Museum
Charlotte Perriand joined Le Corbusier's studio in Paris in 1927 and co-created timeless pieces, including the Grand Confort armchair. She believed architecture should meet human needs and, as far back as the 1920s, designed open-plan interiors to make sure women didn't feel trapped in their homes. Her modern ideas can be found in the way we live today, from the use of materials to her belief that good design is for everyone. This new exhibition will allow visitors to step inside recreations of some of her most famous interiors, including the apartment designed for the Salon d'Automne in 1929, enjoy some of her furniture up close, such as the iconic Chaise Longue Basculante and the Fauteuil Pivotant, and discover sketches, photographs, scrapbooks and prototypes that shed new light on her creative process and her rightful place in design history. There will also be works by her friends and peers, including Le Corbusier, Fernand Léger and Pablo Picasso.
Opens 19th June 2021
Visit DesignMuseum.org
Helen Frankenthaler: Radical Beauty, Dulwich Picture Gallery
This is the first major UK exhibition of woodcuts by leading abstract expressionist Helen Frankenthaler (1928–2011). She is recognised among the most important American abstract artists of the 20th century and is widely credited for her pivotal role in the transition from abstract expressionism to colour field painting. She experimented tirelessly throughout her six-decade long career, producing a large body of work across multiple mediums. Opening ten years after her death, this exhibition shines a light on the artist's ground-breaking woodcuts, which appear painterly and spontaneous with expanses of colour and fluid forms. It will reveal Frankenthaler as a trailblazer of the printmaking movement who endlessly pushed possibilities through her experimentation. 
Until 12th September 2021
DISCLAIMER: We endeavour to always credit the correct original source of every image we use. If you think a credit may be incorrect, please contact us at info@sheerluxe.com.