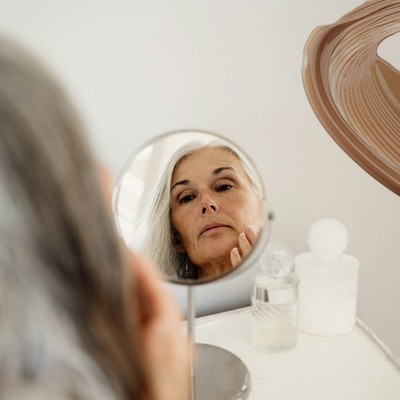 Make-Up Masterclass: How To Warm Up Your Complexion This Season

A warm glow is synonymous with summer, but a little bronze can do wonders for your skin at this time of the year too – especially if you're prone to dullness. With the right products, textures and application techniques, a gentle hit of colour can boost your look and feel instantly – as well as enhance the rest of your make-up. Here, four experts share their tips for achieving that youthful warmth.

Photography: STOCKSY/ALBA VITTA
All products on this page have been selected by our editorial team, however we may make commission on some products.
Use A Bronzer To Do More Than One Thing
"Bronzer is one of the most transformative items in any make-up bag, and it can do so much more than just bring out some colour – especially for mature skin," explains make-up artist Jessica Kell. "Use it to give yourself a sun kissed glow, but also to add definition and sculpt your face. Just make sure the formula is matte, and preferably only one shade deeper than your natural tone – anything too dark will stand out too much. Start by taking the bronzer just into the hairline above your temple and gently work it down so it hugs the line of your cheekbone, until it touches the apple of your cheeks. This will add warmth while sculpting the hollows of your cheekbones, too. Victoria Beckham Beauty's Matte Bronzing Brick is great – it has two shades so you can lightly sculpt with one and add depth with the other." 
Invest In Tanning Drops
"When it comes to the face and using self-tan, drops are preferable," advises A-list tanner James Harknett. "Just a few pipetted into your night cream will add a warmth to your complexion that's really natural-looking and won't settle into fine lines or creases. They're also ideal year-round as you can control the glow or extend it if needed. Plus, being a tanning water, there's no chance of the residue staining your sheets. Make sure you run it down your neck for full coverage." 
Mimic Your Own Natural Tan
"When bronzing up your complexion or using any glow enhancer, the rules are the same for all skin tones," advises make-up artist Valeria Ferreira. "You want to mimic the colour your skin turns in the sun, so try to invest in this exact shade. There are so many available now, so it's quite easy to find one that suits your complexion, but both Charlotte Tilbury and NARS have a huge array of shades that work well for mature skin types." Jessica adds: "Make sure the colour you choose adds depth – especially if you have darker skin. Anything too pale will come off chalky or orange, so look for deeper bronzers to enhance your natural undertones. Likewise, if you have a lighter skin tone, avoid anything too orange, or any products that are more than one or two shades deeper than your natural complexion." 
Stock Up On Face Masks
"In autumn and winter, use a hyaluronic acid face mask after you've applied self-tan drops to prolong the colour," advises tanning master James Read. "This is key for everyone, but especially those with mature, dry skin. Try to avoid sleeping with the heating on, as this dries out your skin, causes dullness and your tan to turn patchy. When investing in face masks, stick to hydrating ingredients and nothing containing  anti-ageing retinol – this will just remove colour." 
Try The Figure Of Three
"There are a few tips and tricks to help you get the application of any bronzer or contour product right," continues Jess. "First, take a light-handed approach, especially if you're applying a powder. Use a brush and let it hug your hairline – this way, any excess colour on your brush will be softened into your hairline rather than in the middle of your forehead or on top of your cheekbones. If you want all over colour, then that's when you should try the figure of three. This involves taking your bronzer over the top of your forehead on one side, tucking it in under the cheekbone, then gliding it just under the jawline before repeating on the other side. You'll get a subtle sculpt, while achieving uniform colour, too."
Watch Where The Sun Hits Your Face
"Always watch where and how your face tans naturally," says Valeria. "This should be your starting point when warming up your skin. The bridge of the nose is a spot that's often missed, yet it always catches the sun and gives a great illusion of a believable glow. Apply some bronzer there, then use a concealer or lighter shade of powder on the sides of the nose to sculpt in a youthful way. Also, try using a little bronzer on your eyelids – just take a small shadow brush and blend it through your socket line. This will bring out your eye colour and give the area some warmth, while still looking natural and undetectable."
When bronzing up your complexion, the rules are the same for all skin tones. You want to mimic the colour your skin turns in the sun, so try to invest products that are this shade.

Snap Up The Right Tools
​"I almost always apply bronzing products with a brush to ensure they never go patchy or settle into creases and wrinkles," explains Jessica. "The right brush is essential, no matter what texture you decide to use. While a big, round brush is great for an all-over finish, I prefer to use these when buffing colour onto the body. For the face, I recommend a directional bronzing brush that hugs the contours of the face. Daniel Sandler's Waterbrush is brilliant for this as it sculpts the highpoints of your face, giving a precise but seamless application of gels, creams and liquids. If you're using powder, go for NARS' #14 Bronzer Brush – it effortlessly buffs any powder into a smooth finish, hitting all the right places." 
Don't Be Afraid To Mix & Match
"If you want to get a youthful, bronzed glow, try mixing and matching your formulas," says Valeria. "One of my favourite bronzing products is Chantecaille's Liquid Bronzer. You can mix it with your primer or moisturiser to instantly give you the kind of effortless and believable tan you can wash off at the end of the day. It's great in winter, too, when your skin may be looking a little sallow and lacklustre. Just make sure the formulas are compatible with one another – test this by mixing them on your arm first." 
Play With Liquid Formulas
"Though a powder or cream bronzer is always best applied on top of any foundation or base make-up, there are some instances you can apply a bronzing formula first," says Jessica. "For instance, a liquid can be applied under or mixed into a base product that is a little pale to make it a bit darker. I am a big advocate of using a sheer liquid bronzer on its own, too, or patted on top of a blurring primer – it's a very fuss-free look and never looks too heavy, which is key on more mature skin." 
Finally, Take Note Of Application Mistakes
"When it comes to warming up mature skin, the mistakes often made are pretty universal," finishes Jessica. "Mostly, people use bronzers that are the wrong shade for them, and they end up looking too chalky or orange. Natural is always best when it comes to picking a shade. Look for colours that mimic your natural tan and never go one or two shades deeper than your current skin tone. Another common mistake is piling bronzer on haphazardly all over your face. If you want all over colour, go for a liquid and mix it with a tinted moisturiser as you apply it. Try to be more directional with powders and creams so you sculpt as you go and don't leave any streaks behind. Finally, avoid too much sparkle and glitter in your bronzers. If these formulas are applied all over, it can look OTT and enhance areas you may not want to – like wrinkles and general sallowness. Instead, warm up your skin with a matte, cream bronzer and tap a tiny amount of highlighter on top if you want to."
 
Shop Our Edit Of Warming Make-Up…
DISCLAIMER: We endeavour to always credit the correct original source of every image we use. If you think a credit may be incorrect, please contact us at info@sheerluxe.com.