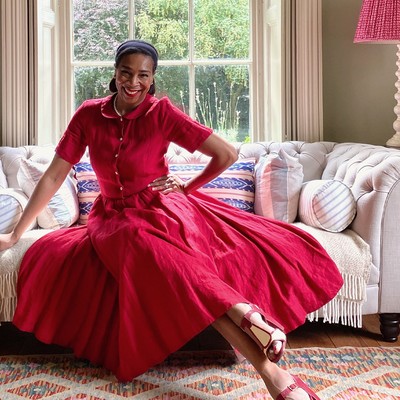 My Life in Style: Paula Sutton Of Hill House Vintage

When Paula Sutton swapped her career in the fashion industry in London for a rural life in Norfolk, she decided to start her blog and Instagram account, Hill House Vintage, to help do up her house. Little did she know that her new-found passion for vintage and traditional English fashion and interiors would launch a second career and amass her a loyal following today of nearly half a million. Here, she tells us about her style, her go-to brands and must-visit places for vintage finds…

Photography: @HILLHOUSEVINTAGE
All products on this page have been selected by our editorial team, however we may make commission on some products.
Hill House Vintage started in 2010 after I'd left London to move with my family to a Georgian house in the Norfolk countryside. Although it's only a couple of hours from London (where I was born), it felt like a world away, far removed from the fast-paced life and career I had been used to living in the city. We spent most of our money on buying the house and, having given up my job in fashion and my income, I needed to find inventive and cost-effective ways to furnish our new home with a miniscule budget. That is how I was led to the wonderful world of vintage, antiques and second-hand where I found beautiful and well-made furniture and accessories that looked fabulous and considered without breaking the bank.
 
The name Hill House came from the name of our house, and the Vintage was added when I started to blog about my new life, my vintage finds and my hunts, scouring markets, vintage emporiums and online auctions. The blog morphed into Instagram in about 2014 and, as I found my feet on social media, I began to show myself more and built up a wonderful community of followers who shared my love of country interiors, period architecture, vintage shopping and fashion.
 
My day now consists of working with clients on social media campaigns that suit my country lifestyle aesthetic – I'm writing, styling and art directing photography for the Hill House Vintage brand. I've also recently written a book which is due out this month, entitled Hill House Living – The Art of Creating A Joyful Life, and I have another exciting project with a well-loved British fashion brand that will also be out this month.
Seek out the shapes and colours that make your heart sing and make you feel confident wearing them.

I often joke that I'm either dressed like a 1950s housewife from I Love Lucie or a hobbit, depending on my mood. Everything I wear has a hint of vintage nostalgia. There's often a nod to classic 40s and 50s shapes and silhouettes and, more often than not, a touch of whimsical eccentricity that crosses several periods of history. However, I've always loved fashion, so I enjoy finding contemporary designers and small labels far too much to wear strictly vintage. 
 
My style is very definitely influenced by traditional English interiors. I love tweeds and flowery chintz, combined with stripes and checks in both my interiors and my clothes. I enjoy splashes of colour and I'm quite happy for things to be slightly faded, rough around the edges and what I call perfectly imperfect – whether that's for my furniture or a pair of vintage jodhpurs. I love to wear good cashmere, Fair Isle knits, corduroy as a staple in the cooler months and a good brogue with a dress. I imagine myself as a modern-day Miss Marple in a fitted tweed jacket pootling around Norfolk.
 
Funnily enough, I think that I've grown into my style as I've aged. I was the girl who arrived on the first day of university wearing vintage jodhpurs, a mustard tweed jacket and brown Chelsea boots. In my mind I was a black Grace Kelly or Elizabeth Taylor in the film National Velvet. Apart from a murky fashion period in my early 20s, when I went raving in black leggings and a baseball cap, I've always had a nod to vintage style in my way of dressing. I've always loved pencil skirts and tweed jackets. I used to wear a lot of Prada and Miu Miu in the early noughties when they were featuring a lot of tweed skirts (many of which I still have) and pussy bow blouses. It was the epitome of 'ironic granny chic' but with added sex appeal and the highest heels. Nowadays, the heels have gone and humour has replaced the sex appeal.
My go-to style is a button-front dress with a nipped-in waist and a circle skirt. I have several lovely ones from Son De Flor and Cabbages & Roses. I believe you should have fun, enjoy your clothes and not give a hoot if you stand out or look a bit eccentric. Clothes should make you feel fabulous, so only follow trends if it's something you are drawn to anyway.
 
I'm definitely a seasonal dresser. I wear floaty, flowing dresses throughout spring and summer, and then I turn back into a hobbit in autumn and put on the corduroy, tweeds and gorgeous knits. I went through a period of wanting to hide myself when my confidence was low and I was feeling a little lost. But putting on make-up and making an effort to truly enjoy dressing up and having fun with clothes helped pull me out of those years. 
 
Most of my jeans are years old from M.I.H. I've bought a few more recent pairs of cropped jeans from Marks & Spencer as they are so stretchy and comfortable, and I have a few white pairs from Toast. On the whole, though, I don't wear jeans that often, so the pieces I have are either from years ago or will stay with me for years.
I often joke that I'm either dressed like a 1950s housewife from 'I Love Lucie' or a hobbit, depending on my mood.

I love wearing masculine style brogues and ankle boots with dresses in the autumn – I have a fabulous pair from Dear Frances. I also have a fancy laced-up pair from Crockett & Jones and a traditional Chelsea boot from Church's. I've also bought two pairs of Rydale boots from country fairs over the years, which were made to withstand farm work and are my sturdy dog walking boots.
 
Dresses are a passion of mine – they're so easy and versatile. I love the fact that I can wear them with anything from wellington boots to sandals or high heels, and they can take on a different mood or feeling every time. My favourite styles are fit-and-flare 50s style shirt dresses from places like Son de Floor, prairie style dresses from Iris or O'Pioneers and, for the ultimate night out, a Vampire's Wife beauty.
 
The house is late Georgian, the Regency period, built in 1822. It's a very symmetrical house with lovely proportions, and large windows, high ceilings and shutters. It has provided a beautiful and elegant backdrop for my love of faded florals, colourful checks and vintage fabrics; I also like to mix polished wood pieces with upcycled painted pieces. I love lots of cushions, blankets and vintage quilts to add comfort, and I'm a big fan of curved or cabriole legs, scalloped edges and period details. Furniture wise, I have a collection of French armoires and mirrors, as well as button back chairs ranging from original Victorian Chesterfields and tub chairs to modern versions in a similar style. It's an eclectic mix of vintage, antique and modern, with no strict period, but I always feel that if you take time to make considered decisions with your choices and love each piece, then it will all go together.
 
I'm all about creating a well-loved and elegant vintage style mix in both my home and in my wardrobe. Not everything has to be vintage, but even new pieces have to have an air of another time about them, and a bit of 'theatre' thrown in.  The way I dress and the way I decorate are both my own quirky take on a traditional classic style, but with brighter pops of colour and a bit more humour.  
 
I love to scour antiques markets and vintage shops for unique homeware but, in the past two years, I have found so many great traders online via Instagram that deliver to your door. Some of my absolute favourites are @CestToutInteriors, @The_Urban_Vintage_Affair, @PureWhiteLines, @DecorativeAntiquesUK and @SusieBluesRooms.
Of course, when I'm in London, I always find the following places inspiring: Lots Road for auctions; Portobello Road for a good rummage; The Old Cinema on Chiswick High Road; the pre-loved sections at Liberty; Soane Britain on Pimlico Road; Hawker Antiques for inspiration; How London; and Jamb.
 
My advice is to buy and wear what makes you happy. Seek out the shapes and colours that make your heart sing and make you feel confident wearing them. Ignore trends unless they fit in with the things you love anyway. I have rarely followed trends and when I did – attempting skinny jeans for instance – I felt awkward, like a fish out of water, and vowed never to bow down to the pressure of what other people were wearing ever again. 
 
Some of the most treasured items in my wardrobe include a three-strand pearl necklace, passed down to me by my late mother, and a vintage Dior jacket that is like a piece of art. In fact, I've kept most of my most prized designer pieces from my fashion days. I have always worn Brora cashmere and love their bright use of colour and pattern. I have jumpers and cardigans dating back years and they still look as wonderful as new. I also love Cabbages & Roses for their quirky take on eccentric, yet feminine, British style; O'Pioneers because I love the theatre of their dresses and the ditzy floral Liberty print fabrics they use; and Kemi Telford for the drama and boldness of her beautiful, flared wax-print skirts. 
 
I love handbags and I currently switch between a small, brown leather cross-body from Polène, which can carry all of my essentials and still leave me hands-free, or a larger, khaki canvas and leather monogrammed tote from Aspinal.
 
The best look I've ever worn – if we're including my entire lifetime – has to be a tweed dress from Chanel that was my go-to wedding guest outfit in my early thirties. I bought it for an absolute song at a Chanel sample sale back in my Elle magazine days. I attached large burgundy feathers to the front like a brooch, and I wore it with four-inch suede burgundy Prada court shoes and burgundy gloves. It was probably the chicest outfit I've ever worn and it still hangs in my wardrobe today – though there's no way it would go up past my knees these days! I'm saving it for when my daughters learn to truly appreciate vintage.
 
Follow Paula on Instagram @HillHouseVintage
 
Launching today, Paula's collaboration with British brand Brora – Brora x Hill House Vintage – is a 9-piece capsule collection inspired by her love of 1930s British country-sporting fashion. Here are a few of our favourite pieces...
DISCLAIMER: We endeavour to always credit the correct original source of every image we use. If you think a credit may be incorrect, please contact us at info@sheerluxe.com.