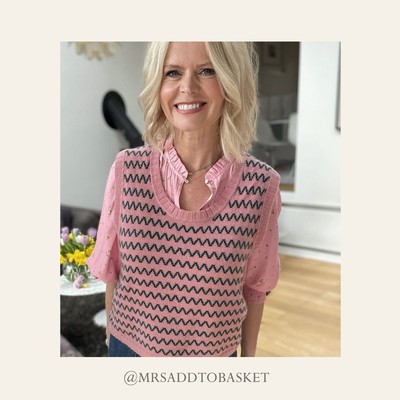 My Style Rules: Cath Weller

Corporate by day, colourful by night, Cath Weller (aka @mrsaddtobasket) is the brand ambassador for Wyse London and the style guru we should all have on our radar. From her top advice to clients to her personal sartorial icons, here she shares her seriously good style rules…

Photography: @MRSADDTOBASKET
The majority of my wardrobe used to be black. But over time I've learnt to use other colours like dusty pink, khaki and leopard print as neutrals – that's how you build colour into your wardrobe. I don't see those shades as something that goes with black. Rather, they form the foundations of a good capsule selection.
 
 
I wouldn't want anyone to think their style needs to change as they grow older. I don't like to be judged on my age – it's just a number – and I feel the same now as when I was 18. I have always dressed for myself and for other women. I'd much rather a woman told me they liked my outfit than have a man comment!
 
 
The years after I had my child were what I now refer to as my fashion wilderness. I bought clothes just because they were functional – I lost myself for ten years. I've never felt more confident or comfortable than in the clothes I wear now, and that goes hand in hand with being bolder than ever before. I re-found my style when I discovered Wyse London – watching Marielle, the founder, dress in so much colour was really inspirational. I needed to see someone else embrace it to get that confidence. Her clever trick is to create a capsule wardrobe in which everything is playful and colourful.
Lockdown has taught me to invest wisely in pieces you can wear every day. I also place a huge emphasis on layering – whether it's a blouse or tank top with a cardigan or denim jacket, layering colours makes me feel chic even if I'm just around the house. I would never wear a hoodie, as I associate them with those wilderness years – they're just too street for me. I would wear a sweatshirt, though, but a hood makes it feel too casual.
 
 
If you like dresses, I suggest you buy more dresses. It sounds obvious but I find, so often with consultations, people just don't think like that. So many women buy pieces they like without considering what it will go with in their wardrobe. I went through a client's wardrobe recently and she had endless stripey cardigans, but not a single blouse, dress or pair of trousers they looked good with. Some women really struggle to make decisions. If that's you, get your friends involved – take a friend shopping, take your phone and Facetime someone, or take photos and ask for help. I bought three tops recently – navy and white, olive and white, blue and white. I took a selfie in each and swiped across, and immediately could see which looked best on me. It's a quick way to get your colours done!
 
 
I love fashion and always have. I subscribe to lots of magazines and am always browsing Instagram for new ideas. But I try not to be a slave to trends – I was when I was younger and that was when I made my biggest mistakes. Instead, I look for designers who just give a subtle nod to the trends – Zimmermann, Vampire's Wife and Isabel Marant are some of my favourites.
I try not to be a slave to trends – I was when I was younger and that was when I made my biggest mistakes.
The advice I give most frequently to clients is to dress tonally. It doesn't have to be a wacky colour – try dark jeans, a blue blouse and a navy cord jacket. It's super flattering for your figure, as it's very elongating, and it's really sophisticated – think about how Max Mara style their runway. It's a good hack for achieving a polished look on a high-street budget.
 
 
I'm always thinking about proportions. If I wear flares, I add a slim-fitting top or, if it's skinny trousers, I'll go for more volume above. Then, I think about how to build up those tones and layers. Currently, I love wearing my flares or a long broderie skirt with a t-shirt and a tight-fitting denim jacket for structure, and then an oversized cardigan. That last layer is so important as it's what people see.
 
 
The thing I always invest in is a winter coat – again, it's the thing people see and remember. I wouldn't go for black – instead I have a bright red cashmere style, a pink one from Joseph, and a leopard print style. I like my coats to be playful. I buy a new one every year. Everyone should also invest in a great velvet tux jacket that you can dress up or down.
I don't consider denim a youthful thing. You may want to switch it up a little as you get older, but denim is timeless – just ditch the skinnies, they're only flattering on incredibly long, thin legs. Instead, try different shapes – straight leg jeans are fabulous and will balance your silhouette, or flares are cool too. Currently, I have a denim suit on the go – it takes the informality of denim and blends it with a more polished style. I feel great in it.
 
 
I love celebrities. I think Cate Blanchett and Julianne Moore have great style. They transcend age and I never think of them as 'older' women. It's because they use rich, colourful and textured fabrics well.
 
 
Living in neutrals is such an error. So many older ladies gravitate towards beige and I don't mean rich, beautiful camels. I mean beige. Greys. Pastels. Don't be a beige woman. Don't die wearing grey. Instead, look to women like Iris Apfel – when I look at her, I don't see age, I just see someone with attitude who can really rock fashion. Colour is so important for more mature women – it makes you more visible and will give you confidence.
 
 
My top tip for looking great as you get older? Go hard or go home. We've got nothing to prove to anyone anymore, so have fun. Be like Iris. Oh, and if you have grey hair, embrace it and go lighter. There's nothing more ageing than trying to cover up grey hair with brown.
 
Follow Cath on Instagram @MrsAddToBasket
DISCLAIMER: We endeavour to always credit the correct original source of every image we use. If you think a credit may be incorrect, please contact us at info@sheerluxe.com.