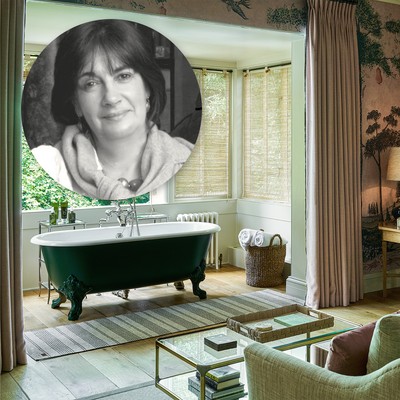 My Travel Diaries… With Fiona Duncan

For travel advice and recommendations, few are more knowledgeable than Telegraph Travel's hotel expert, Fiona Duncan, who's been reviewing accommodation across the world since the 1980s. From staycations and family getaways to dream destinations and the London hotels worth booking, here Fiona shares her top tips and favourite places with us.

I got into travel writing by writing about hotels. My husband and I started a series of guides in the 1980s called the Charming Small Hotel Guides. My friend Leo and I were sent off in a rickety little car around Europe to go and find lovely small hotels – which were much less easy to find in those days without the internet. That's where I honed my knowledge about hotels, which has since expanded to travel writing. I'm fascinated by hotels and I love travelling. Put the two together and I've had a bloody nice life.
 
The holiday I remember most from my childhood has to be the first time I went to Mallorca. We stayed in a hotel run by an English expat couple called the Wheelers. They were very eccentric and used to have the most terrible rows (one time we were all in the dining room having our lunch and suddenly she came rushing in, following her husband with a kitchen knife) but they were also full of personality and fun. We ended up going back three or four years running. I think that's where I got my love of small, characterful hotels from.
 
The most memorable place I've ever visited is the Abuna Yemata Guh church in Tigray in Ethiopia. The church is around 1,000 years old and is carved out of rock. It's difficult to get to and for about 45 minutes there are mildly challenging sections where you have to climb up vertical bits before being pulled up on ropes for the final push by the locals and priest who looks after the church. The people who worship there are just amazing – they can just trot up it – but for visitors, the last two minutes require absolute nerves of steel because there's a precarious ledge with a 200-metre drop you must walk along to get to the entrance to the church, which is carved into the cliff face. It is truly terrifying but, when you're in, it has wonderful views and well-preserved frescoes. It's an extraordinary thing to see.
For our honeymoon, we went to Nepal. It was a surprise for me, as my husband organised it. We went to Kathmandu and then went to a place up in the Chitwan National Park called Tiger Tops. We went to look at the tigers up there and also saw white rhinos and elephants. That was my first experience of any kind of a safari. The whole of the Kathmandu Valley is fantastic. We love Nepal, it's a wonderful place with wonderful people.
 
Another contender for the most memorable place I've been to was on a safari to Selous Game Reserve in Tanzania. It was like being dropped into The Jungle Book – it was extraordinary, you'd look down from the little plane taking you there and there were two zebra, five giraffes and a herd of elephants. The landscape was beautiful as were the African skies. That's the best safari I've been on.
 
The most remote place I've been is the Kolahoi glacier. We travelled there over four days on mules from Srinagar, the capital of Kashmir. It's quite a business to get there: we had to cross these terrifying rickety little bridges over rushing rivers, and it's so far away, you have to take live chickens with you to eat on the way. It was just me and my husband and we had about four or five chaps with us, plus a couple of mules – one that carried the tents and one that carried the cooking pots and the chickens. It's in the high Himalayas and I don't think I've ever seen such incredible scenery.
I've just come back from a lovely family holiday at the Peligoni Club in Greece. I would never normally recommend the place; however it was a massive success as it was out of season, which suited us perfectly. I can't recommend it more highly if you want the whole family there – I'm talking three generations – it was me and my husband, my two sons, my daughter-in-law and my two-year-old granddaughter. We were there at the end of September and there were only 35 other people using the club instead of the usual 400 Fulham-ites, and it was heaven. 
 
When it comes to larger holidays with multiple families, I like to head to Formentera, off Ibiza. It's a really good place to go in a group because it's small, some people can go cycling or sailing, others can head to the beach, and nothing is too difficult to get to. It's just very easy and people of any age would be happy there.
 
If you told me I could only go to one continent for the rest of my life, it would be Europe. When I close my eyes and think about some of my favourite places, I picture the region in southern Tuscany called Val d'Orcia, near the divine town of Pienza. It's very agricultural and unspoiled with a monastery and church, and it's my go-to favourite place. It's in its own valley, is very peaceful and is surrounded by beautiful countryside with lots of lovely restaurants. I tend to stay in a private villa – part of the joy of it is going into town and buying simple things to cook for dinner from the market, which you can't do if you're in a hotel.
I haven't been to the US for a long time, but I love Chesapeake Bay in Maryland. I adore New York, too, but spent nearly three years cooking on charter yachts in the Caribbean in my youth and part of that time was spent as the cook on a private yacht on Chesapeake Bay. I'm particularly fond of that area, and especially miss the soft-shell crabs. I'd love to go back and visit the whole Eastern Seaboard, as it's wonderful and I still haven't seen it when all the leaves change in autumn.
 
For UK holidays, I love Cornwall and recently went with the family to The Nare Hotel, which is wonderful. It's got fantastic new family suites with incredible views. It's a wonderfully old-fashioned hotel – so old-fashioned, you have to wear a jacket and tie at dinner and there's a sweet trolley – but they are so kind to everybody there and I'm very fond of it. Again, we took my little grandchild and all of us had a really lovely few days.
 
If I was planning a weekend away with my girlfriends, I would go to a hotel with a spa. My favourite is Limewood, and not just because I live five miles away. It's got that lovely combination of feeling glamorous, but it's not dauntingly trendy like some newer hotels are. The spa is very cosy, the food is really good and all the elements about it are right. Sarah Chapman occasionally hosts skin retreats there, which is a very lovely and spoiling thing to do, where you get one night in the hotel and have two treatments, plus dinner with Sarah. I suggest looking for packages where you can try something you might not have done before.
At the top of the list of my all-time favourite London hotels is The Goring. It's family owned and has been for four generations, which is so rare. Best of all, they've got a sense of humour, don't take themselves too seriously and there's lots of amusements around the place; but it's still traditional and it does things properly. The other place I think is fantastic is Claridge's. I would always send someone to Claridge's for the first night after their wedding. It's traditional – it hasn't lost that – but also very glamorous and sexy. I also love all the Firmdale hotels, and then there's Hazlitt's, which is very characterful and quirky and has a 19th-century feel about it.
 
One of the best city breaks I've been on recently was to Ravenna in Italy. The Telegraph said I could go wherever I wanted, and I had to write a diary about how easy or difficult it was to get there with all the extra restrictions and rules, and I found myself saying 'Please can I go to Ravenna?' I've always wanted to go and see the incredible Byzantine mosaics they have across eight different churches and mausoleums. I honestly think they're some of the most beautiful artworks I've ever seen – just absolutely jaw-droppingly beautiful glass mosaics which are still unbelievably preserved. Ravenna is a very easy-going Italian city. There's nowhere particularly exciting to stay, unfortunately, but there are plenty of Airbnbs and four-star hotels, and one of the highlights is the food. 
 
I've been on lots of wonderful work trips, but one that stands out was Japan. I visited with my husband and friend, and we did it through Inside Japan Tours. The company did this clever thing where they produced a book – just for us – and it told us everything we needed to do: where to hire a car, how to book specific taxis, it contained vouchers to get into places and gave us driving instructions for getting around the country. It gave us the freedom to travel without a physical guide. We did Tokyo and all the gardens of Kyoto and then drove down the coast, which is quite an unusual place to go. We stayed in traditional ryokans and the book informed us of all the rules (i.e. you must take your shoes off). It was wonderful and made just over a week in Japan incredibly successful and memorable.
The most memorable meal I've ever had abroad was also in Japan. We went to Tokyo fish market at 4am, when it's at its busiest. There's this little sushi bar there where they serve fish that hasn't even died yet, it's that fresh. We were given eyeballs to eat. The three of us sat there and thought we couldn't refuse, so my friend Serena had this brilliant idea of secretly cooking them in miso soup. We held the bowls of soup underneath the counter and popped the eyeballs in – they were actually quite good. In Japan, we also had wonderful feasts sitting cross-legged in a ryokan. I can't remember exactly what we ate, but it was all delicious and very authentic.
 
When it comes to booking hotel rooms, my advice is don't be swayed by a room with a hot tub, steam shower or jacuzzi. Personally, those things don't interest me – I'd rather have a room with a view and one which feels characterful and cosy. So often, for work, I'm put in a room with the hot tub because they reckon that's the flashiest room. Then they show me around the rest of the hotel, and we go up to the attic and there are these charming rooms which feel comfortable and pretty. A double aspect room is always a winner. Hoteliers don't often realise how lovely it is to have a room with windows on either side, as it gives you a better sense of where you are.
 
I'm not a fan of room service. I'm afraid I don't ever want to have breakfast in the room and, if I want a drink, I'd much rather go down to the bar. I don't even like making tea and coffee in the bedroom! If it's somewhere like Kettner's in Soho – where they bring a cocktail trolley down the hall, knock on the door and ask if you'd like a cocktail – of course I'd say yes and have it in the bath while I'm getting ready for dinner. But otherwise, I have no desire to sit in my hotel room eating food.
If I was able to live in a hotel for the rest of my life, I would probably pick Le Sirenuse in Positano. Again, it's got history, it's family-owned and has everything I love about Italian hotels. It also knows how to make itself relevant today, so it's also got a fabulous champagne bar, and a wonderful indoor/outdoor terrace overlooking Positano, down to the sea and across to the three islands in the distance. The rooms are simple and white, full of antiques and come with lovely balconies and there are sitting rooms with books to read and interesting artworks. It's that combination of traditional and contemporary that I really like.
 
When it comes to packing, I have never learned not to just take everything – just in case. The worst stage is on the way home, when I've just happened to buy this, that and the other, and then I absolutely cannot close my suitcase. I am the world's most stupid packer. I've seen these brilliant women who only take one pair of shoes – it's the shoes that do it, of course – and they go off on these press trips with tiny hand luggage and I arrive with the trunk because I pack at the last minute and can't decide what to take. I've made myself cry because I never wear half the things I pack! I do find that lots of plug adapters are useful, as is cotton wool, because lots of places never seem to have it.
 
I love souvenirs. My favourites are a huge bowl and glass lamp, which are now both filled with shells I've collected. I've bought countless fridge magnets and tea towels over the years, which have all disappeared, but the shells, bits of coral and stones have remained.
 
The biggest holiday disaster I've had was on my honeymoon. We flew to Kathmandu via Delhi and had to change planes. We got to Kathmandu and our luggage had disappeared. Nobody could trace it and it has never been found to this day. We then had to fly in a little plane up to an airstrip in Chitwan National Park and – believe it or not – we'd gone straight from our wedding reception to the airport, so I was wearing this ludicrous, over-the-top brown dress with a gold chain my mother had made me wear – we're talking 1978 – and high-heeled shoes. I arrived at the airstrip in this garb and we had to ride on elephants for several hours through the jungle until we got to Tiger Tops. At the end of the trip, the staff told us they always have a competition to guess the most stupid guests – and it came as no surprise when they told us we got the prize for the season. Luckily, they were very kind and they let us borrow their shorts and t-shirts.
 
Now travel is back open a bit more, I've got a few trips I'm hoping to take. There's a rescheduled trip to Turkey on the cards, and I'm hoping to drive an Alfa Romeo convertible between Venice and Naples for the Telegraph. As a family we're really keen sailors, but I absolutely loath cruising. But there's one coming up in April which I am quite intrigued about, which is called Celebrity Beyond. It's got famous chefs doing the food and Gwyneth Paltrow in charge of wellness, so I'm hoping to go on that as a hotel critic just to see how it stands up. Perhaps I'll change my mind.
 
To read Fiona's Telegraph columns, head here.
DISCLAIMER: We endeavour to always credit the correct original source of every image we use. If you think a credit may be incorrect, please contact us at info@sheerluxe.com.