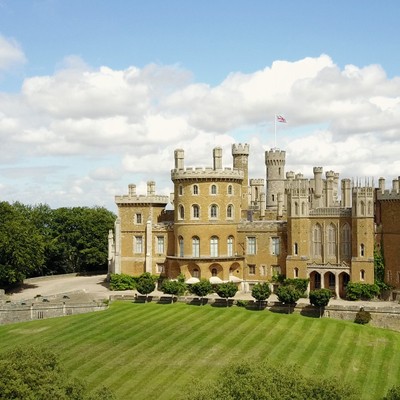 Stately Homes & Manor Houses To Visit In The Heart Of England

Britain is home to some of the world's most stunning stately homes, castles and manor houses and, while we're thinking staycations, a visit to one of these beautiful, historic houses makes for a lovely day out. We kick off our occasional series with a variety of houses in central England – from medieval manor houses to Victorian party palaces, many are treasure houses stuffed with rich art collections. We talk to an expert guide about the fantastic architecture and historic charm you'll discover in these majestic buildings.

Photography: @NICKTFRY
Althorp
Where: Althorp, Daventry District, Northamptonshire.
Why: The childhood home of Diana, Princess of Wales and built for the Spencers over 500 years ago, this Grade I listed stately home and estate has been the family seat for 19 generations, and the family still call it home today. "It feels like a world apart from the moment you drive through the gates," says Blue Badge Tourist Guide Viv Haxby. The main manor house has over 90 rooms, including an impressive library and a portrait hall with gilt-framed paintings on the gallery walls. Princess Diana is buried on the estate, on the island in the middle of Althorp's lake.
Usually open to the public on select days in July and August. Visit SpencerOfAlthorp.com
Belvoir Castle
Where: Between Nottingham and Grantham, Leicestershire
Why:  Belvoir Castle's history dates back to the 11th century and is the ancestral home of the Duke of Rutland, where the family has lived in an unbroken line for almost a thousand years. "Dominating the surrounding countryside with its towers and turrets, the castle as we see it today was built in the 1800s and is one of the finest examples of Regency architecture in the country," advises Viv. It is home to a rich art collection and the gardens have undergone several major changes over the centuries – the latest being a two-year restoration by the present Duchess to restore the lost plans of Capability Brown.
Visit BelvoirCastle.com
Blenheim Palace
Where: Woodstock, Oxfordshire.
Why: The seat of the Dukes of Marlborough and the only non-royal, non-episcopal country house in England to hold the title of palace, Blenheim was built in the early 18th century for the first Duke of Malborough "as a nation's gift to a military hero, in recognition of his victory in 1704 over French and Bavarian troops", says Viv. She adds: "It is one of the most magnificent we have, a true 'palace' of a house that oozes theatricality and bling." Over its near-300 years of history, Blenheim Palace has been a family home, mausoleum and national monument, but it's arguably most famous as the birthplace and home of Winston Churchill. The park and gardens were transformed by Capability Brown but it's the Palace's lake, which he created by damming the River Glyme, which is probably the stand-out feature.
Visit BlenheimPalace.com
Boughton House
Where: About 3 miles from Kettering, Northamptonshire.
Why: This is one of Britain's grandest and best-preserved stately homes, and one of the seats of the Duke of Buccleugh. "Boughton is often described as the English Versailles, it is architecturally stunning, a true treasure house set in delightful 18th-century landscaped gardens", says Viv. You'll see one of the country's most outstanding collections of fine art (artists include El Greco, Gainsborough, Van Dyck and John Wootton), furniture, tapestries, porcelain and carpets.
Visit BoughtonHouse.co.uk
Broughton Castle
Where: Broughton, near Banbury, Oxfordshire.
Why: This moated and fortified manor house, located in breathtakingly lovely gardens, has been owned by the same family since 1447. The core of the house was built in 1306 and the gatehouse in the early 15th century, but most of what you see today dates from the 1550s. "This castle is often an overlooked gem, and it is hard to imagine a more perfect setting for a historic house," advises Viv. Today it is home to the 21st Lord and Lady Saye & Sele, whose family name is Fiennes.
Visit BroughtonCastle.com
Chastleton
Where: Chastleton, near Moreton-in-Marsh, Oxfordshire
Why: Another hidden gem located in the beautiful Cotswold countryside, you'll feel as if you've stepped back in time as you enter this Jacobean house, which was built for the Jones family in the early 1600s. According to Viv, "the family doubtless hoped that they would luck out at some point and accumulate great wealth. Fortunately for us they never did, which means that there is no Georgian wing or Victorian add-on. It is all of the one period. Sixteen generations of the family have lived here and watched it deteriorate until it was passed over to the National Trust. The NT have adopted a policy of conservation ('controlled decay') rather than restoration, so you see it cobwebs and peeling plaster and all... Lovely!"
Visit NationalTrust.org.uk
Chavenage House
Where: Beverston, Gloucestershire. 
Why: A wonderful Elizabethan house of mellow grey Cotswold stone and tiles, you'll recognise this one from Poldark – it plays Trenwith House. "This manor house, which is owned by David Lowsley-Williams, has oodles of character and a guided tour with a member of the family is unforgettable," suggests Viv.
Visit Chavenage.com
Coughton Court
Where: Between Studley and Alcester, Warwickshire.
Why: An imposing Tudor house set in beautiful gardens with a collection of Catholic treasures.
The property is managed by the National Trust but was built for the Throckmorton family in the early 1400s; Magnus and Imogen Birch Throckmorton live in the house today. Viv adds: "Magnus's mother created the gardens which are some of the best in the country. Just heavenly!"
Visit NationalTrust.org.uk
Hatfield House
Where: Hatfield, Hertfordshire
Why: A fine Jacobean house and garden, dating to the early 1600s, in a spectacular countryside setting and home today to the Marquis of Salisbury, head of a branch of the Cecil family. You will have seen it frequently on screen – for example, in The Favourite, Rebecca and Bridgerton. "The Cecil women have brought a lot to the party at Hatfield, and recent marchionesses have created glorious gardens," says Viv.
Visit Hatfield-House.co.uk
Highclere Castle
Where: Highclere, Hampshire
Why: Highclere needs no introduction – it is Downton! In real life, this Grade I listed country house, built in 1679, is the home of the Earl and Countess of Carnarvon. Viv tells us: "It was designed by Charles Barry (think the Palace of Westminster) as the perfect weekend house-party venue with lots of room for family, guests and domestic servants." The park was designed by Capability Brown in the 18th century.
Visit HighclereCastle.co.uk
Sezincote
Where: Near Moreton-in-Marsh, Gloucestershire.
Why: At the heart of a family-run estate covering 3,500 acres of rolling Cotswold countryside stands this 200-year-old Mogul Indian palace, set in a romantic landscape of temples, grottoes, waterfalls and canals reminiscent of the Taj Mahal. "Sezincote is unique and spectacular. The Prince Regent was so impressed by it and built something similar with the Brighton Pavilion. The gardens are gorgeous," adds Viv.
Visit Sezincote.co.uk
Waddesdon Manor
Where: Near Aylesbury, Buckinghamshire.
Why: "You'll feel that you've been transported to the 17th century and the Loire Valley," says Viv. In fact, this French Renaissance-style château was built in the 1870s by Baron Ferdinand de Rothschild to entertain his guests and "he used his deep pockets to fill it with an unrivalled collection of 18th century French furniture and Sèvres porcelain" adds Viv. Today, it also houses an impressive collection of British portraiture, and the gardens are one of the best examples of a late Victorian garden in Britain.
Visit Waddesdon.org.uk
 
Viv Haxby is a Blue Badge Tourist Guide, a driver guide and a member of the Institute of Tourist Guiding.
 
DISCLAIMER: Many of the gardens, parks and outdoor spaces listed above have been open for local visits during the current lockdown – but some require advance booking. The houses are currently taking bookings and will re-open when it is safe to do so and as advised by Government guidelines.
DISCLAIMER: We endeavour to always credit the correct original source of every image we use. If you think a credit may be incorrect, please contact us at info@sheerluxe.com.