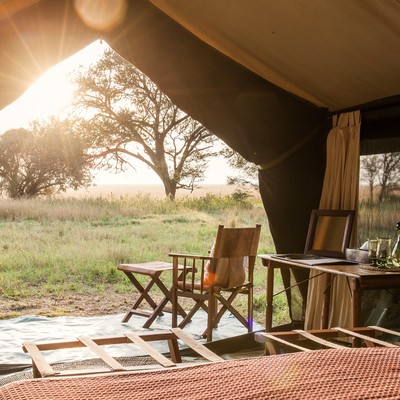 Trips Of A Lifetime: African Safaris

There are many things to consider when planning a safari holiday – the choices of destination, style of safari and accommodation can be overwhelming, especially if it's your first time. You may also want to combine a short safari with a longer trip exploring cities, beaches or winelands. Here, we bring you the very best safari destinations – including our favourite camps and lodges – plus we've got six amazing itineraries that also take in some of Africa's other wonders.

Photography: SERENGETI SAFARI CAMP
Kruger National Park, South Africa
In the northeast of the country near Mozambique, the Kruger is the most popular safari destination of them all and one of the continent's largest game reserves. Its unparalleled diversity of species includes all of the Big Five (lion, leopard, elephant, African buffalo and rhinoceros). Hundreds of other mammals make their home here, as do vultures, eagles and storks. Mountains, bush plains and tropical forests are all part of the landscape. 
 
Stay: The six-hour drive from Johannesburg is worth it to reach the less visited, remote far north of the Kruger, bordering Zimbabwe and Mozambique. The Outpost accommodates 24 guests in 12 standalone luxury spaces cantilevered over the Luvuvhu river valley. Each one is set on a large open-sided platform and decorated with Zen-inspired interiors – enjoy 180º views of the wilderness and fall asleep to the sounds of the African night. There is also a separate lodge that sleeps eight. 
 
Click here for more details.
Madikwe Game Reserve, South Africa 
Bordering Botswana, this conservation area in North West province is malaria free – ideal if you're travelling with family and grandchildren. The reserve's grassland, forest and rocky Tshwene Tshwene hills are home to elephants, lions, leopards and rhinos, plus endangered wild dogs. You'll also see hundreds of bird species, including ostriches, vultures and the large kori bustard.
 
Stay: In the heart of the reserve, Madikwe Safari Lodge is well placed for exploring. The property is divided into three separate lodges, each with its own open-plan lounge and dining area, which creates the feel of a small, exclusive lodge. The suites are housed in thatched villas and feature an en-suite bathroom, lounge, dressing area and a large private deck with outdoor shower, plunge pool and views across the reserve. Enjoy guided morning and evening safaris, as well as bush walks.
 
Click here for more details.
Maasai Mara National Reserve, Kenya
Kenya is the Africa of many people's imagination, thanks to films like Out of Africa and Born Free. In the southwest, near the border with Tanzania, the Maasai Mara (known locally as the Mara) is one of the continent's best-known wildlife areas, particularly if you want to see the Big Five. Wildebeest traverse its plains during their annual migration, and you will also have a good chance of seeing cheetahs, giraffes, hippos and crocodiles along the rivers, and over 500 species of birds. 
 
Stay: For an authentic Maasai Mara safari experience with exceptional personalised service and fine dining, you can't beat Sala's Camp. Seamlessly combining a traditional 'under canvas' safari experience with contemporary comfort – look forward to private plunge pools and glass-fronted tents – this is a magical Mara retreat.
 
Click here for more details.
Serengeti National Park, Tanzania
Tanzania is visually stunning. It has lakes, deep craters, Kilimanjaro (the highest mountain in Africa), wide-open grasslands, and beautiful sandy beaches if you want to end your holiday lazing by the ocean. The Serengeti teems with wildlife and is renowned for its large lion population – it's doubtless one of the best places to observe prides in their natural environment. It is also on the route of the annual wildebeest migration. The best game-viewing areas are the short-grass plains in the south, the Seronera Valley, the Western Corridor and the far north of the park where it meets the Mara. 
 
Stay: For an East African safari at its authentic best, Serengeti Safari Camp is a classic bush-style camp with just six traditional meru-style tents, each with a dressing area and an en-suite bathroom at the rear with eco-flush toilets and safari-style bucket showers. The camp moves four to five times throughout the year to be in the best location for the wildebeest migration. You'll eat under the stars or in a separate dining tent. There is also a main tent with a lounge and small library. 
 
Click here for more details.
Ngorongoro National Park, Tanzania
This is home to the now extinct Ngorongoro volcano. The 20km-wide crater is one of the most breath-taking landscapes for viewing wildlife. The diversity of terrain attracts a wide range of animals and birds, including the Big Five. Huge zebra and wildebeest herds also cross its plains each year.
 
Stay: Perched on the rim of the crater, Crater Lodge is Tanzania's most opulent lodge and, for a night or two, it is an experience not to be missed. Divided into three camps, each has its own sitting and dining areas with roaring fires, velvet sofas and a private butler. With ever-changing views – as mists swirl over the huge cauldron below – the location is truly spectacular. You will be surrounded by wildlife from sunrise to sunset and, at night, zebra often come up to the lodge to graze.
 
Click here for more details.
Nyerere National Park (formerly Selous Game Reserve), Tanzania
This park is a protected area in southern Tanzania and less popular with visitors, even though it's the largest game reserve in Africa. There is abundant wildlife, including buffalo, a large lion population, numerous leopards and thriving packs of wild dogs. You may also spot wildebeests, zebras, impalas, hartebeests, greater kudus and elands. Some of the best wildlife can be found around the Great Rufiji River where riverboat safaris are a speciality.
 
Stay: On a rock overlooking the Rufiji River, Sand Rivers Selous is an outstanding camp. Accommodation is in eight spacious, open-fronted en-suite cottages made of stone and thatch, all with amazing views across the river. The larger cottages have their own private plunge pool and lounge area. Set just up from the riverbank is a swimming pool in the shade of an ancient baobab tree. Guests can choose from guided walking safaris, boat trips, fishing or wildlife drives in an open vehicle. 
 
Click here for more details.
Moremi Game Reserve, Botswana
In Botswana, you're more likely to get an exclusive experience. The unusual landscapes and the salt pans make for a different kind of safari, off the beaten track and perhaps less suited to the first-timer. Spreading across one-fifth of the vast Okavango Delta, Moremi is considered by many to be one of Africa's most beautiful game reserves. Giraffe, leopard, black rhino and elephant come and go with the seasons, often congregating around the park's permanent water sources or taking shade under towering mopane trees.
 
Stay: In the western reaches of the reserve, Xigera has just 12 suites overlooking the floodplains of the Okavango, and an incredible Baobab Treehouse where guests can sleep out under the stars. The lodge also has one of the largest collections of contemporary African art and design in the world.
 
Click here for more details. 
Etosha National Park, Namibia
Wildlife is less dense in Namibia than in other parts of Africa, but the landscapes are stunning – picture petrified ghost forests, white salt pans and the world's highest sand dunes. The wildlife regularly congregates at the waterholes in Etosha and you're likely to spot elephants, giraffes, antelope and, on occasion, the rare black rhinoceros. By night, floodlit waterholes offer the best way to admire the nocturnal wildlife.
 
Stay: On an oasis at the eastern edge of the park, Mokuti Etosha Lodge is a series of charming thatched buildings nestled among vast gardens. The 106 stylish and comfortable rooms are air-conditioned and have en-suite bathrooms with showers. You'll be able to experience guided game drives in open-sided vehicles, followed by some relaxation in the spa, and memorable Namibian feasts showcasing local produce and traditional recipes. 
 
Click here for more details.
South Luangwa National Park, Zambia
This is Zambia's most famous safari destination. It's on a wide rift valley, flanked by the Muchinga escarpment to the west and the Luangwa River to the east. Much of the game is found by the river, with herds of elephants and buffalos coming to drink here – the water itself is teeming with hippos and crocodiles. You'll also stand a good chance of sighting lions, hyenas, leopards, giraffes and zebras. It's a superb area for birdwatching and is popular for walking safaris.
 
Stay: One of the most exclusive camps in South Luangwa, Time + Tide Chinzombo consists of six luxurious en-suite villas that blend into their surroundings, each with their own plunge pool, deck, cooled sleeping area and fabulous views across the river. Day and night game drives as well as walking safaris are led by experienced and knowledgeable guides to help you lay eyes on the prolific wildlife.
 
Click here for more details.
Hwange National Park, Zimbabwe
In Zimbabwe, a safari experience will often include walking into the wilderness with your guide. You will also be able to see one of the continent's top attractions, the Victoria Falls. Hwange is the largest national park, tucked away in the northwest corner near Botswana and only 80 miles south of the falls. This is prime safari ground, home to over 100 mammal species and you'll be in with a chance of ticking off all the Big Five. Look out too for jackals, bat-eared foxes, baboons, spotted hyenas, giraffes, hippos and zebras – as well as a number of white rhino that have recently been reintroduced. 
 
Stay: For a combination of nature with luxury at its best, The Hide Lodge is outstanding. Often voted one of the best tented safari camps in Zimbabwe, its beautifully furnished tents boast en-suite bathrooms and private verandas that look out onto a nearby waterhole – keep your binoculars to hand, elephants, lions and rhinos can often be seen drinking here. Choose from a range of activities and guided game drives, including a night drive to find the elusive leopard.
 
Click here for more details
Volcanoes National Park, Rwanda
Rwanda is the land of a thousand hills – wherever you look you will find mountains and volcanoes towering above you. It is also the place where Diana Fossey came to save the endangered African mountain gorilla. Most come to the Volcanoes National Park in the hope of seeing these giants, but you can also track golden monkeys and visit the Diana Fossey Museum.
 
Stay: Named after a legendary silverback gorilla, Singita Kwitonda Lodge is on the edge of the park and puts gorilla trekking experiences within easy reach. Each of its eight ultra-luxe suites features a private heated plunge pool, wellness treatment area, in and outdoor fireplaces, and views onto very special scenery. The nursery and vegetable garden provides fresh produce for memorable farm-to-table meals. 
 
Click here for more details.
SUGGESTED ITINERARIES
Most major tour operators offer safari holiday packages to suit all tastes and budgets. First of all, it's important to consider how much you want to spend, as this can rule some areas out. Africa is not the easiest place to travel around, and some of the best safari areas are remote and difficult to access, which can push up the cost of your holiday. 
 
You also need to decide whether you enjoy a sociable holiday with like-minded travellers on an escorted tour, or prefer the thrill of an independent, tailor-made adventure with your own private guide/driver. Either way, look for a company that has safari experts who can share their tips and advice to suit you. 
 
Here's a taster of some of the best operators…
South Africa For The First Time
South Africa can be a good introduction to a safari holiday, as it allows you to combine wildlife with a more relaxing tour of the Winelands as well as some urban cool in Cape Town. This trip starts off in Cape Town, staying at the One & Only for four nights –you'll go up Table Mountain by cable car; take the ferry to Robben Island where Nelson Mandela was imprisoned; tour the Cape Peninsula; and explore the Winelands' three main towns, sampling wines along the way. You then fly to the Kruger National Park where you'll stay in Sabi Sands Game Reserve at Lions Sands River Lodge for three nights, enjoying several game drives. The final two nights are spent near Victoria Falls in Zambia at the Royal Livingstone Hotel on the banks of the Zambezi River before you head to Johannesburg for your flight home.
 
Audley's 12-day tour starts from £6,995 per person. Includes all accommodation, transfers, activities and excursions as detailed, as well as international and domestic flights.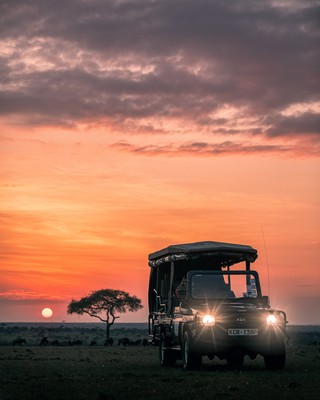 Bush & Beach Experience in Kenya
Explore the stunning natural plains of the Naboisho Conservancy and the crystal-clear waters of the Watamu coast. Your holiday will start with one night at Hemingways Nairobi, a plantation-style boutique hotel offering a peaceful retreat with views of the surrounding Ngong Hills. The next day, you'll fly west out of Nairobi and over vast plains to the Maasai Mara where you'll touch down in the heart of the Naboisho Conservancy. You'll spend three nights at Ol Seki Hemingways Mara, a private enclave of ten luxury safari tents with views over the Mara plains. The Conservancy has one of the highest densities of lions in Africa and is also home to an impressive population of giraffes and elephants. The final three days are spent on the pristine coast at Hemingways Watamu, in the Watamu National Park which is home to turtles, barracuda, whale sharks and a vibrant coral reef.
 
Hemingways Collection's 7-night trip starts from £1,680 per person. Includes 3 nights at Hemingways Ol Seki Mara (full board, game drives and conservancy fees), 3 nights at Hemingways Watamu (half board plus snorkelling trip), 1 night at Hemingways Nairobi (b&b), domestic flights (via Nairobi) and airport transfers. International flights are not included.
Highlights of Zimbabwe & Botswana
On this eight-night trip, you'll discover the main attractions of Zimbabwe and neighbouring Botswana, staying in safari lodges and tented camps in the best wildlife-viewing locations. Other highlights include the spectacle of Victoria Falls where you'll learn about its connection to pioneer David Livingstone; a visit to a remote village for insights into rural life; and views of the Unesco-listed Okavango Delta and its sprawling forests and palm-fringed islands from the air.
 
Cox & Kings' 8-night tour starts from £5,995 person. Includes flights, transfers and accommodation on a full board basis for the majority of the trip while on safari, and comes under Cox & Kings' flexible booking policy.
The Best Of Tanzania
On this exhilarating Tanzanian safari experience, you'll stay in two Nomad camps. Your first three nights will be spent at Entamanu Ngorongoro Camp, off the beaten track on the wild side of the iconic Ngorongoro Crater rim and the only place where you can enjoy views into both the crater and the Serengeti. With only seven rooms, it is one of the smallest and most exclusive camps on the crater rim. You'll then move on for four nights to Nomad's Serengeti Safari Camp (see Ngorongoro National Park above for details).
 
Turquoise Holidays' 7-night Tanzania safari starts from £5,095 per person. Includes 3 nights at Entamanu Ngorongoro Camp, 4 nights at Serengeti Safari, all meals, drinks, a private safari vehicle and guide for private game drives for the duration, all transfers and international flights from London to Kilimanjaro with Qatar Airways (via Doha). 
Luxe Namibia
Discover Namibia at its absolute best. On this 12-night trip you'll scramble up the world's tallest dunes at the beautiful sandscapes of Sossusvlei then walk the German colonial promenade in Swakopmund. With a boat tour from Walvis Bay, you'll see Cape fur seals, humpback whales and rare dolphin all in one trip. Back on dry land you can track desert elephants in the arid wilderness of Damaraland and spot big game in Etosha National Park, where you may see lions, springboks and perhaps the extremely rare black rhinoceros.
 
Abercrombie & Kent's 12-night trip starts from £8,470 per person. Includes international and domestic flights, transfers, accommodation on a full board basis when on safari and comes under A&K's flexible booking policy.
Uber Luxe Week In Zambia
Zambia's two premier national parks are South Luangwa and Lower Zambezi, and this trip allows you to combine the two. In the first – famous for its high concentrations of wildlife and where you can expect to see lions and elephants – you'll stay at Chiawa for three nights. Then, for four nights you'll be based at Tena Tena in the Lower Zambezi, where the wildlife viewing is excellent and you can also enjoy activities including canoeing, walking and fishing.
 
Aardvark's 7-night trip starts from £6,624 per person. Includes internal transfers, full board and safari activities. International and domestic flights are not included.
 
When Is The Best Time To Go On Safari?
It is important to take into account weather, wildlife movement (such as the migration of wildebeest) and visitor numbers (some popular areas can get overcrowded). In many parts of Africa, the dry season is from May to October. This is winter in the southern hemisphere, so the nights can be quite cool, but the advantage is that the animals tend to visit waterholes at this time and there is less green foliage, making them easier to spot. 
 
*DISCLAIMER: Travel restrictions are changing daily, so please check the latest government advice and entry requirements before you book anything. Visit Gov.uk for more information
DISCLAIMER: We endeavour to always credit the correct original source of every image we use. If you think a credit may be incorrect, please contact us at info@sheerluxe.com.