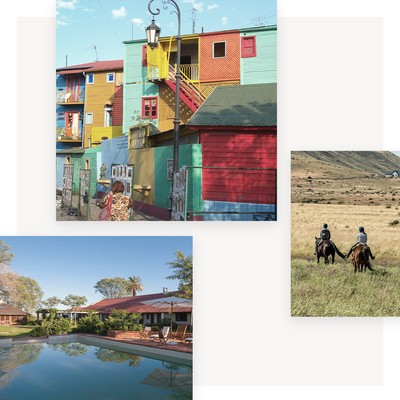 Trips Of A Lifetime: Argentina

Argentina is the perfect destination for anyone visiting South America for the first time and offers something for everyone – from the urbane streets of Buenos Aires and the jungles by Iguazú Falls to the stunning winelands of Mendoza and icy glaciers of the Andes. But given the country's immense size, it's impossible to see everything in one go, plus there is so much variation in weather from one region to another so it's important to organise your trip carefully to ensure you see each area on your itinerary at the optimal time of year. Here is our guide to the best of Argentina.

Buenos Aires
Often dubbed the "Paris of South America", the capital Buenos Aires is a city of passion, famed for its tango, vibrant café culture and buzzing nightlife. The architecture is an elegant blend of colonial, baroque and art nouveau. It is also home to South America's best museums, art galleries and designer boutiques.
Must-sees: If you're wondering where to begin, we recommend a city tour which will give you a taster of the highlights and a good sense of the layout of the city – after which you can do your own thing. Be sure to visit La Boca, BA's most colourful neighbourhood, originally built by Italian immigrants and home to the Caminito Street Museum, a pedestrian zone and open-air museum popular for its brightly painted houses, amusing sculptures, cafés, music and street tango dancers. In fashionable Recoleta you'll find chic leafy, mansion-lined boulevards as well as the cemetery where Eva Perón is buried. Other districts to explore are Palermo and Belgrano; and downtown don't miss the Plaza de Mayo, stage for many important events in the city's history, and Casa Rosada, the pale pink Presidential Palace from which Eva Perón addressed the crowds.
Where to stay – luxe for less: The Recoleta Grand is a modern hotel in the affluent suburb of Recoleta. Excellent location for sight-seeing, this good-value property has set itself high standards of service and comfort in a no-nonsense, contemporary ambiance. 
Where to stay – uber luxe: The gorgeous seven-bedroom Jardin Escondido is the former home of film director Francis Ford Coppola and the perfect urban retreat in the stylish Palermo district. 
When to go: September to November or between February and April. However, with plenty of parks and the Rio Plata running past, BA has a fresh feel both in the cooler months as well as the hottest summer days, and the timing of your stay will probably be guided by where else you are travelling.
Mendoza And The Winelands
Mendoza is the gateway to one of Argentina's main wine-growing areas, situated in the foothills of the Andes mountains. The city has a laid-back feel with its wide, leafy streets lined with modern and art deco buildings and is well worth a visit in itself. Most importantly, it's an excellent base for a tour of the nearby bodegas (wineries), such as Catena Zapata Vineyard, one of Argentina's most revered producers of Malbec, which has been in the same family since Italian immigrant Nicola Catena founded it in 1902. You can also fill your days with treks, horse riding and cooking classes, or adrenalin junkies may prefer paragliding, net fishing, white water rafting and mountain biking in the Andes. 
Where to stay – luxe for less: Club Tapiz is a charming little seven-bedroom hotel in an Italianate 1890s house surrounded by vineyards; also has an excellent restaurant and its own bodega.
Where to stay – uber luxe: Located in an ecological reserve surrounded by the foothills of the Andes, Casa de Uco is the ideal way to explore life on a vineyard. The 16 minimalist rooms have beautiful views of the mountains, you'll eat superb food and get the chance to taste some of the cellar's collection of great local wines.
When to go: September to April.
Iguazú Falls And National Park
These huge waterfalls lie along Argentina's border with Brazil, in Misiones province, and are undoubtedly one of the most spectacular sights in South America. Visitors can get quite close thanks to a network of easily accessible walkways and viewing platforms designed to provide the best possible views, including some at the bottom of the falls, an area known as the Devil's Throat. But there is more than the falls to visit here – the forests are also home to jaguars, giant ant-eaters, and activities include boat trips and jungle treks.
Where to stay – luxe for less:  The Jardin de Iguazú is a modern, no-nonsense little hotel and a good base to explore the falls and the surrounding area. There is no restaurant on site (except for breakfast), but you'll find lots of lovely restaurants in the town just a short walk away.
Where to stay – uber luxe: A secluded lodge, about 20 minutes from the falls and set on the densely forested banks of the river Iguazú, the Awasi has 14 enormous, beautiful wood-constructed villas built on stilts that are scattered around the jungle. Each villa has a private plunge pool, outdoor shower, living area and is assigned a driver with a four-wheel drive so you can explore the area at your own pace.
When to go: As one of the most popular attractions, if you want to see the falls with a manageable number of visitors, then September to December and February and May are the best months to visit this area.
Bariloche And The Lake District
Bariloche is a pretty town with an alpine feel, located in northern Patagonia in the southern part of Argentina. Set on the shores of Lake Nahuel Huapi, the scenery and architecture, and even the chocolate industry, will make you think you've landed in Switzerland. It is the ideal base for exploring the National Park which covers nearly 8,000 sq km of lakes, rivers, glaciers, waterfalls, forests and snow-capped peaks. Activities include hiking, rafting, cycling and climbing, and you'll find over 100km of pistes in nearby Cerro Catedral, a popular ski resort and one of the largest in South America.
Where to stay – luxe for less: The Rochester Bariloche is a charming property in a lovely position overlooking the lake. Rooms are traditional in style.
Where to stay – uber luxe: The Correntoso Lake and River Hotel is in a fabulous lakeshore location with a private pier and exclusive access to unspoilt islands. Rooms are super comfortable havens with lake views, the breakfast buffet is one of the best in Patagonia and the relaxing herbal hammam and spa is perfect to treat aching muscles after a day of activities.
When to go: This is dependent on the activities you are interested in – if you're after sunshine, November to January is best; if you want to hit the slopes, July to October; February to April when temperatures are a little cooler is ideal for walking in the hills.
The Iberá Wetlands
For those who enjoy the outdoor life, this hidden gem, nestled in northeast Argentina, is the second largest wetland in the world and home to a complex network of lagoons, channels and marshes teeming with fascinating wildlife, including over 400 species of birds. A variety of excursions can be booked, for example motorboat outings on the lake, treks guided by naturalist specialists to observe the native birds, alligators, monkeys, capybara, pampas deer, marsh deer, river otters and butterflies. Horse riding and fishing can be organised locally and there are also canoes, kayaks and bicycles for hire.
Where to stay – luxe for less Posada Aguape is a small lodge on the shores of a lagoon in the Iberá marshes, ideal for wildlife lovers. Accommodation is in simple double suites decorated in the traditional style of the local area.
Where to stay – uber luxe: For a luxurious estancia (country lodge) right in the heart of the wetlands, book into Rincón del Socorro. Formerly a cattle ranch, it is now owned by the Conservation Land Trust who work to preserve the surrounding ecosystem, reintroducing species and supporting the natural environment. Built in 1896, the building still retains its original architecture and many original features. Each room is decorated in a unique style and stone floors, polished wood, exposed beams and neutral colours all add to the colonial charm and authenticity of the place.
When to go: March to May. 
Los Glaciares National Park, Southern Patagonia
The main hub for tourists visiting this UNESCO World Heritage site is the small town of El Calafate from where you can set out on the 80km journey to the park's popular glacier, Perito Moreno, a massive 30km-long ice formation. If you fancy climbing the glacier, ice trekking tours are available that range from an hour's walk over the ice formation to longer five-hour excursions. Another stunning sight in the more northern area of the park is Monte Fitz Roy, a mountain straddling the border with Chile that is reputably harder to climb than Everest. El Chaltén is a small purpose-built town and the principal base for visits here.
Where to stay – luxe for less in El Chaltén: Estancia La Quinta is located a little way out of town but is a quirkier choice and a more typically Patagonian alternative to the conventional hotels in the town. Décor is a little on the old-fashioned side, but rooms are comfortable.
Where to stay – uber luxe near El Calafate: Eolo is located on a huge estate on the route to the Perito Moreno glacier, about 25km from town, and is the most stylish and luxurious hotel in the Patagonian steppe. It is expensive but what you're paying for here is the space, the service and the landscapes which you would miss by staying in town.
When to go: This area gets little rainfall and is a good destination year-round. However, the winds can be very strong and tend to drop around the Argentine spring and autumn, which means February to April and October and November are good times to visit.
Córdoba
Often used as a stopover on trips to the Andes, Córdoba – situated in central Argentina – is the country's second largest city and packed with history and culture, and vibrant, arty neighbourhoods. Most of the city's finest old buildings date back to the early colonial period of the 16th century. One of the main attractions for visiting this area is to spend some tme at one of the wonderful estancias that lie out of the city.
Where to stay – luxe for less: NH Cordoba Urbano is located on the popular La Cañada Street, in the financial centre, and is an easy walk from most of the city's major sites, shops, restaurants and parks.
Where to stay – uber luxe: The Estancia El Colibri is a colonial style mansion located about 45 minutes from Córdoba airport, and an excellentriding and polo destination.
The nine suites are impeccably put together, each packed with hand-picked pieces of art and antique furniture. You'll find top-notch food, including the traditional asado (barbecue), a gorgeous spa and a heated open-air pool with views of the hills.
When to go: March to May and September to November.
Suggested Itineraries For First-Timers
Luxe for less
Journey Latin America's 15-day holiday, taking in Buenos Aires, Patagonia, the Lake District and the Iguazú Falls, is a good introduction to Argentina. Price from £3360* includes direct flights from London, domestic flights, transfers, mid-range hotels, breakfast daily and excursions. Click here for details.
For the more adventurous: Their 18-day self-drive holiday takes in the highlights of Patagonia, El Chaltén, the Fitzy Roy Massif, El Calafate, Los Glaciares National Park, Buenos Aires, the Lake District and the Iguazú Falls. Price from £3,850* includes direct flights from London, domestic flights, transfers, mid-range hotels, breakfast daily and excursions. Click here for details.
 
Blow the budget luxury
On Abercrombie & Kent's 12-night Classic Argentina tour, you'll visit Buenos Aires, the Lake District, Mendoza and the Iguazú Falls. Price from £5035* includes direct flights from London, domestic flights, transfers, deluxe hotels, breakfast daily and excursions. Click here for details.
For the more adventurous: To extend your trip by five nights, explore the Wetlands on horseback in search of rare wildlife. Price from £1565* to include domestic flights, transfers, deluxe hotels, breakfast daily and excursions. Click here for details.
 
*DISCLAIMER: Travel restrictions are changing daily, so please check the latest government advice before you book. Visit Gov.uk for more information.
DISCLAIMER: We endeavour to always credit the correct original source of every image we use. If you think a credit may be incorrect, please contact us at info@sheerluxe.com.