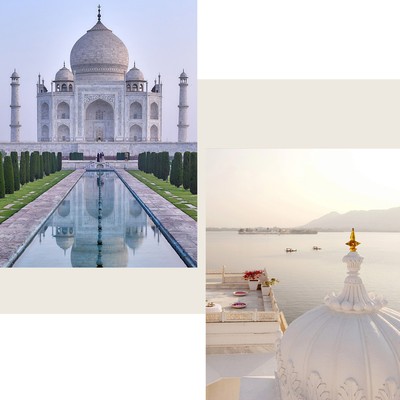 Trips of a Lifetime: India

Travel may be off the cards right now, but there's no harm in beginning to plan the holidays on your bucket list – and India is top of many. While it is a beautiful and fascinating country, it can also be pretty daunting for the first-time visitor and those who know it well often suggest Rajasthan as the place to start. We asked two specialist tour operators to come up with three two-week trips to suit all budgets.

Spanning much of northeast India, Rajasthan, also known as the "jewel in India's crown", is vast and impossible to cover in full, even in two weeks. But as James Jayasundera, of Ampersand Travel, told us, "Rajasthan is the perfect visit on a first trip to India as it encapsulates the romantic and sheer magnificence of India's cultural heritage." Tanya Dalton, of Greaves India, adds: "Vibrant landscapes of wild jungle, scorched desert plains and the craggy ancient Aravalli Hills give way to legacy of the Mughal Emperors and their imposing forts, finely carved temples, pleasure gardens and floating palaces.  It is quite simply like nowhere else in the world."
Rajasthani Highlights You Won't Want To Miss
Agra
Located on the western bank of the Yamuna River, Agra was founded in 1504 and went through a remarkable spate of expansion and architectural development in the mid 16th and 17th centuries as each successive emperor tried to outdo the last.
Must-sees: the Taj Mahal, best visited at sunset; the Agra Fort.
Bundi
This sleepy town is built into the hillsides of a narrow valley and is well worth a visit, if for no other reason than to avoid the crowds and have an authentic experience where time has stood still.  
Must-sees: Taragarh Fort; Rani Ki Baori; Bhimlat Mahadev Temple; Sukh Niwas (where Rudyard Kipling stayed).
Delhi
The past and present live side by side in India's capital city, home to over 20 million Delhiwallas. It's an incredibly dynamic city packed with historical sites. Old Delhi dates back to the 17th century with its medieval, chaotic and winding alleys crammed with cycle rickshaws, tuk-tuks, colourful shops and noisy street traders. New Delhi is spacious with sweeping boulevards built by the British in the 20th century as a display of imperialism.
Must-sees: Red Fort built by Shah Jahan; Jama Masjid built in 1650 and one of the largest mosques in India; Raj Ghat where Gandhi was cremated following his assassination in 1948; Humayun's Tomb.
Shop: hunt down new and antique jewellery in the Chandi Chowk bazaar; head to Khan Market, one of Delhi's most popular shopping destinations with hundreds of stores – do not miss Anokhi, Amrapali, Good Earth and Fab India for ethnic tunics, kaftans, scarves and stoles.
Delwara
Located in the Aravalli hills, the picturesque farming village of Delwara was built in the 18th century and is easy to explore on foot. Known as the "town of the gods", Delwara once boasted over 1,000 temples; though many have turned to ruins, today every street in Delwara has at least one temple. 
Must-sees: aside from temples, don't miss the Indra Kund, an ancient stepwell with beautiful carvings, and Audhi, an old hunting tower with panoramic views.
Fatehpur Sikri
A UNESCO World Heritage site, 37km south of Agra, built during the second half of the 16th century by the Emperor Akbar, Fatehpur Sikri was the capital of the Mughal Empire for about ten years. Today, the complex of buildings is perfectly preserved.
Jaipur
The state capital and largest city in Rajasthan is also known as the Pink City. Founded in 1727, the buildings were originally painted in a variety of colours but, in 1853, when Prince Albert visited the city was painted pink, a traditional colour of welcome – and it has remained pink ever since.
Must-sees: City Palace; Hawa Mahal, also called the Palace of Winds, with its small latticed windows; Jantar Mantar Observatory; Amber Fort; Panna Meena Step Well; Anokhi Museum.
Shop: a shopaholic's dream come true – top of our list are Johari Bazaar for textiles; Bapu Bazaar for trinkets; Amrapali for jewellery, diamonds and gems; Jaipur Blue Pottery Art Centre; Anokhi; 91 Degree for contemporary homeware.  
Jodhpur
The Mehrangarh Fort dominates this walled town, the second city of Rajasthan, also known as the Blue City. 
Must-sees: Fort; Umaid Bhawan Palace; the old city; the spice market.
Shop: Clock Tower Bazaar is a shopper's paradise and retains a traditional village bazaar feel. It's chaotic and sells everything from handicrafts, fruit, spices, saris and fabric. 
Nagaur
Off the beaten Rajasthani path into the Thar Desert, a two-hour drive from Jodhpur, looms Nagaur's massive 12th-century Ahhichatragarh Fort, a magnificent 35-acre jumble of elaborately frescoed halls, temples, graceful colonnades and Mughal pleasure gardens.
Narlai
Built in the 15th century, this typically Rajasthani village is in a beautiful area near the hills and dominated by Elephant Hill – take a sunrise or sunset walk to the summit of this towering granite peak, from the top of which there are stunning views of the dramatic desert plains and Aravalli Hills. There are also jeep excursions that can be organised by your hotel in search of leopards who roam this boulder-strewn landscape.
Pushkar 
A peaceful town of lakes and temples with a charm of its own. Famous for the annual Camel Fair and as a mystical perennial Hindu pilgrimage town – hence a vegetarian town and alcohol free.
Udaipur
Most journeys in Rajasthan end in this truly romantic city of lakes and floating palaces. Rudyard Kipling remarked of Udaipur that you would surely "see it and die". This glamorous and easy-going city is a truly dazzling combination of white marble palaces, historic temples, ancient streets and lush landscaped gardens. One of Udaipur's most iconic landmarks is the majestic Lake Palace (now a Taj hotel) on Lake Pichola. Only accessible by boat, the Palace was built on Jagminder Island as a summer retreat by Maharana Jagjit Singh II who ruled Jaipur in the 17th century.
Must-sees: City Palace; Jagmandir, also known as Lake Garden Palace; Jagdish Temple; boat trip on Fateh Sagar Lake
Shop: Bada Bazaar; Sadhna Emporium; The House of Things; Rajasthali
For an extended stay
While 14 days may seem like a long break, Rajasthan can prove tiring – distances are long, roads are busy, day-time temperatures can be very warm and you'll be doing a lot of sightseeing. So, if time allows, why not extend your holiday – whether you want to chill on a beach, seek out tigers, shop or trek, here are a few of our top tips:
Shimla in the Himalayan foothills, and once the British Raj's summer capital, is a popular choice after Rajasthan. The breath-taking views of the valleys and forests below are unchanged from the days of memsahibs and viceroys.
Amritsar, high in the Punjab near the border with Pakistan, is the most important site in the world for Sikhs and is always busy with thousands of pilgrims and tourists. The Golden Temple with its imposing dome of pure gold, reflected in a surrounding sacred pool, it is a stunning sight. 
For wildlife and tigers, explore the parks in central Madhya Pradesh, much of which is remote and uninhabited, but prime Bengal tiger land and the epitome of Kipling's "Jungle Book". There are many wildlife parks to discover: Bandhavgarh National Park, Kanha National Park, Satpura National Park, Panna and Pench National Park.  
Laze on the beach in Goa, famed for its kilometres of palm-fringed golden coastline. This former Portuguese colony with ruined forts, baroque churches, vibrant night markets and fabulous seafood won't disappoint.
Mumbai is a vibrant and bustling city that oozes style and sophistication. A port city overlooking the Arabian Sea, it is famous for its mega-population, its tiffin carriers, and the extremes of wealth and poverty. There are bars, restaurants, shops, movies, nightclubs, parties everywhere: it truly is a city that never sleeps. Sights include the Taj Mahal Hotel – an early 20th century gem that was the first luxury hotel to allow Indians to enter; the Chhatrapati Shivaji (formerly Victoria) Terminus, one of the world's most spectacular railway stations; the Gateway of India; Crawford Market; and Chor Bazaar. Should you want to go further afield, take a boat ride from the Gateway to Elephanta Island, where you'll find cave temples dating back to 450AD.
Kerala is a world away from the frenzy of the rest of India. This southern state stretches along the tropical Malabar Coast with almost 600km of Arabian Sea coastline. It is famed for palm-fringed golden sand beaches, its network of backwaters and the spice, tea and coffee plantations of the Western Ghats. Kerala is also home to ayurvedic treatments, amazing food, and wildlife and birdlife.
Formerly known as Benares, Varanasi sits on a bend of the Ganges and its spiritual significance comes from its status as a "crossing place", where gods and goddesses can descend to earth. It has been a pilgrimage site since the sixth century BC; Hindus try to visit at least once in their lifetime and immediately make for the river to pray and bathe. The Ghats – hundreds of stone steps flanking the riverbank – are an incredible sight, particularly at sunrise when thousands of pilgrims bathe in the waters. The riverbanks are lined with colourful temples, best viewed from aboard a boat. The old city, which stretches back from the Ganges into a maze of tiny alleys, has several temples, including one of the holiest Hindu temples in India. 
Situated in India's far north, and perched at over 11,500ft on the plateau, Ladakh is often referred to as "little Tibet" and is home to one of the best-preserved Tantric Buddhist societies in existence. Rugged snow-capped mountains and deep turquoise lakes dot this high-altitude desert making it one of the most spectacular places on earth which you can explore on long nature walks, by bike, or – for the super fit and intrepid – on a trek. 
Hampi has previously been tricky to get to, but new flights from some of India's major southern cities have made this historic location in the state of Karnataka more accessible. In the 16th century, Hampi was one of the richest and largest cities in the world. What remains today is a sprawling ruined city, containing a multitude of temples and monuments. For a panoramic view of the area, a 30-minute hike up Matanga Hill in the early morning is a must to watch the sun rise over Hampi's ancient monuments and the winding Tungabhadra River. 
For unadulterated luxury, the Andaman Islands in the Indian Ocean are India's hidden gem and are renowned for their pristine nature and stunning beaches. Getting here involves a couple of flights and a boat journey, but well worth it.
When To Go
Rajasthan is at its best from late September to March. Daytimes are warm though nights can be chilly. December is the most popular time of year to go.
India has four primary seasons: summer, winter, monsoon and post-monsoon. Each region experiences different climatic conditions, no matter the time of year. The Western Himalayas, such as Ladakh, and hill stations like Darjeeling and Shimla can be visited in our summer, while the popular tourist destinations like Mumbai, Kerala, Hampi, Goa, Rajasthan, Agra and Varanasi are best visited in our autumn/winter months.
Suggested itineraries
All itineraries start in the historic capital of New Delhi, which will give you a first insight of India's extraordinary past, through its distinct architecture, monuments, bazaars and gardens. 
Itinerary 1 – Luxe For Less
Delhi – 2 nights
Stay: The Claridges Hotel – a mid-20th-century retreat in the heart of New Delhi, one of the city's top four-star hotels. 
By train to Agra to visit the Taj Mahal, then by car to…
Jaipur – 2 nights
Stay: Narain Niwas Palace – this heritage hotel, with its stunning façade and fresco-decorated walls and ceilings, has been with the same family since 1926.
Bundi – 2 nights
Stay: Bundi Vilas Hotel – a boutique hotel built against the rampart walls of the city palace with wonderful views, especially at night when the palace is lit up.
Pushkar – 1 night
Stay: Pushkar Palace Hotel – romantic lakeside setting, once belonged to the maharaja of Kishangarh.
Jodhpur – 2 nights
Stay: Bal Samand Lake Palace Hotel – located a few miles outside the centre of Jodhpur, set within lime and pomegranate orchards and gardens overlooking the 12th-century reservoir.
Narlai – 1 night
Stay: Rawla Narlai Hotel – a beautifully restored 17th-century royal retreat wit 32 rooms, set in the Aravalli Hills.
Udaipur – 3 nights
Stay: Jagat Niwas Palace Hotel  – an early 17th-century "haveli" (mansion), situated in the heart of this romantic city on the eastern banks of Lake Pichola.
Fly to Delhi, day stay at Lemon Tree Premier Hotel and onward flight.
From £2099* with Greaves India (includes accommodation, domestic flight, train fare, some excursions, private transfers and private guiding).
Itinerary 2 - Affordable Luxury
Delhi – 2 nights 
Stay: The Imperial Hotel – a stylish blend of Victorian, colonial and Art Deco, an oasis of calm centrally located near Connaught Place. 
Agra – 1 night
Hotel: ITC Mughal Hotel – quiet and with large gardens, a ten-minute drive from the iconic Taj Mahal which can also be viewed from the roof terrace.
En route visit to Fatehpur Sikri.
Jaipur – 2 nights
Stay: Samode Haveli – an oasis in the heart of the old town, with fabulous grounds and a huge pool. 
Nagaur – 2 nights
Stay: Ranvas Haveli – an elegant boutique hotel spread across a number of beautifully restored 18th-century havelis, originally built for the queens of the Maharaja of Jodhpur. 
Jodhpur – 2 nights
Stay: Raas Hotel – a modern conversion of an 18th-century haveli situated in a residential area with views of the Mehrangarh and the most romantic rooftop restaurant.
Jawai – 2 nights
Stay: Sujan Jawai Camp – a luxury tented camp in an area renowned as one of the best places to spot leopards – you will embark on early morning and afternoon safaris on the lookout for them, breakfast in the bush and dine under a starry sky.
Delwara – 2 nights
Stay: Raas Devigarh Hotel – a former fortress turned boutique hotel, this romantic property sits majestically overlooking the village of Delwara.
Your stay here includes a full day trip to Udaipur which is about 45 minutes' drive away.
Fly to Delhi, day stay at JW Marriott Hotel, Aerocity, and onwards flight.
From £3460* with Greaves India (includes accommodation, domestic flight, some excursions, private transfers and private guiding).
Itinerary 3 – Blow The Budget Luxury 
Delhi – 3 nights
Stay: The Oberoi – set in over five acres of land, with attractive gardens, this five-star hotel is off a busy road in one of Delhi's most fashionable and upmarket areas.
Agra – 1 night
Stay: Oberoi Amarvilas – this lavish hotel is the closest hotel to the Taj Mahal and every room has unobstructed views of India's most renowned monument.
Jaipur – 3 nights
Stay: Taj Rambagh Palace – a former hunting lodge and royal residence, The Rambagh Palace is an opulent reminder of Jaipur's stately heritage and will give you a taste of royal living. 
Jodhpur – 3 nights
Stay: Taj Umaid Bhawan Palace – the last of the great palaces to be built between 1928 and 1943 and one of the most beautiful palace hotels in India. Perched high above the city and perfectly located near the Mehrangarh Fort.
Udaipur: 3 nights
Stay: Taj Lake Palace – A 273-year-old white marble palace, floating in the centre of Lake Pichola. Enchanting, iconic and with a fantastic sense of location, the Taj Lake Palace is possibly India's most romantic hotel.
Fly to Delhi – 1 night
Or fly to Mumbai – 1 night
Stay: Taj Mahal Palace Hotel – Mumbai's most iconic hotel oozes old-fashioned grandeur and overlooks the Arabian Sea and the Gateway of India. 
From £9400* with Ampersand Travel (includes accommodation, domestic flights, private transfers and private guiding).
*DISCLAIMER: Travel restrictions are changing daily, so please check the latest government advice before you book. Visit Gov.uk for more information.
DISCLAIMER: We endeavour to always credit the correct original source of every image we use. If you think a credit may be incorrect, please contact us at info@sheerluxe.com.