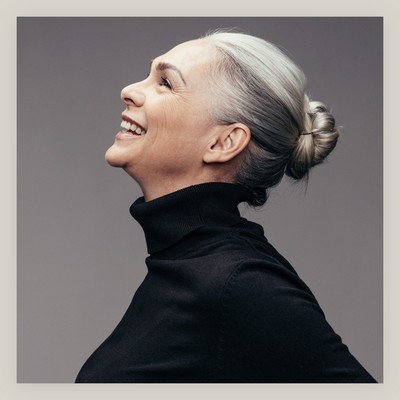 The Ultimate Guide To Going Grey

Going grey and regular colouring is an inevitability most of us have to accept, but there is something rather chic about embracing our silver strands and the trend is definitely on the up. If you're tempted to ditch the bottle – but want to avoid unnecessary ageing and bad hair days for months on end – be sure to follow our expert advice…

Photography: ISTOCK/JACOBLUND
All products on this page have been selected by our editorial team, however we may make commission on some products.
If You're A Blonde…
"Being a blonde and transitioning to grey sets you at an advantage," says Francesca Dixon, Hari's creative colourist. "It should be easier to grow out your grey as you're much closer to the shade on the colour spectrum. Do this by either embracing your grey roots, letting them come throughout without colour or root touch-ups, or book into the salon when you can and get them blended throughout the hair with some slices of white grey highlights. This has become hugely popular as an option – it's subtle, chic and totally manageable in terms of upkeep. A-list hairdresser George Northwood agrees: "Being blonde and going grey means you won't need to colour your hair so regularly either. Those with icy blonde tones are especially lucky as these can be blended out with your natural grey tones without any ageing effects. I recommend getting quite a sharp, blunt cut with this look – it will make everything look more modern and refined." 
 
If You're Dark Haired/Brunette…
"If you have darker hair and you've started to see greys creeping in, I'd recommend switching from your all-over colour to low lights," adds Francesca. "This basically means we will leave some of the grey that's grown out in-between strands of hair, so you have a sort of two-tone effect. If you're not ready to fully embrace the greys, I would recommend starting to colour your hair a lighter tone, so you don't notice the grey strands as much, or try moving from a permanent colour over to a semi-permanent one so that it's softer and fades naturally." 
 
If You're A Redhead… 
"For redheads, the advice is the same as those with darker, brunette hair," says Francesca. "It's a case of lightening things up, but not drastically. My clients often believe that when it comes to grey it's all or nothing, but there are so many ways you can work with it and soften it into the colour. I like to use a variation of highlights and lowlights which will blend greys and soften the regrowth all over. This process gradually incorporates your natural greys, while blending out the roots and enhancing your own colour. The main advice is never attempt it yourself – especially if you have darker hair. It may mean waiting right now until salons re-open, but it is worth it for a better result both long and short term." George adds: "If you are darker haired – brunette or redhead – I recommend coming armed with inspiration. There are so many grey-haired icons – from Helen Mirren to Erin O'Connor – and it helps us to understand what you want to achieve overall. Even if you don't love your natural grey, we can envisage a tone that's more even and suitable for you." 
If you're going to make the transition, you need to do so by taking control and not conceding to what's known as 'acceptable'.

5 Easy Ways To Embrace Your Natural Grey
 
Be Confident With It
"Grey hair needs a confident attitude to accompany it," advises Francesca. "If you're going to make the transition, you need to so by taking control and not conceding to what's known as 'acceptable.' As mentioned above, there is now so much you can do to make it look more on-trend and slick. Always ask an expert for advice, but my favourite looks for those going grey are lowlights and highlights, as well as adding in different swatches of grey for more volume and dimension – the latter can be done at the root or at the ends. The options are as endless as normal colour." 
 
Switch Up Your Style
"if you want to give grey a go, but you're not enjoying the growth period, there are some simple ways you can transition seamlessly," says George. "Firstly, change up your everyday look to make the regrowth less visible. If your hair is usually styled in a sleek and pristine style, everything will be more glaring. Try gently tonging sections of your hair in loose waves as this will help you to create texture and depth. In turn, this allows everything to blend more seamlessly and look a bit more natural. Likewise, there are some great root touch-up sprays that will tide you over until you can get an appointment. Nothing beats L'Oréal's Magic Retouch Concealer Spray. It gives great results, it's easy to use and does exactly what it says on the bottle." 
 
Blend Out Your Texture
"Grey hair lacks pigment, which is why it tends to have a different texture from the rest of your hair," adds Francesca. "Finer hair may have coarser greys, and coarse hair may have fine hair, or it can be a combination of both, meaning that they tend to stand out more, with frizz looking like fly-aways. Keep everything smooth and slick by using a cream or hair oil to keep stubborn hair in place. Oils especially allow your grey to blend well with your current colour, as well as enhancing shine." 
 
Switch Your Shampoo
"Using a silver shampoo will brighten up grey tones and keep any yellow shades at bay," continues Francesca. "You can also buy silver glosses and toners which yield the same luminosity-boosting results. At Hari's we swear by Aveda's Blue Malva Shampoo. Try using it ever two weeks and you'll notice how well it enhances grey tones. Likewise, I recommend taking your hair wash down to every other day – if not longer. Look for shampoos and conditioners that contain antioxidants, too. These will help to protect against UV and environmental damage – both of which can dull down grey tones. Finally, try using a clarifying shampoo once a week. This will remove unwanted build-up from hard water, pollution or styling products. The result? Glossier-looking grey tones that stay shiny and healthy." 
 
Add Some Colour
"Grey hair can make your complexion appear dull, so we often encourage our clients to try wearing lipstick and blush alongside it," finishes Francesca. "Tones like apricot, peach and rose will make your skin glow, creating the perfect balance against icier shades." 
Takeaway Tips To Remember…
Use Lockdown To Transition
"Growing out grey hair involves patience, so now is the perfect time to transition if you're considering the switch," advises Adam Reed, UK editorial ambassador for L'Oréal Professionnel. "Once you can get back to a salon, an expert can advise you how to get more out of your grey. In the meantime, there are ways to enhance it at home. To begin with, when the hair turns grey, natural warm tones may become more visible and often throw unwanted yellow tones out. To counteract this, invest in a purple shampoo to help neutralise everything and give a beautiful, cool hue instead – it will make all the difference as your colour grows out."  
 
Know That Grey Hair Isn't For Everyone
"Grey hair can look amazing, but it can also be quite draining for your complexion, depending on your skin tone," explains Jason Collier, celebrity and session stylist. "Now is a great time to test the waters and see if it feels right for you. But don't be disappointed if it doesn't. If you do decide it matches your colouring, you may have to adjust other aspects too, like your make-up, to counteract any dullness." 
 
Factor In The Upkeep 
"Just like going blonde or platinum, grey hair requires the same level of upkeep and nourishment," says Adam. "Yes, products are usually tailored to the individual, but a great oil, nourishing mask or conditioning treatment will always be key to healthy-looking hair. When hair is hydrated, it will enhance your natural grey colour, while providing a gorgeous shine that's far from ageing." 
 
Consider The Cut 
"Once you can get an appointment, it's worth considering the cut, as well as the colour," says Jason. "Quite directional haircuts look great on grey hair. A sharp bob is incredibly elegant in silver, while a softer, more feminine style (think Helen Mirren) can look very chic. If you decide to go shorter, invest in a great texturising product to add plenty of movement. There are numerous options, but it's the cut which will make the difference." 
 
Don't Believe The Myths 
"It's a real myth that grey hair becomes coarse as it grows out," adds Adam. "Hair actually becomes finer with age, and the fibres are much softer as the scalp starts to manufacture less natural oil, causing silver hair to feel brittle. So, make time for regular masking sessions and keep strands hydrated at all times – this will prevent grey from looking ageing or dull."  Francesca agrees: "Grey hair is dry, so you need to use a moisturising shampoo and conditioner. Skip shampoos that contain silicone or anything with dimethicone on the ingredients list. These aren't water soluble, so their formulas will weigh your hair down instead of boosting volume and shine." 
 
Try An At-Home Consultation 
While we can't access the pros right now, some colourists are offering their expertise virtually, including Josh Wood, Hershesons and John Frieda. If you're considering growing out your grey, or want some guidance, try booking a pre-colour consultation first. Then, when normality resumes, seek out a stylist. "Experts can help to enhance your colour with placement around the face, as well as helping you blend the shade seamlessly," adds expert stylist Karine Jackson. "As we age, our skin loses pigment in the same way our hair does, and it also changes with the seasons, so a quick analysis at every appointment to make sure the colour is working is worth it. Even a tiny tweak can make a difference." 
DISCLAIMER: We endeavour to always credit the correct original source of every image we use. If you think a credit may be incorrect, please contact us at info@sheerluxe.com.