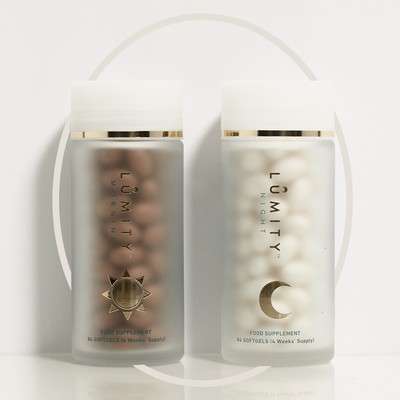 Why Lumity Is The Ultimate Anti-Ageing Supplement

As we age, falling levels of hormones can take their toll on everything from skin to energy levels, to name but a few. But there's one game-changing supplement that's proven to support healthy ageing from all angles. Meet Lumity – developed by a University of Cambridge scientist, the first-of-its-kind formula addresses ageing and boosts wellness around the clock. Here's what you need to know…

CREATED IN PARTNERSHIP WITH LUMITY
What's the story behind the brand?
Founded by Dr Sara Palmer-Hussey, a Cambridge-educated PhD scientist, Lumity is the product of years of research. When Dr Sara started to notice her own energy levels waning, along with her first few wrinkles and a flagging immune system, she set out to find a science-backed solution to help others going through the same thing. Fast-forward several years and Lumity's ground-breaking formula has fast become a cult product loved by industry insiders and celebrities alike, and with good reason. A unique two-step formula – taken in the morning and at night – it offers around the clock repair and protection, helping to support healthy skin, hair and nails, increase energy levels and boost your mood while supporting brain function and optimum health. Unlike the majority of anti-ageing supplements on the market, Lumity takes a 360-degree approach to ageing, working to counteract hormonal decline, insulin resistance and inflammation as well as oxidative damage, and naturally stimulates the body's defences to repair and restore youthfulness at a cellular level. 
Can you tell us more about the two-step method?
It's this approach that makes Lumity unique. "Lumity has been designed to work in harmony with the body's circadian rhythm," explains Dr Sara. In a nutshell, this means the capsules can provide the right nutrients at the right time for maximum effect, supporting your circadian rhythm – i.e., the 24-hour cycle behind life's daily ups and downs. "The body has two very different modes for day and night," Dr Sara adds.  During the day, for example, we are constantly in active mode, requiring optimum energy production, which is what Lumity's morning capsules provide with vitamins, minerals and magnesium. As for Lumity's night-time capsules, they harness the regenerative mode of sleep, a crucial aspect of healthy ageing. Natural amino acids encourage the body to release human growth hormone, which not only helps skin, but is also responsible for all repair, regeneration and maintenance work in the body. It also helps boost brain power and aids in lowering cortisol levels, which can help instil a feeling of calm after a particularly busy day.
Exactly how does Lumity support youthful skin?
It's a well-known fact that beauty comes from within, so when it comes to improving the appearance of your skin as you age, it pays to target the deepest layers. And that's exactly what Lumity does. "The three main threats to the youthfulness of the skin are glycation, inflammation and free radicals, all of which can lead to a loss of elasticity and firmness," Dr Sara tells SL. Lumity contains ingredients to specifically counteract these processes – think potent antioxidants and amino acids to counteract inflammation; zinc, iodine and vitamin A to support skin radiance; vitamin C to bolster collagen production; and selenium to contribute to hair and nail health. If that wasn't enough, each Lumity capsule is suspended in flaxseed oil for superior absorption, so the formula can get to work where it's needed .
What about mood and energy?  
As you age, the body accumulates damage that can lead to inefficiencies and degeneration, perhaps most notably with energy levels. But the addition of coenzyme Q10, vitamin C and magnesium in Lumity's formula will reduce fatigue and contribute to optimal brain power throughout the day. Zinc and iodine will keep your brain healthy while added selenium will keep your thyroid in check. During double-blind, placebo-controlled clinical trials, the Lumity team tested for life metrics as well as skin improvements. Specifically related to stress and mood, subjects taking Lumity noted a significant improvement in mood, they felt more emotionally balanced, more mentally alert and with a more positive outlook as well as reporting better sleep.  
Any other need-to-knows?
With more of us looking for ways to stay physically well, Lumity has you covered when it comes to immunity, too. The dual formula contains selenium, zinc and vitamins C and D, all of which are critical for a healthy immune system. The night capsules also support the body as you sleep and strengthen immunity throughout the night.
Who's it for?
If you struggle with your sleep, energy, focus or mood, or just feel like your body could do with a helping hand, Lumity ticks all the boxes. Forget taking multiple supplements to cover your needs – Lumity's advanced formula is an easy and effective formula to fit into your daily life. All you need to do is take three capsules in the morning and three before bed. The capsules can even be taken on an empty stomach without any side effects.
What does the science say?
After a 12-week clinical study, 92% of participants noticed a significant shift in the condition of their skin, hair and nails; 84% reported they had more energy and fewer instances of waking up in the night; 88% noticed fewer energy slumps throughout the day, with increased immunity and improved emotional balance also scoring highly among the findings. 
Are the results instantly noticeable?
Whilst most users see the benefits within weeks, Lumity recommends a minimum commitment of 12 weeks to see the best results. With continued use, these benefits are sustained, resulting in overall improved energy levels, healthy, youthful skin, hair and nails, a strong immune system, greater strength and stamina and a new, happier balance.  
Anything else?
If that wasn't enough, Lumity is free from binders, anti-caking agents, flavourings, sugar, caffeine and fillers, making it a natural and science-backed way to improve your health. Lumity also offers reusable glass bottles, plastic-free refill pouches and recyclable outer packaging.
Where can you find out more?
If you want to feel calmer, more energised and look and feel better, head to LumityLife.co.uk to start your journey. As an added bonus, Lumity is offering SheerLuxe Gold readers an exclusive 15% OFF their first subscription using the code NEWYOU15 at checkout.*
 
DISCLAIMER: Features published by SheerLuxe are not intended to treat, diagnose, cure or prevent any disease. Always seek the advice of your GP or another qualified healthcare provider for any questions you have regarding a medical condition, and before undertaking any diet, exercise or other health-related programme.
*Offer valid till August 31st, 2021. Use code NEWYOU15 at checkout to redeem the offer. If a subscription purchase is selected, the discount will apply to the first charge only. Subject to availability, while stocks last. This offer may not be used in combination with any other promotions or any products which are already discounted. We reserved the right to cancel any order due to ineligible use of this offer.
DISCLAIMER: We endeavour to always credit the correct original source of every image we use. If you think a credit may be incorrect, please contact us at info@sheerluxe.com.