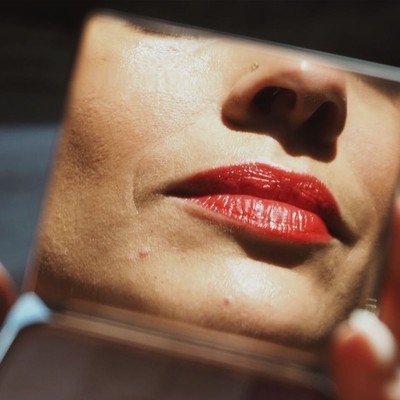 11 Make-Up Tips Every Mature Woman Should Know

From the most flattering make-up shades and textures to why everyone should try a microcurrent device for a youthful lift, celebrity make-up artist Tahira Herold is on hand to share her top anti-ageing tricks…

Image: @TAHIRA_MAKEUP
All products on this page have been selected by our editorial team, however we may make commission on some products.
01
Adjust Your Colour Palette
"Like most things in life, changes occur as we age and that includes our hair colour, skin tone and even the brightness of our eyes. All these should be considered with the make-up we choose. For instance, if you end up transforming your hair to a silvery, grey tone, your palette of choice will have to change. You may find yourself more attracted to cooler colours – even if you've previously only worn warm ones. It's important you look at yourself as a whole, rather than focusing on your age and what you think you should wear. Adapt things and switch it up – that's the best way to keep your look fresh and youthful. My other tip is to try colours and textures you may have seen on TV or social media that you like the look of. Just play with things – it's only make-up, you can remove it if it's not right."
02
Try A Microcurrent Device
"Microcurrent devices are worth every penny. I often say make-up can do only so much, but these tools really do lift and firm your skin with regular use. There are plenty to choose from, but I love the NuFACE tool. I'll use it when my skin is damp, gliding it around the contours of my face to boost tone and definition. Consistency is key but, if you stick with usage, you'll really see a difference."
"You've heard it before, but good skincare is essential if you want a healthy, radiant-looking complexion. If your skin is dry, your make-up won't adhere to it properly and will crease up and enhance the areas of skin you don't want to. Before you apply any make-up, massage in a hydrating, yet lightweight, moisturiser – heavy formulas aren't compatible with foundations and concealers. Once this has sunk in, you can then target any areas – like fine lines and dry patches – with a quick-absorbing primer. Look to ones with gel textures for extra glow and for a speedy dry down."
"For those wanting to sculpt and define skin, I recommend keeping your contour or bronzer tight to the underneath area of your cheekbone. Keep it close to your hairline too. You don't want to run it all over your nose and around your jaw – subtlety is key. These areas will give you just enough lift without looking OTT or ageing. Similarly with blusher – focus your application at the top of the cheekbone and blend inward. If you put it directly on the apples of your cheeks, it can look too obvious and clownish."
"That goes for all your features, but particularly your lips and brows. The idea that we all have perfectly symmetrical faces and that ever feature matches from one side to the other is completely incorrect. Brows should be sisters not twins, and your lip line shouldn't be flawless – I love a natural look with sharp edges one side and softer, rounded edges the other. I don't love or recommend over-drawing your Cupid's bow – I think it can be quite ageing. Instead, use a velvety crayon to softly sculpt your lip line and blend it out with your finger. You'll get a natural finish that's diffused rather than harsh."
"Light layers of base make-up are key for youthful coverage. Apply too much product and you just draw more attention to any uneven tone. I recommend using a moist sponge or foundation brush to apply a lightweight foundation – start with one layer and go for another if you feel it's needed. Then go in with a robust concealer and strategically place it to the areas you feel need it most – so around the eyes, nose or anywhere that's prone to redness. Build up these layers slowly and thinly – it sounds basic, but it makes a huge difference to the appearance of your complexion."
"If you find your make-up settles into fine lines or slides off easily, I recommend layering a very light  translucent powder in between your layers of make-up. This will help keep everything look smooth and free of any shine. Use a big fluffy brush to deposit the powder and work it in lightly – tap off any excess before you get to work."
"Opening up the eyes will instantly give your face a more youthful and fresher appearance. Lash curlers are key for this – start right at the root and clamp down very gently. As for eye make-up, it differs for everyone depending on our face and eye shapes. If you are prone to hooded eyelids, however, I recommend using minimal amounts of eyeshadow. Too much can give your eyes a heavy appearance, whereas you want to bring light to them and keep them open. Concentrate on mascara and liner on your top set of lashes – only occasionally balance the bottom out corners to keep that lift. I advise against mascara on lower lashes. It can be quite heavy and more likely to fall onto the skin, darkening the area around it."
09
Take It Easy On Your Brows
"First and foremost, you want to keep your brows as naturally full as possible. To do this, I recommend investing in a growth serum – I love the ones by Blink Brow Bar as well as the nourishing oil from Mauli Rituals. For definition, I like to use the brand Kimiko Beauty – the brow pencils are the best I've ever used. You only need a tiny amount to fill in any sparse areas. As for shades, you can go one of two ways. If your hair is paler – think silvery or blonde – I recommend softening your brows and opting for taupe or beige tones, depending on your features and hair colour; this also helps your look stay soft and warm. If you're naturally darker, then you can get away with very dark tones and keeping your arches thick and full. That said, in winter, you may want to lighten them slightly to tie in with your skin tone and to keep the look from being too harsh."
10
Remember These Suits-All Shades
"If you're unsure what to look for, or need a helping hand, there are some colours that sit neutrally in the middle of the spectrum. For instance, aubergine, khaki, whites, warm pinks and bronze tones all tend to look good on everyone – no matter your skin tone or age. It is down to the intensity of the pigments of the product that will dictate if the shade is right for you. Always opt for creamy, satin-y textures that are easy to blend and keep sheer – especially if you want to stick to light layers."
11
Finally, Don't Forget Your Highlighter
"I believe in creating a natural, lit-from-within look. A slight radiance as we age softens everything. If you dislike too much shimmer or any oily, sheen-y appearance, try to focus your highlight on areas that catch the light. For instance, the tops of your cheeks, bridge of your nose and around the eyes and forehead. You only need a small amount, but it will make a big difference in bringing your features forward. If a dedicated highlighter is too much, try a foundation that promises radiance, or a highlighting primer. Wearing highlighter beneath foundation and concealer often provides a more natural, candlelit glow."
DISCLAIMER: We endeavour to always credit the correct original source of every image we use. If you think a credit may be incorrect, please contact us at info@sheerluxe.com.