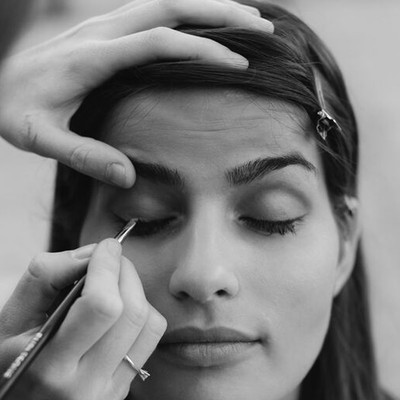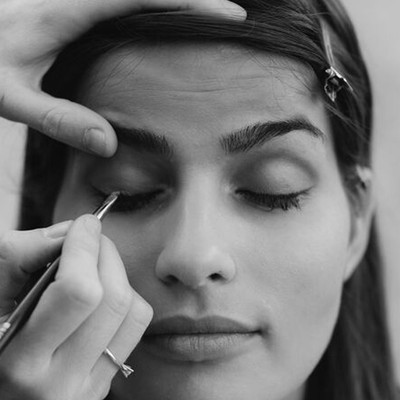 9 Expert Tips For Filling & Defining Sparse Brows

As we age, our brows naturally become sparser, thinner and fairer, but well-groomed brows can give your face a youthful lift. That's why we've asked the experts for their tips on ensuring yours look their best. From why it's worth trying a pomade to the application techniques to adopt, here's the ultimate guide to filling and defining your arches.

Image: STOCKSY/VICTOR TORRES
All products on this page have been selected by our editorial team, however we may make commission on some products.
01
Begin By Brushing Up & Down
"Start by brushing your brows up with a full bristle brush like the MYKITCO 2.3 Pro My Brushed Brow. This helps you to see what you're working with, so you can make the best product choices. Brushing down is key, too – do this to see how the top line of hair looks and whether you need to do any filling or shaping there. If you can't afford a set of specific tools, use a cheap spoolie – there are plenty on Amazon and in Boots. Doing this will also let you see whether any need a tiny trim." – James Molloy, make-up artist
02
Adopt The Right Technique
"This is important, especially if you have finer brow hairs. Firstly, use your product of choice in deft, feather-like strokes in the direction of your natural hair growth. You'll gradually see a shape emerge – keep going until you're happy. Start with the sparsest areas to prevent them from looking overdrawn. Once you've finished the main bulk, fill in the inner and outer corners in the same way. Don't panic if you use too much, you can take it down using a spoolie brush. Always work any product you use from the root right down to the ends of your hair." – Vaishaly Patel, skin & brow expert
03
Follow Your Natural Shape
"If you're unsure where and how to apply your brow products, follow the shape that naturally sits along your brow bone – this is the best guide. If your eyes are small and hooded, you don't want a thick brow as this will look heavy and ageing. Instead, lift your arches to open the eyes. A general rule with eye make-up – including brows – is you want to work up and out. The more you do this, the more awake and fresher your face will look. You also want to avoid having brows too thin at the front and too thick at the ends, as this will drag your eyes down." – Vaishaly
"A lot can go wrong with brows, but the worst – and most common – issue for me is being haphazard with a brow pencil. I see people draw it on like a sharpie, creating a big, bold square front. Often the colour is far too dark as well. If you're unsure on how your brows should look day to day, try a semi-permanent treatment or get them shaped professionally. This gives you a base shape for your brow pencil to adhere to. It also helps to leave the front soft and natural, so you only need to build up on the arch and tail – if at all. I prefer a good, tinted brow gel. They set hairs into place and you only need a small amount at a time. I recommend YSL's Couture Brow which gives a fluffy effect and stays put all day. It is, however, very pigmented, so work with it lightly and build up gradually." – Kallinika Aynsley, brow expert
"Pomades are also great for sparseness. They are pigmented gels that are easy to work with and give great definition and colour. You are best off applying them with a very fine brush as you can create texture and fullness easily. My advice is to start by outlining your shape, then use a pomade or pencil to fill in any gaps. You can – if you feel you want to – use a powder over all the hairs to add colour to areas that are too light." – James
"If you're still looking to build more shape and volume, I recommend using a waxy soap after any of the above products that you choose. Use one to brush the hairs up and sideways. They groom the hairs and seal everything into place. Just make sure you use them to groom the hairs in all directions, so you get a smooth and even blend. Once this is done, you'll find they lay flat and stay put for longer." – James
"Whether they're over-plucked or sparser in texture, it's important to get the colour right. For a more natural, subtle brow, look for an exact match to your hair shade. For those seeking a heavier look, or anyone that's dyed their hair, you may want to amp it up by going for one shade darker than your natural tone. Aside from shade, you need to choose the right formula, too. For example, gels are very lightweight in colour, as are pens, while pencils and pomades are denser in pigment." – Vaishaly
"It's no secret that thinner, over-plucked brows with no definition can sometimes look ageing.  However, that doesn't mean you can't work with them. I recommend investing in a good brow growth gel. Yes, they're expensive, but they work – especially one like Revitalash. You have to be consistent and apply it at least once a day but, after two to three months, you will begin to see a difference. I'm often asked if they're worth it, but they really are, especially as they boost the brows' overall condition and softness, making them less wayward and wiry. With regular application, you can expect better density and volume that's then easy to enhance further with pencils, pomades or gels." – Vaishaly
09
Finally, Know All Your Options
"Products aside, there are several long-term options too. Tinting is one of the quickest ways to achieve a thicker, natural-looking brow and it works for everyone. Plus, the effects last between two to three weeks, so the results go the distance. Alternatively, if you're looking for something more permanent, consider microblading. The technique consists of creating fine, hair-like strokes into the skin with a hand-held tool, which is then filled with pigment. As it's such a precise technique, you get a very natural finish that lasts for months on end. It's ideal for those looking to cover gaps, define or fill in over-plucked brows." – Vaishaly
---
Shop Our Top Picks For Defining & Filling Brows
DISCLAIMER: We endeavour to always credit the correct original source of every image we use. If you think a credit may be incorrect, please contact us at info@sheerluxe.com.