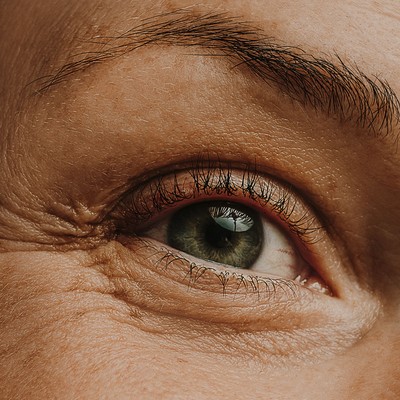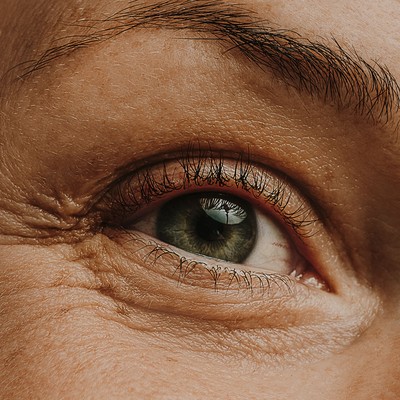 How To Treat & Smooth Crepey Eyelids

We all know the skin around our eyes is delicate, making it prone to fine lines and wrinkles as we mature. What's more, excess skin under the brow bone causes crepey eyelids too – it's part and parcel of the ageing process. But it doesn't mean we can't minimise and reduce this crepiness. From the right ingredients to use to the importance of SPF and how to ensure make-up never enhances it, five experts share their top advice for smoother-looking lids.

Image: iSTOCK/KNAPE
All products on this page have been selected by our editorial team, however we may make commission on some products.
"My clients often ask me about crepey eyelids, so I can understand why it's a popular topic on the SL Community. The first thing to note is you can take some preventative measures to minimise – but not stop – the development of crepey, wrinkling eyelids. This includes wearing SPF with factor 50 protection, and it's never too late to start. The skin here is five times thinner than the rest of your face, so it pays to protect it and keep it shielded from harmful UV, which can further thin the skin and reduce collagen, as well as general elasticity. It's key you avoid excessive rubbing or pulling on the skin as well – this stretches the skin and causes creasing." – Dr Hanson Yu, aesthetic doctor 
Product Removal Requires Care
"As mentioned, you don't want to attack this area of skin too much. So, when you remove make-up – especially around the eyes – you need to be mindful. While the products you use won't cause any damage, the application and removal can. Find a gentle, oily or milky remover that dissolves product so you don't have to tug at your skin. These also often contain more hydrating ingredients that absorb for long-lasting moisture." – Dr Hanson Yu
Hydration Can Make A Big Difference
"In addition to the skin around our eyelids being thinner than anywhere else, it also contains fewer oil glands, making it prone to dryness, which enhances the visibility of crepiness. It's why it's important to maintain moisture levels in this often-neglected area – there are plenty of creams and serums you can use right up to the area of your eyelids now. If you think about how much we move our eyelids through blinking and facial expressions, it's easy to see how this area can become so dry, with a breakdown of collagen and elastin fibres over time." – Dr Tara Francis, facial aesthetician & founder of Enhance By Tara
…As Can Leading A Healthier Lifestyle
"It may not sound much, but maintaining a healthy diet rich in antioxidants, vitamins and minerals can promote overall skin health – that includes around your eyes. It's important you ingest the right foods too. Consuming foods high in antioxidants, such as fruit and vegetables that are the colours of the rainbow can really help protect your skin and enhance its texture and brightness." – Dr Tara
Certain Topical Creams Stand Out
"While they won't reverse wrinkles and lines, certain topical creams and serums can help smooth crepey eyelids. Look for ones that contain ingredients such as retinol, peptides, hyaluronic acid and antioxidants, all of which will improve your skin's texture and stimulate collagen production for a firmer, tauter appearance. A good treatment will enhance hydration too, giving your lids a plumper appearance. Antioxidants are especially key – including vitamin C and ingredients like green tea – as they help to strengthen skin, shielding it from damage caused by free radicals, which means UV and pollution. These ingredients can, alone or combined with others, provide visibly smoother results." – Dr Hanson Yu
Vitamin K Is An Unsung Hero
"As well as the above ingredients, vitamin K can be helpful. It's especially useful for treating dullness and dark circles. Many surgeons use it post-surgery because it can take down bruising quickly and uneven tone too, which we often find on our eyelids. While vitamin K doesn't replace density, it does help to smooth colour and tone so that crepiness and wrinkles look less enhanced." – Dr Hanson Yu
"If you find topical remedies aren't cutting it, there are surgical options but, like any procedure, they come with certain risks and side effects. That can include temporary discomfort, swelling, bruising, dry eyes and scarring. It's important you always consult a qualified surgeon or ophthalmologist before undergoing anything more invasive – with the right advice you'll be best equipped to move forward for your individual situation. Surgical options include blepharoplasty, which involves removing excess skin and fat deposits from your eyelids, giving the appearance of lifted eyes and tighter skin. Another option that's less invasive, but still requires downtime, is laser resurfacing. This works to penetrate the skin deeply, stimulating collagen and fighting fine lines and wrinkles. It's effective on all skin types and tones and is gentle enough for this delicate area. Lasers use radiofrequency energy to generate deep dermal heating to promote collagen growth and healthy skin cell production. If you opt for either, know that it can take up to two weeks for swelling and bruising to subside – this is normal." – Amanda Azzopardi, aesthetic nurse & founder of Amanda Azzopardi Aesthetics
Aftercare Is As Important As Surgery Itself
"If you do choose something more invasive, it's essential you follow post-operative care – you can reverse the effects if you don't. This means avoiding rubbing or touching your eyelids and wearing protective eyewear for a few weeks to protect the skin from any sunlight or sources of eye irritation. Your surgeon or laser professional will be able to advise, but it's key you keep the area clean and promote healing with the correct ointments and medications provided for optimum results. Try to avoid any excessive strain on your eyelids, too, as this can disrupt the process." – Dr Tara
Eyelid Exercises Are A Myth
"I've seen lots of commentary around facial exercises and 'yoga' movements that target the eye area. Some say these can help improve muscle tone and circulation, but I wouldn't believe this and would instead focus on lifestyle habits, skincare and if you are included, treatments. There is limited scientific evidence to support facial exercises – it's also essential you are gentle if you do try them. Excessive stretching or pulling the delicate skin can cause the issue to worsen. It can also enhance dark circles if you rub the blood vessels under the skin too much." – Amanda
Make-Up Tips For Smoother-Looking Eyelids
Crepey lids doesn't mean make-up is a no-go – with the right application techniques, you can maintain a smooth and bright-eyed look…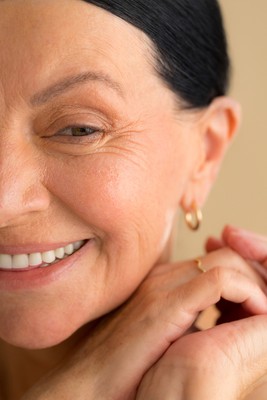 "The most flattering way to shape a crepey eye is to start by carefully pushing back the skin. Then, take a very simple matte or cream eyeshadow – like MAC's suits-all Cork shade – and apply it in a half moon shape from your inner upper lash line, up towards the socket and centre of your lids. Blend this thoroughly, keeping the tone light underneath your brow. This will add the illusion of wideness and depth. You can go a bit above your natural socket, but not too high. It shouldn't look made up – just simple. Keep any shadow you use two to three tones darker than your natural colouring for optimum results that are more youthful too." – Caroline Barnes, A-list make-up artist
02
Stock Up On Smudge-Proof Formulas
"As we know, wrinkled lids tend to experience more creasing. Because of this, it's worth investing in smudge-proof formulas and primers. Another tip is when you're applying your skincare, use a bit of micellar water over the fullness of your lid. This will remove product build-up, so that when you do put on any primer or shadow, there won't be any movement because there's nothing there to cause slip. Use waterproof or tubing mascaras as well, as hooded eyes are more prone to transference." – Florrie White, celebrity make-up artist
"When it comes to application tips for crepey eyes, I recommend using a handheld mirror. You should look directly into one and find the point where your eyelid sits when your eyes are open. Mark this exact area with a small dot of eyeliner or eyeshadow; then, when you're applying your eyeshadow, make sure you blend it up and out to this point every time. This will ensure the effect you want to create is seen rather than hidden. It always works. Another application tip is to only apply light colours in the inner area of the eyes. Keep any darker shades over the middle and outer eyelids – doing this will open everything up and have a widening effect." – Florrie
04
Avoid Too Much Highlight & Shimmer
"While tempting, highlighter shouldn't be used under your brows or underneath the eyes. Doing this will bring forward the wrinkling of the eye, instead of softening it. Try to keep shimmer to a minimum – you want to sculpt, not highlight. You can, however, use a soft metallic in the tear duct to add brightness and width." – Caroline 
"If you want to wear shimmer, an easier way to wear a small amount is to blend the formula up and over your entire eye socket. But make sure you really blend it in so there isn't any dustiness to the look. Doing this all over the socket means it can be seen when your eyes are open, which will just catch the light beautifully for a pretty hint of something." – Florrie
05
Finally, Do Play With Colour
"It's worth noting that when you add a darker colour, you make your features recede. Conversely, a tone that's lighter than your natural colouring will make something more dominant. Therefore, with hooded, crepey eyes especially, it's important to play with the two, and blend for the best results. Opt for palettes like Charlotte Tilbury's cult ones which allow you to mix and match easily for a softer, more diffused finish." – Caroline
---
Shop The Make-Up For Smoother-Looking Eyelids
DISCLAIMER: We endeavour to always credit the correct original source of every image we use. If you think a credit may be incorrect, please contact us at info@sheerluxe.com.