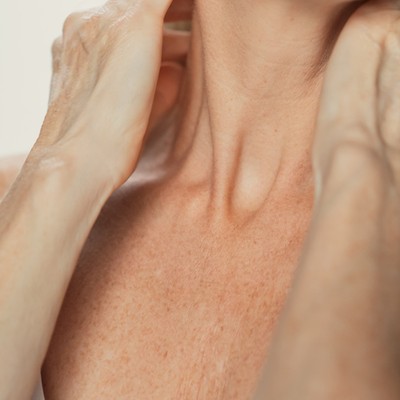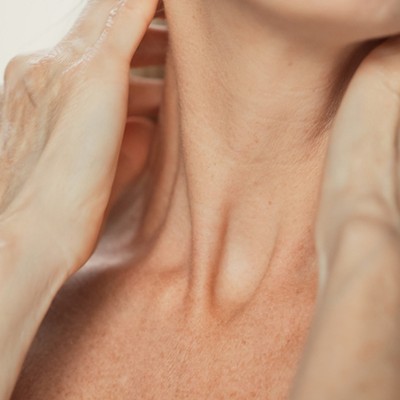 Expert Advice: How To Prevent Chest Wrinkles & Crepey Skin

We tend to focus our skincare regime on our face and often neglect our neck and chest areas where skin tends to be thinner and prone to getting slack and crepey, especially as we age. The good news is there are some simple options to help give you a smoother-looking décolletage. Here's what the experts recommend…

Image: GORODENKOFF
Firstly, Understand Why Skin Becomes Crepey
"It's very common to have crepey skin in the neck and chest area, and the main cause is ageing. As we get older, our skin loses elasticity and collagen which causes it to become thinner and more fragile. This thinning leads to wrinkles and creases on the neck and chest in particular. Other factors that can contribute to the issue include sun damage, smoking, genetics and a poor skin routine." – Dr Radmila Lukian, dermatologist & founder of Lucia Clinic
"Crepey skin is due to a loss of key structural proteins in the skin, such as collagen and elastin. We lose 1-2% of our collagen from our early to mid-20s; then in the first five years of the menopause, this accelerates to a 30% loss. The sun can really exacerbate this too, further weakening the skin and causing a loss of elasticity. It's why, no matter your age, you should cover up this area as much as you can and really try to avoid the sun. Prevention is always better than cure." – Dr Dev Patel, aesthetic doctor & founder of Perfect Skin Solutions
"Exercising regularly is important to improve circulation – and therefore tone – in your skin overall, but a good skin routine is key, too. That includes moisturisation and gentle exfoliation that focuses on both the neck and chest. It may not rid crepey skin entirely, but it will improve its appearance. You can try a dedicated serum too. Thinner in consistency, serums will deliver potent ingredients quicker into the dermis of your skin. It goes without saying that SPF should always be applied too – it's not just your face that's exposed. What's more, the neck and chest is where we spray perfume and this can sensitise the area further to UV, so an SPF 30 at the least is essential and a key preventative." – Dr Radmila 
Know The Ingredients That Work
"You don't need a big routine for your neck and chest area, and certainly not dedicated creams. Instead, apply the same moisturising formulas as you would to your face. In terms of ingredients that work, I recommend a gentle retinoid. It's one of few ingredients proven to show results and it will gradually improve the way the cells on your chest function. In short, this means it will stimulate collagen and thicken the skin for a firmer-looking appearance. If you find retinol too strong, try bakuchiol instead. It's plant-based so is much kinder to the skin, but it still yields the same firming, anti-ageing results." – Dr Sam Bunting, leading dermatologist
Look Out For Growth Factors & Peptides
"As well as retinoids, look out for growth factors – also known as proteins (peptides) – in your serums and creams. They aim to trigger regeneration within areas of delicate skin, like your chest, and boost elasticity. Over time, they also speed up the healing process, especially after treatments, and promote better smoothness and even tone. While they work well on their own, they give even better results when used alongside professional treatments for longer-lasting benefits." – Dr Dev
"Sleeping on silk has been said to offer several benefits for hair and skin. The smooth surface of silk can help prevent hair breakage but also reduce skin friction, which is what leads to fewer wrinkles and less irritation. It's worth trying, but it's worth noting that there is currently little scientific evidence that backs these claims." – Dr Radmila
Take Note Of All Your Options
"Skincare aside, there are some treatment options that can overhaul the skin in this area. It's important to consult with a qualified aesthetic professional to determine which treatment is best for you, based on your skin type, concerns and desired results. There's plenty on offer, but it's worth doing your research and having a sound understanding of the pros and cons of the treatments available." – Dr Radmila
The Aesthetics That Work:
"Ageing of the skin in the chest area is multi-factorial. What I mean by this is it's hard – but not impossible – to treat, as there are so many varying factors. Wrinkling and jowliness are often caused by fat loss, sun damage, gravity, hormonal fluctuations and a lack of hydration. The latter is something we can now target with a treatment called Profhilo. This is an injectable skin-remodelling treatment that uses hyaluronic acid to boost both volume and elasticity. It gives a surge of moisture and provides almost instantaneous results. There's barely any downtime either with Profhilo – at most you'll have a few bumps left on the skin for a day. Plus, the results last for at least six months, so you get your money's worth." – Dr Wassim J. Taktouk, leading aesthetic expert
"My go-to treatment for the décolletage is one called Lumecca. It's a patented and powerful IPL (intense pulsed light) device that treats pigmentation and reddening of the chest which, typically, is caused by sun damage. In a few sessions (sometimes just one), we can see many years of sun damage removed from the skin. It works fast to shatter discolouration in the skin and stimulate collagen production, making everything look plumper and more even in tone. It's not painful either – the process is non-invasive and requires very minimal downtime in comparison to others." – Dr Dev
"For more advanced damage on the chest, or if your neck needs addressing too, consider Morpheus8. This is a microneedle-assisted radiofrequency treatment which essentially works to trigger wound healing and, in turn, better skin regeneration and repair. Over subsequent months post-treatment, the skin architecture becomes younger with increased structural proteins like collagen and elastin, which again makes the skin look plumper, smoother and more elasticated. The results are remarkable, so it's easy to see why it's become so popular. You can opt for a number of injectable treatments to stimulate collagen and elastin, too. However, these require maintenance visits every four to six months so, personally, I prefer Morpheus8 as a longer-lasting option." – Dr Dev
04
Fractional Laser & Radiofrequency
"As treatments go, Fractional Laser Resurfacing is one of the best for essentially buffing the skin and improving its tone and appearance. It encourages collagen production and, in turn, reduces the appearance of fine lines and wrinkles. You need a few sessions to see long-lasting results, but it's impressive what can be achieved. As for radiofrequency treatments, these use a specific energy to tighten and firm the skin, improving its texture and tone to reduce crepiness. You could combine this with micro-needling or Morpheus8." – Dr Radmila
05
Finally, Forget Gimmicky Gadgets
"Jade rollers are very nice and trendy but, being honest, I doubt they do much to smooth the skin, especially on the chest. You're far better off investing in good quality skincare, making simple lifestyle switches and trying the right treatments, if you are inclined. However, on that note, it's worth maintaining a gentle approach – avoid very aggressive treatments on this thin area of skin, as the chest presents the highest risk for scarring. Steer clear of laser or gas-plasma treatments in particular – I will always favour the benefits of Lumecca and Morpheus8 for the gentle but effective approach each takes." – Dr Dev
---
Shop Our Edit Of Skin-Strengthening Products
DISCLAIMER: We endeavour to always credit the correct original source of every image we use. If you think a credit may be incorrect, please contact us at info@sheerluxe.com.