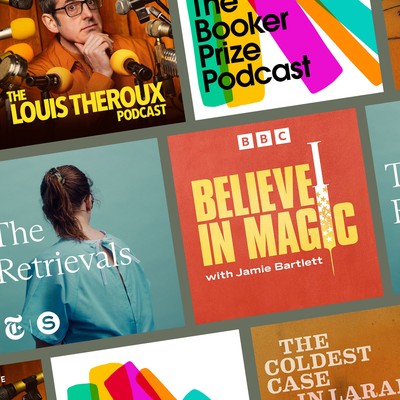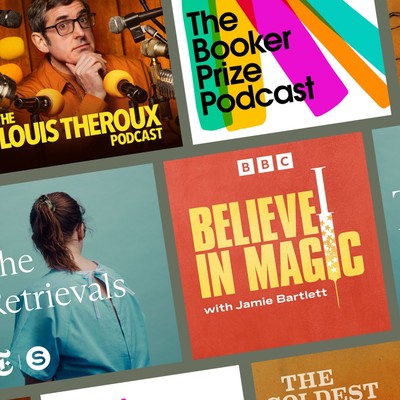 10 Fresh Podcasts To Listen To This Month

Fancy listening to something new? We've rounded up the essential and unmissable podcasts that have been released over the last few months. From gripping true crime stories to celebrity interviews, these are all worth downloading now.

All products on this page have been selected by our editorial team, however we may make commission on some products.
The Retrievals
The patients in this story came to the Yale Fertility Center to pursue pregnancy. They began their IVF cycles full of expectation and hope. Then a surgical procedure called egg retrieval caused them excruciating pain. Some of the patients screamed out in the procedure room. Others called the clinic from home to report pain in the hours that followed. But most of the staff members who fielded the patients' reports did not know the real reason for the pain, which was that a nurse at the clinic was stealing fentanyl and replacing it with saline. From Serial Productions and The New York Times, The Retrievals is a five-part narrative series reported by Susan Burton, a veteran staff member at This American Life. Burton details the events that unfolded at the clinic and examines how the patients' distinct identities informed the way they made sense of what happened to them in the procedure room.
Listen here.
---
Believe In Magic
Jamie Bartlett, host of the hit podcast The Missing Crypto Queen, is back with another gripping investigative serial. In his new series, Jamie tells the story of Megan Bhari, an inspirational 16-year-old girl, who in 2012 launches a charity to grant wishes to seriously ill children. The charity is called Believe in Magic and it attracts the support of the biggest boy band in the world: One Direction. Believe in Magic soon becomes a household name in the child cancer community, putting on parties, sending thoughtful gifts and organising trips to Disney. Megan herself is also extremely unwell, having been diagnosed with a brain tumour. But a group of internet sleuths start to suspect that Meg isn't ill at all. When they discover Megan is in a Disney resort rather than a US hospital, they decide to hire a private detective to prove Megan is faking her illness. But events take an unexpected turn. The conclusion is shocking – and has far-reaching consequences for everyone involved.
Listen here.
Buried
In this new BBC podcast, a trucker's desperate deathbed tape plays out: "All you have to do... is dig it up." And so begins a deep dive into one of the worst environment crimes in UK history: the secret dumping of a million tonnes of waste near a city. But when investigative journalists Dan Ashby and Lucy Taylor uncover missing documents, fears of toxicity and allegations of organised crime, they realise they've stumbled upon something much bigger. As they pick at the threads of one crime, they begin to see others. Could Britain be the home of a new mafia, getting rich on our waste? In this thrilling series, a husband-and-wife duo dive into a criminal underworld, all the time following clues left in the deathbed tape. They're driven by one question: what did the man in the tape know?
Listen here.
Educating Daisy
Six celebrities face their biggest challenge yet: to convince Daisy May Cooper (This Country) to read a book. Daisy is one of Britain's busiest writers – but definitely not one of its keenest readers. She says she'd love to read more, but it's hard to find the time. In this new Audible Original series – Daisy's first ever podcast – she's invited six celebrity friends to try to convert her to books by telling her about their favourite classic. She promises she'll definitely read one of them by the end of the series. So can Tim Key, Diane Morgan, Jamali Maddix, Nish Kumar, Katie Price or Alan Carr introduce her to a book that she will actually read? Between them they bombard Daisy with some of the best historical fiction, classic murder mysteries and graphic novels ever written – but will anything persuade Daisy to put down her Take A Break magazine?
Listen here.
Finding Britain's Ghost Children
Terri White made it to the top of her profession in journalism, editing magazines in London and New York. Two things helped her through a very difficult upbringing in Chesterfield: her grandmother and her school. The classroom was a place where Terri could press pause on the violence and chaos at home. A place to be fed and looked after, where she could learn. When Terri hears that an increasing number of children haven't returned to school since the pandemic, she fears that the lifeline for kids like her may be gone. In this five-part series, she revisits her own past and meets people working at the highest level of education and child welfare, to find out why some children in England are out of school more often than they're in, and what can be done to get them back into the classroom. In episode one, Terri meets the primary school teacher who helped her as a child and reveals her motivation for this investigation – the murder of six-year-old Arthur Labinjo-Hughes.
Listen here.
---
It Can't Just Be Me with Anna Richardson
Presenter Anna Richardson has launched a new love, sex and life advice podcast, It Can't Just Be Me. In every episode she shares a dilemma sent in by listeners and gets advice from some very special celebrity guests and experts who know exactly what they're going through. Across the series, there will be discussions about sex, heartbreak, menopause, family, friendship, fertility, mental health, ageing and everything in between. With no topic off limits, Anna's here to prove that whatever you're going through, it's not just you.
Listen here.
---
The Coldest Case in Laramie
In this new thriller, Kim Barker, a Pulitzer Prize-winning investigative reporter for The New York Times, revisits an unsolved murder that took place while she was in high school in Laramie, Wyoming, nearly 40 years ago. In 1985, Kim was a teenager when a young woman named Shelli Wiley was murdered. The killing stuck with Kim long after she left Laramie – part of it was the brutality of the murder, the other part was the mystery. Although the police made two arrests early in the case, neither stuck and the case went cold. In this podcast, she confronts the conflicting stories people have told themselves about the crime because of an unexpected development: the arrest in 2021 of a former Laramie police officer accused of the murder.
Listen here.
Rylan: How To Be A Man
In this recent hit, Rylan Clark opens up the fault lines of masculinity at a time when many are struggling to define what it means to be a man in the 2020s. Rylan talks to a range of celebrities and prominent figures to gain insights into their unique perspectives, exploring toxic masculinity, old-fashioned male stereotypes, gender identity, body image, role models, cultural differences, parenthood and how we educate the next generation. Rylan's unique take makes for lively, revealing and sometimes shocking conversations. Two of our favourite episodes include a chat with interior designer Laurence Llewelyn-Bowen for a revealing conversation about the changing face of manhood through history, the evolution of gender stereotypes, toxic masculinity and penises; and David Gandy, who talks to Rylan about becoming a successful male model in a business dominated by women.
Listen here.
The Booker Prize Podcast
This new podcast launched on 6th July. Featuring lively discussion and fascinating insights from the world of the Booker Prize, the podcast casts a fresh eye over nominated titles from years past, interviewing authors and experts, as well as peering behind the curtain of the latest prizes. Featuring deep dives into classic Booker novels and hidden gems, as well as interviews with authors and judges, the podcast is hosted by novelist and critic Jo Hamya and critic and broadcaster James Walton. Together, they will dust off shortlists from years gone by, revisit past ceremonies and even explore some of the prize's most controversial moments.
Listen here.
The Louis Theroux Podcast
Spotify's exclusive new The Louis Theroux Podcast is airing fresh episodes every Tuesday. The nine-part series features a star-studded line up of fascinating guests, both notable and legendary in their chosen fields. Series one features conversations with Shania Twain, Amelia Dimoldenberg, Craig David, Tan France, Nick Cave, Jennette McCurdy, Nile Rodgers, Samantha Morton and Ben Elton. Listeners familiar with Louis' inimitable style will know to expect freewheeling chats, with each episode presenting poignant reflections on his guests' lives and journeys.
Listen here.
DISCLAIMER: We endeavour to always credit the correct original source of every image we use. If you think a credit may be incorrect, please contact us at info@sheerluxe.com.