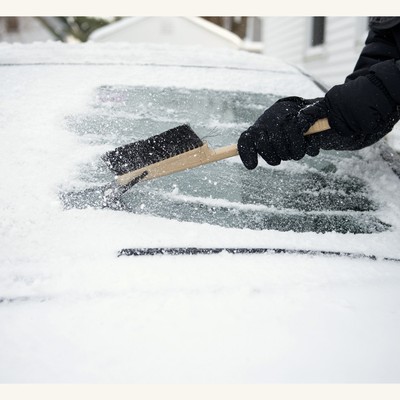 How To Stay Safe On The Roads During Winter

Last year, bad weather was a contributing factor in more than 18,000 road accidents. From preparing your car to the essential kit to keep in your boot, Richard Gladman – head of driving and riding standards at IAM RoadSmart – shares his advice on how to keep safe on the roads at this time of the year.

Images: STOCKSY/CARA DOLAN
All products on this page have been selected by our editorial team, however we may make commission on some products.
Check The Weather Before You Travel 
Checking the forecast before you set off will help to ensure you're fully prepared for the conditions that may impact your journey. Severe weather can present different challenges, and it's not just winter weather that can wreak havoc on the roads. Rain at any time of year can be dangerous: nine out of ten weather-related deaths and serious injuries on the roads take place in the rain. With today's technology and the right app or website, most weather forecasts or warnings are communicated well ahead of time, allowing you to be prepared.
Keep Your Distance
According to advice from the Highway Code, it can take up to ten times as long to stop in icy conditions. When you're driving in wintry conditions, it's important to substantially increase the stopping distance between you and the vehicle ahead, and approach every junction intending to stop well before the stop or give way line.
Use A Higher Gear
Driving your car in a higher gear will help you avoid unwanted wheelspin. If it's icy and you're struggling to get started, try pulling away in second gear. This should make it easier to get the car going, as pulling away in first gear on ice will give you poor grip. Most modern automatic cars will have the ability to pull away in a higher gear or may even have a separate system for winter driving and a low torque pull away. 
Light The Way
The winter doesn't only see cold weather; the days are shorter, which means you'll be using your lights much more. Before setting off on any journey, check all your lights are working correctly and are clean. If you've changed your car recently, you might not be aware of automatic settings, how to override them or how to activate full beam. Check all this before you set off on a long trip. Lots of local councils have recently introduced strategies to tackle climate change, which involve dimming or reduced street lighting, so your headlights will become even more crucial.
Don't Get Lost
Know your route, where you are going and where you plan to stop – and anticipate delays, leaving plenty of time for the journey. If you don't know where you're going, it's dark and you're in the middle of a snowstorm, then the danger gauge has just gone through the roof. Rather than getting stranded, book into a hotel, leave earlier or don't leave home at all.
Check Your Tyres
Your grip will be seriously reduced in the winter, so ensuring your tyres are in good condition is essential. While the law requires you to have your tread depth at a minimum of 1.6mm, grip starts to reduce on anything under 3mm, so make sure you keep an eye on your tyres and replace them if needed. If your budget allows, you can also get your hands on some winter tyres, which will give you a better grip and optimum traction in cold conditions. They also help disperse water or snow, and allow the rubber to move around to improve contact with the road surface. If you're likely to encounter extreme snow conditions, consider carrying snow socks or chains.
Don't rely on the performance of your car systems to get you out of trouble – allow time, create a safe space, make sure you have good visibility all around and carry the right equipment.

Prepare A Winter Kit For Your Car
It's worth packing a few essential items in your car boot to make sure you're ready in the event you get stuck in cold and wintry weather. Here's everything you need…
 
1. Ice scraper & de-icer
There's nothing more frustrating than rushing to get out in the morning and finding your front and back windscreens are iced over. Instead of reaching for a credit card, having an ice scraper and de-icer in the car will save you lots of time. If you're tempted to clear the windscreen with water, make sure it's not too hot otherwise you'll be dealing with a cracked windscreen rather than a frosted one. Remember that if you don't clear your car windscreen fully – and that includes inside misting – you won't be able to see properly. So, leave extra time to ensure you have full visibility before you set off.
 
2. Torch, warm clothes, blankets & high-visibility jacket 
A hi-vis jacket or vest and a torch will mean you won't be missed by other drivers. If you get stuck in cold weather, a blanket and warm clothes are a must – you never know when you'll need them.
 
3. First aid kit 
It's always a good idea to keep a first aid kit in your car. Items such as sterile wipes, plasters, dressings and scissors to treat minor wounds might come in handy.
 
4. Jump leads 
Car batteries are one of the most common reasons drivers find themselves stranded in the winter months. Jump leads are useful to have in the boot of your car in case you need them to kickstart your battery.
 
5. Reflective warning triangle 
This should be put on the side of the road to warn other drivers of a breakdown or crash ahead (but not on the motorway).
 
6. In-car phone charger 
If your car has a USB charger, then keep a mobile charger lead in the car so you can charge your phone as you go. If your car doesn't have one, there are lots of gadgets on the market that will do the same – usually using the cigarette lighter as the charging point. Don't forget to take your phone in the first place and it's also a good idea to take a plug-in charger, in case you have to stay somewhere overnight.
 
7. Food & drink
Non-perishable foods, such as crisps, biscuits and dried fruits are a good choice and are easy to store in your vehicle. Some bottled water will also stand you in good stead if you find yourself stranded or in unexpected standstill traffic.
 
Need to stock up? Here's everything you need…
Get A Free Five-Point Check
If you're planning on spending a lot of time on the roads this winter, make sure to check your lights are clean and working, battery is fully charged, tyres are in good condition, brakes are fully functional and fluids are topped up. If you're unsure, Halfords offers a free five-point check, where staff will check over your car for common car battery and bulb issues. 
Finally… If You Don't Have To Go Out, Don't Risk It
With online shopping, deliveries and remote working all the norm, there is now little need or excuse to leave the house in extreme weather. Do you really want to risk your safety in snow? If in doubt, or you don't need to, don't take your vehicle out. Winter brings difficult driving conditions with frost, ice and snow all adversely affecting road conditions and vehicle handling. Preparation is key to avoiding a dangerous situation while driving in snowy or icy conditions. Don't rely on the performance of your car systems to get you out of trouble – allow time, create a safe space, make sure you have good visibility all around and carry the right equipment. And if conditions are extreme, remember the best advice is not to travel.
 
Visit IAmRoadSmart.com
DISCLAIMER: We endeavour to always credit the correct original source of every image we use. If you think a credit may be incorrect, please contact us at info@sheerluxe.com.