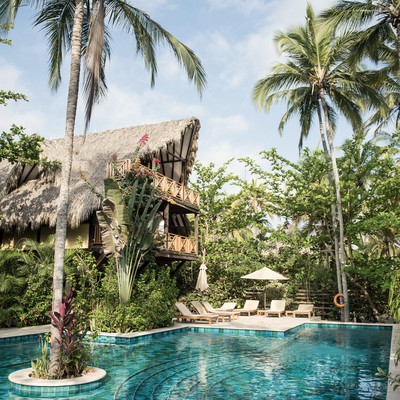 Trips Of A Lifetime: Colombia

Colombia's transformation over the last 25 years has been nothing short of remarkable. Today, it has everything you could possibly wish for: magnificent landscapes, lush rainforests hiding remnants of ancient civilisations, impressive architecture, a rich culture, vibrant cities and beautiful beaches. Start planning your trip with our guide to some of the best destinations, places to stay and things to do.

BOGOTÁ 
Colombia's lively and modern capital is 2,650m above sea level in the foothills of the Andes and is the perfect place to spend two to three nights at the start of your trip. Once regarded as unsafe for tourists, it has established itself as one of the most exciting cities in South America with lots of culture, plus excellent restaurants, bars and shops. You'll fall in love with Bogotá after wandering through the quaint streets of La Candelaria, a cobblestone district with Spanish colonial era landmarks, churches and theatres. This area's also home to some of the city's best art galleries and museums. The fabulous Museo de Oro (Gold Museum) has the largest and best collection of pre-Hispanic gold and art in the world; in a beautiful colonial home, the Museo Botero is a showcase for Fernando Botero, the country's most famous artist, where you'll also see works by Dalí, Degas and Picasso.
Must Sees
Take the cable car to the summit of Cerro Monserrate and visit the landmark Monserrate Monastery, one of the city's most popular tourist attractions. There are a few restaurants and bars here – head up for dinner on a fine evening and you'll get fantastic panoramic views of the city as night falls. Located just north of the city in Chía, Andrés Carne de Res is an experience not to be missed if you want to enjoy a traditional party and carnival night out – it has several dining areas, can seat some 2,000 people and you'll be treated to delicious food, excellent service and some great entertainment. If time allows, it's worth spending a half day visiting the fascinating salt cathedral of Zipaquira, an underground church built within tunnels left behind by salt miners and one of Colombia's most unexpected architectural wonders; or head to Lake Guatavita, the site of the legend of El Dorado and where many of the pieces you'll see in the Museo de Oro were found. And if you happen to be in Bogotá on a Sunday afternoon, a visit to the sprawling flea market in the colourful bohemian district of Usaquén also makes a great outing. And of course, keep some time aside for La Candelaria and all it has to offer.
Where To Stay
Luxe For Less
Comprising two adjoining historic buildings with elegant façades, Hotel de la Opera was once home to independence hero Simon Bolívar. The beautifully restored colonial mansion sits in an ideal location at the heart of historic La Candelaria, right next to the spectacular Teatro Colón and just one block from leafy Plaza de Bolívar. Amid elegant balconies, classical décor, tiled walkways overlooking courtyards and walls lined with antique art pieces, a stay here will take you back in time to the colonial and republican eras. Many of the 30 bedrooms and suites have fabulous views overlooking La Candelaria's terracotta rooftops and the cathedral. There is a piano bar, two restaurants serving local and international cuisine, and a luxe spa with indoor heated pool, jacuzzi and Turkish baths.
 
Uber Luxe
A converted historic mansion, the Four Seasons Hotel Casa Medina is in the affluent financial district. With stone walls and pillars, timbered ceilings and wrought-iron staircase railings, the hotel has been meticulously restored and is the ideal sanctuary to retreat to after a busy day exploring the city. Our top tip: book a room with a cosy fireplace. The financial area is also known as Zona G – the gourmet zone of Bogotá – so it's perfectly placed for foodies to walk to some of the best restaurants in the city.
MEDELLÍN 
Surrounded by the mountains and lakes of Antioquia province, Medellín is nicknamed the 'City of Eternal Spring' for its reliable sunshine and temperate climate. Once synonymous with the activities of Pablo Escobar, the city's gangland status is firmly in the past thanks to a huge transformation through innovative design and development. Today, Medellín has a flourishing art scene, lots of green spaces, panoramic cable car views and is jam-packed with museums, smart hotels, restaurants, bars and a buzzing nightlife. Its Metrocable system is a great way to get around, offering a bird's-eye view of the houses below – head to Santo Domingo for the best views and the Biblioteca de España library park, or to the newly opened Parque Arvi, an ecological nature reserve with an impressive butterfly sanctuary.
Must Sees
A good way to see the main tourist sites is to join a walking tour, or if you want to do your own thing, you could easily spend an afternoon browsing the tree-lined boulevards and trendy outdoor food and flea markets. Be sure to make it downtown to El Centro and Plaza Botero. This large park is surrounded by the Museum of Antioquia and the Rafael Uribe Uribe Palace of Culture, where you'll find 23 sculptures by Medellín-born Botero. If you want to escape the city, head to Guatapé, a small Andean resort town two hours east, where you can wander round gorgeous paint palette-coloured houses. If you're feeling brave, climb the 600 steps of the towering rock known as El Peñol – the reward is incredible views over tree-topped hills and turquoise lakes.
Where To Stay
Luxe For Less
In the centre of the trendy El Poblado neighbourhood, Patio del Mundo is a charming villa which has been beautifully restored by a French family. This is the perfect place to relax – you'll feel miles away from the buzz of the city as you relax in the tropical gardens, dotted with hammocks and loungers. Each of the seven bedrooms is unique, named after a city or region in the world with its colour scheme taking influence from its namesake, whether it be India, Africa, Provence or Bali. 
 
Luxe
Elcielo is a new luxury boutique hotel, also in El Poblado. The design is sleek and uber modern: rooms are decked out with wood, cottons, linens and marble, and large windows bathe the interiors in light. The rooftop area is an oasis away from the busy city – the pool is surrounded by loungers and towering creeper plants provide cool shaded spots to relax. The big attraction here is the restaurant of world-renowned chef Juan Manuel Barrientos. One of the hottest places to eat in the city, be sure to book a table in advance of your stay.
CARTAGENA
This Unesco World Heritage-listed city on the Caribbean coast is an essential part of any Colombia trip. Founded in 1533, it was once the gateway to the Spanish empire in the New World and to this day is among the most beautiful colonial cities in the Americas. It's full of old-world charm and famous for its old walled quarter, El Centro, with its lovely cobbled streets, pretty plazas, ruined forts, lovely churches, old convents and pastel-coloured houses. You'll also find lively al fresco cafés, buzzing restaurants and an exciting cocktail scene, as well as stunning white sandy beaches from which you can take a boat to explore the nearby islands. 
Must Sees
The Castle of San Felipe de Barajas is a multi-tiered masterpiece built by the Spanish to defend the former trade hotspot from pirate attacks. With sweeping 360º views, you can catch glimpses of the Caribbean coastline in the distance through the open stone windows. Las Bóvedas is a structure built into the walls of the old city between the forts of Santa Clara and Santa Catalina; originally dungeons, today you'll find quaint shops selling handicrafts and art shops. On the way to El Centro you'll come across Cerro de La Popa, a beautiful, white-washed old convent on a 150m-high hill, the highest point in Cartagena. We also recommend a day trip to one of the many islands such as the Islas del Rosario, an archipelago of islands surrounded by a beautiful coral reef with amazing snorkelling. 
Where To Stay
Luxe For Less
Townhouse Cartagena is a small boutique hotel in the heart of the walled city. It has eight individually styled bedrooms and three two-bedroom suites, and the interiors are decorated head to toe by young Colombian artists. There's a lovely rooftop bar with two plunge pools and some of the best views in town. If you fancy escaping the city to enjoy a few lazy days on a Caribbean island paradise with a bit of party atmosphere, head to Townhouse's sister hotel and beach club, Blue Apple Beach, on the southern shore of Tierra Bomba, just 30 minutes away by speedboat. With five stylish bedrooms and five independent cabanas, you'll enjoy a cosy, laid-back island vibe with great food, cocktails and music.
 
Luxe
Boutique hotel Hotel Casa San Agustín has been created from a trio of colonial-era white-washed buildings within the walled Old Town close to Barrio San Diego, which is renowned for its trendy restaurants, bars and chic boutiques. From original frescoes in the library to centuries-old wood-beamed ceilings in the guest rooms, the hotel's art and architecture evoke the city's rich history as a 17th-century Spanish stronghold. The 20 rooms and 11 suites are decorated in soft blues mixed with specially commissioned furnishings and fixtures. Enjoy an aperitif in the courtyard before dining at Alma, one of the best seafood restaurants in Cartagena – the ceviche is to die for!
THE COFFEE TRIANGLE
Fly to mountainous Pereira (one hour from Bogotá) which lies at the heart of Colombia's coffee growing region, famous for its mild Arabica beans. The terraced slopes provide the perfect environment and climate for coffee growing and you can visit a working hacienda to get an authentic taste of life in rural Colombia, learn about the history of coffee harvesting and discover how the beans are roasted. 
Must Sees
Pereira is not the prettiest of cities but retains some traditional charm. Visit the 19th-century cathedral with its beautiful latticework roof and check out the César Gaviria Trujillo viaduct over the Otún river. Take a walk into the cloud forest and visit the traditional villages of Filandia and Salento, and the verdant Cocora Valley, famous for its wax palm trees – the tallest in the world. For the adventurous, activities include hiking, horse-riding, biking, rafting and kayaking. You can also go zip-lining over coffee plantations at Bosques del Samán, a hotel-farm in the town of Alcala, around an hour's drive from Pereira. 
Where To Stay
With its name paying homage to the indigenous people who once inhabited the area, Hotel Boutique Sazagua is in a wonderful location on the outskirts of Pereira, halfway between the Cocora Valley and the main coffee plantations around Chinchina. Set in lush gardens full of tropical plants and exotic birds, there are just ten suites and five villas, all individual in style and decked out with an eclectic mix of local furniture, artwork, dark woods and colourful textiles. 
TAYRONA NATIONAL PARK 
Tayrona is one of the prettiest stretches of coastline in Latin America. Lush tropical rainforest and green hills meet white sandy beaches and turquoise seas, against a backdrop of the snow-capped Sierra Nevada de Santa Marta mountain range. It's also home to more than 100 species of mammal, 200 species of bird and many reptiles. It's the ideal place to relax, enjoy the spectacular views, scuba dive, snorkel and explore the park.
Must Sees
Take a trip down the Don Diego river to spot howler monkeys, tropical birds and caimans. You should also visit the Katanzama community, who have preserved their cultural traditions through minimal contact with outside civilisations. If you're fairly fit and feeling adventurous, book a multi-day guided trek to La Ciudad Perdida (the Lost City) archaeological site in the Sierra Nevada de Santa Marta mountains. Hidden among the dense flora, the city was built around AD700-800 by the Tayrona people. Thousands of potters and farmers lived there until the Spanish took control in the 16th century. The site lay abandoned until the mid 1970s, when looters rediscovered it under a mass of tangled roots.
Where To Stay
Cayena Beach Villa combines local character and tropical décor with a touch of luxury, and is just 15 minutes from the entrance to the park. There's a pool, a yoga studio and shaded hammocks on the beach a short walk away. We also love the chic adults-only Villa Playa Tayrona which is 20 minutes from the northern city of Santa Marta and five minutes from the park. In a secluded bay overlooking the point where the Piedras river meets the Caribbean Sea, it is the perfect balance of boutique hotel and villa – an ideal place to recharge after visiting Colombia's busy cities. Each of the rooms is draped in white linen, local artwork and simple wood furnishings. The restaurant menu has fresh, locally inspired dishes using organic ingredients and the bar serves outstanding cocktails.
WHEN TO GO
Being so close to the equator, the weather in Colombia is fairly settled all year round. Its dry season is December to March, with a second dry period mid-June to mid-August, and these are the best times to visit – and also when most festivals take place. Temperatures are fairly constant year-round, varying by altitude more than season. 
SUGGESTED ITINERARIES
Luxe For Less
On Cox and Kings' 13-day (10-night) 'Treasures of Colombia' tour, you'll travel from Andean peaks to tropical Caribbean coastlines, passing through the mountain capital of Bogotá, picturesque Villa de Leyva, fertile coffee country, vibrant Medellín and the colonial port of Cartagena. From £2,395pp including economy flights from the UK, accommodation, transfers, guided sightseeing and entrance fees. Click here for full details. 
Luxe
Journey Latin America's 14-day 'Chachalaca: Colombia's Coffee and Colonial Culture' trip takes in Bogotá, Cartagena, the coffee region, Villa de Leyva, the arty villages of Salento, Filandia and Guatape, and Medellín. From £4,389pp including flights from the UK, accommodation on a B&B basis, transfers and excursions. Click here for full details.
Blow The Budget Luxe
Scott Dunn's 10-night 'Ultimate Colombia' itinerary includes 2 nights at Four Seasons Hotel Casa Medina in Bogotá; 2 nights at Casa San Agustín in Cartagena; 3 nights at Casa Oropéndola in the Sierra Nevada; and 3 nights at Villa Playa Tayrona – all on a B&B basis. From £6,500pp including flights from the UK, domestic flights and private transfers. Excursions include a helicopter flight over the Lost City and Tayrona National Park. Click here for full details.
 
*DISCLAIMER: Travel restrictions are changing daily, so please check the latest government advice before you book. Visit Gov.uk for more information. 
DISCLAIMER: We endeavour to always credit the correct original source of every image we use. If you think a credit may be incorrect, please contact us at info@sheerluxe.com.