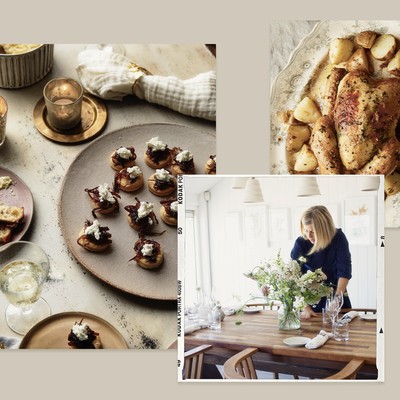 In Conversation with… Emily Scott

Cornwall-based Emily Scott is the owner of the foodie hotspot at Watergate Bay Hotel and hit the headlines earlier this year when she cooked for presidents and prime ministers at the G7 summit. An award-wining chef and restaurateur, Emily has been cooking for more than two decades, appearing on Great British Menu and, this month, making her debut on Saturday Morning Kitchen. We caught up with her to talk all things cooking and Cornwall…

Images: BETH DRUCE
This year has certainly been a year to remember. I opened my new restaurant; I sold my award-winning pub; I moved house; I created a canapé reception and dinner for royalty and world leaders as part of the G7 summit in Cornwall in June; and my debut cookbook, Sea & Shore: Recipes & Stories from a Kitchen in Cornwall, was published in the summer.
 
My beautiful seaside restaurant reopened this spring. It's built into the sea wall in Watergate Bay, and it showcases my no-faffing, no-fussing approach to creating beautiful seasonal food. Since the start of the pandemic, we've all been shown we need to find a gentler way of living and find ways to connect with people, and I hope my restaurant does that. The menu features the likes of roasted scallops, Cornish crab with brown butter hollandaise, hake with pickled samphire and a simple fig tart.
 
This hotel is so close to the sea, you can watch the surfers from the pool. The bay is a very special place to me – not only because my restaurant is here – but because the location is beautiful and the atmosphere is so relaxed. Here, everything is about getting the balance right – eating well, drinking well, feeling rested, and having a good time.
 
I've always loved to cook. My kitchen is where I always feel most at home. It's where I feel confident and happy. What I love is how creative it is and how much joy it can bring others. I think cooking for other people is one of the most loving of all human skills.
 
I've been interested in cooking from an early age. My mother is a very good cook and so were my grandmothers. I was always inspired by them. In terms of a career, it was always cooking for me. The first place I worked as a chef was a beautiful restaurant hotel in a village called Blanot in Burgundy. It was a place I grew to love and it quickly became a platform of experience and skills for my future. 
 
I like to cook with the ebb and the flow of the seasons, going with what nature has to offer at its best. Less is more, and cooking should always be about keeping things stripped back and simple.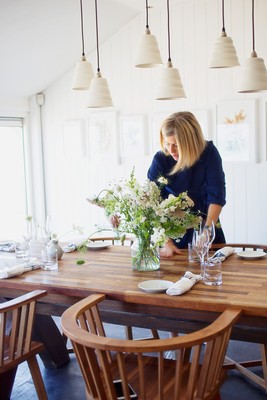 My go-to, easy mid-week supper is a pasta dish we call 'weekend spaghetti'. It obviously also works well any night of the week, especially when I've been working and feel short of time. It's one of those store cupboard recipes, using garlic, chilli and good-quality olive oil. Deliciously simple and always a crowd pleaser, it's essential to have a glass of red on the go when cooking this.
 
Every kitchen should be stocked with lemons, good olive oil, sea salt, saffron and parmesan. They are essential ingredients I always need to be able to reach for, as salt, citrus and olive oil can lift a dish to new heights. Cornish sea salt is especially delicate, with a mineral-rich flavour. Cornish saffron is my secret ingredient –earthy, floral and almost sweet, saffron is as good in savoury dishes as sweet, and it gives a unique depth of flavour and colour. I buy mine from the Cornish Saffron Company. Herbs are also essential throughout the seasons and can be easily grown in pots to keep on your kitchen windowsill or outside your kitchen door – either way, make sure they're easily to hand.
 
Breakfast is always an important meal for me. If I miss it, I usually feel grumpy. It's a meal that sets you up for the day and it's a time where you can gather your thoughts, take time for yourself and fuel your day. During the colder months, I usually have porridge topped with one of the compotes I make to preserve fruits throughout the year, or granola with honey and yoghurt. Otherwise, I'll reach for toast with jam and coffee. I like a short and strong cortado.
 
My ultimate comfort dish is pain perdu bread-and-butter pudding with custard. It reminds me of those wonderful days spent cooking away in Burgundy when I was 16. We used up the leftover baguettes to make this pudding. French bread is so good to use as the crust caramelises beautifully. I think that I will always be very fond of vanilla-soaked bread and caramelised crusts – they bring such joy and happiness to me. My eyes are always bigger than my stomach, but I will always find a way for that second helping.
 
During the colder months, risotto is always a dish I end up making – whether for a supper for friends or a quick midweek meal. It's comforting and you can adapt it using whatever vegetables are in season. In the spring, I'll use nettles, wild garlic and asparagus, then broad beans, peas and courgette flowers in the summer, and earthy mushrooms in the autumn and winter. Soups are also really versatile. There is nothing more wonderful than preparing a soup from scratch. 
 
I am a great believer in moderation. The minute I say to myself "you can't have that", I want it even more. So, I generally eat what I want, but achieve a balance. Exercise and keeping healthy is also important and knowing when to say no to things. I live by the sea, so most days I find myself walking on the beach. There are hundreds of beautiful beaches in Cornwall, but Daymer Bay is my favourite. I'm lucky enough to walk there most days with my dog. Being by the sea really inspires me in the kitchen – the changing seasons are breathtakingly beautiful. At low tide, you get long stretches of golden sand and a vast shoreline with pretty views across the Camel Estuary.
 
Baking is almost like therapy to me. I love that you can make so much with the basics of flour, butter, sugar and eggs – and the processes of melting, stirring, beating, whisking, folding and icing bring me great happiness. Carrot cake is a go-to recipe, as is my flourless chocolate cake, where I use ground almonds instead of flour. I also love making clotted cream splits for a cream tea or using up ginger to make Cornish fairings.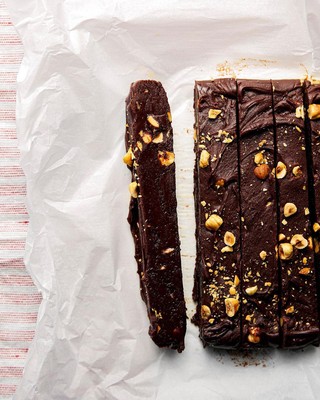 Every kitchen should be stocked with lemons, good olive oil, sea salt, saffron and parmesan.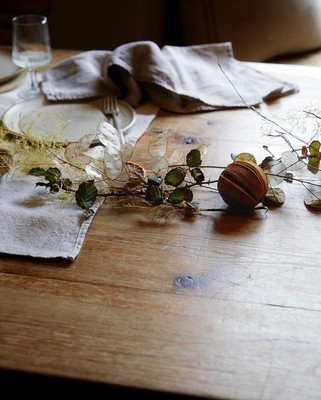 Every kitchen should be stocked with lemons, good olive oil, sea salt, saffron and parmesan.
I say bring back the classic dinner party. Twenty years ago, I remember having dinner parties all the time. They're always such a joy and a way of trying out new dishes. I want to be relaxed and enjoy any parties I have, so getting ahead or creating dishes that need minimal preparation or cooking are great. It is important to be able to join in and not feel like you are slaving away in the kitchen. I like to kick things off with a cocktail, followed by radishes with unsalted butter, then artichoke dip with rosemary toast. For mains, I like to serve a whole baked salmon or bavette steak with salsa verde alongside green beans, then an apple tart with crème fraiche to finish. Otherwise, pan-fried scallops with a classic beurre blanc sauce always shines.
 
When it comes to making a table setting look extra special, I recommend mismatched cutlery, simple glassware, tea towel napkins, garden flowers or potted herbs on the table and candlelight. And I love a name setting!
 
I love a classic cocktail. I have just collaborated with Colwith Farm Distillery to create a citrus vodka, which is delicious. It's a bright and fragrant craft vodka with vivid lemon sherbet notes on the nose and palate, and a luxuriously sweet and creamy mouthfeel. It's perfect served in a vodka martini, garnished with a lemon twist, or served long in an ice-filled hi-ball, topped with Indian tonic water and a lemon wheel.
 
Every home should have a shaker, stirrer and martini glasses. John Lewis has a lovely mixology range. In the kitchen, my knives bring me great joy – they are beautiful, sophisticated and practical. If you are a keen cook, I would encourage you to invest in some Savenake knives. As for books,  everyone should own Stanley Tucci's Taste which is a wonderful memoir of funny stories and delicious recipes; Nathan Outlaws' Everyday Seafood; and An A-Z of Pasta by Rachel Roddy. 
 
In terms of cookware, I love Falcon Enamelware. It's an iconic British brand that can be used for prepping food and directly on the heat. I recommend the Prep & Bowl Set. It comes in different colours and is a must in any kitchen.
 
My tips for keeping a kitchen organised and clutter free? Less is more and Kilner jars are a lifesaver.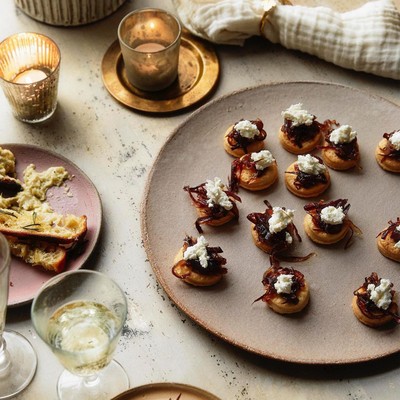 My idea of a perfect Sunday is a long lazy lunch with my family after a walk by the sea. I'd go for a roast chicken with tarragon mayo, baby roast potatoes, creamy leeks, cauliflower cheese, carrots and peas. Nothing is better than a comforting roast chicken with flavours of thyme, lemon, garlic and sea salt – an explosion of flavours that will bring deliciousness to your table. I grew up with roast chicken, mash and peas – always peas. My mother would dry the wishbone on the Aga and I would close my eyes and make a wish with all my might. My family have always loved this, too. It's the meal that brings us together with great anticipation and makes us feel good.
 
For me, an ideal weekend in Cornwall would be a stay at The Gurnard's Head in Zennor, a favourite place of ours to escape to and reset – it's a lovely pub with rooms located between St Ives and St Just. Inside the distinctive yellow building, you can escape city life to simply eat, drink and sleep. Its seasonal menu changes every day, so there's always something fresh on the menu, and a two-course supper here is the ultimate treat. It's always very popular, so booking well in advance is key. 
 
You can't go to Cornwall without visiting one of Rick and Jill Stein's iconic restaurants, which run the gamut from one end of the price scale to the other. There's the Stein Fish & Chips outpost which overlooks the Camel Estuary, or the café offering family friendly dishes at a decent price. But if you're after a really special treat, then The Seafood Restaurant is hard to beat. Expect wonderful seafood dishes like lobster risotto and Cornish crab. Ruby's Bar is wonderful spot for a laidback evening. Stylish and cosy, it has a great selection of wine, local beer, and boutique gin. For a tasty cocktail, I highly recommend the Ceylon negroni or Campari fizz. I love going here for a pre-dinner drink or a nightcap.
 
I sold the beautiful site that is now Outlaw's Fish Kitchen to Nathan Outlaw in 2013, so it's in very good hands. Located on Middle Street in Port Isaac, the team serves delicious small plates of seafood. The restaurant is on the edge of the harbour, so you're guaranteed a great view while you eat. With one Michelin star, it's one of the best restaurants in town. Prawn on the Lawn in Padstow is also one of my favourite restaurants. It has a wonderful atmosphere and there's always something delicious on the menu. One of the best restaurants in Fowey is Fitzroy – it's not to be missed if you're in the south of Cornwall. It's a quintessentially British establishment with a deep-rooted local and sustainable philosophy. An evening here always feels fun and stylish, and the extensive natural wine list is great. In London, I love St John Bread and Wine and Brat in Bethnal Green.
 
Inspired? Here are three of Emily's seasonal recipes to try at home…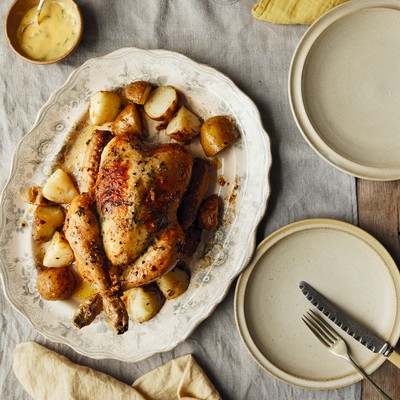 Spring Roast Chicken With Wild Garlic & Herbs
Ingredients
1

medium free-range chicken
A few sprigs of fresh thyme, leaves picked
100g

unsalted butter, softened (keep the paper the butter is wrapped in)
4

garlic cloves, unpeeled
Cornish sea salt and freshly ground black pepper
Method
Step 1
Preheat the oven to 200°C/180°C Fan/Gas Mark 6.
Step 2
Wash and pat the chicken dry, then season with sea salt and black pepper. Mix the thyme and butter together. Ease the chicken skin away from the breasts with your hands to make a pocket and stuff with half of the thyme butter, easing it under the skin.

Step 3
Rub the outside of the skin with the remaining thyme butter and a splash of olive oil. Season the skin with sea salt and black pepper. Push the two lemon halves into the cavity along with the garlic cloves and the wild garlic leaves (reserve the wild garlic flowers for decoration). Use the butter wrapper (or a piece of baking parchment) to cover the breasts for the first part of cooking.

Step 4
Place the chicken in a roasting tin and roast in the oven for 30 minutes. Remove the butter paper and baste the chicken with its juices, then return to the oven to roast for a further hour.

Step 5
Remove from the oven and set aside to rest for 15-20 minutes. Serve with a side of tarragon mayo and roasted new potatoes.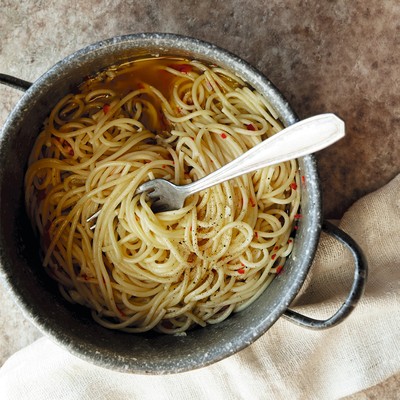 Weekend Spaghetti With Garlic & Chilli
Ingredients
90ml

olive oil, plus extra to serve
4

garlic cloves, finely chopped
2

red chillies, finely chopped
Sea salt and freshly ground black pepper
Method
Step 1
Bring a large saucepan of salted water to the boil and throw in the pasta. Stir and cook for 10-12 minutes or according to the packet instructions.

Step 2
Meanwhile, gently heat the olive oil in a frying pan, add the garlic and chilli, and cook until the garlic just starts to brown (do not burn, otherwise it will be bitter).
Step 3
Drain the pasta reserving a little of the cooking water. Add to the frying pan along with a couple of tablespoons of the reserved water. Season, stir through and serve with extra olive oil.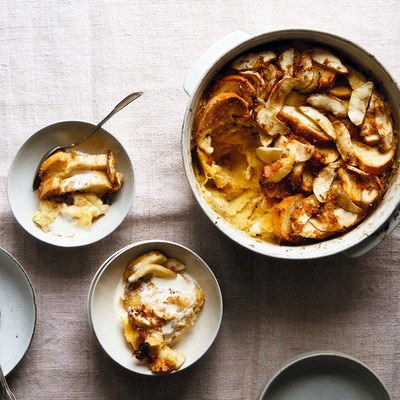 Pain Perdu Bread & Butter Pudding
Ingredients
100g

unsalted butter, softened, plus extra for greasing
1

baguette, thinly sliced
2

apples (I love russet apples), peeled and sliced
Vanilla ice-cream or

250ml

single cream, to serve
Method
Step 1
Preheat the oven to 180°C/160°C Fan/Gas Mark 4. Lightly butter a deep 18cm x 23cm baking dish.
Step 2
Generously butter the baguette slices on one side. Arrange the slices in the baking dish, buttered side up, overlapping each other and standing almost upright.
Step 3
Whisk together the milk, cream, eggs and sugar and pour the mixture all over the bread. Scatter the surface of the pudding with the grated orange zest, demerara sugar and sliced apples, then bake on the top shelf of the oven for 35-40 minutes until it is puffy and golden and the top crust is crunchy.

Step 4
Serve the pudding straight from the oven, either with vanilla ice cream or chilled pouring cream.
To book a table at Restaurant Emily Scott, visit EmilyScottFood.com. To check out her citrus vodka, in collaboration with Colwith Farm Distillery, visit ColwithFarmDistillery.co.uk. And Sea & Shore: Recipes & Stories from a Kitchen in Cornwall is published by Hardie Grant and is available to buy at Waterstones.com.
DISCLAIMER: We endeavour to always credit the correct original source of every image we use. If you think a credit may be incorrect, please contact us at info@sheerluxe.com.