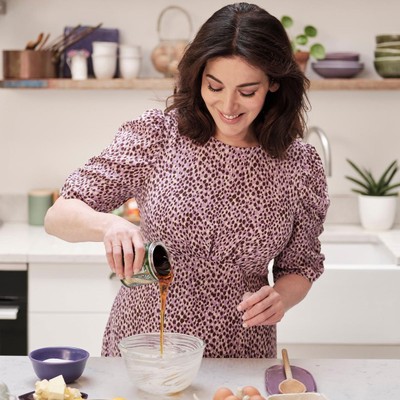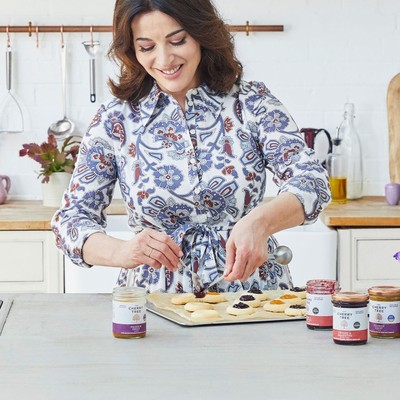 Nigella Lawson Shares Her Top Cooking Tips With The Gold Edition

It's been 25 years since Nigella Lawson's first cookbook How To Eat was published, and she's still finding fresh ways to make things easier in the kitchen and encourage fans to try new ingredients. As she launches her second Nigella Loves aisle at Ocado, she sat down with us to talk simple, speedy suppers, why you should never overcomplicate things when entertaining and the new foodie finds she can't get enough of at home.

All products on this page have been selected by our editorial team, however we may make commission on some products.
Even if I don't have time to cook, I'm someone who has to eat something that makes me happy. I've always kept a big stash of tinned fish at home. I love it in various ways and tend to have a tin of lemony sardines from Fish4Ever on toast for supper when I'm tired and just want to eat something good straightaway. I also adore anchovies, especially the ones by Ortiz. They are special and expensive if you decide to cook with them but, served straight from the tin on delicious bread and butter, you can't go wrong. In summer, when it's very hot and I'm not that hungry, I'd be so happy to just have a plate of bread, butter and anchovies.
People often dwell on creating huge entertaining menus and that's certainly something that can be nice to do. But, actually, what makes a real difference to your life is finding ingredients that are going to make supper on a Wednesday easy if you haven't got time to shop or you're just clearing out the fridge. Two days before my Ocado order comes, I always go through the fridge and every cupboard, running everything down and thinking, "I've got spring onion here, I can add that and I've got my tins there." That really helps with choosing what to add to your trolley.
For those times when you just need to eat due to time or energy constraints, I like to make a simple sardine spaghetti. I love to use tinned sardines in tomato sauce in pasta dishes, as it's an easy way of making a very quick supper, as the sauce does a lot of the heavy lifting – especially when you mix in some of the pasta water. You need so few things to make a really tasty supper – for example, this dish is just some spaghetti, spring onions, garlic, oregano, chilli flakes and tinned sardines. I cook it quite a lot at home – it's very simple, but the flavours are so good and true, and you do believe you're having a treat as you eat it.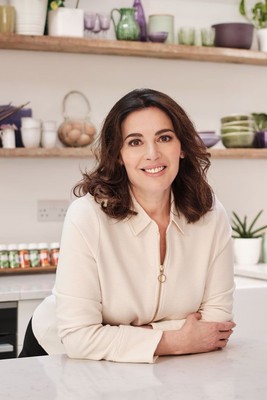 ENTERTAINING is all about SIMPLE, GREAT FOOD – you're there to have a LOVELY TIME with your FRIENDS, not pretend YOU'RE A RESTAURANT.
I think that everyone sometimes likes to find a way of eating something a bit different without it feeling like a big, complicated procedure or requiring great technique or a billion gadgets. People don't cook with venison much and lots of people associate it with autumn/winter and slow cooking. But it's also great at this time of year – I like to serve it with an Asian salad for a summery supper. Venison is a very lean meat, which is why it works really well when it's marinated in a bright dressing made with soy sauce, ginger, garlic, a bit of fish sauce and lime juice, which are all useful ingredients to have to hand. I marinate the steak after it's cooked, as it tenderises the meat quickly and you can use the same marinade – now enriched by the meat – as the dressing for the salad. I can't pretend that chopping things into little strips for the dressing is something you would want to do if you were feeling bad tempered or tired – luckily, I'm never bad tempered! But I promise it takes very little effort and it's lovely to pair sharp salad dressings with rich meat. It gives it as sort of sprightliness that people don't really associate with venison. I get mine from The Hampshire Game.
Recently I got rather obsessed with jams. I love to make my own passion fruit curd so I'm very strict about using anyone else's. But as it's so time consuming to make, it's been really lovely to have discovered The Cherry Tree's. It's a useful jar to have in the cupboard – you can use it in a Victoria sponge or if you suddenly wanted to bake something and make it feel special. The company also makes a rhubarb and vanilla jam, which is just heaven, and a divine cherry amaretto flavour.
One of my favourite simple bakes is my thumbprint cookies. About 100 billion years ago, I used to make them for my children, but with lemon curd instead of passion fruit – they used to call them fried egg cookies, because of the bright yellow centre. I've since changed the recipe and these new ones have a bit more cornflower in them, which is what gives them that melting softness in the middle, like shortbread. There's something rather charming about them – they look a little bit childish in a way, but they taste so good. And I can't tell you how many takers I've had for them. It's also a great recipe to make with children, as they don't have to be too precise and their little hands are quite good for rolling out dough.
I can't get enough of the MONTY BOJANGLES TRUFFLE BITES with a hint of sea salt. When I started eating them, I thought 'There's NO WAY I'll get through that WHOLE BAG'. Now I've got FIVE PACKETS in my next order.
I'm always in search of deliciousness wherever it can be found. I love pulling together my Nigella Loves aisle on Ocado as I can highlight so many brands that people might not have heard of before, but can now add to their trolley while they're buying their household essentials. What I like about smaller suppliers is that they dedicate themselves to what they love, and I suppose I feel a sort of sympathy for that because I feel that's what so much of life is about. I think a lot of people would prefer to get their food from smaller suppliers, but we've all got very limited time for shopping. It's not like when you're on holiday and you've got time to stroll along and pop into all the lovely shops as you go.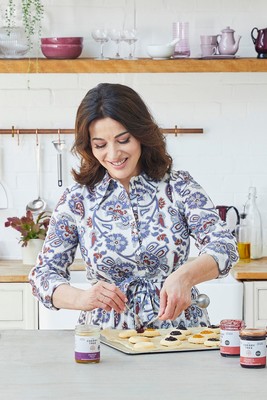 It's always wonderful discovering new and delicious things. The Cherry Tree also makes the most wonderful pickles – in fact, I recently finished off a whole jar of their hot garlic pickle. Just for the sheer pleasure of eating, I can't get enough of the Monty Bojangles truffle bites with a hint of sea salt. When I started eating them, I thought "There's no way I'll get through that whole bag", and then I was so cross I hadn't bought more. I've got five packets in my order coming next week. Another of my favourite recent discoveries is Hackney Gelato's dark chocolate sorbetto. I've served it when I've had friends over. It's vegan, but if you've got non-vegans round, you could be naughty and drizzle some double cream over it – I really like Tom Parker Creamery.
When I'm enthusiastic about something, I really want to share it. It's one of the great joys of life. I am evangelical about Mellow Yellow rapeseed oil and have been for a long time. It's the most wonderful oil – it's like extra virgin olive oil in quality, and it has this wonderful golden colour and a slightly musky taste, plus it takes heat well. I know everyone's got into the habit of using extra virgin olive oil for everything – and don't get me wrong, I wouldn't live without it – but Mellow Yellow is a homegrown version and it's so good. I'm always so pleased that everyone who comes to my house is converted. For example, I have a lovely summer recipe for my favourite potato salad which uses it, and people are always saying "Oh my God, I've got to get it" which is always nice to hear, as I've been championing this oil for as long as they've made it. 
If you're entertaining at home, do as I've always done and don't cook loads of courses. It's too much. In restaurants, it's okay as they've got all the crockery and everything else ready to go. I don't want to be clearing the table time after time – you just need one lovely course, some drinks and to have everything out there on the table so you can all stay around the table to enjoy it, without forever thinking "Oh, I've got to wash up all the forks or side plates". It's all about simple, great food – you're there to have a lovely time with your friends, not pretend you're in a restaurant.
---
Inspired to try something new? Here's Nigella's recipe for sardine spaghetti…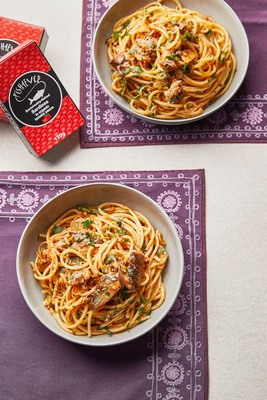 Ingredients
Zest of unwaxed lemon, plus

1

-2

tsp

of juice
2

salad onions, finely sliced
1

large garlic clove, minced
120g

tin of Fish

4

Ever sardines in organic tomato sauce
30g

of flatleaf parsley, chopped
Method
Step 1
Cook the spaghetti in a large pan of boiling salted water for 10 minutes or until al dente.
Step 2
Meanwhile, get on with the sauce. Put the oil in a pan big enough to also take the spaghetti later, and grate in the lemon zest. Warm over medium-low heat and, when it begins to sizzle gently, add the sliced salad onions and cook, stirring frequently, for 1-2 minutes.

Step 3
Take the pan off the heat to stir in the garlic, salt, dried oregano and chilli flakes. Put the pan back over medium-low heat for another 30 seconds.

Step 4
Scrape the sardines and every little bit of their sauce, plus 1 tsp of lemon juice, into the salad onion pan, stirring to break them up a little. They'll disintegrate further once you toss the spaghetti with them later, so don't be too brutal now; while a bit of mush is desirable, it's good to keep some chunks of sardine too.
Step 5
Lower a cup into the spaghetti pan to remove some of the pasta water. Add 3 tbsp of the pasta water to the sardines; stir gently. Once the sardines are hot in the sauce, take the pan off the heat, by which time your spaghetti should be ready.

Step 6
Using tongs, add the pasta straight from the pan; the water that clings to the strands helps the sauce to coat the pasta. Toss gently but thoroughly and taste to see if you want more salt or lemon juice, adding more pasta water, 1 tbsp at a time, if it seems dry. Add most of the parsley and toss; divide between 2 small bowls; sprinkle the remaining parsley on top.

---
And here are some of our favourite picks from the Nigella Loves aisle at Ocado…
DISCLAIMER: We endeavour to always credit the correct original source of every image we use. If you think a credit may be incorrect, please contact us at info@sheerluxe.com.