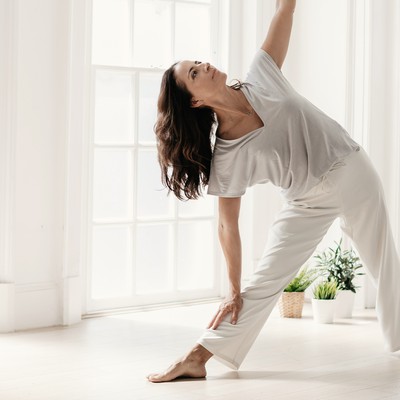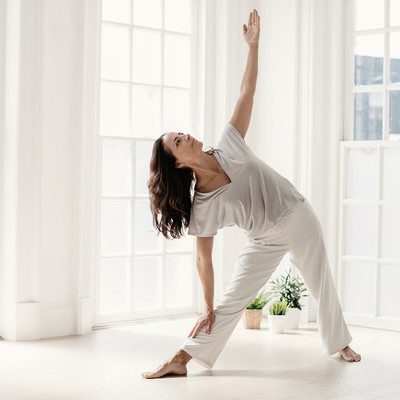 The Health & Wellness Launches To Know

From yoga classes that aid sleep to low-carb snacks and hormone-balancing supplements, these are the health, wellness and fitness launches to keep on your radar this April…

Image: MOVEMENT FOR MODERN LIFE
All products on this page have been selected by our editorial team, however we may make commission on some products.
Monpure
If hormones are playing havoc with your hair, you're not alone, with over 50% of women over 65 reporting some form of hair loss. The world's first dedicated scalp and hair health brand, Monpure is headed up by dermatologists and scientists and its plant-based formulas are proven to nourish both the scalp and hair follicles for stronger, healthier hair. If you try one product, make it the Follicle Boost Hair Density Serum, which contains dozens of natural active ingredients (including retinol and lactic acid) to clear and reset the scalp, supercharge growth and thickness and improve cell turnover.
Visit Monpure.com
Movement for Modern Life
A recent study revealed that a regular yoga practice, along with breathing exercises and meditation, can reduce inflammation and support the ageing process. It also found those in midlife who had been practising yoga for at least eight years had better brain function. Whether you're already into yoga or are keen to give it a go, Movement for Modern Life's Ageless Movement programme is one to try. A series of online classes to do in your own time, it'll improve flexibility, joint mobility, balance and strength as well as boosting mood, supporting sleep and enhancing cognitive and cardiovascular function. 
Voya
Seaweed is a veritable superfood, rich in fibre, calcium, potassium, magnesium, iron and iodine. Proven to help regulate hormone production, balance the thyroid and support healthy skin, Voya's supplements are packed with seaweed. Orplex Body, formulated with two types of nutrient-dense seaweed as well as 17 vitamins and minerals and probiotics, will support gut health, immunity and energy levels; while Sea Or will give hair, skin and nails a boost from within. 
Visit Voya.ie
Hyperice
Prone to back pain? Venom Back from Hyperice could be the just what the doctor ordered. Combining the soothing power of heat with compression and vibration, the clever and comfortable belt melts away tension and relieves stiff, aching muscles. Designed to move with you, it can be worn on the go for a hands-free, portable treatment for whenever pain strikes. Straightforward to use, the digital touch screen makes controlling the device simple, and with adjustable temperature levels and three vibration patterns, you can tweak your treatment every time. 
Visit Hyperice.com
Lisa Franklin
With two decades of experience under her belt, there's nothing Lisa Franklin doesn't know about ageing gracefully. Where some facials offer a quick fix, nothing compares to a feature-length facial with Lisa (or one of her team if you can't get an appointment). Her skin-reviving Bespoke Facial is a great place to start, or level things up with a CACI facial to lift and tone. You can find Lisa at her flagship salon in Knightsbridge and at Soho Health Club at Shoreditch House and Farmhouse, where she recently begun a residency.
Visit LisaFranklin.London
ZOE
If you've ever wondered whether you're better suited to a low-carb, low-fat or high-protein diet, or if you've always wanted to know the state of your gut health, health science company ZOE does the hard work for you. The product of more than three years' research by nutrition scientists from across the globe, ZOE's programme starts with tests to check your blood sugar and blood fat responses to food as well as metabolism and gut bacteria. Using the ZOE app, members are then given a bespoke four-week action plan. From the team behind the UK's largest Covid study, this is the next big thing in health.
Sign up at JoinZOE.com and follow @ZOE on Instagram
Keto Collective
Based on restricting carbs instead of calories, the ketogenic diet has real science behind it. If you're not prepared to give up pasta and bread entirely, the good news is that benefits can be had from dipping in and out, especially when it comes to energy levels, sleep and brain function. Founded by a female nutritionist, The Keto Collective's bars are the perfect 4pm snack to keep your blood sugar stable. Made with almonds, coconut oil, peanuts, sunflower seeds and not an artificial sweetener in sight, each bar will satisfy a sweet craving with just 2g of carbs per serving. 
Visit Keto-Co.com
Arthr
Ten million people in the UK are living with arthritis, which can make even the smallest of tasks – whether it's cooking, walking up the stairs or doing your make-up – painful. If this is you, be sure to check out Arthr's cleverly designed products for people living with the condition. If you struggle with pain during the night, try the Butterfly Pillow, which can be placed between the knees for improved hip and pelvic alignment; while the Koa easy-change duvet cover significantly reduces the strength and dexterity required to change the sheets. You'll also find gardening tools, kitchen accessories and other utensils all designed to make life that little bit easier. 
Visit Arthr.com
OsteoTest
A first-of-its-kind product, OsteoTest is the UK's first at-home testing kit for osteoporosis. The condition is usually diagnosed via a bone density scan, which is often recommended after a bone break or fracture, but OsteoTest can pinpoint weakening bones ahead of time and detect the likelihood of osteoporosis. Easy, quick and safe, the at-home urine test comes with a pre-paid envelope and results are processed in a lab. A few weeks later, you'll receive a detailed report which includes recommendations for supporting your bone health.
Visit OsteoLabs.co.uk
DISCLAIMER: Features published by SheerLuxe are not intended to treat, diagnose, cure or prevent any disease. Always seek the advice of your GP or another qualified healthcare provider for any questions you have regarding a medical condition, and before undertaking any diet, exercise or other health-related programme.
DISCLAIMER: We endeavour to always credit the correct original source of every image we use. If you think a credit may be incorrect, please contact us at info@sheerluxe.com.