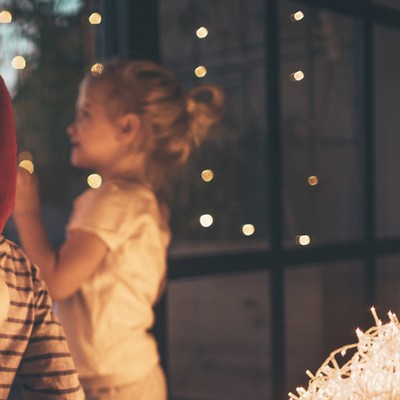 How To Get Your Kids Off Their Screens On Christmas Day

Long stretches of time spent together at home over Christmas can add an unexpected dynamic to family life. If the weather's rubbish, it's all too easy for kids to spend hours online. But fear not – with a little planning and preparation you can ensure younger ones put down their devices and fully embrace some family time…

Board games
There's nothing like losing a few good hours to a board game. From old favourites reimagined - Monopoly comes in all sorts of guises these days - to The Logo Game, there are a plethora of options bound to bring out the competitive gene in even the sulkiest of teens. Christmas is also the perfect time to get involved in new games, although it's worth bearing in mind that the simplest of pleasures - think Snakes and Ladders, UNO and Guess Who - are sometimes the best. 
Den building
If it's raining outside, have a fun inside task up your sleeve. Get the children to work as a team to build the best den they can. Nothing is off limits: chairs, cushions, blankets and throws. Simply find the materials, construct the frame and let yourself go. The best part? Kids can then play inside and you can leave them to it. There are also some good den kits around for budding engineers (and parents whose soft furnishing are off limits).
Puzzles and quizzes
Stuck at home, shops shut, presents opened and wondering what to do to stop them reaching for their iPad? There are some brilliant downloadable colouring pages online to keep them entertained, or try these family quizzes to get the rivalry going. Crosswords and wordsearches can also help pass the time. Simply print them off and let the games begin.
Old-fashioned parlour games
It's important not to let old traditions fade. Charades, Hide & Seek, Hunt The Thimble, The Chocolate Game, The Cereal Box Game and Who Am I are all family favourites that work across the generations, and can be a great ice-breaker when meeting up with distant relatives you haven't seen for a long time.
 
An arty party
For arty types who love a project, this is great for using up all the unloved wrapping paper and ribbons lying around. Collect a load of different bits and bobs - ribbons, buttons, card, plastic, boxes, tubes, wrapping paper, fabrics - and put the box in the middle of the table. Either in pairs or as individuals, depending on the age range, everyone makes a hat according to a specific theme. You could even have a hat procession to award a winner a prize.
Scavenger hunt
It's time to harness your mischievous side. Writing clues for a scavenger hunt will allow you to unlock your inner Sherlock and set a trail to keep small minds busy. The children have to find each item on the list and tick it off when they do. Leaving a trail of treats will let them know they've found the right one, while looking in multiple places is part of the fun – and burns off some energy.  
 
Set The Right Example
Finally, it's easy to tell kids they should be spending less time glued to their devices but it's going to be a hard battle to win if you, as the parent, aren't following the same advice. Once the school term is over and the out of office turned on, set the right example by showing them Christmas is the perfect time to put all the screens away. 
DISCLAIMER: We endeavour to always credit the correct original source of every image we use. If you think a credit may be incorrect, please contact us at info@sheerluxe.com.