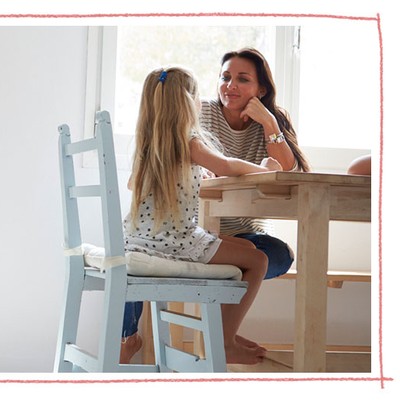 How To Talk To Children About Race

As parents, we want our children to grow up with good, honest values and embracing all people from different religions, races and backgrounds. But this way of thinking has to come from the top. Here, Natalie Duvall, presenter of the popular podcast Dope Black Mums, offers her invaluable advice…

DON'T Think Of It As A Difficult Conversation
"If you think of this as a hard conversation to have, you're already putting a barrier up which will hinder a true learning experience. You don't have to set up a time to have a 'race talk'. Conversations can naturally occur if you're paying attention to your child's environment and staying aware of ways that unconscious bias can slip in. There's also no 'one way' to dive into this topic. Every parent needs to decide for themselves when is the best time to talk about it with their children."

DO Talk About It Openly
"By not talking about race with your children, they might come to their own conclusions about things which can sometimes be harmful, problematic and factually inaccurate. Children do notice physical differences in others – like those who wear glasses or have long hair or are taller than they are. So it's a given they will notice if somebody's skin is a different colour from their own. Talking about race will always be important, and we have to take the time to actively unlock what our children know and understand, before making sure they learn about what they don't understand."

DON'T Ignore Colour
"Many parents will say, "I teach my children not to see colour", followed by, "I teach my child to be kind and empathetic instead". But how can they be kind and empathetic if they can't see colour? How will their kindness come into play if they can't see racial biases? How will they be empathetic if they can't see the systematic oppression that occurs as a result of having a different skin tone? Teach your child to see colour and know that it's okay to say the word, Black."

DO Update Your Bookshelf & TV Shows
"Books are a good place to start – by reading diverse books with your children and books that promote inclusion and equality, you'll be able to discuss the story and characters as you go along. We strongly recommend Here Wee Read – a space designed to help diversify your bookshelf. If you end up buying a diverse book you could donate your copy to the school library after you've read it, or even buy a second copy so other children can have access to the title, too. Watching diverse TV programmes and films is also great. If you take a hard look at the movies and TV shows your child is consuming, you'll likely notice a pattern about which groups are represented. My nine-year-old daughter loves watching Free Rein on Netflix which has a female Black lead. It's a British drama about a young girl named Zoe and her bond with a horse she's befriended.  She also watches Family Reunion on Netflix which is an American Black comedy about a family who move in with their grandma. It's funny and charming and perfect for that age. Remember not all Black-related content has to be about oppression or slavery."
By not talking about race with your children, they might come to their own conclusions about things which can sometimes be harmful, problematic and factually inaccurate.

DON'T Dismiss Children's Toys
"Babies as young as six months start to notice race-based differences in humans, and from two years of age, toddlers can unconsciously internalise racial bias when playing with their toys. Look at your toy collection. We know the majority of picture books centre on white images, and that black and brown toy characters are even less well represented than animals. So, make sure your collection is diverse. Their doll or action figures should include a variety of skin tones and be representative, so it becomes normal to them to see different races rather than a novelty. I co-founded a business, March Muses, based on inclusion, where you can find Christmas decorations of colour. If, like me, you love decorating your tree with your children, these decorations are perfect for teaching them that not all angels are white. Also, check out @NaturalNubianDolls, @SheniAndTeni, @WokeBabiesUK and @VeryVeryPuzzled for some more toy selections."

DO Set An Example
"Children often learn to stereotype based on what they hear from family members or friends. We don't want you to fall out with granny over her "all lives matter" rhetoric, but we must remember we always have impressionable little eyes on us watching how we deal with these types of situations. If you feel you are unable to call someone out there and then, make sure you have an open and honest conversation with your child after, so they know where you stand."

DON'T Forget To Educate Yourself
"We have a huge list of resources on our website designed to help educate those who want to learn more. Also, it's important to listen to the Black experience so you understand why we are here right now discussing race. Our Dope Black Mums podcast is a space where you can do that and hear frank conversations regarding Black motherhood. Also, two books I would highly recommend are, So You Want to Talk about Race, by Ijeoma Oluo and Why I'm No Longer Talking to White People about Race, by Reni Eddo-Lodge. Change starts with education. 

Finally, DON'T Pretend To Have All The Answers
"Above all, remember that there's no one 'right' way to have these conversations. Just like other important conversations, you might find yourself wishing you'd answered a question differently in retrospect. Own it. Plan for a marathon, not a sprint, these are conversations you need to keep on having."
The Dope Black Mums podcast sees Black women share, discuss, support and laugh their way through motherhood. Join hosts Nina Harrison, Endy Mckay, Carina White, Nana-Adwoa Mbeutcha and Natalie Duvall and their inspirational guests weekly here.
DISCLAIMER: We endeavour to always credit the correct original source of every image we use. If you think a credit may be incorrect, please contact us at info@sheerluxe.com.