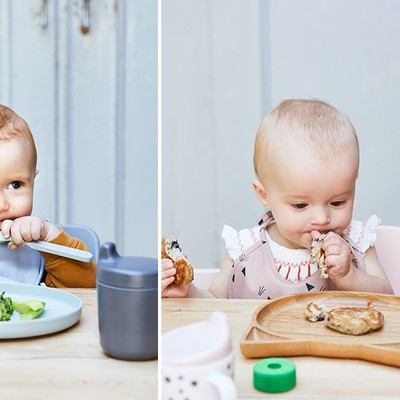 How To Wean Your Baby & The Recipes To Know

His daily live YouTube exercise classes have kept families across the country going during lockdown. Now, the UK's favourite PE teacher Joe Wicks is launching his first family cookbook, Wean in 15. Here, he shares some of his best advice, and gives us a sneak peek at some of the delicious recipes…

Your baby's appetite, just like your own, will vary every day. This means there is no one perfect portion size for all. Each baby is individual, so try not to compare yours to others. You will learn very quickly how much to offer your baby because they'll let you know if they are full or hungry. If you find the portions in the book are too small or large, just adapt them and save any leftovers for lunch the next day.
If your baby does refuse to eat, stay calm and remove the pressure on yourself and your child by leaving the table. They may not be interested in food at that moment but probably will be later. We usually play with our daughter lndie or take her to the park to burn some energy and work up an appetite. Most of the time we reheat the food we initially offered, and she eats it all.
Weaning babies is very unpredictable and requires lots of patience. One day your baby will love something you cook and eat the whole lot in minutes. The next day you can offer the exact same thing and they look disgusted and won't touch it. This has happened with lndie many times, especially if she is overtired, unwell or teething. Don't let this worry you. In the early stages of weaning, your baby will be getting most of their nutrition from breast or formula milk.
Try not to let the fear of choking hold you back from offering thicker, lumpier textures of food. A baby choking is very rare, as long as food is chopped and prepped properly. Your baby also needs to learn how to deal with solids and how to bite, chew and swallow as they progress through their weaning journey. They also have a very strong gag reflex, which is further forward in the mouth than in adults. You might see your baby gag and bring food to the front of their mouth with their tongue. It's a bit scary the first time it happens, but it's important not to panic or start pulling food out of their mouth. If you honestly do find the thought of offering finger foods to your baby too worrying, just focus on spoon-feeding and offering small amounts of super soft foods (overcooked veggies for example) that you can easily squish between your finger and thumb, until you build up the confidence for more advanced textures. 
Try to be adventurous with new flavours and food groups. You can offer just plain steamed, boiled or pureed foods for months, but you also want your baby to experience different flavour combinations and textures each week. We constantly challenged lndie's palate from early on with things like stews, orzo, risotto and curries using spices like paprika, cinnamon, cumin and turmeric. We also introduced things like coconut milk, Greek yoghurt and homemade pesto to her every day. It's one reason why lndie has such a big appetite and eats almost anything. It's so easy to encourage fussy eating by limiting the options and only offering what we know they'll love and never reject. 
It's really easy to panic and worry that your baby isn't getting enough food if they refuse the meal you offer them. This may make you begin to offer an alternative meal or give lots of snacks. But only offering the things you know they will love means your baby will learn very fast they'll get exactly what they want if they take a stand. This can really narrow their food options and lead to fussy eating. We rarely offer lndie alternatives and avoid letting her graze on snacks in between meals. We learnt that if we gave lndie a banana or some berries and then tried to give her dinner an hour later she would rarely have an appetite. Babies have little stomachs, so focus on a good mealtime routine instead.
Inspired? Here are some of Joe's favourite recipes to try now…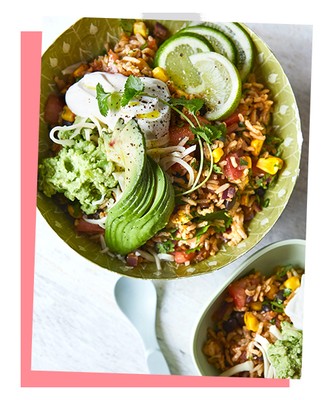 MEXICAN CORN AND BLACK BEAN RICE WITH SMASHED AVOCADO
Keep being adventurous with added spices and textures if you want to grow your very own little foodie.
Makes 1 Adult & 1 Baby Portion (10-12 Months+)​
INGREDIENTS:
1 tbsp of olive oil

1 red onion, finely chopped

1 clove garlic, minced

1 tsp of ground cumin

1 tsp of smoked paprika

1 x 250g pouch of cooked brown or white rice

1 ripe beef tomato, diced

Juice of 1 lime, plus slices to serve (optional)

200g of tinned black beans, drained and rinsed

1 x 80g tin of sweetcorn

A small bunch of coriander, roughly chopped

1 small avocado, plus extra slices to serve (optional)
To serve: Grated cheddar and a dollop of yoghurt
METHOD: 
Heat the olive oil in a medium non-stick frying pan. Add the onion, garlic, cumin and smoked paprika and sauté over a medium heat for a couple of minutes until soft.

Microwave the rice as per packet instructions and add to the frying pan along with the remaining ingredients except the avocado and cheese.

Peel the avocado and remove the flesh. Mash with a fork in a small bowl.

Serve the rice with the smashed avocado, a sprinkling of cheese and a dollop of yoghurt. Add another few slices of avocado if you like.
TIP: Keeps for up to two days covered in the fridge.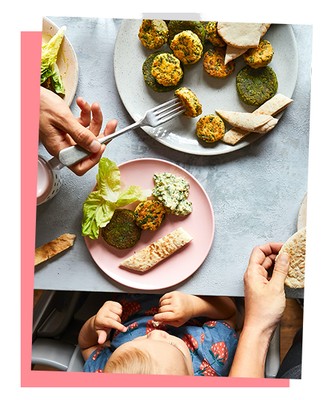 SPINACH FALAFEL BITES
This is the perfect on-the-go snack for your baby or you can make it into a meal with the hummus, salad and pitta.
Makes 8 Falafels (12 Months+)
INGREDIENTS:
1 x 400g tin of chickpeas, drained, rinsed and patted dry

1 clove of garlic, roughly chopped

Zest of 1 lemon

100g of baby spinach

A small bunch of coriander

1 tbsp of ground cumin

2 tbsp of plain flour

1 tbsp of olive oil
To serve: Hummus, salad and pitta
METHOD:
Place all the ingredients except the olive oil in a food processor and blitz until fairly smooth. Tip into a bowl and shape into eight small patties.

Heat the olive oil in a non-stick frying pan over a medium heat and fry the falafels for about 3 minutes on each side until lightly browned.
TIP: Keeps for up to two days covered in the fridge.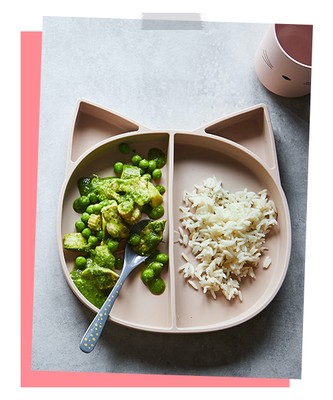 VERY GREEN CURRY
Life is so much easier when one meal can be shared by the whole family. This is a great one for batch cooking and enjoying together.
Makes 2 Adult And 1 Baby Portions (10-12months+)
INGREDIENTS:
3 kaffir lime leaves

2 large handfuls of spinach

25g bunch of coriander, including stems

4 spring onions, roughly chopped

4cm piece of fresh ginger, peeled

2 cloves garlic

1 x 400ml tin of coconut milk

1 tbsp of coconut oil

2 chicken breasts, sliced into thin pieces

1 large courgette, cut into bite-sized chunks

6 baby sweetcorn, cut into small rounds

200g of frozen peas cooked jasmine rice, to serve
METHOD:
Strip out the stems from the lime leaves and discard.

Add the leaves to a blender along with the spinach, coriander leaves and stems, spring onions, ginger, garlic and coconut milk. Blend until smooth.

Melt the coconut oil in a large frying pan set over a medium heat. Add the chicken pieces and fry for 3 minutes until cooked through. Check by slicing into one of the larger pieces to make sure the meat is white all the way through, with no raw pink bits left. Add the courgette and corn and cook for a further 3 minutes.

Pour the green sauce into the frying pan along with the peas and heat through for about 5 minutes or until the peas are defrosted and the vegetables have softened a little. Serve with jasmine rice.
TIP: Keeps for two days covered in the fridge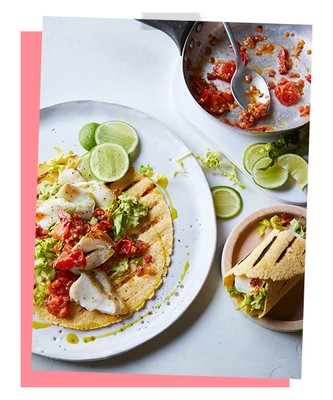 FISH TACOS WITH FRIED TOMATO SALSA
The more variety you can offer your baby at a young age, the less likely they are to become fussy eaters. This is my lovely, lightly spiced take on a Mexican taco.
Makes 1 Adult And 1 Child Portion Family Meal (10-12 Months+)
INGREDIENTS:
½ tsp of ground cumin

½ tsp of ground coriander

¼ tsp of garlic granules

2 x 120g skinless, boneless cod fillets

2 tbsp of olive oil

12 cherry tomatoes

½ a red onion, finely chopped

1 clove of garlic, minced

1 small avocado, de-stoned juice of½ lime

4 small soft corn or flour tortillas, warmed

1 small baby gem lettuce, shredded
METHOD:
Mix together the spices and garlic granules and use to coat the fish.

Heat 1 tbsp of the oil in a non-stick frying pan over a medium heat and add the fish to the pan. Cook the fish for 3-4 minutes on each side.

Heat the remaining oil in a small saucepan over a moderate heat and throw in the tomatoes. Cook for 4 minutes or until they begin to burst and start to break down. Stir in the red onion and garlic and cook for 2 minutes before removing from the heat.

Mash the flesh from the avocado with the lime juice. Top the warmed tortillas with the tomato salsa, avocado and shredded lettuce. Flake over the fish and roll up to serve.
DISCLAIMER: We endeavour to always credit the correct original source of every image we use. If you think a credit may be incorrect, please contact us at info@sheerluxe.com.