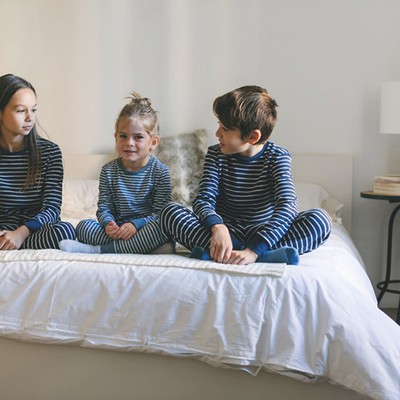 Middle Children Are Going Extinct

Just like the giant white panda or snow leopard, middle children are on the verge of extinction. According to The Cut, the ideal number of children to complete a family has now shrunk to just two, meaning middle children can now be classed as an endangered species. So just why are they becoming such a rare breed?

In 1976, a study conducted by the Pew Research Centre revealed the average mother in the 70s would give birth to more than three children – 40% of mothers between 40 and 44 had four or more children. 25% had three kids; 24% had two children; and just 11% had just one.
In the 40 years since then, those figures have practically reversed. Today, nearly two-thirds of women with children have just one or two children, and smaller families with two or fewer children are the new normal. Only 12% of women in their early 40s have four or more children, and birth rates last year declined for women in their teens, 20s and 30s, leading to the smallest number of babies born in 30 years.
So, what's causing this trend? It seems, according to the research by Pew, that the average cost of raising a child is a major factor. In 1960, the cost of raising a child was around $198,560 (£151,051). By 2013, it was up to $245,340.
Millennials are also to blame, as they are for most modern phenomena. Experts point to their changing attitudes about family life as a reason they put off childbirth. Today, young people are having children much later, giving them less time to have more.
"The average age of parents in England and Wales has increased by almost four years in the last four decades," ​statistician Nicola Haines revealed. "At the birth of a child in 2015, fathers averaged 33.2 years and mothers 30.3 years. Falling birth rates among the under-30s and rising birth rates at older ages reflect trends evident since the mid-1970s to delay childbearing to later ages."
People are also thinking about what the future of the planet will be for the children they raise. The environment toll of having children is huge – just one child alone contributes to 58.6 extra tonnes of carbon each year. Some are thinking of not having children to protect them from climate change.
Plus, the world doesn't really need any more children. As Caitlin Moran once put it: "Let's face it, most women will continue to have babies, the planet isn't going to run out of new people, so it's of no real use to the world for you to have a child. Quite the opposite, in fact."
This has only fuelled the neuroses of middle children. Plenty of 'middlers' took to Twitter after the release of writer Adam Stenbergh's piece to mourn the loss of their kind. "Aug 12 is Middle Child day. As a middle, not surprised this day gets no attention," said one user.
"But, I am an empath, peacemaker and negotiator because I know what it feels like to be ignored, misunderstood and starved for attention/affection. #MiddleChildrenAreTheBest". Another added: "my mom sent me this longread appreciation of middle children, which really taps into a true middle-child tendency: the need for constant validation".
Experts point to millennials' changing attitudes about family life as a reason they put off childbirth. Young people are having children much later, giving them less time to have more.
Middle children certainly seem to know and recognise who they are as people. The piece points out that, because of the position they're in, they are often empathetic people or peacemakers. They also have a tendency to be attention-seekers, because they are sandwiched between over-achieving firstborns and the baby of the family, who will forever be the most adorable.
In fact, the article notes that this ability to recognise certain personality traits in themselves is just sooo middle child, and could be emphasised by what they call the Barnum effect, which "describes our tendency to recognise and agree with personality traits that seem to be tailored specifically for us, even when they're general enough to apply to a large group."
Yes, middle children definitely know who they are and what their role is in the family – and really, what would life be without their middle-child neuroses and their self-deprecating sense of humour? As one Twitter user put it: "The fact that middle children are going extinct, is the most middle child thing I've ever heard."
DISCLAIMER: We endeavour to always credit the correct original source of every image we use. If you think a credit may be incorrect, please contact us at info@sheerluxe.com.