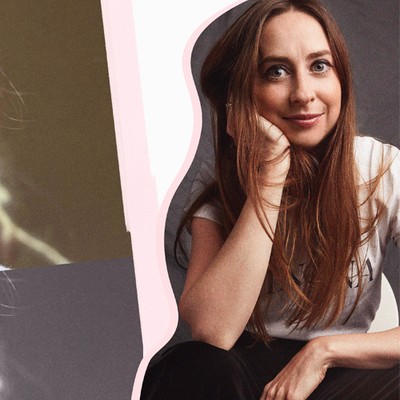 The Mum Edit with Helen Whitaker: Losing A Grandparent

When Helen Whitaker's mother passed away last October, she found herself having to navigate not only her own grief, but that of her three-year old son, too. Here, she tells us what it was like trying to explain the death of a grandparent to a child, and how it helped her come to terms with her own loss.

"Does Grandma still have bones?"
I freeze. It would be funny – it is kind of funny – if it didn't also make me want to cry. I rack my brains for an explanation that won't inadvertently land my child in therapy.
In October, my mum died. Having suffered from a life-changing brain haemorrhage eighteen years ago, her decline last year wasn't unexpected, but it was still bitterly sad. Each stage came with a specific type of grief, as well as the added responsibility of explaining to our three-year-old what was happening when we didn't always know ourselves. Having only ever known Grandma in a wheelchair (one unanticipated upside: the through-the-ceiling lift in my parents' adapted house was a BIG hit in terms of entertaining their grandchildren) we had already dealt with some awkward conversations ("Why can't Grandma walk? Why can Grandad not leave her on her own?") but this was next level. Without warning, I was away for a week at the hospital – a concept he could just about grasp, because when you're poorly that's where you go – but then it became clear that my mum wouldn't be coming out again. How was I supposed to explain when I was struggling with it myself?
It's hard to know whether to fight to hold it together (the fear being that he will then repress his own feelings) or to be openly upset (the fear being it will scare him), but often you don't get to choose: even the most carefully prepared explanation evaporates when it comes to choking it out. In the end, all I could do was encourage him to talk about how he felt and say that I was sad.
When it comes to breaking news of a death, the official advice is pretty uniform: be clear and use simple sentences. So "Grandma is dead" rather than "Grandma has gone to sleep" (if you think bedtime is bad now, try doing it when you've accidentally planted the fear that going to sleep equals never seeing someone again). And emphasise that the person's body has stopped working. They don't eat or drink or move or do anything we do and that's the difference between being alive and being dead. So, to answer his question, yes Grandma still has bones but they're buried underground and they don't move anymore. I know, oof.
Even the most carefully prepared explanation evaporates when it comes to choking it out.
It's the kind of moment when even non-religious me starts flirting with the idea of introducing God, because isn't talking about souls and saying she's 'in a better place' far more appealing than crushing my son with the fragility of human existence? Thankfully, my husband came up with a much better non-religious analogy than I ever could. He told him Grandma's body is a bit like a light bulb. The lightbulb always exists, but it only works if you switch it on, and we can't switch on Grandma anymore. I found it weirdly comforting myself, and Isaac understood too. But we've still had to go over it several times, which is apparently common with young children who don't understand permanency – but brutal when you've steeled yourself for the moment, and then they ask again while you're on the tube/making a sandwich/in the middle of dancing around your living room with them.
For me, the questions usually crop up when he's in the bath, when he chatters easily about everything from pre-school to his favourite types of cake.
But in one way, his questions have provided comfort. His innocent curiosity allows me to share memories, while his non-sequiturs (one second we're talking about missing Grandma, the next we're negotiating about whether he can have chips tomorrow) stop me wallowing. Life goes on, and it revolves around my child, with highs and lows running concurrently. He's also shown his capacity for empathy (always good to confirm your child isn't a psychopath), so while he may be making me think about the detail of my Mum's corporal being more than I'd currently like, he's also very concerned about Grandad and coming up with ways to make us all less sad. Cuddles, watching Peppa Pig and eating chocolate are his main ideas. At this stage of our grief, they're as good suggestions as any.
You can follow Helen on Instagram and Twitter at @itshelenwhitaker and @helbobwhitaker respectively. Helen's debut novel, The School Run, is out now.
DISCLAIMER: We endeavour to always credit the correct original source of every image we use. If you think a credit may be incorrect, please contact us at info@sheerluxe.com.