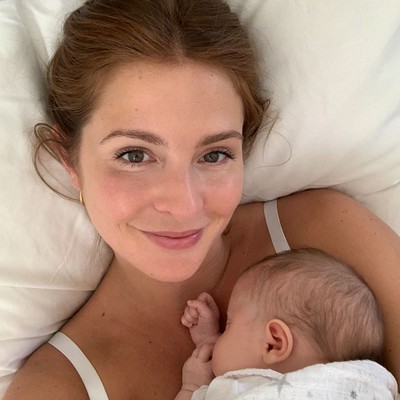 My Journey Into Motherhood: Millie Mackintosh

When Millie Mackintosh married Hugo Taylor two years ago, it felt like the kind of fairy-tale ending you see in a movie. Of course, many of us watched their early courtship unfold on the smaller screen as part of reality TV show 'Made In Chelsea' – before the duo later re-connected to make their union permanent. Now, having given birth to their first child – four-month-old daughter Sienna – Millie tells us what motherhood has meant to her and what she has learnt so far.

My husband Hugo and I have known each other for 15 years. We've been together for four years and married for two, and our daughter Sienna arrived on 1st May this year, having been conceived on my 30th birthday trip to Indonesia. 
Pregnancy for me was a bit of rollercoaster. I'd love to tell you it was magical from start to finish, but in actual fact I found it quite challenging – I struggled badly with morning sickness in the early months and had a lot of anxiety. I had this irrational fear that something was wrong – especially when I started experiencing painful cramps. I was worried I might lose the baby, but with every scan that fear started to ease. 
By the last few weeks, I was really fed up. In my third trimester my pelvic pain made even walking unbearable, plus, we were busy moving house. Emotionally, there was a mixture of excitement, joy and fear – but having now spoken to other mothers, I understand these are all very natural feelings. To take my mind off it, I spent the time nesting and settling into our new home. 
Knowing I would give birth in the middle of a global pandemic was daunting. In a world where nothing is certain, where people are dying, where hospitals and staff are under more pressure than ever before, where loved ones are separated… you can't help but feel vulnerable.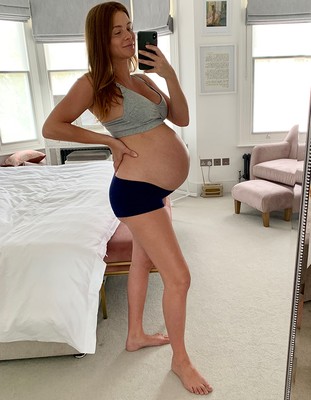 Image courtesy of Millie Mackintosh
I hated the thought of Hugo not being with me. I also hated the idea of Sienna not being held by her grandparents. But the reality is that, as humans, we're very adaptable, and while the situation was not ideal, ultimately, your primary concern is the health and wellbeing of your baby. Your primal instincts kick in hard, and you look for what you can do, as opposed to what you can't. I'll be forever grateful for the hospital staff who made Sienna's arrival so magical and happily I did eventually have Hugo by my side for a few hours after the birth.
Those early days with a new baby feel like the most beautiful bubble. We were just at home and getting to know our baby girl. With everything 2020 had thrown at us, Sienna put everything into perspective. She gives us so much purpose and joy. Of course, there wasn't much sleep in those early weeks, but there were lots flowers and cake to make up for it. 
It wasn't long before Sienna was diagnosed with hip dysplasia – a condition where the hip sockets fail to develop correctly. She was born breech and the condition is more common in girls and breech babies – but it can also be hereditary. To correct her hips, she had to wear a harness for six to 12 weeks. 
At first, the news hit us really hard. We had just got her into a good routine, and suddenly it felt like we were back at the newborn stage again. She was crying most of the time, and I hated the thought of her being uncomfortable. But everyone around me kept telling me how adaptable babies are. They were right. Sienna is normally a very happy, chilled out baby and within days she eased into it. I'd be lying if I said I wasn't beside myself with worry; the whole experience made me realise I have a lifetime of worry ahead of me.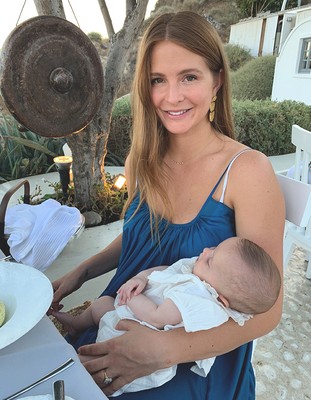 Image courtesy of Millie Mackintosh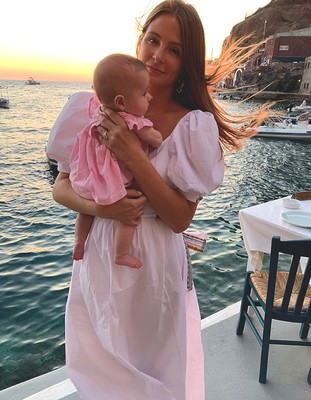 Image courtesy of Millie Mackintosh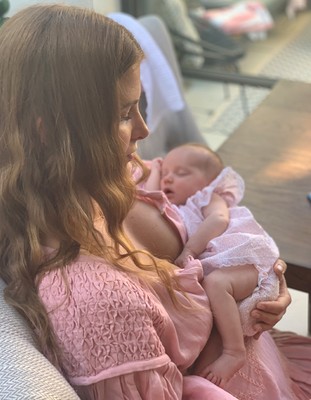 Image courtesy of Millie Mackintosh
Now, Sienna is doing really well. Hopefully she has her harness taken off soon but, ironically, she's gotten used to wearing it. My most cherished time with her is when we take off her harness for an hour a day to do tummy time and give her a bath. She's such a happy little soul and watching her develop week after week is amazing.
Getting back to work has felt strange. But, as I'm sure many working mothers will relate to, when you run your own business and brand, it makes taking time off hard. I fully signed off for five weeks and from there have slowly started to ease myself back in. Nap time helps! I'm lucky that I have the benefit of working from home most of the time, although I definitely feel that my time is more precious. Planning my days and weeks helps with the balance.
My empathy for mothers has rocketed since I had Sienna. I've always known women are pretty damn amazing, but motherhood has made me realise just how powerful, courageous and resilient women's minds and bodies are. It has certainly changed my outlook on things. 
Day to day life has changed immeasurably. Everyone warns you, but the sleep deprivation is far from ideal – in fact, I'd say my brain has gone to mush as a result. The lack of time for self-care or just to be 'me' takes its toll sometimes, and then there's the pressure to be the 'perfect mother'. But I'm doing the best I can – for myself and my family.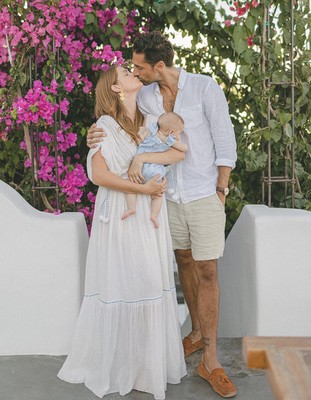 I've always suffered with anxiety, but I'm trying to be more relaxed. We're lucky to have a great support network of family and friends we can turn to for advice. Sienna is four months old now, she's on a four hourly feeding routine and sleeps 12 hours at night, with two-day time naps. I am someone who needs to be organised, so getting her into a routine was important for us.
As a mother, I'd say I'm quite influenced by my own childhood. I was (and still am) very close to my parents, sister, grandparents and I was so lucky to have had a really happy upbringing. I always felt loved and we spent lots of time together as a family. I've always wanted a family of my own – and one which is based on the same love and support I had as a child. 
If I had any words of wisdom for new mothers it would be to trust your own intuition. Also, you can try and prepare as much as you like, but ultimately motherhood is something you learn on the job. Don't be afraid to ask for help and don't turn it down if it's offered. Finally, try and sleep when your baby sleeps and know that it gets easier.
I want to teach my children to find happiness in the little things that life has to offer. This year has taught many of us that. Otherwise, enjoy nature, try all sorts of different foods, and always be grateful and gracious.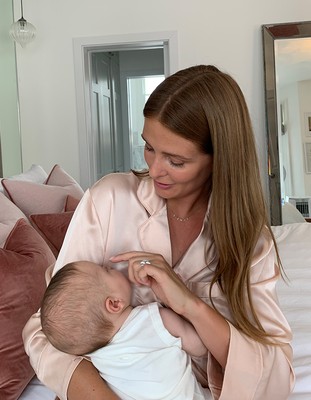 Image courtesy of Millie Mackintosh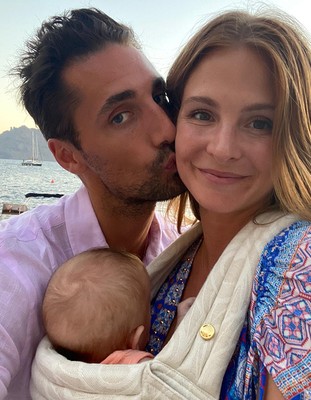 Image courtesy of Millie Mackintosh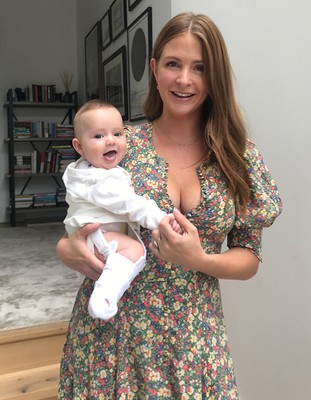 Image courtesy of Millie Mackintosh
DISCLAIMER: We endeavour to always credit the correct original source of every image we use. If you think a credit may be incorrect, please contact us at info@sheerluxe.com.