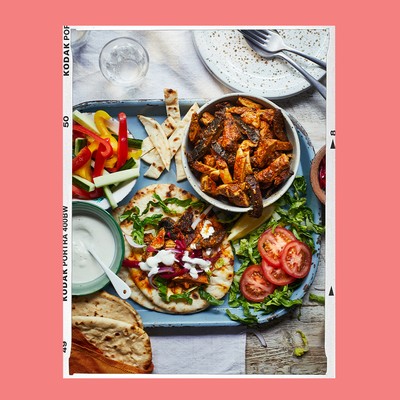 9 Nutritious After-School Family Meals To Make This Week

After a summer of snacking and impromptu ice-creams, sometimes it's nice to mark the return of the school year with a routine of veg-packed meals. If you're after some fresh inspiration when it comes to quick meals you can prep ahead or make after school, we asked three mothers – and cooks – for their favourite healthy yet simple family meals.

Rebecca Wilson is the woman behind @RebeccaWilsonFood, an Instagram account with over 480k followers, and the best-selling cookbook What Mummy Makes. Her aim is to create simple, comforting dishes everyone can enjoy. Here, she shares her tips for cooking healthily at this time of year…
The best way of incorporating vegetables into your children's diet is little and often, but every day. Every meal, in fact. The sooner you make a varied exposure to vegetables in your little one's diet, the sooner they will come accustomed to eating them. It is important to offer plain, steamed or boiled veg (although the addition of extra flavourings like lemon, paprika or garlic is fine) but ensure it is clear to them which vegetable it is, so that little ones are aware of what they are eating and know how the vegetable looks and tastes. 
 
If it is particularly tricky to get your little one to consume veggies, as well as vegetable sides you could try adding grated root veg like carrots and courgette into your meals, like pasta, fritters or pizza. Try my 'Hidden Veg Pizza' recipe from Family Comforts – there's veg in the pizza base as well as in the sauce, and you really can't tell. The trick is to not worry though. Don't put too much pressure on yourself or your little one to eat their greens. As long as you offer it, you're doing the best you can.
 
For a simple after school meal, I love a fridge-raid pasta dish. Round up any ingredients you have in the fridge that might work well alongside pasta, adding in as many extra veggies as you can – grated courgette, for instance, works so well in a pasta sauce. My daughter Nina also loves it when I whip up my broccoli and mushroom pasta soup, it's such a great recipe because you can either serve it as a pasta sauce, or a big bowl of soup with a little pasta in the soup. It's veg-packed and tasty.
 
Healthy food doesn't need to be lacking in flavour. I like to make dishes which swap high sugar content for much lower quantities and use naturally derived sugar sources, which usually have a lower sugar content, too – for example banana. You can also use dates as a sweetener, which add a delicious caramel flavour.
If you make a roast chicken or gammon, the leftovers can be used in packed lunches, pasta dishes, to top a pizza or fill a quesadilla.

When it comes to getting meals ready quickly during the week, my best advice would be to prep ahead. This could be as simple as making a plan of what food you will eat on each day of the week – this way you won't feel stressed or rushed when it comes to dinner time. If you can, shop ahead, as this will save you so much time. 
 
Try to cook meals where the leftovers can be used the next day. If you make a roast chicken or gammon, then the leftovers can be used in packed lunches, pasta dishes, to top a pizza or fill a quesadilla. This will save you money by making your meals go further. But for the ultimate prep ahead hack for busy days, invest in a slow cooker. Quickly prep the dish in the morning, and set it to cook all day, and return home to dinner all done. It's the ultimate dinner time flex.
 
I'm somewhat of a hoarder when it comes to kitchen gadgets, but one I go back to every time I cook pasta or boil veg is a spider strainer tool. It allows you to lift out the pasta straight from the water to add to your pasta sauce, without losing any of the cooking water which – in my opinion – takes your pasta dish to the next level.
 
It's so easy to reach for pre-bought snacks, isn't it? But I also like these simple healthy combos, none of which will break the bank. 
Apple slices with 100% peanut butter.

Rice cakes with cream cheese and strawberries.

Veg sticks and a dip of your choice. 

Mix a tin of tuna with Greek yoghurt to make a pâté and serve with toast. 

Making up a batch of 'bliss balls' or cheesy crackers at the start of the week which you can dip into whenever you need as a snack. You can find recipes for both in my first book, What Mummy Makes.
Inspired? Here are nine healthy after-school meals for this time of year...
Rebecca Wilson – What Mummy Makes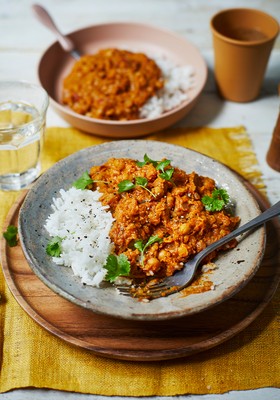 Chickpea & Butternut Squash Dahl
A hearty vegan meal, creamy in texture and full of protein and goodness from the lentils and chickpeas, making it well balanced and nutritious for all the family.
Ingredients
1

butternut squash, peeled and cut into

2cm

dice
1

x

400g

can of chickpeas in water
300g

of dried red lentils, rinsed
2

low-salt vegetable stock cubes
1

tbsp

of mild curry powder
1

good grinding of black pepper
2

heaped

tsp

of dried mixed herbs
1

x

400g

can of coconut milk
1

x

400g

can of chopped tomatoes
1

brown onion, finely diced
Method
Step 1
Put all of the ingredients, including the water from the can of chickpeas, into the slow cooker, along with 350ml of boiling water. Give it a really good stir and put the lid on. Cook on high for 3-4 hours or low for 6–8 hours. Once done, use a wooden spoon or rubber spatula to give the dahl a good stir and mash the soft butternut squash into the sauce a little.
Step 2
Serve the dahl with rice or naan breads, or even as a pasta sauce. Adults, you may want to season your portion with a little salt or even a dash of chilli sauce, if you like.
Step 3
Love your leftovers: The dahl will keep for 3 days in the fridge or freeze it for up to three months. Reheat in a saucepan or in the microwave until bubbling and piping hot throughout.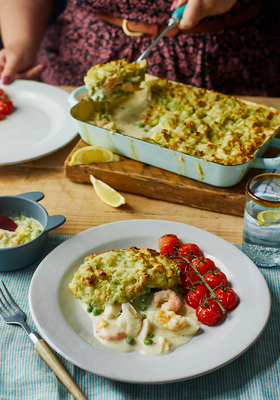 Proper Family Fish Pie
Fish, prawns, peas, eggs, broccoli mash and a cheesy crust – the ultimate family comfort.
Ingredients
70g

of cheddar cheese, grated
For the filling:

4

medium eggs, shells washed
1

low-salt vegetable stock cube
50g

of cheddar cheese, grated
400g

of frozen or fresh fish pie mix
200g

of frozen or fresh raw prawns
Freshly ground black pepper
Method
Step 1
Preheat the oven to 200°C/180°C Fan/Gas Mark 6 and find a large, deep ceramic ovendish, about 1.8 litre) in volume. Set a large pan of water (hot from the kettle) on to boil. Meanwhile, peel the potatoes and chop into chunks. Add to the boiling water and cook for 12 minutes.
Step 2
Cut the broccoli into florets, removing most of the stalk but keeping enough that the broccoli pieces hold together. Add to a colander and wash under the tap. Prick the eggs for the filling with a needle to avoid them bursting. Once the potatoes have had 12 minutes, add the broccoli and eggs to the pan and boil together for a further 8 minutes.
Step 3
Meanwhile, start the sauce by putting the 500ml of milk in a jug, crumble in the stock cube and microwave for 2½ minutes to warm it up. Melt the 35g of butter in a non-stick saucepan, then add the cornflour, stir and cook for 2 minutes. With a whisk in one hand and the milk jug in the other, slowly add the milk, stopping often to give the pan a really good whisk and remove any lumps. Once all the milk has been added, allow the sauce to bubble away for 5 minutes or until super thick. Remove from the heat, stir in the 50g (1¾oz) of cheese, the mustard, peas and a little black pepper. Set aside.
Step 4
Back to the mash. Once the broccoli and potatoes are soft, scoop out the eggs and put them in a bowl filled with cold water. Drain the broccoli and potatoes and put them back in the saucepan. Mash with a potato masher or ricer, then add the milk and butter for the topping, along with 30g of the grated cheddar. Stir well, then set aside.
Step 5
To assemble the pie, put the fish and prawns in the oven dish. Pour over the sauce and mix well. Peel and quarter the eggs and arrange over the sauce, then spoon over the mash. Sprinkle the remaining cheese over the top of the pie. Place the dish on a baking tray to catch any sauce that bubbles over, and bake for 20-25 minutes if the fish was fresh, or 30-40 minutes if the fish was frozen. Allow to stand for 5 minutes before serving.
Step 6
For little ones, you can serve as is or mash with the back of a fork so the sauce and fish mixes into the mash. Finely chop the prawns, if you wish, or serve as finger food.
Step 7
Love your leftovers: Leftovers will keep for two days in the fridge if refrigerated promptly after cooling, or store in the freezer for one month and defrost in the fridge before reheating. Reheat until piping hot, ensuring the fish is piping hot.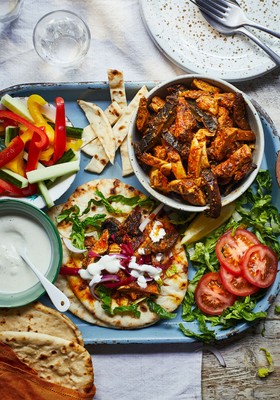 Easy Oven-Baked Chicken & Mushroom Shawarma
A real family sharing meal, perfect to let the kids help themselves and decide how they want to construct their plate. Leave out the mushrooms if they don't float your boat
Ingredients
6

skinless, boneless chicken thighs
1

heaped

tsp

of ground cumin
1

heaped

tbsp

of cornflour
3

fat garlic cloves, finely grated
Finely grated zest and juice of

1

unwaxed lemon
3

tbsp

of garlic-infused olive oil
Freshly ground black pepper
For the garlic dip:

4

heaped

tbsp

of plain Greek yogurt
1

small garlic clove, finely minced
Method
Step 1
Put the chicken in a large sealable food bag along with the spices, cornflour, garlic, lemon zest and juice, 2 tbsp of the garlic oil and a little pepper. Seal the bag and give it a very good mix – it may help to release some of the air from inside the bag.
Step 2
Squeeze the chicken around the bag with your hands – this not only helps to coat the chicken in all the flavourful spices, but also helps tenderise the meat a little. You can now bake this straightaway, or marinate in the fridge for up to 24 hours. When you are ready to cook, preheat the oven to 220ºC/200ºC Fan/Gas Mark 7 and line a large baking tray with foil.
Step 3
Tip the chicken out onto the baking tray and unravel the meat so the thighs lie flat in an even layer and are not overlapping. Add the mushrooms to the empty marinade bag, reseal and give it a gentle shake to allow the remaining marinade to stick to the mushrooms. Add the mushrooms to the same baking tray, gill-side down. Drizzle the remaining 1 tbsp of oil over the mushrooms, then, if your little ones are over 4, add a very tiny sprinkling of salt, if you wish. Bake in the preheated oven for 25-30 minutes until the chicken is cooked through and turning crispy at the edges.
Step 4
Meanwhile, make the dip – mix everything together in a small bowl and season with a little black pepper. Prepare the salad bits and arrange them, with the pickles, on a sharing platter or in bowls for everyone to help themselves.
Step 5
Once the chicken is cooked, remove from the oven and allow to rest for 5 minutes before slicing everything into 1.5cm wide strips, including the mushrooms. Place a couple of pitta breads at the bottom of a large serving bowl and tip the chicken and mushrooms on top including any resting juices. All these yummy juices will soak into the bread – my absolute favourite part.
Step 6
Serve with your favourite chopped salad bits, such as cucumber, peppers, shredded lettuce, tomatoes, onions pickled cabbage pickled gherkins pitta breads or tortilla wraps, warmed in the oven. Serve with hot sauce for the adults, if you like.

Step 7
Love your leftovers: Any leftovers can be kept in the fridge for 2 days and are delicious cold in a tortilla wrap – lunchbox goals.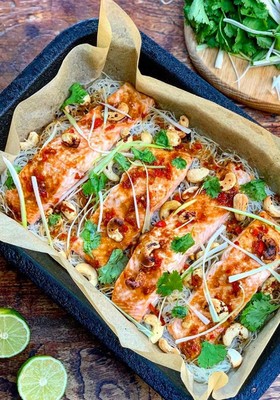 Ingredients
275g

of fresh rice noodles
½

red chilli, finely chopped
2

tsp

of fresh grated ginger
Fresh coriander and spring onions, cut into shreds lengthways to serve
Method
Step 1
Mix together the garlic, ginger, chilli, honey, soy and sesame oil to make your dressing.

Step 2
Line a roasting tray with baking parchment and add the noodles. Sit the salmon fillets on top. Add the cashews and drizzle over the dressing. Bake for 12 minutes at 200ºC/180ºC Fan.

Step 3
Serve sprinkled with the spring onions and coriander.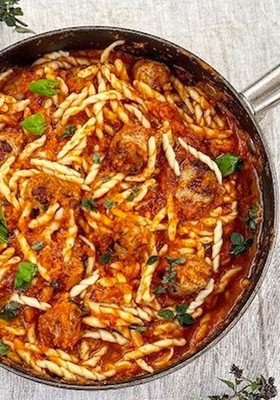 Ingredients
2

cans of chopped tomatoes
1

tbsp

of balsamic vinegar
12

good-quality sausages, each cut into

4

-5

chunks.
Method
Step 1
If adding sausages, colour them in a pan in a small amount of oil for 10 minutes. Set aside.
Step 2
If you're not catering for a vegetarian, you can use the same pan for the sauce.
Step 3
Add a tbsp oil, the onion & carrot to the pan and soften for a few minutes. Add all the other veg. Colour for a few minutes then add the oregano, ½ tsp salt and some black pepper.
Step 4
Add the chopped tomatoes and oregano. Simmer until your pasta is cooked.
Step 5
Cook your pasta according to packet instructions and drain.
Step 6
Blitz the pasta sauce using a hand blender and return the sausages to the pan.
Step 7
Stir through the pasta and finish with grated parmesan and fresh herbs, if you like.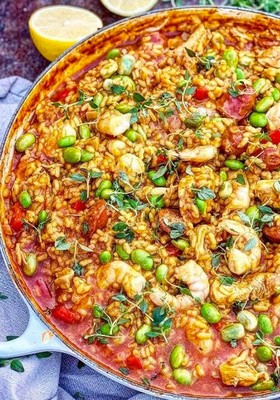 Ingredients
2

garlic cloves, crushed or

1

tbsp

garlic paste
250g

of cooking chorizo, cut into slices
500g

of chicken breasts, cut into strips
150g

of king prawns (optional)
700ml

of good chicken stock
100g

of peas or edamame beans
Juice of

½

lemon, plus extra lemon wedges to serve
Method
Step 1
Heat a large pan and add a lug of oil, the onion, garlic and chorizo slices.⠀⠀⠀⠀⠀⠀⠀⠀⠀⠀⠀⠀⠀⠀⠀
Step 2
Colour for a few minutes before adding the chicken, rice, smoked paprika, saffron, pepper and tomato purée. Stir well.
Step 3
Add the wine, reduce, stir, then add the stock and seasoning. Simmer for 20 minutes or until the rice is cooked stirring every couple of minutes.
Step 4
Add more stock or water if the Paella looks like it is becoming too dry.⠀⠀⠀
Step 5
Add the prawns for the final 5 minutes squeeze over the lemon and pop a lid on the pan for 5 minutes. Serve.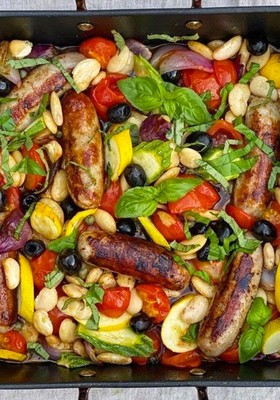 Ingredients
400g

of butter beans, drained
2

red onions, cut into wedges
300g

of tomatoes, halved or quartered
2

courgettes, trimmed and sliced
Method
Step 1
Colour the sausages in a casserole or roasting tin for 10 minutes.

Step 2
Add the onions for 5 minutes and then all the remaining ingredients except the basil. Give the pan/tray a toss.

Step 3
Roast for 15 minutes stirring half-way through the cooking time.

Step 4
Throw over plenty of basil and serve either on its own or with crusty bread.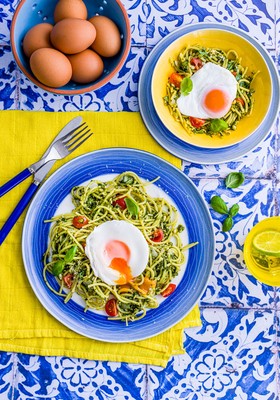 Poached Egg Spaghetti With Pesto & Cherry Tomatoes
Ingredients
3

heaped

tbsp

of fresh pesto
150g

of cherry tomatoes, quartered
Small bunch fresh basil, chopped
2

medium British Lion eggs
Method
Step 1
Cook the spaghetti in boiling water according to the packet instructions. Drain reserving 3 tbsp of pasta water.
Step 2
Heat the oil in a frying pan. Add the onion and fry for 3 to 4 minutes before adding the garlic and frying for 30 seconds.
Step 3
Add the pesto, tomatoes, basil and drained pasta and toss over the heat for a few seconds. Add the reserved pasta water and the Parmesan cheese. Spoon into bowls.
Step 4
Bring a small pan of water to the boil and swirl the water. Crack the egg into a ramekin and tip into the water, then repeat with the second egg. Gently simmer for 3 to 4 minutes until the white is cooked but the yolk is still runny. Drain onto kitchen paper. Spoon on top of the pasta and serve at once.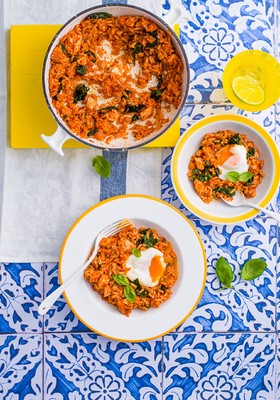 One-Pan Eggs With Chicken & Rice
Ingredients
1

small onion, finely chopped
30g

of baby spinach, roughly chopped
80g

of cooked chicken, diced
250g

of cooked long grain rice
15g

of parmesan, finely grated
2

large British Lion eggs
Method
Step 1
Heat the oil in a small frying pan. Add the onion and fry for 5 minutes. Add the garlic and fry for 30 seconds. Add the passata, tomato paste, basil, spinach and chicken. Stir until the spinach has wilted. Add the rice and toss over the heat. Sprinkle the parmesan over the top.
Step 2
Step 3
Crack the eggs on top of the rice. Place under a hot grill for 5 minutes until the whites are set but the yolk is still runny. Allow to cool slightly before serving.
DISCLAIMER: We endeavour to always credit the correct original source of every image we use. If you think a credit may be incorrect, please contact us at info@sheerluxe.com.