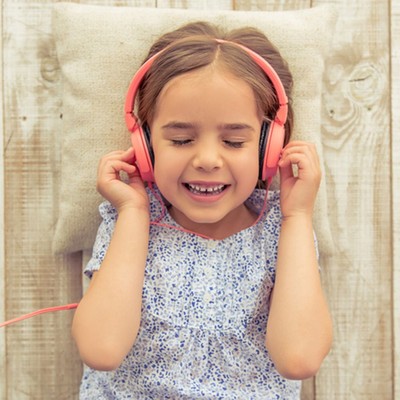 The Best Podcasts For Kids

If you're looking for a new way to keep children entertained, why not try a podcast? From current affairs to science conundrums, mental health awareness to mystery stories, there's plenty on offer for children of all ages.

Photography: ISTOCK/GEORGE RUDY
Photography: ISTOCK/GEORGE RUDY
Circle Round
Folklore and music are combined in this podcast to create a gentle story-telling expericne featuring some well-known names of the screen and stage, including Tiya Sircar (Star Wars Rebels, The Good Place), Tony Award winner Lea Salonga (Miss Saigon, Les Misérables) and Maggie Siff (Billions, Mad Men), as they explore traditional tales with a moral message. Plus, there are at-home activities for children to explore, either during the show or after listening, too. 
Listen here
Peace Out
This podcast is a collection of short stories, all of which are designed to help children calm down and relax by guiding them through a range of visualisation and breathing exercises. Perfect for parents or teachers who want to teach children mindfulness and self-regulation, in each episode Chanel Tsang reads listeners a story in a soothing voice, with relaxing, restful music in the background. 
Listen here
The Story Pirates
Downloaded more than 20 million times, and featuring songs and sketches based on stories written by children, special guests – including world-class talent such as Julie Andrews, Kristen Bell, Lin-Manuel Miranda, Claire Danes, and David Schwimmer – have joined a renowned group of top comedians, musicians, best-selling authors and incredible teachers, to create content which celebrates the imagination. Expect adventurous stories, catchy music and plenty of fun.
Listen here
The Dream Big Podcast
This family-friendly podcast aims to inspire kids (and adults) to pursue their passions and take action to make their dreams a reality. Join hosts Eva Karpman (currently ten years old in the fifth grade) and her mum Olga Karpman as they interview world-class performers, all of whom live their dreams every day. The short 15-20 minute episode format is the perfect length, especially for the school run. 
Listen here
The Week Junior Show
The Week Junior Show takes you behind the scenes of the award-winning magazine for 8-to-14-year-olds. Each week, host Bex is joined by members of The Week Junior team to discuss their favourite stories, debate the week's hottest topics and discover whether the 'Real or Rubbish?' report is fake news or not.
Listen here
But Why? A Podcast For Curious Kids
This American podcast takes questions from kids and finds the answers. Tackling topics large and small – about nature, words or even the end of the world – this podcast delves deep into a wide range of topics to help kids figure it out. Questions include, why do we laugh? Why are cacti spiky? And why do we compete? Because the content is delivered in a fun and meaningful way, it's likely the whole family will learn something new.
Listen here
The Unexplainable Disappearance of Mars Patel
The Unexplainable Disappearance of Mars Patel is a serial podcast which drops the listener into the mysterious world of the titular character, as he embarks on an adventure to find two of his missing friends. The script is read by children and, with excellent sound effects and music, it's the kind of story you can lose yourself in, with plenty of humour and excitement along the way. 
Listen here
Good Night Stories For Rebel Girls
This podcast is described as a fairy tale audio adventure, which tells the story of extraordinary real-life women throughout history. Based on the best-selling book series of the same name, episodes are narrated by renowned innovators, creators, leaders and champions of the Rebel Girls community. Tune in to experience an inspiring spectrum of female excellence – recent stand-out episodes include activist Jameela Jamil reading about Greta Thunberg. 
Listen here
Teach Me A Lesson With Greg James & Bella Mackie
Greg James and Bella Mackie didn't pay much attention at school, so they're asking Britain's most inspiring teachers to show them what they missed in this series of fascinating and fun lessons. Learn something new every week including: 'How to win an argument by watching RuPaul's Drag Race', 'Why do we get ill?' and ''Are people born evil?' Students of all ages are welcome – expect brilliant teachers, captivating subjects but absolutely zero homework.
Listen here
The Oxford Spark Big Questions Podcast
Inviting some of the most talented minds from the University of Oxford into the studio, this podcast tackles some of the biggest questions out there. Do all lions sound the same? Has lockdown made me bad at sleeping? Should we edit people's genes to make them nicer? Are video games good for your mental health? With an expert guest per episode, expect in-depth but accessible conversations, all of which aim to answer some of humankind's most pertinent questions.
Listen here
You're Dead To Me
Think of this as the history podcast for people who don't like history... as well as those who do. Greg Jenner (part of the Horrible Histories cast) brings together the best names in comedy and history to learn and laugh about the past. Each episode tackles a specific topic (for example, Blackbeard, The History of Chocolate, Old Harlem), while Greg is joined by a different history professor and comedian each time for a lively and funny discussion. 
Listen here
The Teen Life Coach
Like many young girls, as a teenager, Sami Halvorsen struggled to deal with her anxiety and constantly compared herself to others. Now a life coach, Sami's mission is to help guide other girls develop more confidence and face their fears. In this series, Sami offers her advice on how to say no, how to deal with sibling relationships, think about body image and even consider their relationship with food. Episodes range from a bite-sized 8-10 minutes to half an hour specials.
Listen here
CREDITS: ISTOCK/GEORGE RUDY
DISCLAIMER: We endeavour to always credit the correct original source of every image we use. If you think a credit may be incorrect, please contact us at info@sheerluxe.com.